25 Best Things To Do in Rome, Italy
Rome is an incredible, ancient city that continues to captivate and inspire countless generations of travelers and adventurers. There's an almost endless list of things to see, do, taste, and hear in the vibrant Italian capital. The Eternal City is one of my favorite cities in the world, and it will blow your mind.
In this post, I've described 25 of the best things to do in Rome. From exploring iconic landmarks and monuments like the Colosseum and Trevi Fountain, learning about the city's fascinating 2,700+ year past, to indulging in its delicious cuisine and lively nightlife, Rome is a city like no other.
Whether you're looking for a romantic getaway or an action-packed family vacation, there are so many places to see in Rome – it's a city you'll almost certainly want to return to. Get ready to experience one of Europe's most lively, fascinating, and memorable capital cities!
25 Best Things To Do in Rome
Here's my pick of the top things to do and places to visit in Rome. I've tried to include a wide range of Rome's tourist attractions, so there's bound to be something here for you.
1. Visit the Colosseum (One of the Most Iconic Things To Do in Rome)
One of the most iconic landmarks in the world; no trip to Rome is complete without seeing this epic amphitheater – the largest ever built by the Roman Empire. Built in 72 AD, the Colosseum has stood as a symbol of Rome's strength and power for almost 2,000 years.
In ancient times, the Colosseum was used for brutal gladiator battles and animal fights. Today, the best way to fully appreciate this immense structure and its fascinating history is to take a guided tour.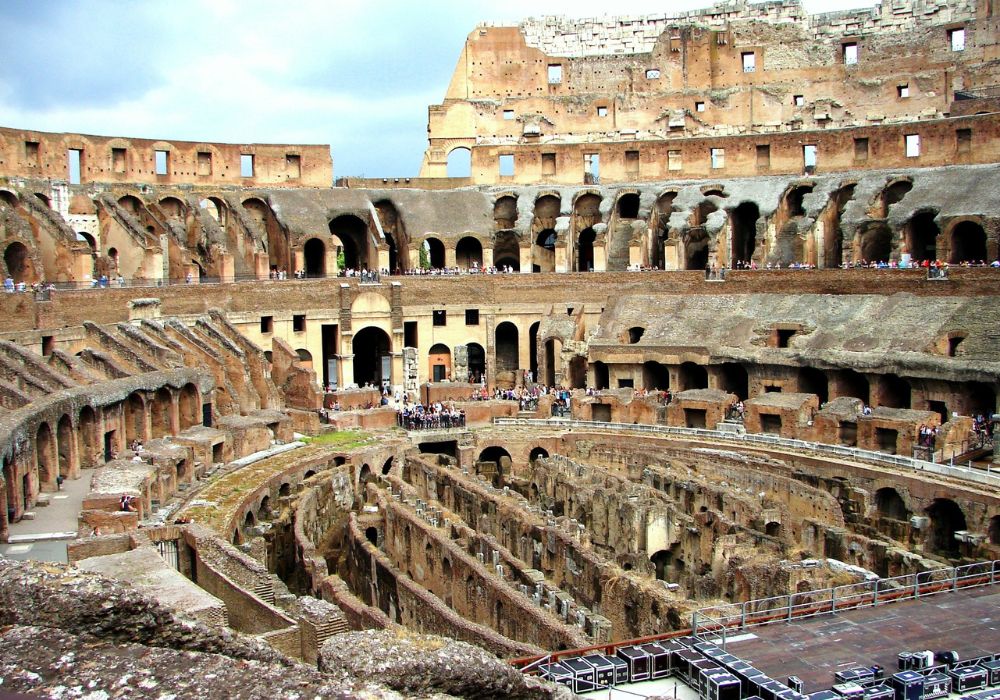 This is one of the most highly-reviewed guided tours and allows you to skip the notorious line for tickets. Your guide will also take you to the famous Roman Forum, and Palatine Hill, so it's great value for money.
As you'd expect, the Colosseum is one of the most popular places to visit in Rome. I strongly recommend booking your tickets well in advance as they sell out fast and you don't want to be left disappointed.
2. Admire St Peter's Basilica
One of the most important and holy sites in all of Christianity, St Peter's Basilica (Basilica di San Pietro) is another must-see site and is one of the top places to visit in Vatican City. It's truly enormous and is home to countless priceless works of art and treasures from around the world.
Outside the cathedral lies St Peter's Square, the center of global Catholicism. The square is surrounded by impressive colonnades designed by the famous sculptor and architect Gian Lorenzo Bernini, and the grand obelisk in the center was brought from Egypt in 1586.
Check out this excellent guided tour of the Vatican, which includes St. Peter's Basilica and other important sites such as the Sistine Chapel and Vatican Museums (more on these below). The whole area has been named a UNESCO World Heritage Site on account of its considerable cultural significance and importance.
3. Take a Food Tour
Rome is a paradise for foodies and the city is home to some of the best food in Italy (which is saying a lot!). There's an endless list of incredible places to eat, from Michelin-starred fine dining restaurants to cheap local eateries and fantastic street food stands.
One of the best things to do in Rome is to join a guided food tour. You'll gain an insight into the city's rich culinary culture, and have the chance to visit some of Rome's finest delis and markets, where you'll get to taste some of the city's tastiest treats.
There are many excellent food tours throughout the city, but this one is particularly good. Your guide will take you to enjoy some of Rome's best street food and teach you about the history of the city's best-loved delicacies, including supplì, traditional Roman pizza, and various seasonal dishes.
4. Tour the Pantheon
One of ancient Rome's most well-preserved buildings, and one of the best places to visit in Rome, the Pantheon is a testament to the grandeur and power of ancient Roman architecture. The Pantheon was originally built in 27 BC as a temple to the ancient Roman gods.
On the inside, this place is simply breathtaking, built with perfect proportions, a giant dome overhead, and beautiful sculptures, statues, and mosaics. Today, the Pantheon houses the tombs of the famous Italian artist Raphael and the "Father of the Nation" King Vittorio Emanuele II.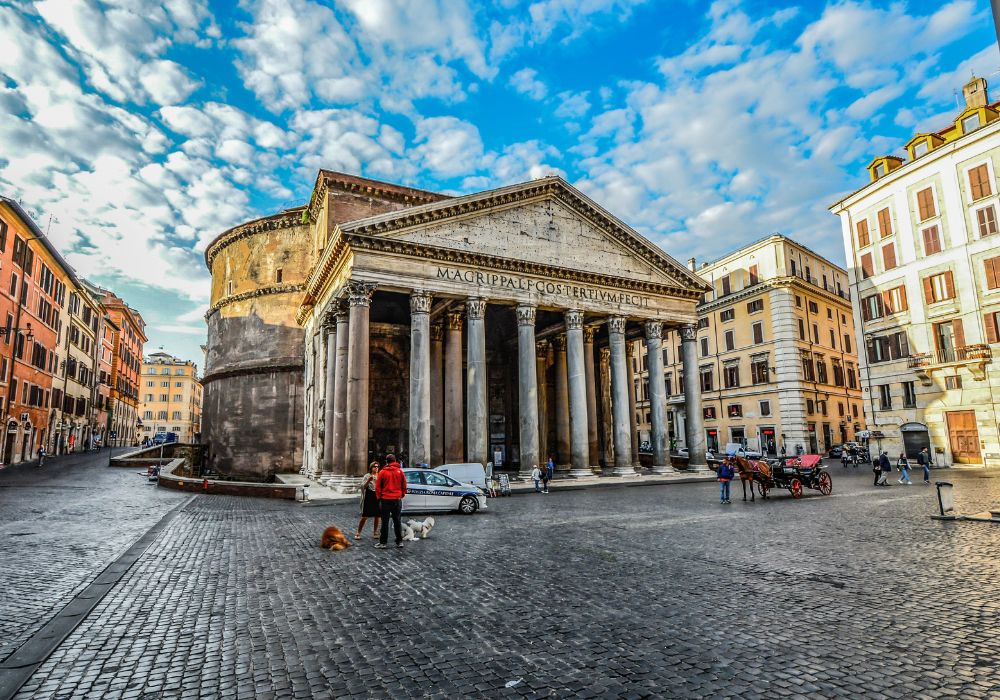 It's free to enter the Pantheon, but it's best to pre-book and avoid having to wait for ages standing in line. A reservation is also mandatory on weekends and public holidays. To fully appreciate this incredible building, I recommend joining a guided tour like this one (which also includes the entrance reservation).
Piazza Navona is one of Rome's most lively squares and has many things to offer visitors ranging from art galleries to gelaterias.
One of my favorite things to do here is to pick up a scoop or two of delicious traditional gelato and watch the people of the city go about their daily business.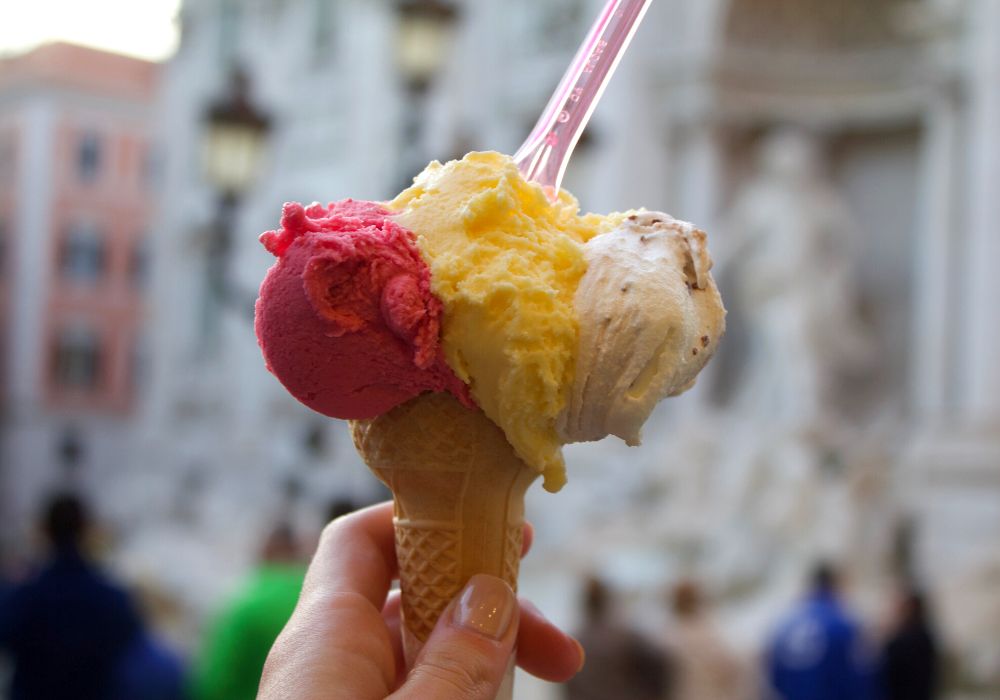 Cremì is a particularly excellent gelateria in Piazza Navona that offers a range of heavenly artisanal gelato and sorbets.
6. Take a Day Trip to Ostia Antica
Just outside of Rome lies the ancient port city of Ostia Antica which was founded around 620 BC. It's an important archaeological site with many well-preserved ruins and artifacts.
It's easy to visit Ostia Antica as a day trip from Rome. Either take the train from Piramide station and get lost in the ruins by yourself or take this guided tour (which also departs from Piramide) to learn more about the history of this fascinating place.
Allow plenty of time to explore the many temples, baths, amphitheaters, and villas. The area also has some beautiful natural scenery including beaches, forests, and wetlands that are perfect for exploring on foot or by bike.
7. Feast at Pizza e Mozzarella
As you'll probably guess, modern-day Romans take their pizza very seriously, and sampling some of the city's finest is one of the must-do things in Rome. Every local has their favorite pizzeria, but my favorite is a place called Pizza e Mozzarella.
It looks like a simple takeout joint, but oh wow – their pizzas are something else! With a variety of tasty toppings to choose from and perfect crispy crusts, the pizzas here are really incredible. You can either get whole pizzas made to order or buy by the slice and try a few different toppings.
Alternatively, why not learn how to make your own pizza in this fun and tasty masterclass?
8. Explore the Catacombs
The Catacombs of San Callisto are home to one of the oldest Christian burial sites in Rome, dating back to the 2nd century AD. This fascinating complex spreads over around 90 acres, with over 12 miles of passageways and galleries, spread out over four levels, more than 20 meters underground.
Exploring this ancient subterranean maze is both eerie and awe-inspiring. The tunnels contain the tombs of various martyrs and popes, as well as 3rd-century frescoes and some amazing sculptures. Check out this excellent guided tour to get the most out of your visit.
This is one of the most unusual places to visit in Rome and it's really incredible. The only other place I've ever been that's remotely comparable is the San Gennaro Catacombs in Naples (and even then, the ones in Rome are much bigger).
9. Marvel at Trevi Fountain
One of the top sights in Rome and one of the city's most famous landmarks, the Trevi Fountain is an ornate and beautiful fountain at the center of Piazza di Trevi. Admire it from afar or brave the crowds up close – the choice is yours!
Located at the junction of three streets in the heart of the city, the baroque masterpiece was designed by Italian artist Nicola Salvi and completed in 1762. It's home to a number of sculpted figures and is illuminated at night.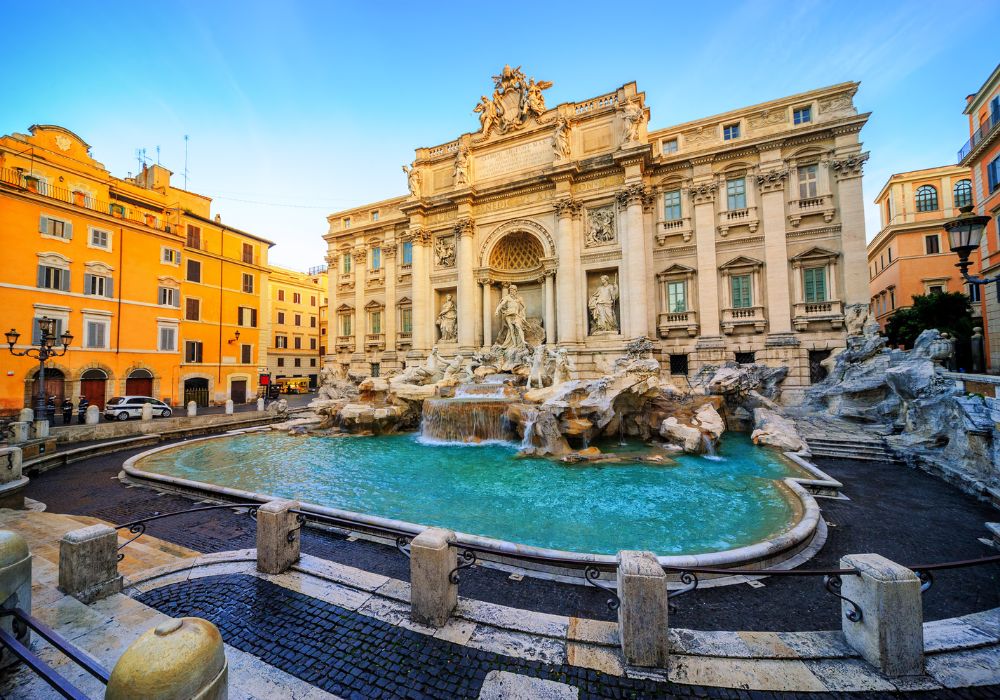 This fountain has long been a symbol of the Eternal City and is one of the best things to see in Rome. It's also totally free to visit.
10. Relax in Villa Borghese
Villa Borghese is one of the largest open green areas in Rome and is a perfect place to spend an afternoon and escape the crowds and heat of the city. It's made up of almost 200 acres of landscaped gardens and is the setting for a variety of sculptures, lakes, fountains, and monuments.
The park was originally built in 1605 by Cardinal Scipione Borghese on his family estate, and it was opened to the public in 1903. Take a leisurely stroll and admire the beautiful gardens, or pack a picnic to enjoy under the shade of one of its many ornamental trees.
Villa Borghese also contains Galleria Borghese, one of Rome's best and most important Renaissance art galleries housing masterpieces by the likes of Bernini and Caravaggio. Check out this guided tour of the gallery, or this one that includes a tour of both the gallery and the gardens.
11. Explore Trastevere
Overflowing with character, Trastevere is one of Rome's most bohemian areas located on the west bank of the Tiber River. Its cobblestone streets are lined with colorful buildings, narrow alleyways, bustling cafes, and traditional trattorias.
The area has a rich history that dates back to the Middle Ages and one of its main attractions is the spectacular Basilica di Santa Maria, famous for its ornate interior, including 12th-century mosaics and 22 Roman columns.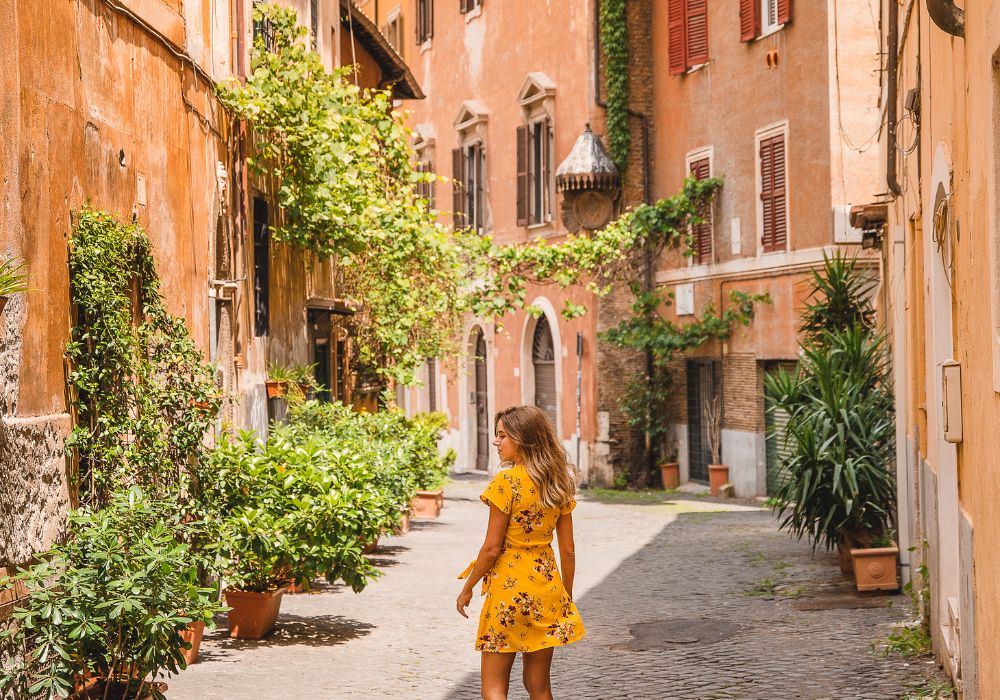 Spending an hour or two strolling around this eclectic neighborhood is a great way to get a sense of everyday life in Rome today. The atmosphere is buzzing day or night, so make sure you add it to your list of fun things to do in Rome. You could also check out this highly-reviewed food tour in Trastevere which includes dinner and wine.
12. Cruise Along the Tiber River
For a different perspective of Rome, take a relaxing cruise along the Tiber River which flows through the city. Cruises are available throughout the day and well into the evening and are one of the most romantic things to do in Rome.
Floating peacefully down the river, you'll have an amazing view of some of Rome's top attractions such as the Castel Sant'Angelo, Ponte Sant' Angelo, and St. Peter's Basilica.
13. Climb the Spanish Steps
Another of the city's most iconic sights, the Spanish Steps is a must-see in Rome. Built by architect Francesco de Sanctis in 1725, this gorgeous outdoor staircase is made up of 138 steps that link two piazzas: Trinità dei Monti and Piazza di Spagna.
The stairs and plazas are charmingly decorated with flowers throughout the spring and summer months and at the top of the steps, you'll find the Church of Trinità dei Monti – a beautiful Baroque-style church built in 1585.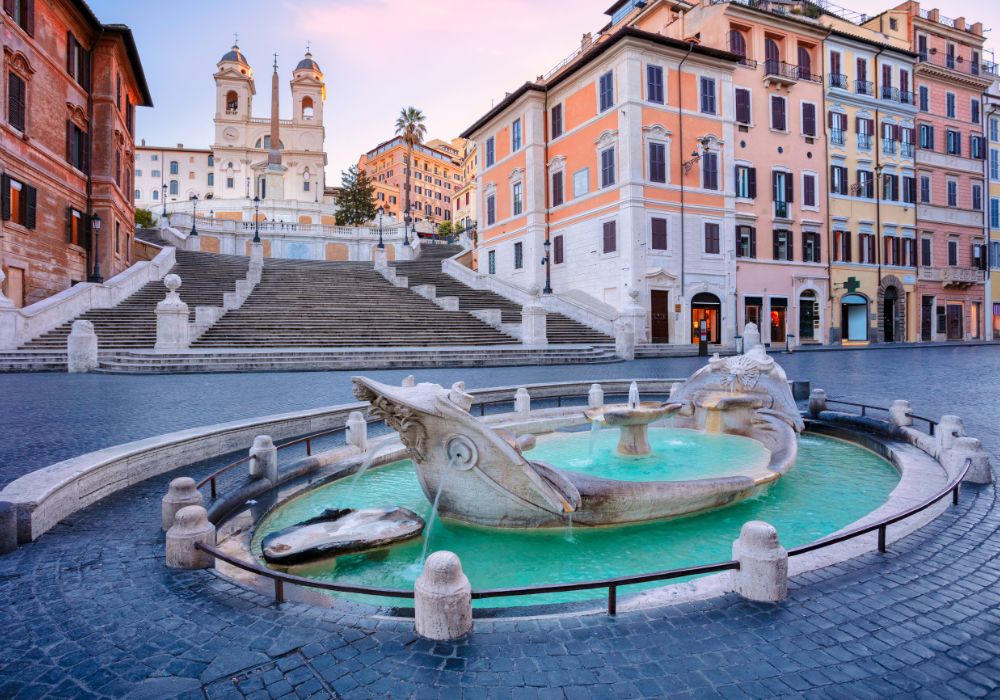 Situated at the foot of the Spanish Steps, Piazza di Spagna is one of the most famous squares in Rome. It's a great spot for people-watching, although it can get very busy so be sure to keep an eye on your belongings here.
14. Tour the Roman Forum
Located between the Palatine and Capitoline Hills in Rome, the Forum was once the political, religious, and commercial heart of ancient Rome. It's now a large archaeological site and one of the most visited tourist attractions in Rome.
The Forum was home to some of the most important religious temples, government buildings, and other monuments of the ancient city such as the Temple of Julius Caesar and the Arch of Titus.
I'd definitely recommend taking a guided tour to explore these extensive ruins, as it's a great way to learn about their history and significance. This is one of the best tours that also includes a visit to the Colosseum and Palatine Hill.
15. Go Shopping in Via dei Condotti
If you're into shopping, you'll love browsing the designer and luxury shops in Via dei Condotti. This iconic shopping street is home to some of the world's top fashion brands.
It's certainly not a cheap place to shop. However, even if you don't want to spend any money here, Via dei Condotti is an interesting and attractive place to wander as you take in the glamorous atmosphere.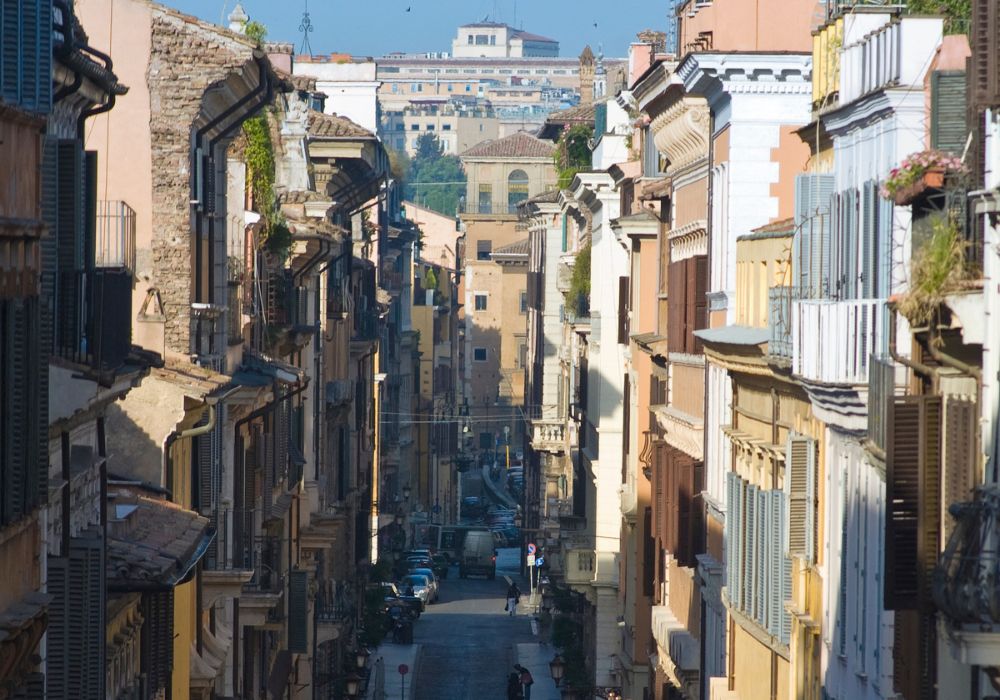 This is another great place for people-watching (there are plenty of spots in Rome!), as it's popular with the city's elite. It's also very centrally located close to the Spanish Steps.
16. Visit Castel Sant'Angelo
Built by Emperor Hadrian in the 2nd century as a mausoleum for himself and his family, Castel Sant'Angelo is an impressive circular castle and another incredible example of ancient Roman engineering. It's located on the banks of the Tiber River and is one of Rome's (many) major landmarks.
The castle has been used for various purposes throughout the centuries, including as a defensive fortress, a papal residence, and even a prison.
Today, it's open to the public and you can explore its impressive interior, which houses priceless Renaissance furniture and paintings, and geometrically pleasing tree-lined gardens. The castle is a popular attraction in Rome so I'd recommend buying a skip-the-line ticket in advance to save you from having to stand in a long queue once you're there.
17. Enjoy a High-End Dinner
Rome is home to countless fantastic restaurants, from simple traditional trattorias to famous, multiple-Michelin-starred fine dining restaurants. For a truly special evening, book a table at one of the city's high-end eateries.
Some of the best high-end restaurants in Rome include La Pergola, All'Oro, and Moma. You'll need to book well in advance to secure a table at any of these famous restaurants, so bear this in mind when you're planning what to do in Rome.
18. Visit the Sistine Chapel
The Sistine Chapel is one of the top places to visit in Rome and is located in the Vatican City, next to St. Peter's Basilica. This incredible building is famous for its elaborate decoration and stunning frescoes painted by Michelangelo in the 16th century. These frescoes cover the ceiling and many of the walls and depict scenes from the Old Testament.
The chapel also forms part of the Pope's official residence and is where "papal conclaves" take place, where members of the College of Cardinals meet when it's time to elect a new pope.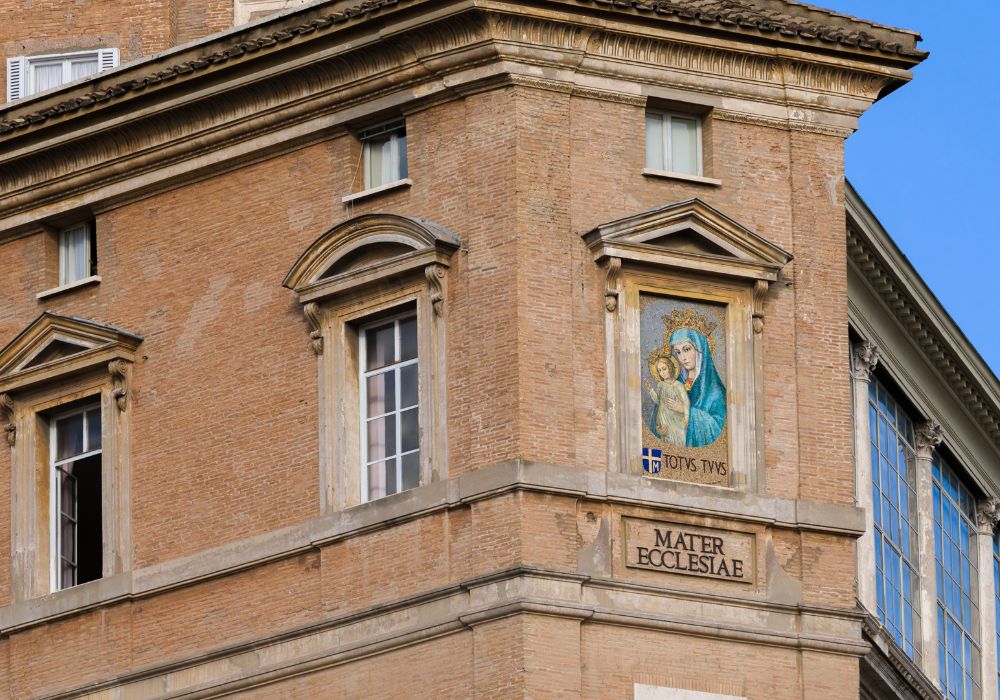 Visiting the Sistine Chapel is one of the top things to do in Rome and it can get very crowded (though it's still 100% worth going). Tours run throughout the day, and you'll need to book tickets in advance as they often sell out.
19. Explore Rome's Jewish Quarter
Located on the banks of the Tiber River, Rome's Jewish Quarter is one of the oldest in the world. It was established in 1555 by Pope Paul IV who forced Rome's Jewish population to relocate to this district of the city and made them live in a ghetto, separate from the city's other residents.
The neighborhood is home to several synagogues, the Jewish Museum of Rome, vibrant public markets, restaurants, and a few other famous historical sites in Rome, including the Portico d'Ottavia.
It's a fascinating place to explore (either by yourself or as part of a walking tour) and is a great way to learn more about Rome's Jewish history and culture. The street food here is also delicious!
20. Enjoy an Aperitivo in Campo de Fiori
Every evening from 6 pm onwards, the Campo de Fiori square comes alive with locals enjoying an aperitivo. Join them for a bite to eat and a glass of wine or a spritz while soaking up the hustle and bustle of Roman life.
The piazza is also home to many great cafes and restaurants and is a great place to spend an evening. Whether you're just having drinks or enjoying dinner al fresco, visiting the Campo de Fiori is a must-do in Rome and one of the best things to do in Rome at night.
21. Take a Day Trip to Tivoli
A short distance outside of Rome lies the picturesque town of Tivoli, one of my favorite places to visit near Rome and home to some of the most beautiful gardens and villas in Italy. I spent a couple of days in Tivoli last year and really loved it.
My favorite place was Villa d'Este, a large 16th-century cardinal's villa built on top of an ancient Roman palace. The most impressive and atmospheric part of the villa is the gardens, built across multiple levels and with various elaborate fountains (fed by natural water pressure – no pumps), grottoes, and shaded seating areas.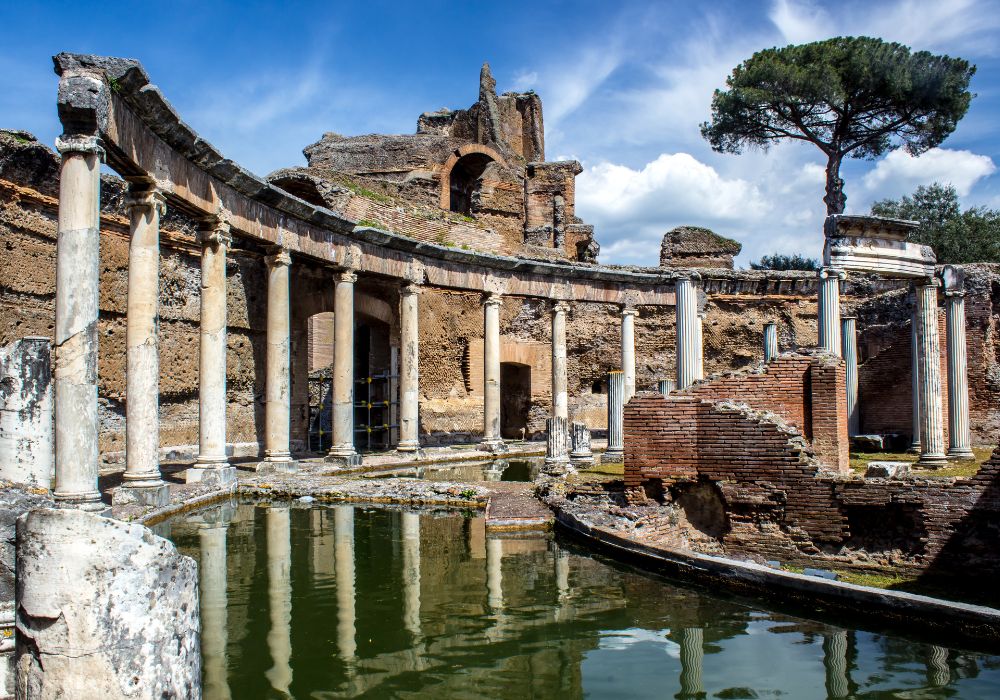 Hadrian's Villa, located just outside Tivoli, is also well worth a visit. Tivoli can get a little busy in the summer months but is still usually much less crowded than Rome itself. I visited in September and it was refreshingly quiet and peaceful.
22. Visit the Vatican Museums
The Vatican Museums house one of the world's largest and most important collections of art and sculpture, as well as some incredible mosaics, and frescoes. Here, you can marvel at masterpieces from some of the world's greatest artists, including Leonardo da Vinci, Michelangelo, and Caravaggio.
The museums are enormous and contain over 70,000 exhibits displayed across 54 galleries. Established in the early 16th century, these extensive and diverse collections span a variety of cultures from ancient Egypt to Renaissance Italy.
Housed within the walls of Vatican City, the museums offer a fascinating insight into the history and culture of Europe and beyond. You can book a tour of the museums here.
23. Check Out the Basilica di Santa Maria Maggiore
This stunning basilica is one of Rome's four major cathedrals and is renowned for its elaborate mosaics and beautiful architecture.
The basilica was built around 432 AD and is a stunning masterpiece of Romanesque architecture. Located in the Esquiline Hill area of the city, it's a great place to spend an hour or so. This is also one of the (slightly) less popular places to visit in Rome so is often a little more peaceful.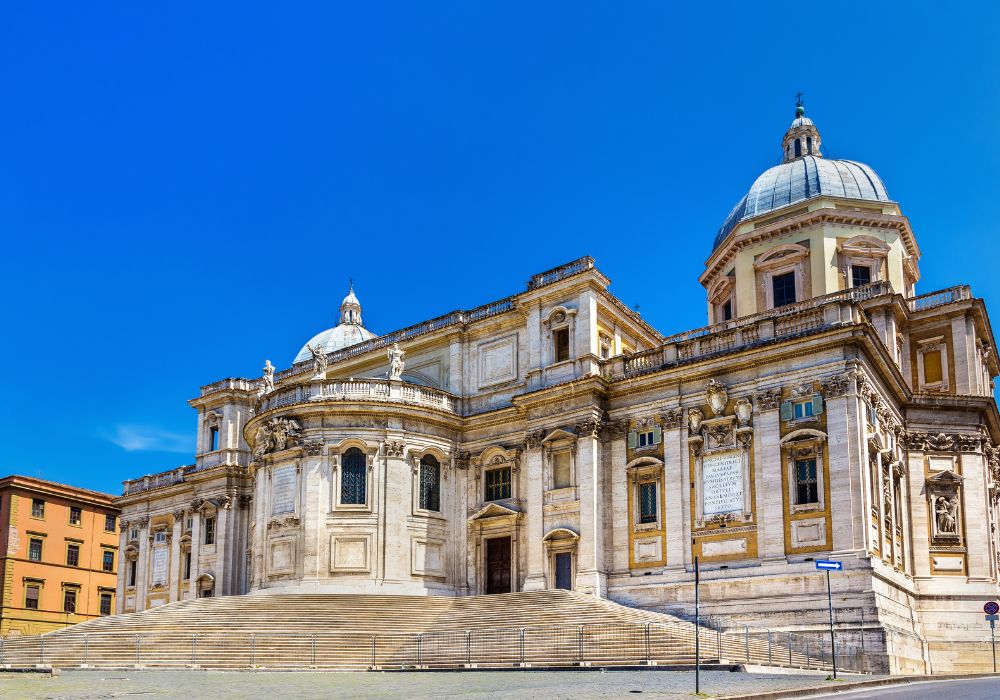 Take a guided tour to learn more about it or simply admire the beauty of this amazing place.
24. Take a Cooking Class
If you (like me) love Italian food, one of the best things to do in Rome is to take an authentic Italian cooking class. You'll learn how to make some delicious Italian dishes and treats and get to enjoy your creations at the end, sometimes over a glass of local wine or two.
There are many different options to choose from, including pizza-making classes, pasta-making workshops, and this delicious-sounding fettuccine, ravioli, and tiramisu cooking class.
25. Walk Across the Ponte Sant Angelo
The 2,000-year-old Ponte Sant Angelo bridge spans the Tiber River and connects the heart of ancient Rome to Castel Sant'Angelo. It was initially constructed by Emperor Hadrian and is another must-see place in Rome.
One of my favorite free things to do in Rome is to take a leisurely stroll across the bridge and admire its ornate statues and carvings.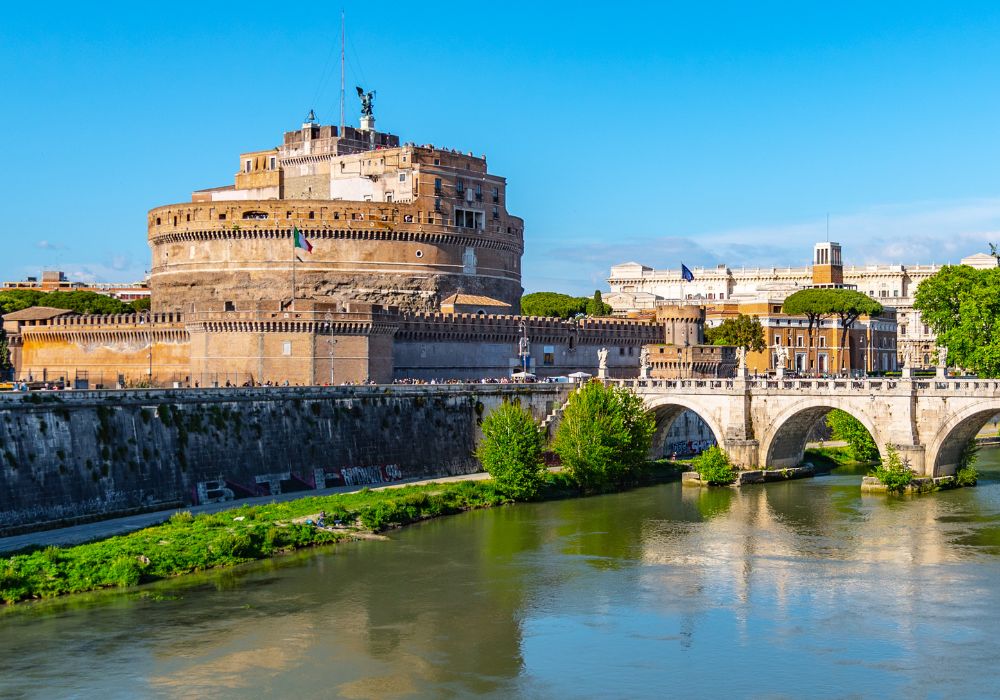 You can also enjoy some amazing views of the city from here – don't miss it!
Quick Travel Itineraries For Rome
I've put together a few brief itineraries to help you make the most of your time in this incredible city.
1 Day in Rome Itinerary
Honestly, one day really isn't enough time to see Rome properly. However, if this is the only time you have, I recommend picking some of the top Rome highlights and focusing on those, rather than trying to see or do too much.
Start your day with a tour of the Colosseum and check out Trevi Fountain before heading to the Vatican for an afternoon of sightseeing including St Peter's Square and Basilica, and the Sistine Chapel.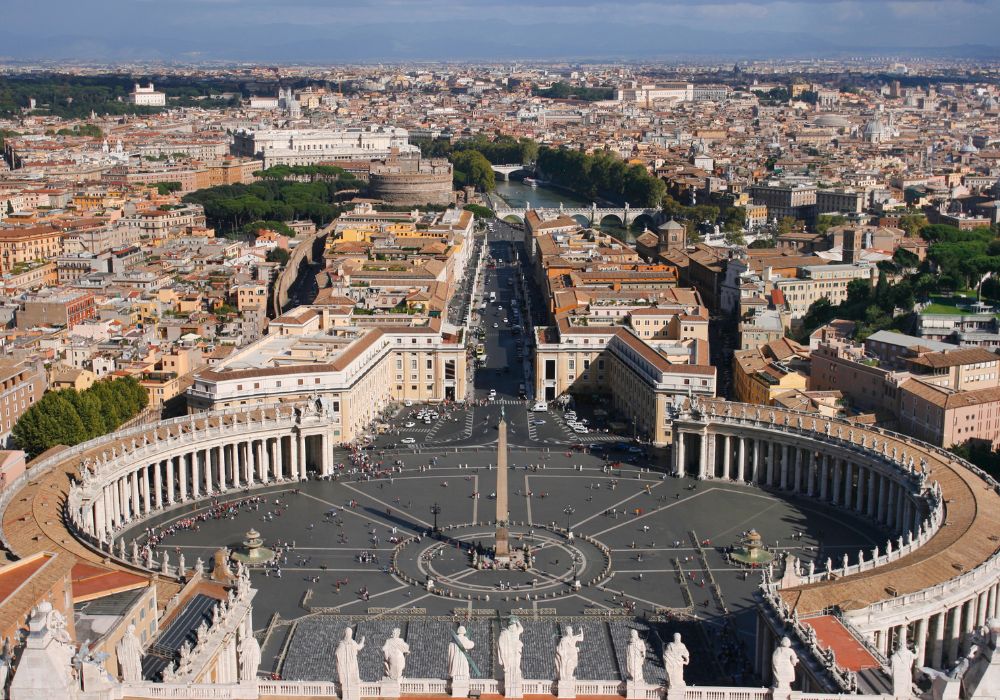 Cool off with a scoop of gelato in Piazza Navona, then head to Campo de Fiori for an aperitivo. Finish off your day with dinner at one of the city's best restaurants.
2-3 Days in Rome Itinerary
You can enjoy many of the best things to do in Rome in 3 days (or 2 at a pinch), although you'll still need to move quickly.
Spend the first day as described above. Then on day two, visit some of the city's other iconic sights such as Castel Sant'Angelo, the Spanish Steps, and the Roman Forum. Take an evening dinner cruise on the Tiber River to round off your second day romantically.
If you have a third day, either consider taking a cooking class and explore the city's Jewish Quarter, or take a day trip to Tivoli to admire the villas and ornate gardens.
1 Week in Rome Itinerary
A week is a great amount of time to spend in Rome. You'll be able to do most (if not all) of the things described in this post, and it'll allow you enough time to get a really good sense of the city without feeling rushed.
I recommend following the above 3-day itinerary, then ticking off the other things in this post during your remaining days. Be sure to take a full day exploring Tivoli, and at least half a day to visit Ostia Antica.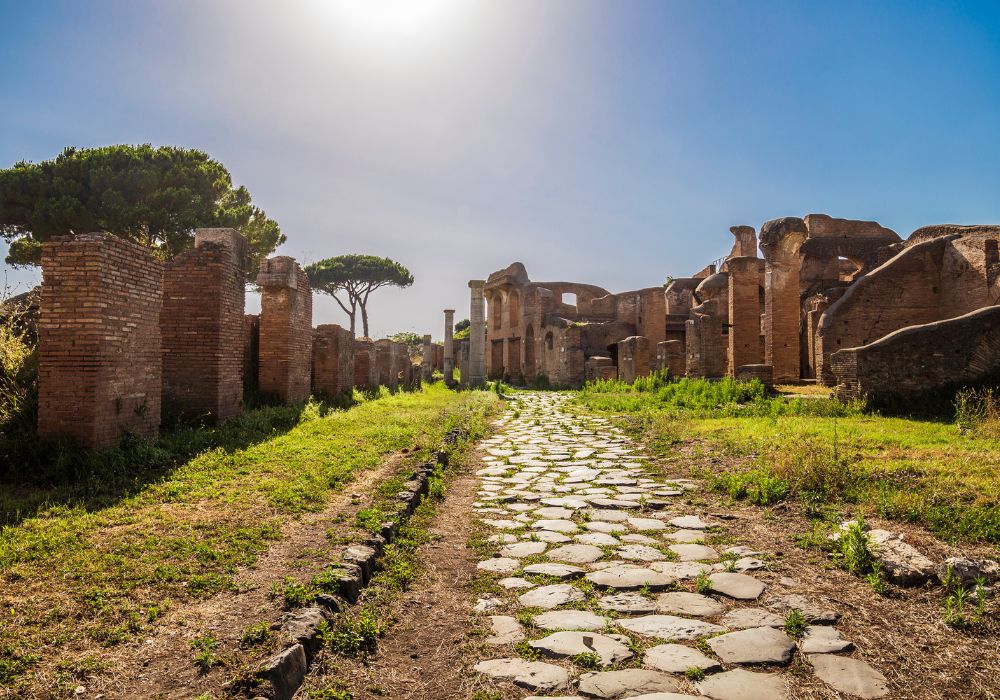 Also, if you're visiting Rome as part of a longer trip to Italy, check out this post on the 30 top places to visit in Italy.
Where to Stay in Rome
These are a few of the best neighborhoods in Rome for tourists.
Campo de Fiori – Best for First-time Visitors
The area around Campo de Fiori square is within easy walking distance of many of the main attractions in Rome. It's also a great place to stay for those looking to explore some of Rome's best restaurants, bars, and shops.
This is an amazing guesthouse located right on the square.
Trastevere – Best for Budget Travelers
The Trastevere neighborhood is a great place to stay for budget travelers who want to be close to the main sights, but a little further away from the elevated prices of the city center. It has a relaxed atmosphere with plenty of restaurants and bars around, as well as parks and historical sites nearby.
Check out this excellent budget one-bedroom apartment.
Monti – Best for Families
Monti is perfect for families and those looking for a more peaceful experience. Despite its central location, this neighborhood feels much calmer and less hectic than other areas of the city. Enjoy its winding cobbled streets, quaint cafes, and independent shops and boutiques – it's a great place to take things slow and soak up the local atmosphere.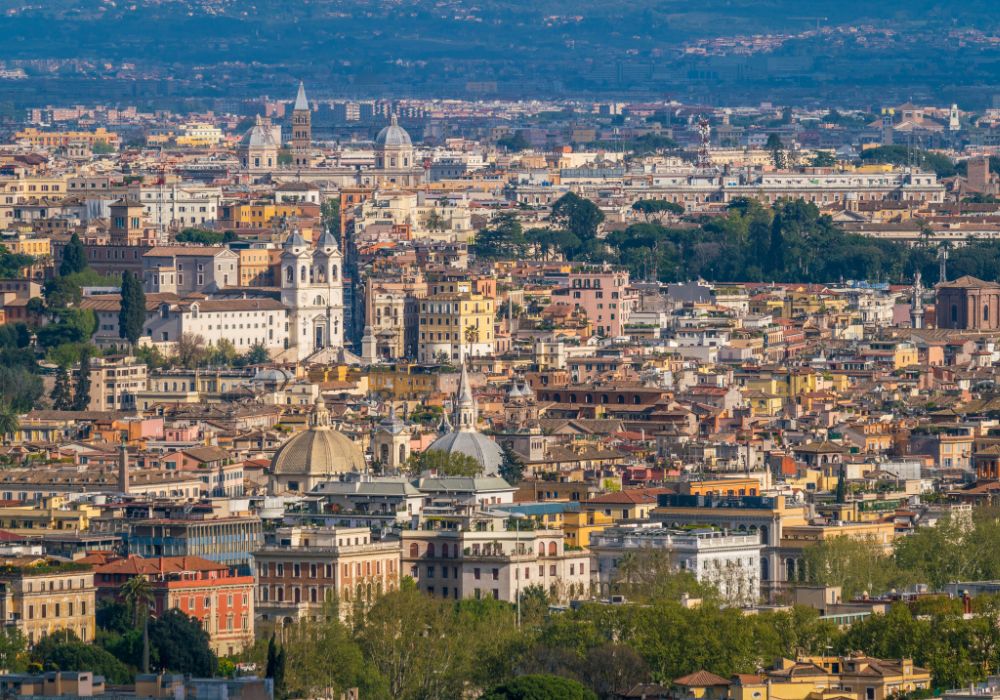 This is a great 2-bedroom apartment right next to the Colosseum.
Best Restaurants in Rome
Don't miss these great places to eat in Rome.
La Pergola
Possibly the most famous restaurant in Rome, La Pergola is a 3-Michelin-starred fine dining restaurant that serves seriously high-end gourmet Italian food. They also have an incredible rooftop terrace offering some of the best views in Rome.
Moma
If you can't get a table at La Pergola, Moma is another great choice. This elegant restaurant specializes in modern, refined Italian cuisine and has a fantastic selection of local wines. It's a little pricey but worth it for a special occasion.
Pizza e Mozzarella
One of my favorite places to eat in Rome on a budget is Pizza e Mozzarella. They create amazing, top-quality pizzas and you can feast to your heart's content for less than €10.
Things To Do in Rome: FAQs
Here are answers to some commonly asked questions about visiting Rome.
What is Rome known for?
Rome is one of the most iconic cities in the world, known for its architecture and art, rich history, delicious food, vibrant culture, and epic landmarks.
When is the best time to visit Rome?
The city can be visited year-round, with every season offering something different to see and do. May and September are two of the best months to visit, with pleasant temperatures and fewer crowds than during the peak summer season.
Is Rome worth visiting?
Absolutely! Rome is a great destination for both short and long trips. There are so many cool and unusual things to do in Rome for all ages and interests, from exploring ancient ruins and underground catacombs to visiting art galleries, museums, and world-class restaurants.
Are there free things to do in Rome?
Yes! There are plenty of places to go and sites to see in Rome that are free. You can visit many iconic landmarks such as the Trevi Fountain and the Spanish Steps, and explore the city's historic neighborhoods and piazzas, without spending a penny.
Are there guided tours in Rome?
There are many guided tours available around Rome. I recommend checking out GetYourGuide or Viator where you can browse through and book some of the top-rated tours and activities to do in Rome.
Can I walk around Rome?
Yes, you can easily explore the city on foot and most of the best things to do in Rome are within easy walking distance of the city center. Be sure to wear comfortable shoes – Rome is full of narrow cobblestone streets, and parts of the city are quite hilly.
In Closing
Rome is one of the world's most beautiful and captivating cities, with things to do for people of all ages and interests. Whatever you choose to do with your time in Rome, I'm certain you will have an unforgettable time exploring this amazing city.
I hope you've found this post useful and informative. Enjoy Rome – it's awesome!
Like This Article? Pin it!