January Weekly Meal Plan #5
See all weekly meal plans here.
Happy Sunday, friends! The girls and I are on the road heading back to NC after a fun weekend in Georgia. More on that tomorrow, but for now, let's dive into the meals from this past week. I'm starting to get into a rhythm with compiling these posts and I sure hope they are helpful for you as you plan your week.
Sunday
A friend recommended this slow cooker BBQ chicken. It was good! However, I think I prefer BBQ pork; chicken just tends to get so dry when cooked too long, even in a good sauce. The bread machine buns were so simple to make that I'm convinced I won't be buying store buns again for a long time unless in a pinch. The slaw was easy- just red and green cabbage, carrot, a little red onion, and parsley in a dressing made of mayo, ACV, honey, mustard, celery seeds, and salt.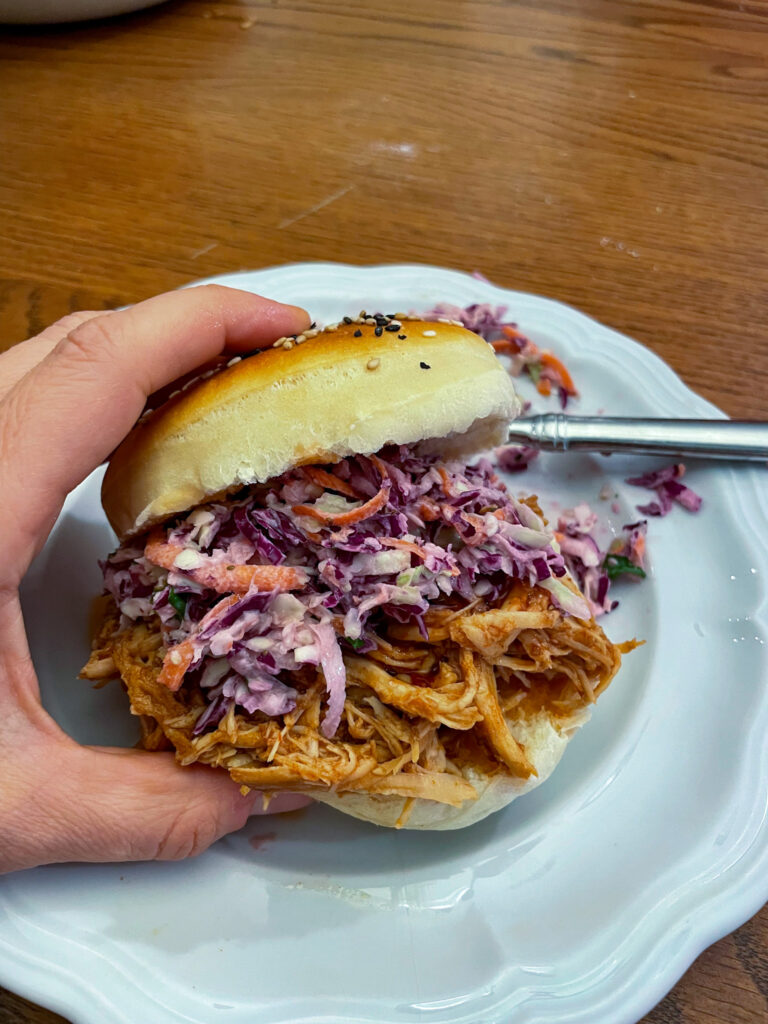 Monday
Carnitas! I cooked a 5 lb pork butt rubbed with olive oil, salt, oregano, and cumin for 10 hours on slow cook and it still was easily falling apart so I kicked it up to "braise" for 30 minutes and that did the trick. I transfer the meat onto a baking sheet so to crisp it up under broil, then served it with cauliflower rice, pico, guacamole, sour cream, and tortilla chips.
Tuesday
One of my personal favorites- buffalo chicken salads! I set it up like a make your own salad bar so everyone can customize it to their liking. Mine: iceberg, chopped chicken tenders, tomatoes, cucumber, purple cabbage, red onion, blue cheese, cilantro, buffalo sauce, and Primal Kitchen's ranch (that I'm currently obsessed with).
Wednesday
As a last minute pivot because I did not feel like cooking, I quickly defrosted two pounds of ground beef in a bowl of tepid water to double mom's homemade spaghetti and meat sauce, a family favorite. It's music to a mom's ears when their child who is not always excited about meals gets home from all the activities and exclaims- YAY, I LOVE THIS DINNER and proceeds to eat 4 bowls worth.
Thursday
Fish taco bowls! It was Thursday and I didn't have it in me to dredge the fish in egg, flour, and seasoning, so I took a short cut. I diced the fish then seasoned them all over with a random Caribbean blend I found in the pantry before pan frying them in oil until cooked through. Then I set it up as a "make your own" meal with rice, black beans, a quick cabbage slaw, cucumbers, pico, and guacamole. Served with chips.
Friday
The girls and I drove down to Georgia and Nana treated us to dinner out. I had the filet tips salad.
Saturday
Family time is the best time! After my Nannie's 90th birthday lunch, Kris, Cara, and my nieces met us back at mom's house. The kids enjoyed a cozy evening at home while the adults got to have an adult dinner at the club house. I had a Caesar salad and the salmon which was stuffed with spinach with roasted Brussels sprouts. So good!
Breakfast, Lunches, Odds and Ends
Resources