15 Must-Do's in Albania: Adventures and Attractions
There are so many fantastic things to do in Albania. Whether you love getting out in nature and taking off-the-beaten-track adventures or are more of a city person, Albania has you covered.
I spent 3 months exploring Albania as a digital nomad, and there was never a dull moment. There is just such a variety of different things to do, I loved my time here and definitely plan to go back.
Albania has become popular because of its gorgeous coastline but it's also made up of 70% mountain, which makes it a fabulous destination for hiking. There are many amazing cities to explore, and the country has a fascinating history and culture to learn about.
With so much to discover and so many things to do in Albania, I thought I'd put together a list of my favorites.
Best Things To Do in Albania
There are some incredible things to do in Albania. It's a country waiting to be explored and combines cosmopolitan cities, stunning countryside, and some of the best beaches in Europe. Here are some of my favorite things to see in Albania.
1. Tirana Walking Tour
One of my favorite things to do in Albania is to take a walking tour in Tirana. Albania has a fascinating history, particularly its relatively recent communist past.
This amazing Tirana walking tour guides you through this country's beautiful capital city and its unique history. It'll help orientate you to explore Tirana on your own and give you an appreciation and insight into where Albania has come from and where it's going.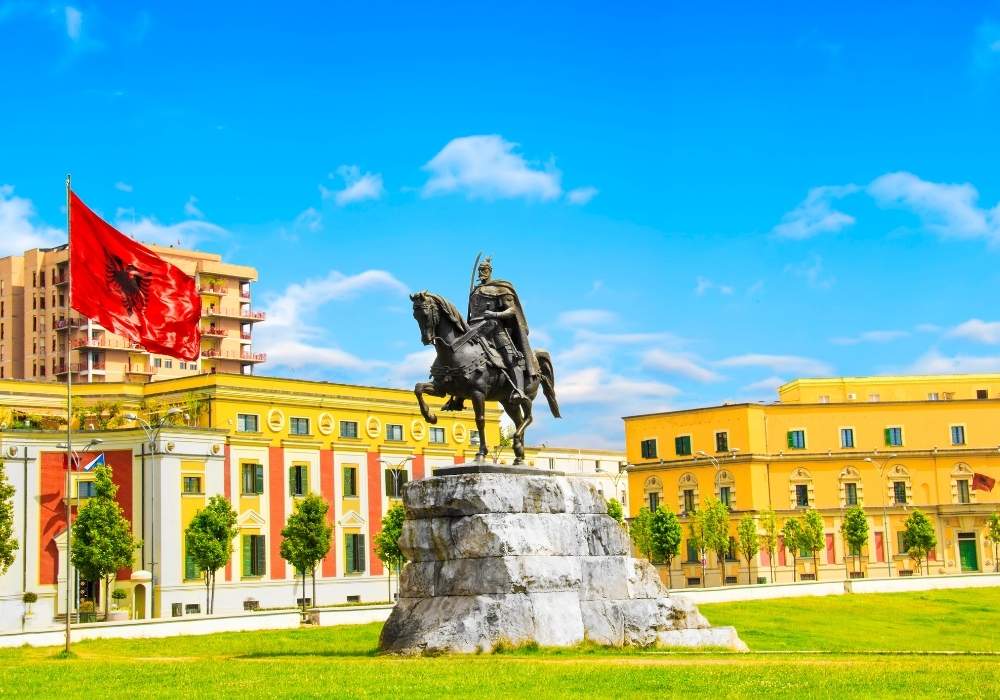 The 3-hour walking tour is fascinating, and the guides are very knowledgeable. They've lived through part of the communist era in Albania, and so you receive a really involved feel for this period in Albanian history.
For me, this is one of the best things to do in Albania and it's a brilliant way to get to know this amazing country.
2. The Blue Eye
The Blue Eye in Albania is one of the best natural tourist attractions in Albania. Located in the south of the country, the Blue Eye is a deep underwater spring that draws up the most incredibly blue water into the river and lake at the Blue Eye National Park.
The Blue Eye is known to be more than 50 meters deep. Its true depth is yet to be discovered, as the force of the water rushing to the surface prevents divers from getting any deeper.
To get to the Blue Eye, you'll hike up through the National Park. It's a relatively easy walk on a paved track for around 2 kilometers. When you get there, you'll be greeted by the stunning Blue Eye natural spring, surrounded by lush forest.
There's a small gift shop and a restaurant nearby. Over the Blue Eye, you'll find a viewing platform perfect for amazing photos or if you're brave enough, as a place to dive from.
The water is very fresh, so it's a great spot to cool off. This is absolutely one of my favorite things to see in Albania.
3. Dajti Mountains
Tirana is surrounded by the imposing Dajti Mountains and you can head up into them, courtesy of the Dajti Express cable car.
The cable car is located to the north of Tirana and is a beautiful trip up the mountains with incredible views back over Tirana. At the top of the cable car, you'll find a variety of activities and restaurants. The Ballkoni Dajtit restaurant offers amazing views from its glass walls and accompanying viewpoints.
If you enjoy hiking, there are some fantastic hiking trails from the top of the Dajti Express which take you to the summit overlooking the cable car and Tirana beyond.
Or, combine a tour of the Dajti Mountains with a visit to the famous Bunk'Art 1 museum – an incredible museum housed in disused bunkers. Combine a trip to both on this excellent day tour from Tirana and tick off two of the top things to do in Albania in one go.
4. Ksamil and The Albanian Riviera
Moving away from the capital city of Tirana, a trip to Albania wouldn't be complete without a trip to the Albanian Riviera.
Ksamil is the center of the Riviera and is one of the most famous Albania attractions. The beaches at Ksamil are some of the best in Europe and very Instagrammable. Here, you'll find crystal-clear, blue water and white sand. The beaches are packed with beach bars, restaurants, and water sports opportunities.
From the Ksamil beaches, you can even head out to explore the islands just offshore. Grab a kayak or jet-ski and escape the crowds in Ksamil on these uninhabited islands for a day of adventure.
I based myself in nearby Sarandë, which means you can escape the crowds and benefit from the amazing bars and restaurants close by. You can even grab a ferry from Sarandë to Corfu for an incredible day trip from the Albanian Riviera.
The beaches in Ksamil have to be seen to be believed, and a trip to the Riviera is one of the best things to do around Albania.
5. Eat at a Local Zgara
One of my favorite things to do in any country is to get a real taste of local life, and there's no better way to do this than through a country's food.
One of the most authentic things to do in Albania is to visit one of the many zgaras (grills) in Tirana and throughout Albania. They serve some of the best local food in the country.
From chicken kebabs and qoftes (local meatballs) to grilled peppers and delicious local salads, these little grill houses offer tasty, affordable, and authentic food.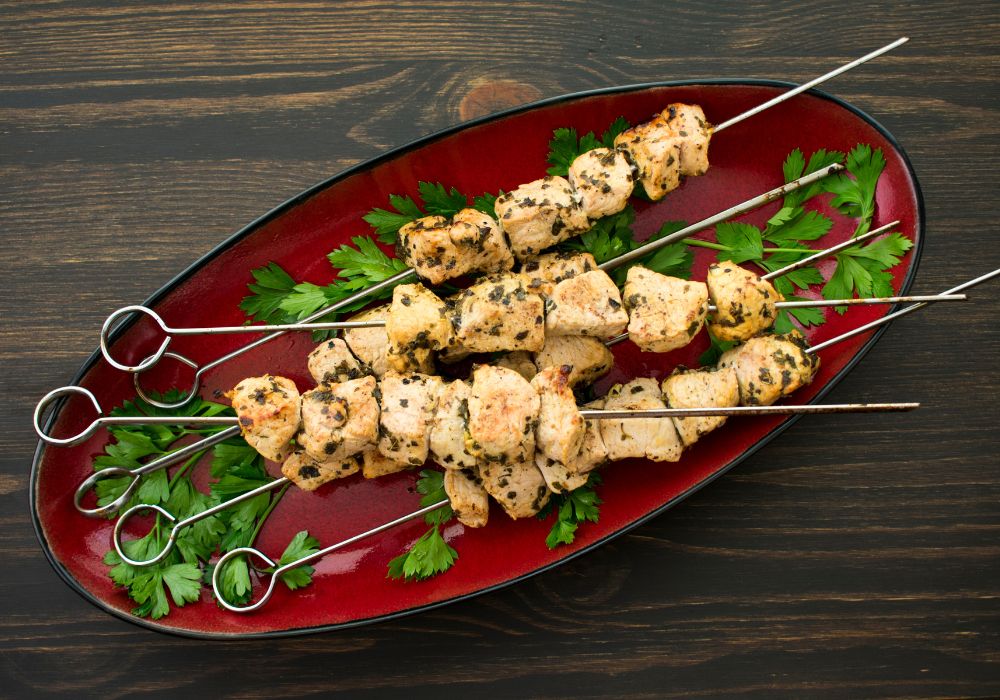 If you want to go further and really understand the food and culture of Albania, then I definitely recommend this excellent cooking tour. You'll meet your guide at a local market to collect ingredients before turning your hand to some of the local delicacies.
Food is a great way to get to know a country, and the food in Albania is very good. Whether eating or cooking, it's one of the best things to do in Albania for certain.
6. Explore the Trendy Neighborhood of Blloku
Blloku is a trendy neighborhood in Tirana and is one of the best things to do in Albania at night.
The most interesting thing about Blloku is its recent transformation. During the communist era in Albania, Blloku was off-limits to residents of Tirana. It was a neighborhood reserved for communist party members only and home to some beautiful buildings.
Since the fall of communism, Blloku has been opened up and is now home to some of the coolest, trendiest, and best restaurants and bars in Tirana. It's become one of the most cosmopolitan parts of Tirana and is definitely a place not to be missed when visiting Tirana.
Head to the incredible museum-turned-bar Komiteti. It's one of the coolest bars in Tirana and is packed full of relics and artifacts from the communist era. Artigiano is an incredible Italian restaurant in Blloku and Era presents Albanian food with a culinary twist.
Blloku is a great visit during the day and is one of the best things to do in Albania at night thanks to its lively nightlife.
7. Visit the City of 1,000 Windows (One of the Best Things To Do in Albania)
The beautiful city of Berat is known affectionately as the city of 1,000 windows. It's a unique, UNESCO World Heritage Site that gets its name from its Ottoman-style houses looking out over Osum creating a stunning visual effect.
Berat is one of the cultural centers of Albania and is one of the best-preserved historical cities for sightseeing in all of Albania.
If you're based in Tirana, the best way to visit Berat is on this highly-rated day tour to Berat. You'll get driven from Tirana and will visit some of the most important and impressive sights in Berat. Your knowledgeable guide will explain the history of Berat and its significance to the past of Albania.
You'll take in the beautiful Berat Castle, the Red Mosque, and two of the best museums in Berat. You'll also get a chance to have a traditional Albanian lunch before heading back to your hotel in Tirana. It's a great day trip and a brilliant way to visit one of the most popular historical attractions in Albania.
8. Visit Durrës
As one of the most ancient cities in Albania, a visit to Durrës is one of the best things to do in Albania. It's packed full of archeological finds, including its impressive Roman Amphitheater.
Durrës is fascinating as it combines its ancient history with its location on the coast and all the cosmopolitan attractions you'd expect from Albania's second city.
Durrës beach stretches for over 10 kilometers and features various bars, restaurants, and hotels serving it. It's not quite as amazing as the beaches on the Albanian Riviera but it offers some great alternatives within reach of Tirana.
Equally, the nightlife and food scene in Durrës is very cosmopolitan. It's a fun place to be based for a day or two to enjoy some food and the lively bars that party long into the night.
For a good combination of history, beach, and party, a trip to Durrës is one of the most fun things to do in Albania.
9. Hiking the Accursed Mountains
If you love hiking then Albania is an incredible country to visit with a huge range and variety of hiking routes available for all abilities and ages.
For the pinnacle of hiking in Albania and for experienced ramblers, the incredible hiking trail through the Accursed Mountains tops any list of things to do in Albania.
The Accursed Mountains, also known as the Albanian Alps, offer some of the most incredible scenery and nature in Albania. The trail starts close to Tropoje and passes from one national park in Valbona to another in Theth and extends for over 30 kilometers. It's a long day trip and takes around 13 hours to complete.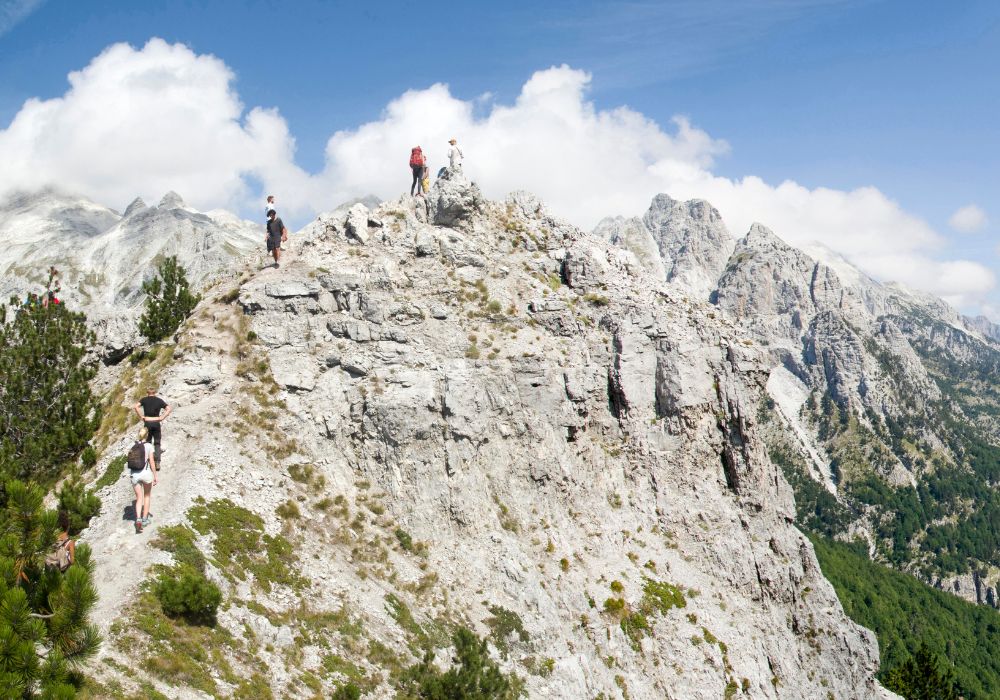 It's a challenging hike and I recommend strong walking shoes and poles if you have them. There are a couple of cafes to stop at during the hike. Call into Cafe Simoni to refuel.
For adventurous hikers looking for something truly special, the Accursed Mountain hike is absolutely one of the best things to do in Albania.
10. Discover Butrint National Park
Butrint National Park is located in the south of Albania and is a UNESCO World Heritage archaeological site. It's one of the most popular tourist attractions in the whole of Albania, and it's easy to see why.
If you love ancient history, then discovering Butrint National Park will be a fascinating trip. Butrint has been inhabited since prehistoric times and has been occupied by the Greeks, the Romans, and the Venetians. Each has left their mark on this city that's still slowly being discovered by archaeologists.
Butrint sits on the edge of Lake Butrint and is surrounded by forests and water. The city itself was a jewel in the crown of the Roman Empire and was designated as a retirement spot for successful Roman warriors.
Today, you can explore the Roman Theatre, the Forum, the remains of the Great Basilica, and the Venetian Castle and Tower.
There's also a museum on site that houses some incredible artifacts discovered from the colorful history of Butrint.
You can drive to Butrint, or if you're based in nearby Sarandë then take this excellent half-day tour to Butrint. It's a fascinating look at Albania's ancient past.
11. Take a Wine Tasting Tour
Albania has some incredible wine, which perhaps isn't a surprise when you consider its climate and location on the Ionian Sea.
Lazli Bay is one of the most popular wine-growing regions in Albania. Located in the northwest of the country, it's around an hour from Tirana and 45 minutes from Durrës.
Here, you'll find the wonderful Duka Winery and Vineyard, which comprises over 5 hectares of vineyards and stunning views. Try their famous Duka Cabinet Sauvignon and keep in mind that no wine tasting in Albania is complete without some homemade raki to finish.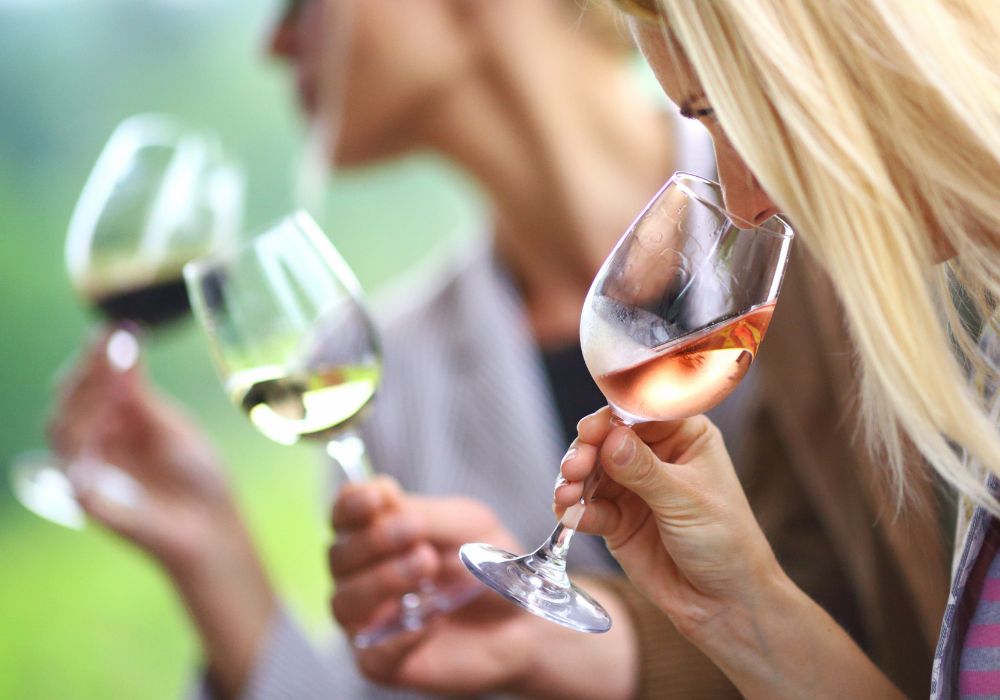 If you want to combine a day trip to Durrës with a wine-tasting tour of Lali Bay, then check out this full-day tour. From Tirana, you'll take a guided tour of Durrës before getting to sample some of Albania's best wines.
12. Explore Gjirokaster
If you're in the south of the country, then a visit to Gjirokaser is one of my most highly rated things to do in Albania.
This Ottoman city is made nearly entirely of gray stone, perched up in the mountains. It's free from vehicles with cobbled streets packed full of boutique shops, bars, and restaurants. It's so well-preserved it's been designated a UNESCO World Heritage Site.
Above Gjirokaster is the fortress, which is definitely worth a visit. It's a fascinating place that was first built by the Ottomans and then used during the communist era as a prison. It's well-preserved, interesting to explore, and offers some incredible views over Gjirokaster.
If you're in Gjirokaster, consider a visit to The Barrels Vineyard for lunch or dinner. This family-run business sets tables in the vineyards and produces incredible seasonal food and wine. The family is so welcoming and my visit here was a magical experience. It's definitely one of the most romantic things to do in Albania for couples.
13. Hike to Bovilla Lake
20 kilometers north of Tirana is the stunning Bovilla Lake nestled in the Gamti Mountains. The lake itself is beautiful with blue-green water and an incredible landscape surrounding it.
For those that want to get the blood pumping, you can take a hiking trail from the lake up Mount Gamti. The hike itself takes around 3 hours to complete but you'll be rewarded with some of the most incredible views in Albania and you can even take a dip in the lake afterward to cool off!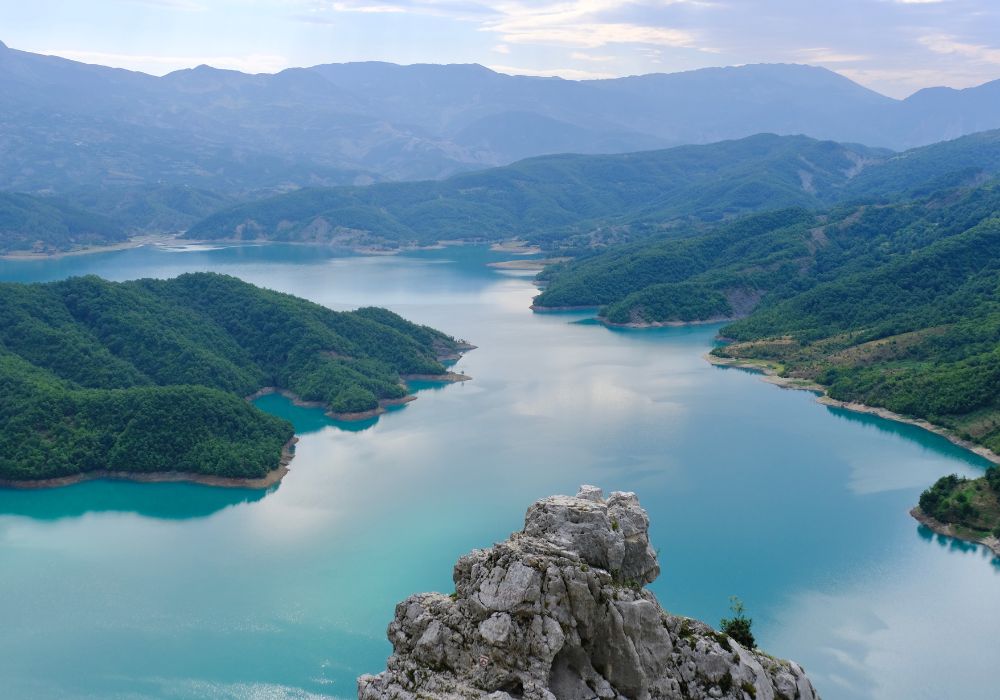 Visitors can either drive out to Lake Bovilla and tackle the hike themselves or take a guided tour from Tirana. I'd recommend a guide as the route on the way back down Mount Gamti can be a little tricky to follow.
Whichever way you choose to explore, be sure to take plenty of water and your phone for some amazing photographs. A trip out to Lake Bovilla is one of the best free things to do in Albania.
14. Explore the Osumi Canyon
Osumi Canyon is nicknamed the Grand Canyon of Albania, and it's one of the most popular things to do in Albania when visiting Berat.
The Osum river flows through this impressive canyon and if you head here in Spring, then the water levels allow you to explore the entire canyon by water. You can rent a raft and paddle the length of the canyon, stopping at the various waterfalls along the way.
It's one of the most fun things to do in Albania with kids or in a group. Equally, if you want more of an adrenaline rush, then you can have a try at some white water rafting. There are some amazing tours organized to Osumi Canyon, including this day-long water tour from Berat.
If you visit after summer, the water levels will have dropped, so rafting won't be possible. However, you can still walk around the top of the canyon for some great views and stop off in the many pools to cool off.
15. Embrace the Cafe Culture
One of the best ways to get to know a country is to stop and simply watch. This is an art form that Albania has down to a tee.
The cafe culture in Albania is fantastic. There are cafes everywhere, and locals and tourists alike fill them day and night.
One of my favorite things to do in Albania was to head out for a coffee and people watch. I loved the cafes around the New Bazaar in Tirana which provided the perfect spot to watch the world go by.
Equally, there are some incredible cafes to explore in Albania. Komiteti in Tirana is packed full of relics from the communist era and the cafe chains are good too; Mulliri Vjeter and Mon Cherie are located all over the country, offer Wifi, and serve tasty coffee at great prices.
Quick Travel Itineraries For Albania
If you want to make the most of your time, then here are my suggestions of what to do in Albania during your trip.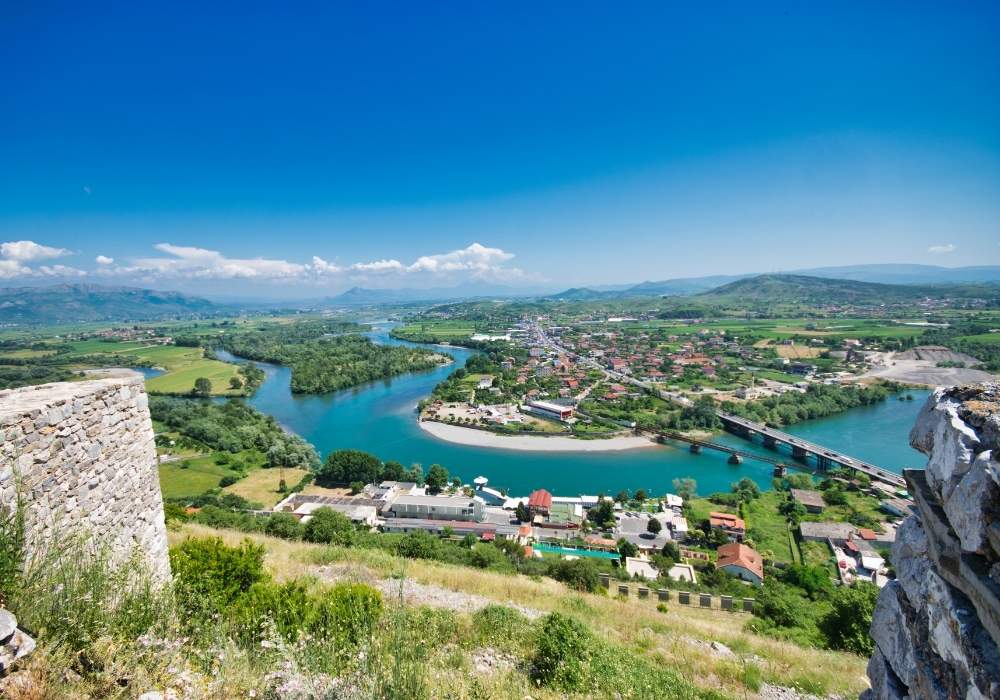 1 Day in Albania Itinerary
If you only have one day in Albania, then chances are you'll be in Tirana. I recommend taking a morning walking tour to get to know the city and the fascinating history of this country. For those who love nature, use the afternoon to take the Dajti Express up the mountains for incredible views over Tirana.
Alternatively, head into Bunk'Art 1 or Bunk'Art 2 museums to get to know more about the history of Albania during its communist period.
In the evening, head to Blloku for some of the best food in Tirana and a couple of drinks in some of the lively bars (if you're so inclined).
2-3 Days in Albania Itinerary
If you have a few more days available, then I recommend you base yourself in Tirana. On the first day, follow the 1-day itinerary above.
On the second day, consider a day trip to Berat for a fascinating tour of the city of 1,000 windows. When you get back to Tirana, head to the New Bazaar for a coffee or a drink and embrace the local culture in the area.
On the third day, consider a day trip to nearby Durrës to explore the second city and its ancient history. You could combine this with a wine-tasting trip to Lazli Bay for the ultimate day of history and culture.
1 Week in Albania Itinerary
If you have a week to travel Albania, then start in Tirana and follow the itinerary above. After that, I'd head down to Sarandë for the rest of the week.
From Sarandë, visit the incredible Ksamil beaches just 20 minutes down the road. This will give you some time to work on your tan and is a nice mid-week break from sightseeing.
For the rest of the week, consider heading to Butrint National Park, the Blue Eye, and Gjirokaster. All of these are within close driving distance of Sarandë and the Albanian Riviera. You can even combine Ksamil, Butrint, and the Blue Eye on this brilliant 1-day tour of the area.
In the evenings in Sarandë, check out Haxhi Restaurant and head up to Sarandë Castle for dinner and drinks at sunset overlooking Sarandë Bay. In Gjirokaster, head to the homely Taverna Lani for an incredible meal and welcoming experience.
Getting To Albania
The most common way to get to Albania is via its main international airport in Tirana. Flights are frequent from across Europe and are available at very good prices. From the airport, a 30-minute shuttle bus will take you into the heart of Tirana.
Alternatively, if you're staying on the Greek island of Corfu, you can take a ferry across to Sarandë in Albania to explore the excellent beaches on the Albanian Riviera.
Once you're in Albania, the best way to get around is by bus, by hiring a car, or by taking tours. There isn't a real train network to speak of but small minibusses operate between the major cities and run regularly. Taxis and car rentals are relatively cheap and reliable.
Alternatively, tours operate from most of the main cities and are excellent, cost-effective, and stress-free ways to visit some of the best things to do in Albania.
Things To Do in Albania: FAQs
Here are some answers to commonly asked questions about visiting Albania.
What is Albania known for?
Albania is best known for its recent communist past, and its incredible museums about this era. It's also home to some of the best beaches in Europe.
When is the best time to visit Albania?
I suggest the shoulder seasons of April to June and September to October; either side of summer, which is the busiest and hottest part of the year.
Is Albania worth visiting?
Absolutely! Albania is packed with fascinating history, stunning nature, incredible beaches, and cosmopolitan cities, making it the perfect getaway in Europe.
How many days should I spend in Albania?
If you wish to explore Tirana, then a long weekend is sufficient to get a feel for this great city. If you want to go further afield and enjoy the beaches and other amazing things to do in Albania, then budget two weeks to see the best of this fascinating country.
Is Albania safe?
Albania was perfectly safe when I visited. Tirana feels comfortable, even after dark, and I didn't encounter any issues at all when I visited.
What is the most popular thing to do in Albania?
Visiting the incredible beaches on the Albanian Riviera is one of the most popular things to do in Albania.
What is the best beach in Albania?
Ksamil has the best beaches in Albania, located on the Albanian Riviera. You can stay in Ksamil or in nearby Sarandë to fully enjoy these beaches.
What foods should I try in Albania?
Head to a local zgara or grill in Albania and try some grilled meats, including qoftas (meatballs) or grilled vegetables and local salads.
In Closing
I hope this post gives you some inspiration for things and places to see in Albania. There are so many incredible things to do in Albania that you're likely to wish to return time and again.
Whether you choose a long weekend or a longer 2-week tour, there's plenty to do in this fascinating country. There are some incredible tours to take and places to discover whether you love history, nature, or food!
I hope you enjoy your time in this amazing country.
Like This Article? Pin it!