15 Unique Things to Do in Prague (Updated 2023)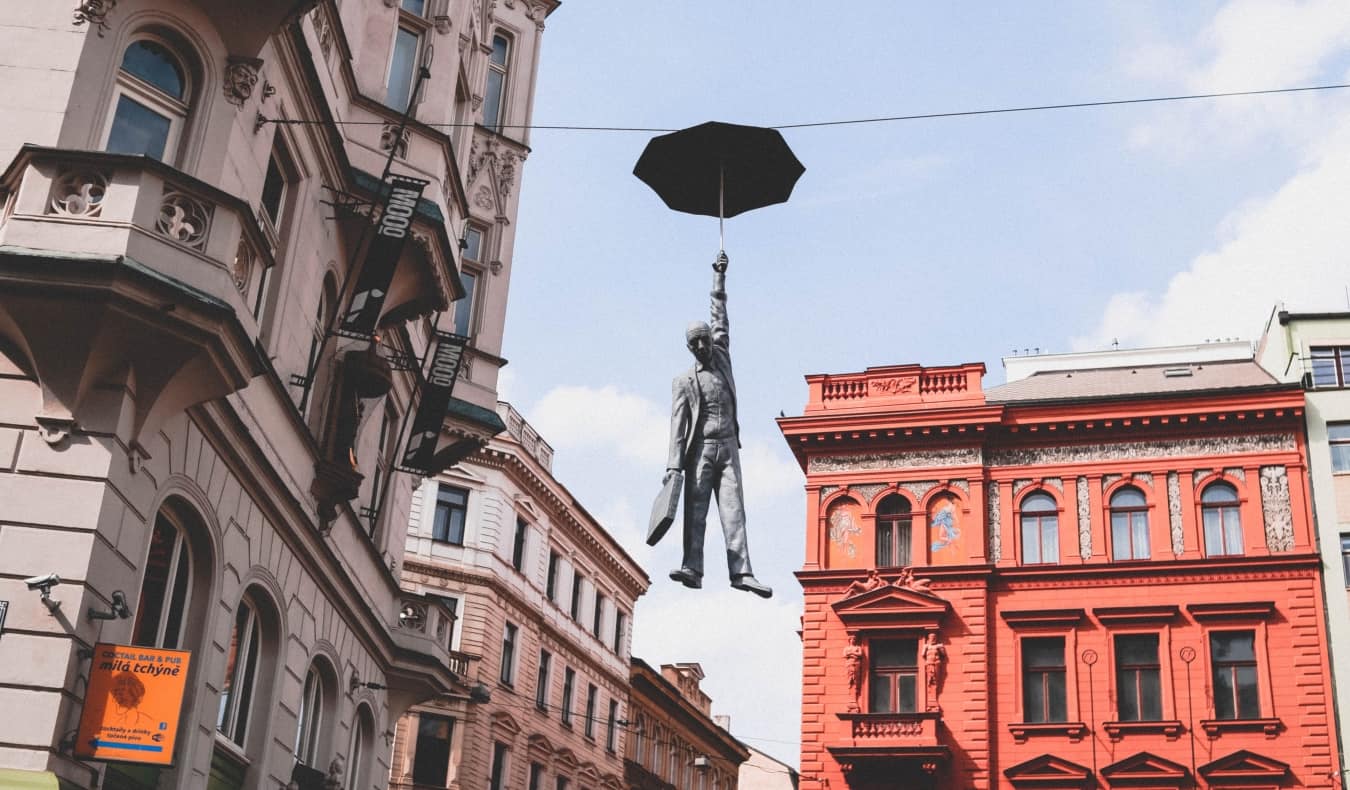 Posted: 2/13/2023 | February 13th, 2023
Prague is one of Europe's most popular cities. Owing to its stunning medieval architecture, it has developed a reputation as one of the continent's must-see destinations.
Unfortunately, its popularity means it gets packed during the summer. In 2019, nearly seven million tourists descended on Prague, a city of just 1.3 million people!!!! And the crowds have now returned post-COVID.
But, while Prague may be battling overtourism, the city has a lot to offer intrepid (and repeat) visitors who want to see something other than the same old highlights.
For example, did you know that about a hundred years ago, a group of Czech architects decided to apply Picasso's Cubist style to architecture and that scattered around Prague is a small handful of Cubist buildings, including a Cubist café?
Or that there are constantly revolving, doorless elevators in Prague that you have to hop in and out of?
To help you deepen your visit and get off the beaten path, here is my list of the best unique things to do in Prague to help you see something different:
 
1. St. Jacob the Greater Church
The Church of St. Jacob the Greater gets overlooked because it sits in the shadow of Týn Cathedral on Old Town Square. But, for the curious who do venture inside this 13th-century basilica, if you look up just inside the entrance, you'll see an object hanging from a chain.
It's a withered hand on a meat hook.
As the story goes, a thief tried to steal some priceless jewels from a statue of the Virgin Mary at the altar. As he laid his hand on the jewels, the statue reached out and grabbed him. And it would not let go.
Some parishioners — many of whom belonged to the Prague Butchers' Guild — amputated the hand of the thief and Mary immediately dropped it. As a lesson (and warning) to potential future thieves, they hung the hand up in the church and, several centuries later, it's still there.
If you take a ghost walking tour of Prague, you'll stop here to hear all about this grizzly tale.
Malá Štupartská 635. Open Tuesday-Sunday 9:30am-4pm. Admission is free.
2. Charles Square
One of the largest squares in Europe, Charles Square sits in New Town (Nové Mesto). It was originally a cattle market where they also sold fish, wheat, and charcoal. And, for one week a year, Holy Roman Emperor Charles IV, who made Prague the capital of the empire during his 14th-century reign, held an annual relics show here (relics were religious objects of important significance). Now, it's a beautiful square few people visit but is a great place to people-watch.
3. Bethlehem Chapel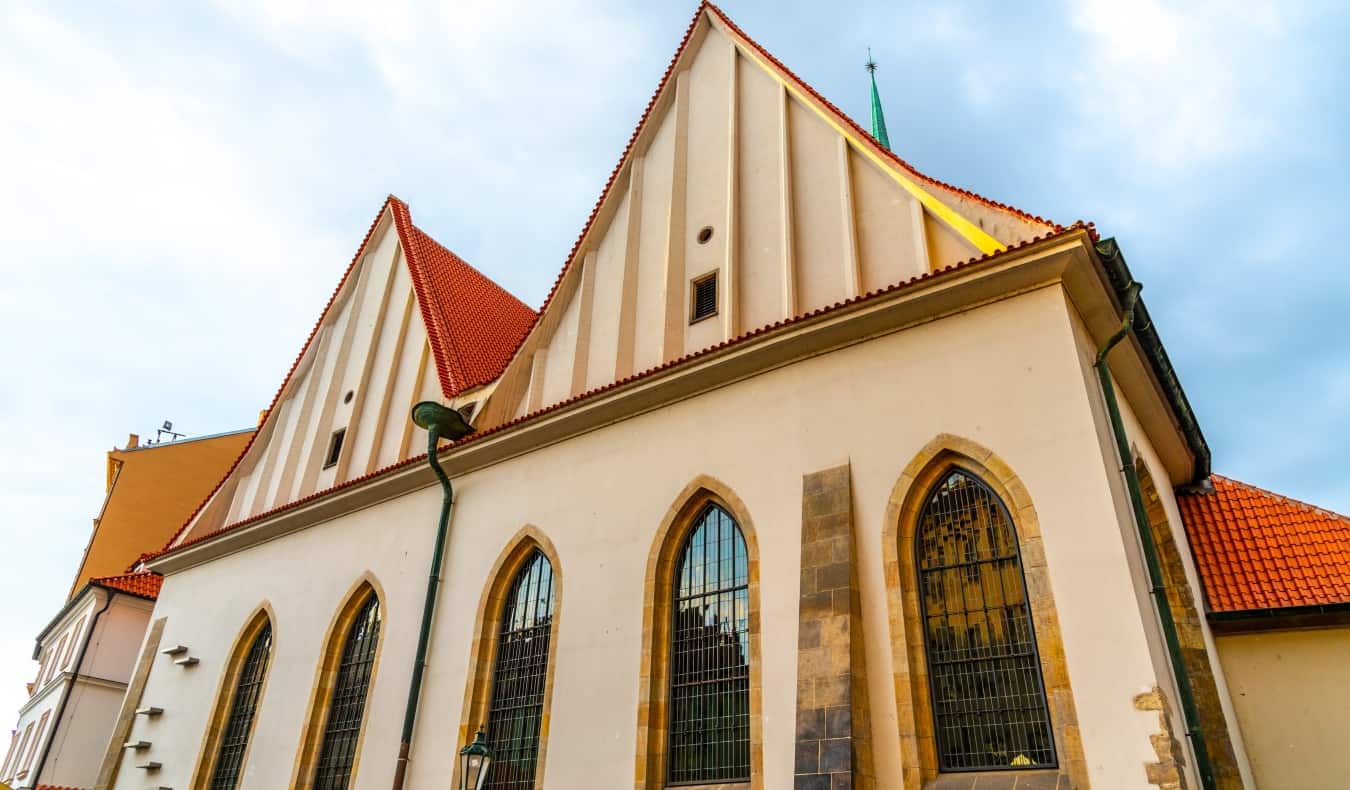 Located on a pleasant and intimate square in Old Town (Staré Mesto), this was where a man named Jan Hus preached to parishioners in the early 15th century — in Czech, not in Latin as was required at the time. This was considered radical. Hus was one of the most charismatic preachers in Prague. He attacked the pomp and circumstance of the church and papacy, which he said was designed to exclude commoners.
Be sure to note the simplicity and lack of icons. The architecture was very much in line with Hus's philosophy of how one should worship God.
Betlémské nám., bethlehemchapel.eu. Open daily 9am-6:30pm. Admission is free.
4. Vítkov Hill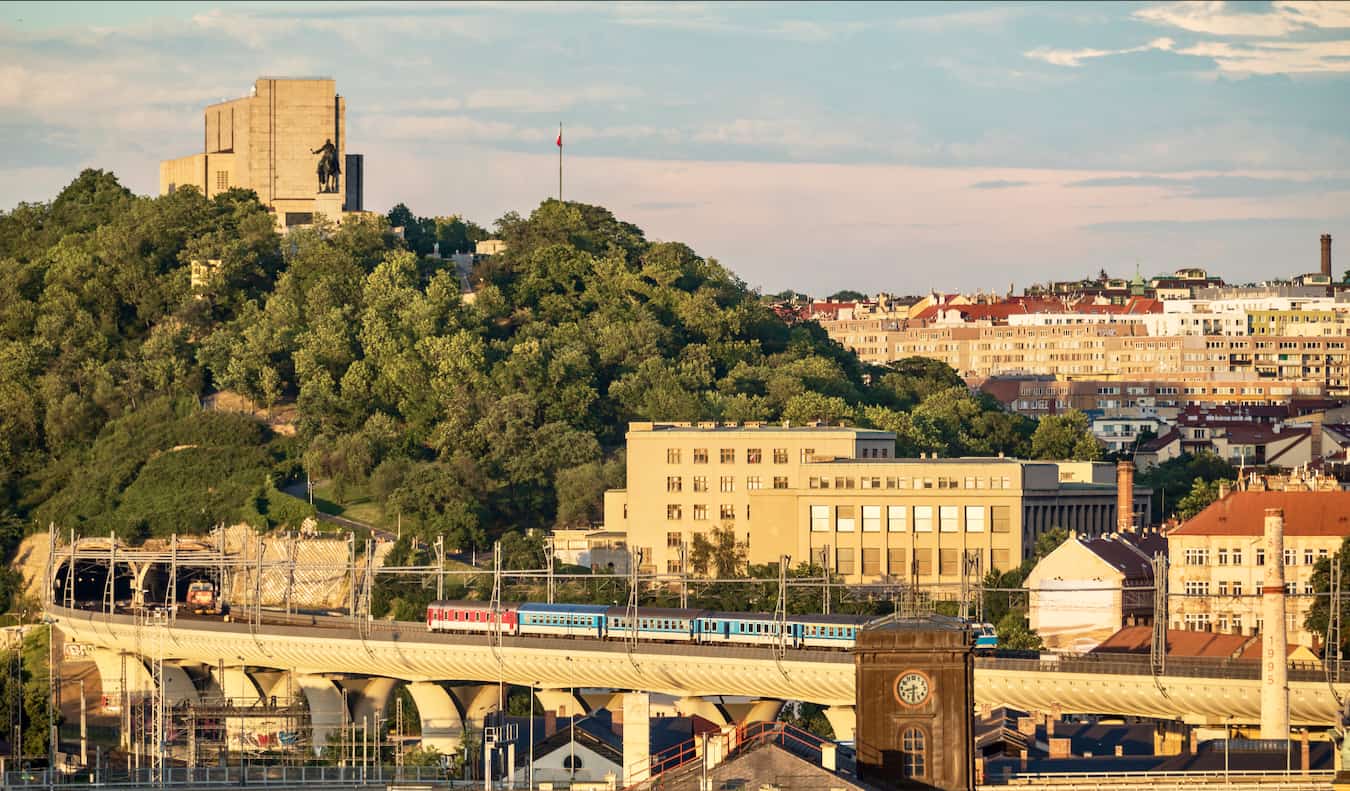 Hike up to this hill east of Old Town and you'll be rewarded with an excellent view. But there's another reason to visit: it's crowned by the world's largest equestrian statue. The man on the horse is one-eyed General Jan Žižka. After the pope had Jan Hus (mentioned above) burned at the stake in 1415, people like Žižka took up his cause. He formed an army, and soon enough, warrior-crusaders representing the Pope were marching into Bohemia (the western half of today's Czech Republic) to try to quash his reform-minded rebellion. About a thousand of Žižka's men defeated an army of Catholic crusaders — some say there were 20,000 of them. The Hussites, as they called themselves, were eventually defeated by the Catholics, but Žižka's spirit remains on Vítkov Hill.
Prague is second only to New Orleans in having the highest number of pubs per capita, and Žižkov has about 300 of them, the highest density in Prague. Do yourself a favor and go on a pub crawl here.
5. Infant of Prague
If you're a fan of religious history, one religious oddity worth seeking out in Prague is a baby doll on display inside the 16th-century Church of Our Lady Victorious in the Malá Strana neighborhood. The Infant of Prague (often referred to in Italian as Il Bambino di Praga) was brought to the city by King Ferdinand in 1628.
Rampaging Swedish soldiers — who went on a wild frenzy in Prague in the 1630s — threw the doll in a pile of trash and it was lost. That is, until seven years later, when a priest was milling about the mountain of trash and heard a voice saying, "Psst. Psst. Have pity on me, and I will have pity on you. The more you honor me, the more I will bless you." Ever since, the Infant has been back in its chapel in Our Lady Victorious.
Today there is a cult of worship of the Infant of Prague in Catholic communities all over the world. In Ireland, for example, it is particularly auspicious for a soon-to-be bride to be given a miniature replica of the doll.
Karmelitská 9, pragjesu.cz. Open Monday-Saturday 9:30am-5:30am, Sunday 1pm-6pm. Admission is free.
6. Paternoster Elevator
Nicknamed "the Elevator of Death," the Paternoster is a type of lift that doesn't have a door — and it doesn't stop at floors. There are a handful of them around town but the one that is most easily accessible is in Prague City Hall in Old Town.
Head through the front doors and walk the long hallway to the back of the building. There you'll find the slow-moving lift. Jump in (carefully) and enjoy the ride. If you don't get off on the top floors, have no fear: the elevator simply revolves in a loop, and soon enough you'll be going back down.
Prague New City Hall, Mariánské nám. 2, praha.eu/jnp. Open Monday-Friday 8am-5pm. Admission is free.
7. Petrín Tower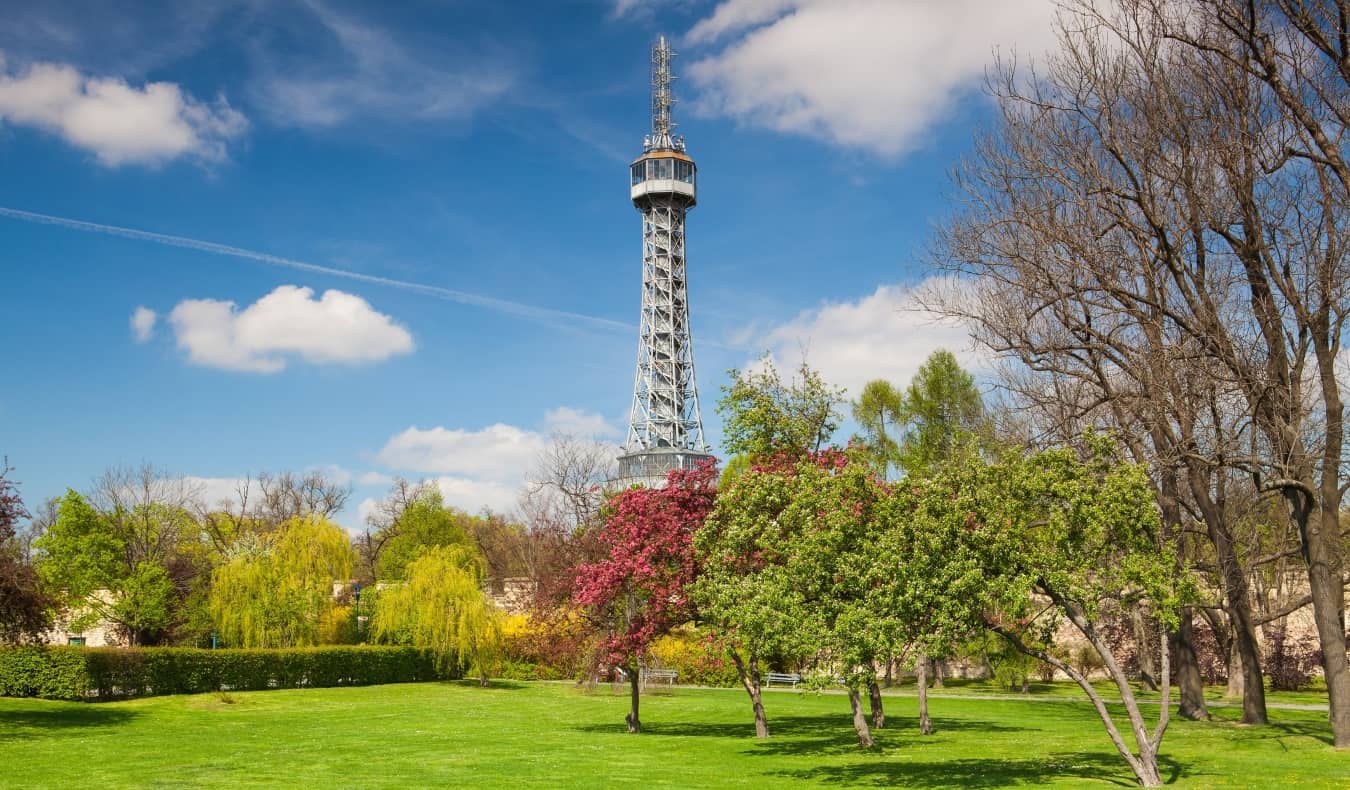 In 1889, a group from the Club of Czech Tourists went to Paris to see the World Exposition. They were awestruck by the new Eiffel Tower so the inspired Czechs went back home and raised enough money to erect a similar tower on Petrín Hill, near the center of Prague.
Petrín Tower isn't exactly a replica of the Eiffel Tower, but you can easily recognize that the tower was heavily inspired by the Eiffel Tower. Visitors today can trudge up the 299 stairs to get a stunning view of Prague.
Petrínské sady 633. Open daily 10am-8pm. Admission is 150 CZK.
8. Alternative Prague Walking Tour
I love walking tours. They cover a lot of ground and can get you off the tourist trail with the help of an expert local guide. This Alternative Prague walking tour will introduce you to some of the city's best street art and illuminate what happened during the Velvet Revolution in 1989. You'll also visit a steampunk underground club, explore hidden cafes, see secret community theaters, and even learn about an underground crypto-anarchist hacker institute!
If you want to get a taste of the various unique communities and artists on the margins of Prague, this tour shouldn't be missed.
Tours last 3 hours and cost 623 CZK per person. You can book your tour here.
9. Cubist Architecture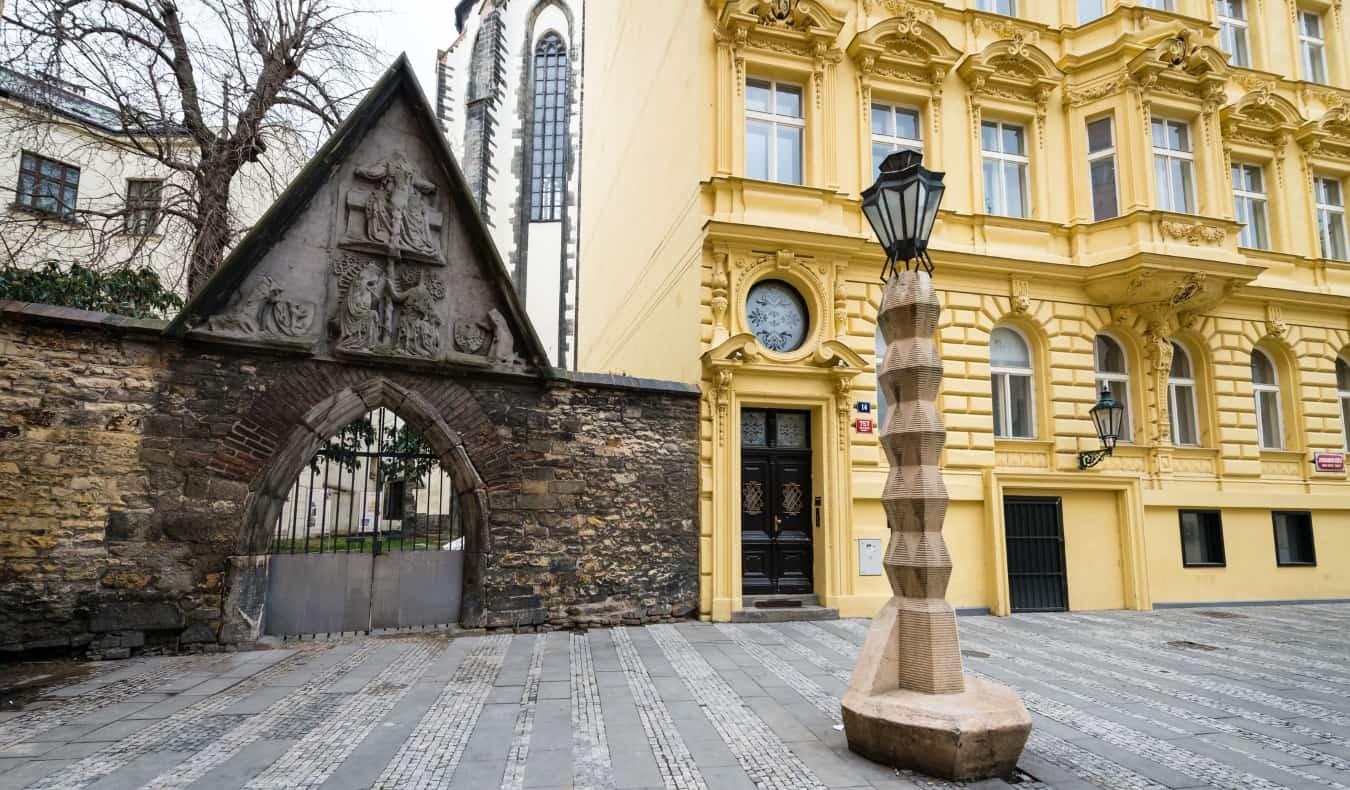 Between 1911 and 1914, a small group of Czech architects decided to see what it would be like if they applied Cubism — usually found in paintings, such as in the early-20th-century work of Picasso — to architecture. And so up went a few buildings that are beautiful, odd, and striking. You can stroll around the Vyšehrad neighborhood, about two miles south of Old Town, and find some of these structures.
One other centrally located Cubist site you should seek out is on Jungmannovo námestí (Jungmann Square), just off the bottom of Václavské námestí (Wenceslas Square). It's not only the most beautiful Cubist lamppost in the world — it's the only Cubist lamppost in the world.
To learn more about the Cubist style, you can take the Art Nouveau and Cubist Architecture walking tour. It's 3 hours and covers all the main highlights.
Ovocný trh 19, grandcafeorient.cz. Open daily 8am-10pm. Admission is free.
10. St. Cyril and Methodius Cathedral
On October 28, 1941, two Czech paratroopers who had been living in exile in Great Britain covertly parachuted into Prague under the cover of night. Their goal was to assassinate top Nazi official and head of the Nazi Protectorate of Bohemia and Moravia Reinhard Heydrich. The secret mission was called Operation Anthropoid.
On May 27, 1942, Jozef Gabcik and Jan Kubiš ambushed Heydrich's car, spraying Heydrich with a shower of bullets. Heydrich died a few days later, the only top Nazi official to be assassinated.
After that, the Nazis wanted vengeance, so they went on a manhunt around Prague. The paratroopers went into hiding in the crypt of the medieval-era Cathedral of St. Cyril and Methodius for three weeks. Unfortunately, someone snitched on them, and soon enough, the Germans had the church surrounded. But once they finally broke into the crypt, they found Gabcik and Kubiš dead from self-inflicted bullet wounds.
You can visit this church today and still see the Nazi bullet holes in the exterior walls. You can also take a World War II walking tour that covers this story — and much more around Prague.
Resslova 9a, katedrala.info. Open Tuesday-Saturday 8am-5pm, Sunday 8am-2pm. Admission is free.
11. Prague Metronome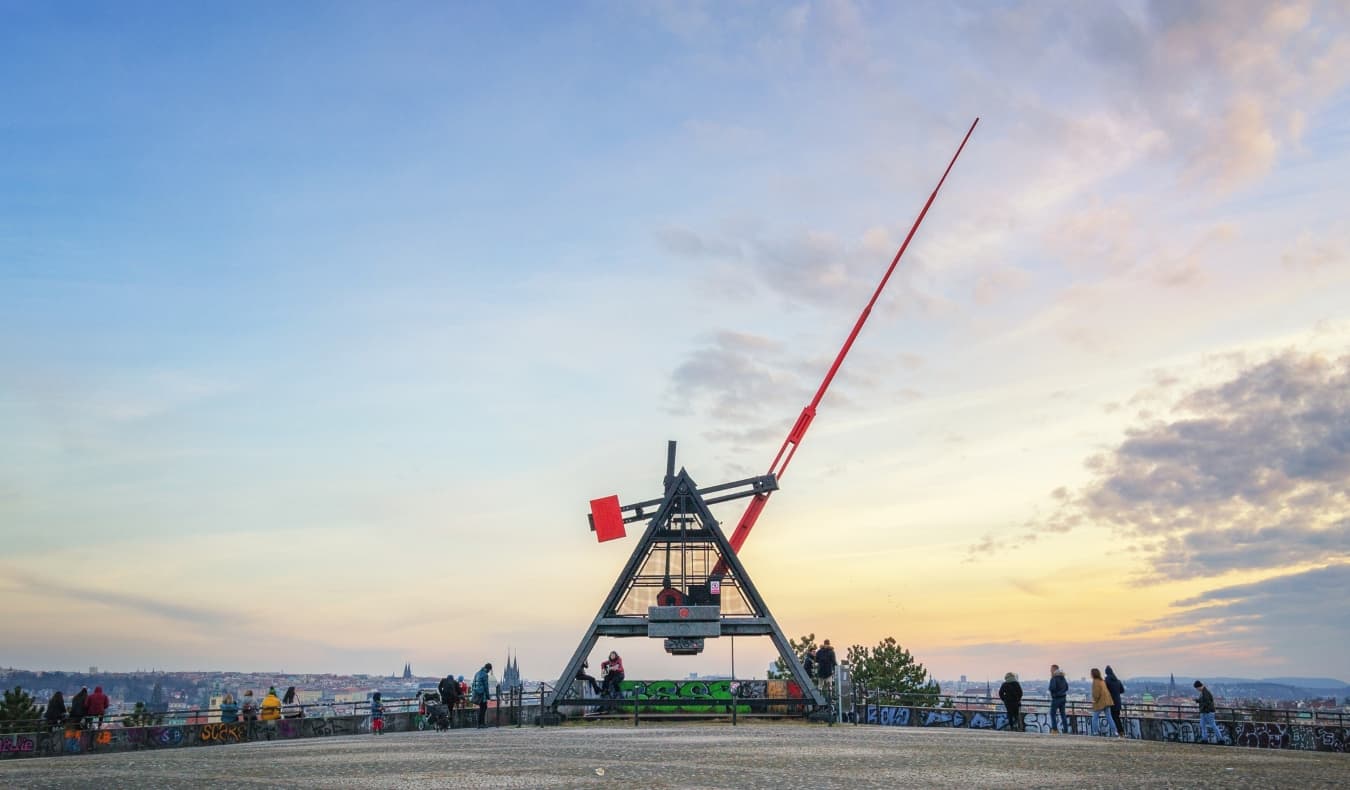 If you're crossing the Charles Bridge and look to the north up the Vltava River toward Letná Park, you can see a giant metronome. As odd as it is, it's not as weird as some of the other things that have been in that spot. For example, in 1955, Communist authorities erected the world's largest statue of Josef Stalin.
Stalin fell out of favor a few years later, and in 1962 the monument was blown up. In 1991, Prague erected the 75-foot functioning metronome in the same place. Its designer, Czech sculptor Vratislav Karel Novák, envisioned the monument as representing "the relentless passing of time." A plaque at the base of the structure reads, "In time, all things pass."
If you visit the metronome in the warm-weather months today, there's an outdoor bar selling beer and cocktails, sometimes a DJ is spinning tunes, and there is always a gaggle of skaters hanging around.
Letná Park. Open 24 hours. Admission is free.
12. Day Trip to Bohemian Paradise Geopark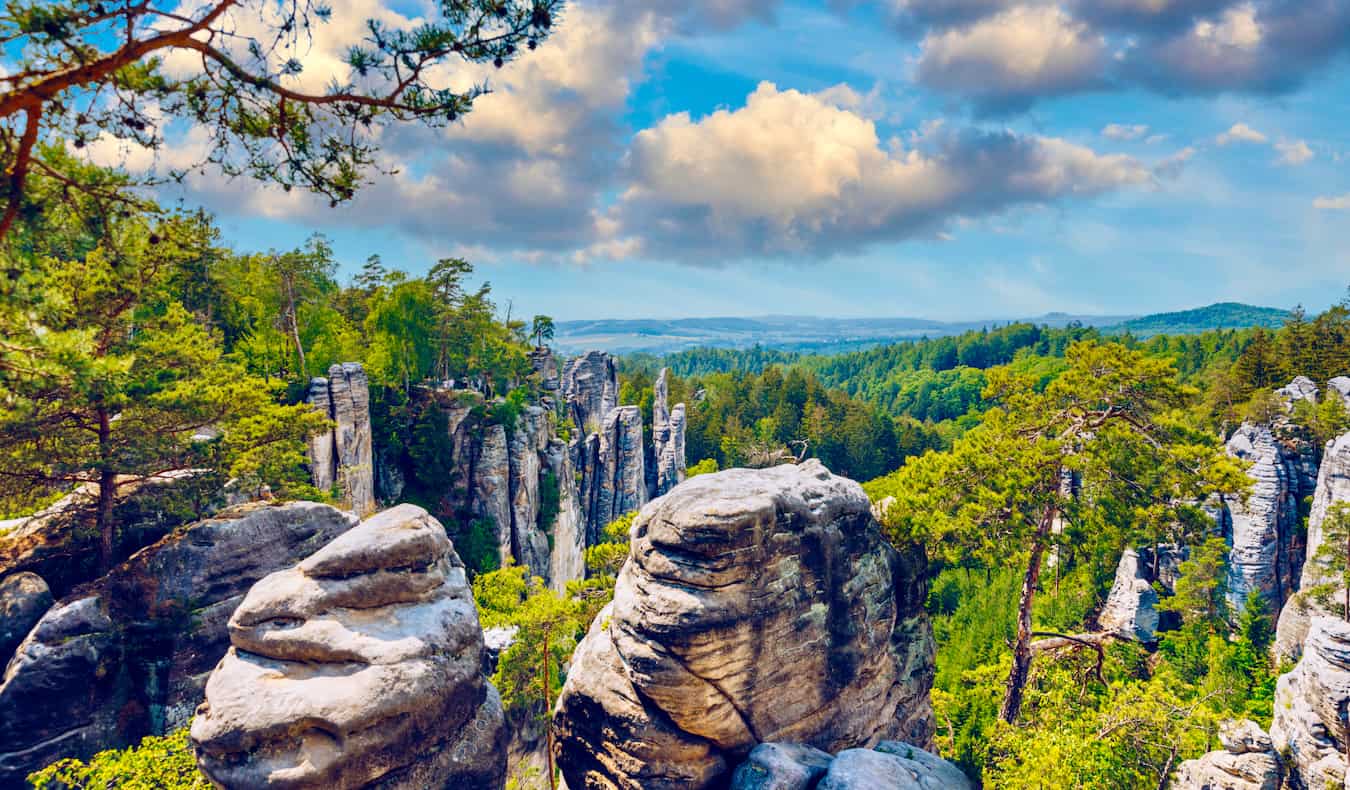 Bohemian Paradise Geopark is a UNESCO-listed landscape and home to stunning geological formations that are millions of years old. The deep pine forests and rocky landscape have been popular with painters and artists for centuries. There are also a handful of historic lodges and other buildings here too, some that date to the Middle Ages.
Just one hour away from Prague by car, day trippers can visit the park to take in the beautiful landscape, hike, see local folk villages, and enjoy the scenery away from the crowds of the city.
Tours from Prague generally last 8 hours and include visits to local artisan shops as well as lunch in a small local restaurant in the park.
Day tours from Prague cost around 4,000 CZK. You can book your tour here.
13. Žižkov TV Tower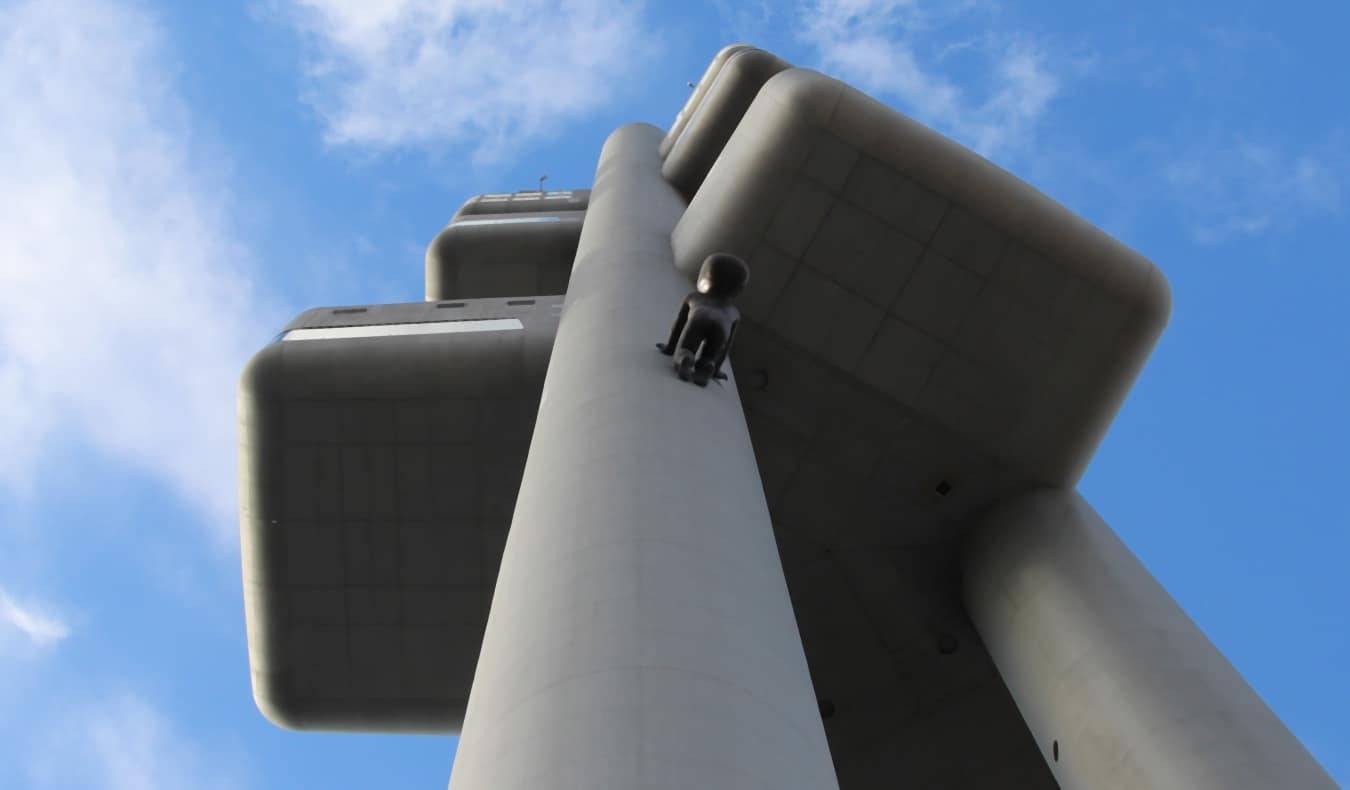 This 700-foot tower was erected in the latter half of the 1980s, and there were rumors that the Communists built it to block out radio transmissions from the West. Locals have hated the structure since day one.
It wasn't until Prague allowed well-known Czech artist David Cerny to install ten giant crawling black babies on the shaft of the structure that public opinion began to soften a bit. It's worth getting an up-close look at it. You can also get a great vista of Prague if you take the elevator up to the viewing platform.
Mahlerovy sady 1, towerpark.cz. Open daily 8am-midnight. Admission is 300 CZK and you can get your ticket here.
14. Sapa Praha
Prague has a large Vietnamese community. That's because, during the 41-year Communist period, the Czechs took in a lot of visiting Vietnamese exchange students (Vietnam was also a Communist country). That means that there are a plethora of (great) Vietnamese restaurants in Prague.
If you want to dive in, the best place is called Sapa, also known as "Little Hanoi." Even Anthony Bourdain made a point to visit this large market complex when he filmed a TV episode in Prague. It has a lot of cheap goods for sale, but the real reason to come here is to eat at one of the excellent northern Vietnamese restaurants.
Libušská 319/126, sapa-praha.cz. Open daily 8am-6pm. Admission is free.
15. Franz Kafka statue
Around the turn of the last century, the Prague-based Kafka Society held a competition for a new statue of Franz Kafka that would be erected in the center of Prague (Kafka was born in Prague and was a major contributor to 20th-century literature). Many of the entries were similar, featuring the German-speaking Jewish writer standing on a pedestal. But Czech artist Jaroslava Rona did something more creative with his entry: he had Kafka sitting on the shoulders of a headless man wearing a suit, an allusion to his short story "Description of a Struggle."
Not only did Rona's surrealist sculpture win the competition, but the Kafka Society's annual prize to writers is also a small version of the statue. You can see the original on display in the Jewish Quarter, where Dušni and Vezenská Streets meet.
Vezenská and Dušni Streets. Open 24 hours. Admission is free.
***
Prague is a magical destination worth taking the time to explore. While the main highlights are impressive, to me, the city truly comes to life once you get off the tourist trail and experience Prague's less visited, more obscure sights.
Even if you visit in the hectic summer months, you'll find far fewer crowds at Prague's offbeat attractions, ensuring a more relaxing (and more authentic) visit.
Get Your In-Depth Budget Guide to Europe!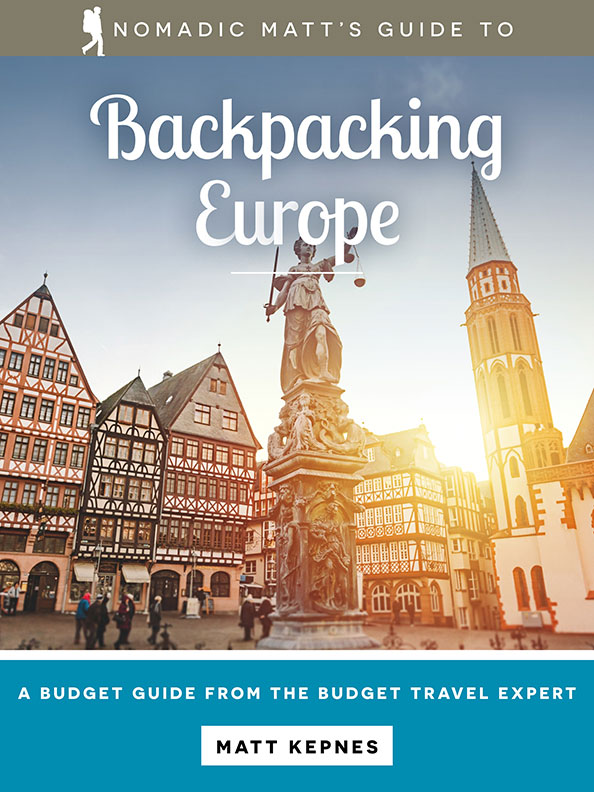 My detailed 200+ page guidebook is made for budget travelers like you! It cuts out the fluff found in other guides and gets straight to the practical information you need to travel while in Europe. It has suggested itineraries, budgets, ways to save money, on and off the beaten path things to see and do, non-touristy restaurants, markets, bars, safety tips, and much more! Click here to learn more and get your copy today.
Book Your Trip to Prague: Logistical Tips and Tricks
Book Your Flight
Use Skyscanner to find a cheap flight. They are my favorite search engine because they search websites and airlines around the globe so you always know no stone is left unturned!
Book Your Accommodation
You can book your hostel with Hostelworld as they have the biggest inventory and best deals. If you want to stay somewhere other than a hostel, use Booking.com as they consistently return the cheapest rates for guesthouses and cheap hotels. Two of my favorite places to stay are:
For more places to stay, here are all my favorite hostels in Prague!
Don't Forget Travel Insurance
Travel insurance will protect you against illness, injury, theft, and cancellations. It's comprehensive protection in case anything goes wrong. I never go on a trip without it as I've had to use it many times in the past. My favorite companies that offer the best service and value are:
Looking for the Best Companies to Save Money With?
Check out my resource page for the best companies to use when you travel. I list all the ones I use to save money when I'm on the road. They will save you money when you travel too.
Want More Information on Prague?
Be sure to visit our robust destination guide on Prague for even more planning tips!