Old Navy Fitted Rib-Knit Midi Button-Front Dress Review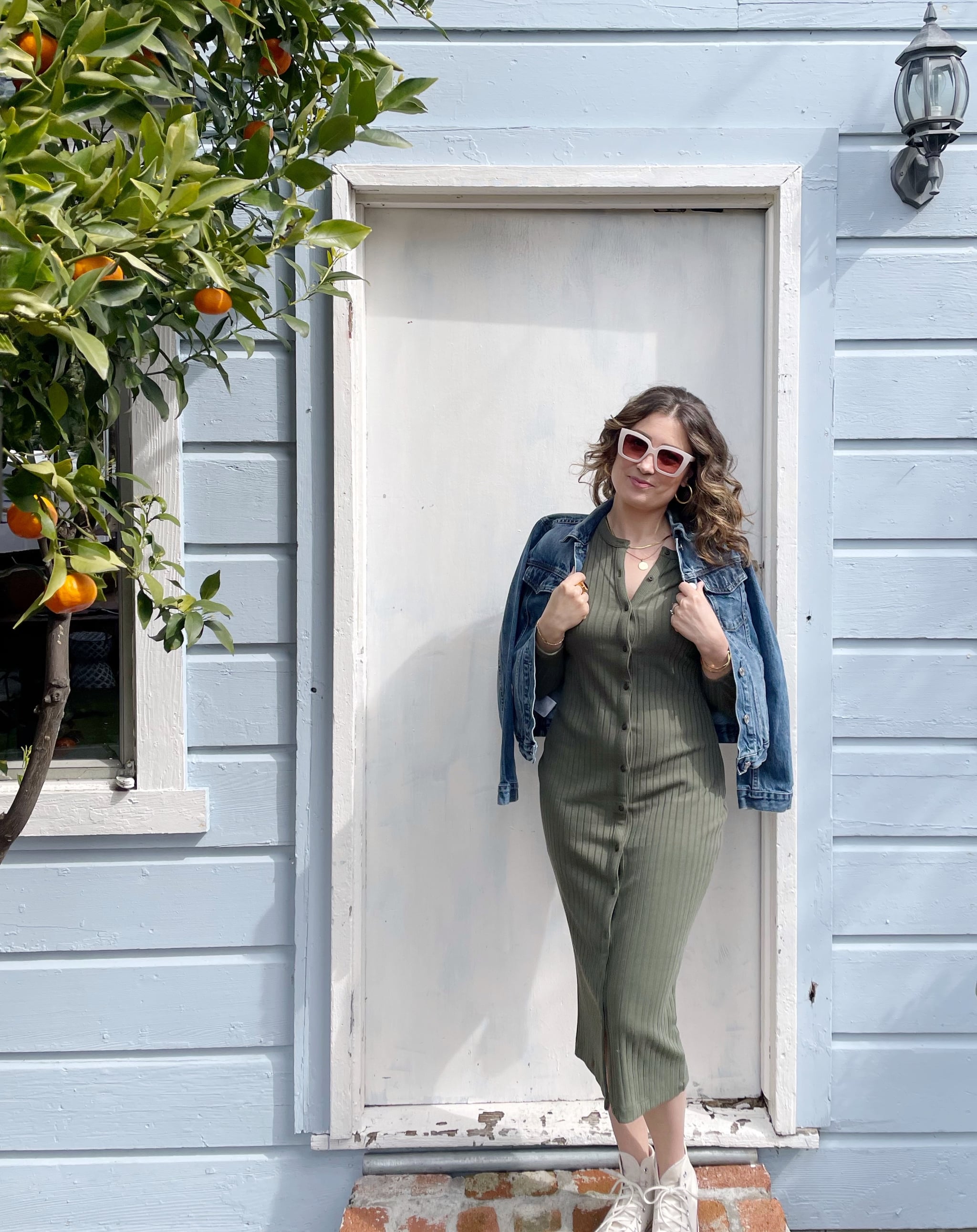 On days when I want to branch out beyond cute jeans and casual khakis but still need to feel cozy and covered up, I'll reach for a long-sleeved dress. I have a few I love, but they're either plastered with prints, trimmed with ruffles, or just feel too dressy for more low-key days. My search for a comfortable dress to pair with stylish boots and a coat for chilly weather or sandals and rolled up sleeves when the sun is out is over. This Old Navy Fitted Rib-Knit Midi Button-Front Dress ($31, originally $45) checks all my boxes. It's versatile enough to wear with sneakers and a jean jacket for errands or booties and a leather jacket for drinks.
What I Love About the Old Navy Fitted Rib-Knit Midi Button-Front Dress
The fabric is a heavy-weight, rib-knit cotton blend with a bit of stretch, so it drapes where it needs to and hugs where I want it to. I love that I can play around with how much coverage I'd like, unbuttoning the top buttons for a deeper neckline or the bottom buttons to show more leg. While I usually don't go for body-con silhouettes, the three percent spandex prevents it from being too snug. I also love that the rib-knit detail provides a super-forgiving texture. Unlike a smooth, spandex-heavy fabric, this one doesn't easily reveal underwear and bra lines, among other things.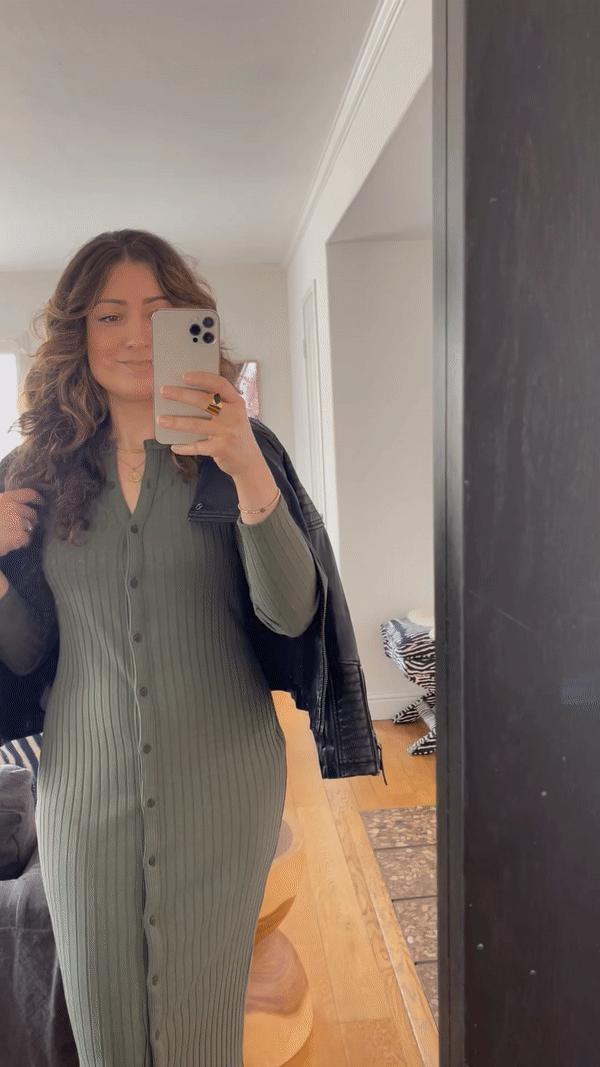 What's Worth Noting About the Old Navy Fitted Rib-Knit Midi Button-Front Dress
I'm usually a size small at Old Navy, but I grabbed this in a medium, so that it would be less clingy. If you want a fit that drapes less and accentuates your curves, go for your usual size. The dress comes in three deeply saturated tones, but I gravitated toward "Alpine Tundra," a beautiful olive green color that's not too light or dark. If you want to maintain a great fit without the color fading, you'll want to wash this in cold water on a gentle cycle and hang it to dry. This dress has over 200 reviews and an average rating of four and a half stars. One of the reviewers who gave it a four-star rating took issue with the length. "Great dress, but too long. Returned," they wrote. It's a midi length, but the long sleeves and straight fit could easily overwhelm a petite frame, so it's worth considering if you fit that body type.
Who Is the Old Navy Fitted Rib-Knit Midi Button-Front Dress Best For?
This piece is great for anyone looking for a versatile and casual dress they can wear year-round. The fact that it can be teamed with cozy layers makes it a great option for breaking out of the 24/7 pants cycle in the fall and winter, but it can also work in warmer weather. If you're a sneaker head and like to pair them with dresses, this dress looks amazing with sportier tennis shoes or stylish high-tops.
Additional Details About the Old Navy Fitted Rib-Knit Midi Button-Front Dress
This dress has button-down fastening.
Its material is made of 52 percent cotton, 23 percent polyester, 22 percent rayon, and three percent spandex.
It comes in three colors: In The Navy (navy), Alpine Tundra (olive green), and Peppercorn (brown).
Rating: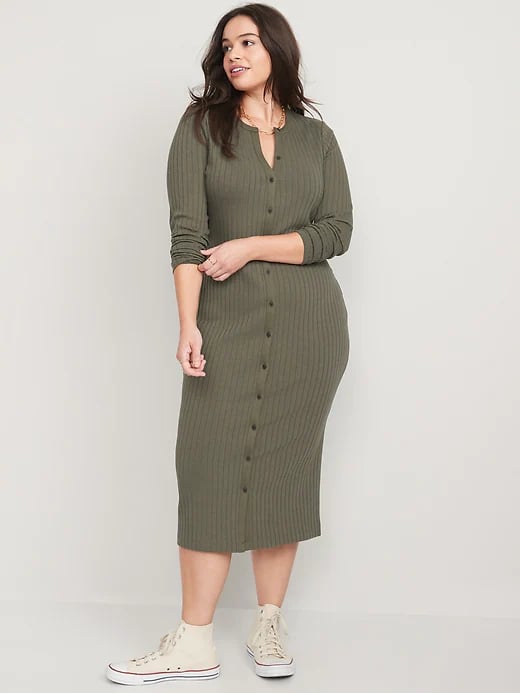 Old Navy Fitted Rib-Knit Midi Button-Front Dress
$31
from oldnavy.gap.com
$45
$31
Now 31% off
from oldnavy.gap.com