Montana Tucker Uses Worldwide Influence to Honor Jewish Heritage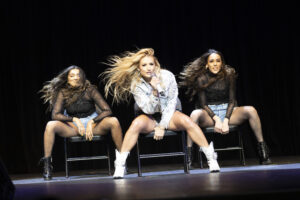 Little on Montana Tucker's TikTok account before last Oct. 24 would have explained the tears she wiped from her eyes in the opening seconds of that day's post.
The singer/influencer/entertainer had built a social media mega-following that approached 9 million on the high-energy strength of choreographed 15- to 20-second dance videos. She danced with talented performers on the streets of Hollywood. She danced in front of ice cream and chocolate shops. She danced while dressed like Britney Spears and a sexy Santa. She danced in movie-appropriate wardrobe to scenes from Grease and Pulp Fiction and La La Land. She danced on the beach with fellow influencer JoJo Siwa. She danced for diversity in Times Square. She even danced in front of the Eiffel Tower in Paris.
Her popular videos, with combined likes of more than 175 million, were half-minute bursts of pure TikTok joy.
But this wasn't that.
"Usually, you guys see me posting really fun videos where I'm always smiling," Montana explained in her Oct. 24 post. "Today, I'm going to do something very different."
For someone so candid about her family's history and her own past, this qualified as an understatement. In social media terms, this was the beginning of a high-wire act, one with no net for Montana and the followers she'd worked so diligently to earn.
The native of Boca Raton was challenging her audience—including another 2.8 million followers on Instagram—to join her while she fulfilled a promise to her grandparents, both of whom survived the Holocaust. Over the course of 10 roughly two-minute videos, totaling less than 25 minutes, Montana shared footage from her June 2022 trek to Poland, where she visited several of the extermination camps used by Nazis during World War II to murder 6 million Jewish adults and children, and 11 million people overall.
As part of the journey, Montana spent time at Auschwitz, where all four of her great-grandparents were murdered. She and her mom, Michelle, would stand in the spot at Auschwitz where Montana's grandmother, Lilly Schmidmayer, last saw her mother before she was marched into the gas chamber.
It wasn't that Montana, who turned 30 in January, had shied away from speaking her mind or supporting causes in the past. She pushed for Alzheimer's research because Lilly, now 94, has lived with the disease for nearly 15 years. She joined protesters during "Black Lives Matter" marches because she advocates for any group "being marginalized because of race, religion or sexual preference." She wrote and performed her singles "Be Myself" and "I'm Not Alone" to promote inclusion, and to inspire today's youth to respect and appreciate people's differences. She even emceed a recent "Concert 4 Kindness" in Boca with a diverse roster of performers to further drive home those messages.
Still, experience already had taught Montana that celebrating her heritage could bring out the worst in people.
"In the past, I've posted happy pictures of me and my grandparents, and I've had comments like, 'The Holocaust never happened,' or 'You stupid Jew!'" Montana says from a booth in one of the common areas at Waterstone Resort & Marina in Boca Raton. "I've had thousands of unfollows, just for light-hearted photos.
"I had no idea what to expect from this series."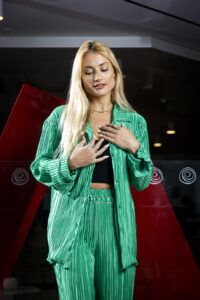 TROUBLED TIMES
To this day, it floors Montana that she knows Jennifer Lopez. Or, better still, that Jennifer Lopez knows her. J. Lo was a "mythical" figure to Montana, the kind of multiple-threat entertainer that she aspired to emulate. Now, not only has she made a video with her idol, but Lopez will give her a warm hug and say, "Hi, baby," when they meet.
For those who know her best, Montana's high-profile collaborations (she's done videos with Ciara and Paula Abdul, and she was the first female to release a single on Pitbull's Mr. 305 label), as well as her own celebrity, come as no surprise. After all, this is the same person who, as a youngster, invited friends to the house for "sleepovers" only to dress them in costume for an impromptu production of The Wizard of Oz.
But it wasn't all yellow brick roads growing up for Montana.
On the one hand, she was having experiences about which her fellow middle-school and high-school students in Boca Raton could only dream. She started modeling at age 8 and before long was snagging work in national commercials for Ovaltine, Sketchers and BMW. At age 11, competing against dancers from around the world, she captured the World Hip-Hop Championships. A year later, she appeared as Serena the Mermaid in the Barney home video The Land of Make-Believe. By age 13, she was a backup dancer for Ashanti and Ashley Simpson.
"I learned how to dance in heels before walking in heels," Montana quips.
But the growing respect she was earning in entertainment circles didn't translate to the classroom.
Montana shares that she was bullied in middle school and high school for reasons she still doesn't entirely understand. Some of it, she recalls, was because she weighed more than many of the other girls. Some of it, she suspects, had to do with missing so much school because of her career.
"The other students didn't understand how I could miss class but still [do well] in my honors classes," she says. "They'd go, 'Oh look, it's Montana Tucker,' and they'd push my books off the table. At lunch, I'd sit at a table—and people would get up and leave.
"For about a month, I sat in the bathroom during lunch. Finally, I told my mom. She started driving to school so I could eat lunch in her car."
Today, Montana's platform of empathy and inclusiveness includes more than its share anti-bullying messaging. As an adult, she understands that the experiences she endured weren't about her. But as a teenager, she felt just the opposite.
"I almost gave up my career at a certain point," Montana says. "I couldn't take it anymore. People were saying you can't dance, you can't sing, you're not talented, you're too fat. … I'm very sensitive, even more back then. I always thought, 'It's because of me. I'm doing something wrong.' And I was letting it all get to me."
With the pressures of her young life closing in, including family issues to which she alludes, Montana stepped away from the spotlight at 17. After two years, time she spent, in part, working on herself, "I was ready to go full force into adulthood."
"I couldn't imagine doing anything else with my life," she says. "Once I had that realization—that this is what I'm supposed to do—I refused to let anything get to me."
In recent years, some of the students that bullied Montana in school have reached out to her. They tell her they're so proud of everything she's accomplished.
"Interesting, isn't it?" Montana says.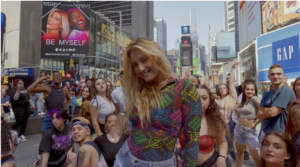 HONORING THE PAST
After taking time off, Montana planted roots in Southern California (she maintains a place in Boca and her cell number still has a 561 area code) and focused on developing her social media following. Since first posting there in 2018, her choreographed (and highly addictive) TikTok videos—is there anywhere in and around Hollywood where she hasn't thrown down with one or more dance partners?—have led to A-list collaborations and global renown.
But as her star ascended, and more doors opened in the entertainment world, she occasionally would hear variations of a familiar refrain.
"The comments are like, 'You're Jewish? No way. … You look like that? And you're Jewish?'" she says. "Some people might think that's a compliment to me, but it's not. It's antisemitism. What is that even supposed to mean? What does 'Jewish' look like?"
When Montana's grandfather died at age 97 in 2019, she rewatched the testimonials her grandparents gave as part of the USC Shoah Foundation, the organization dedicated to chronicling stories of Holocaust survivors/witnesses that Steven Spielberg, Oscar-winning director of Schindler's List, founded in 1994.
The powerful stories connected with Montana in a way they hadn't when she was young.
Soon, the idea of visiting Poland, something both her grandparents had encouraged her to do, and capitalizing on her captive social media audience began to percolate.
By then, the Conference on Jewish Material Claims Against Germany had released a 50-state survey in 2020 on Holocaust knowledge and awareness among millennials and Gen-Z. Among the findings: 63 percent of national survey respondents did not know that 6 million Jews were killed during the Holocaust; 11 percent felt that Jews caused the Holocaust. Half of the respondents acknowledged that they had seen posts online or on social media involving Holocaust denial.
"Kids believe so much of what they see online," Montana says. "If you have people that they idolize—their favorite rapper, their favorite athlete—saying Jews are terrible and the Holocaust didn't happen, they're going to believe it. [In some cases], they're not being taught differently."
As Montana's film crew combed through more than 100 hours of footage from last June's visit to Poland—which was arranged by Israel Schachter, CEO of a Toronto-based nonprofit organization called CharityBids—two celebrities generated such headlines.
THE REACTION
Last October, rapper Kanye West doubled down on various antisemitic tropes and conspiracy theories during a series of TV interviews—including that the Jewish community, "especially in the music industry … take [Black artists] and milk us till we die." That same month, then-Brooklyn Nets guard Kyrie Irving (now with the NBA's Dallas Mavericks) posted a link on Twitter supporting a controversial 2018 movie, Hebrews to Negroes, that claimed Jewish people lied about their origins—and that the Holocaust never happened. Amid considerable backlash, the Nets suspended Irving for eight games.
"The timing was crazy," Montana says. "But it reinforced the idea that we were meant to do this project."
As if the project needed further reinforcement, the Anti-Defamation League had reported that the 2,717 antisemitic incidents recorded in 2021 marked a 34-percent rise compared to the prior year. It also represented the highest number of attacks since the ADL began recording such events some 50 years ago.
The last of Montana's 10 videos posted on Nov. 9 to coincide with Kristallnacht, the two-day reign of terror in 1938 when Nazi forces and sympathizers destroyed synagogues and Jewish businesses, and arrested some 30,000 Jewish men, in Germany and Austria. The video ends with a call to action from Montana.
"I need you all to tell the story with me. To stand up for what's right. To have courage. To call out any form of hatred. And to Never Forget [echoing the title of the series]."
The experience, she says, changed her in ways that she's still processing.
"We were in the space at Auschwitz where the women used the bathroom. It was this dark barrack with holes in the ground," she says. "A mosquito started circling me. I hate bugs and insects, and I can freak out if a mosquito comes near me. So, I'm getting agitated about it.
"Just then, the guide starts talking about how, if women had to use the bathroom, they'd have one minute, no matter what they had to do. And I started thinking: There's one mosquito now with no smell, no people. Imagine all the bugs in this room when the holes in the ground were filling up? Imagine going to the bathroom in front of a thousand people, with guards watching you? Imagine being timed? All these things are going through my head.
"That one moment put so much in perspective. Since then, the things that used to get me worked up, I'll stop and think, 'Is it really that serious?'"
Another lingering question remained unanswered. How would such a deeply personal journey resonate with her millions of followers? Would Montana's audience, especially the youth she wanted to reach, walk the high wire with her?
It didn't take long to find out.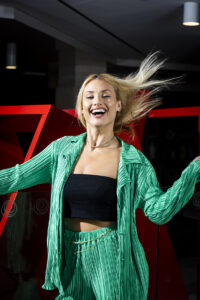 Millions viewed the individual episodes. YouTube picked up the TikTok videos and debuted a packaged version of "How To: Never Forget" in January. And people from all over the world reached out to Montana.
"One person wrote to me, 'I was ashamed to be Jewish, and I didn't want anyone to know my background. After you posted this video [series], I felt such pride,' " she says. "People who aren't Jewish have written saying they didn't know all this history. The impact that it's made already, and that it's continuing to make, has been so powerful."
It's also caught the attention of educators who understand that a collection of two-minute videos from a social media superstar can resonate with today's youth in a way that a two-hour black-and-white documentary doesn't. It's no wonder, then, that teachers are playing the video series for students. Montana hints that another significant project involving racism and antisemitism is in the works for 2023, along with a full-length version of "Never Forget."
"It feels like the message of everything I want to do is aligning now in my music, my dancing, my social media, my speaking engagements and my visits to schools," she says. "I'm so happy that everything is coming together."
Portrait photography by Eduardo Schneider
Special thanks to Waterstone Resort & Marina, Boca Raton (waterstoneboca.com)