16 things you must do in Dubai
Note: All travel is subject to frequently-changing governmental restrictions—please check federal, state, and local advisories before scheduling trips.
From world record-breaking architecture to futuristic feats of wonder, Dubai is a city on the move while offering cultural heritage sights reflecting its time as a fishing village. If you've always been curious about seeing it for yourself, now may be a good time: Dubai was slated to host Expo 2020, a world's fair originally scheduled to begin in October of 2020, but due to the pandemic it's happening now through March 2022 instead. Whether you go to explore new offerings like the world's fair or dig into the the city's past at a market or on a river excursion, use this list to help tick off all your top must-dos in Dubai.
RELATED: 48 perfect hours in Montreal
Explore Burj Khalifa and Dubai Mall
Dubai Mall offers top fashion and culinary brands, but also attractions worthy of your time and money. A memorable experience will be  At The Top – Burj Khalifa. This ticketed entry point to Dubai's tallest skyscraper zips visitors up to its 124th-flooroutdoor terrace along with its Sky Lounge one floor up. Also at Dubai Mall, skate an indoor Olympic ice  rink or see the The Dubai Aquarium and Underwater Zoo.
Ride an abra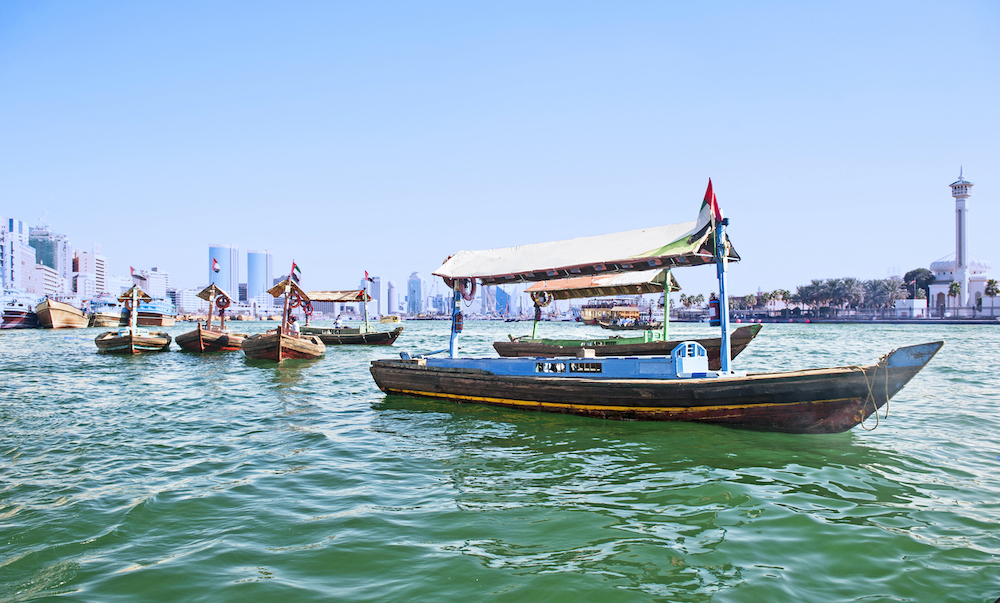 These small, motorized water taxis trek across Dubai Creek between Deira, the oldest part of Dubai and on the creek's eastern side, and Bur Dubai, home to many hotels, shops, and restaurants, and on the western side. There are four stations: two in Deira and two in Bur Dubai. Along the water route, stop to visit Dubai's Spice and Gold souks and enjoy the fresh air.
Shop the souks
No visit to Dubai would be complete without a visit to one of the city's souks, or marketplaces. In Deira, The Gold Souk has jewelry merchants and designers offering simple or distinct pieces. The Spice Souk is for—you guessed it—picking up spices, as well as dried fruits and herbs such as saffron, frankincense, dates, and cinnamon. At the Perfume Souk, get a scent of oud, a woody and musky oil. In Bur Dubai, the Textile Souk offers silks and other fabrics. Explore mall versions at The Souk at The Dubai Mall and Souk Al Bahar.
Step into the Dubai Frame
In Zabeel Park, this shiny golden rectangle metaphorically links the city's past and present. Walk a path tracing a chronology of early milestones including visuals on souks and the now retired tradition of pearl diving. Reach the top of the frame's bridge by elevator to see Burj Khalifa, Dubai International Financial Centre, Dubai Mall and other landmarks. Head back down and discover the future of Dubai including its technological and scientific advancements.
Get misted at Dubai Fountain
Las Vegas has the Bellagio, but Dubai has a choreographed fountain system, too. Along Burj Khalifa Lake in downtown Dubai, this dancing water show shines with colored and illuminated jets shooting up more than 22,000 gallons of H2O to the tune of contemporary Arabic and World music. Presentations happen twice daily, except on Fridays, evening shows begin at sundown and happen on the half hour before until 11pm.
These manmade islands are one of Dubai's most well known landmarks. Shaped like a palm tree, the Palm Jumeirah archipelago features a monorail connecting it to the mainland tram system. Discover amusement parks, the Aquaventure Waterpark, the Lost Chambers Aquarium, celebrity-driven restaurants,  and even high-end hotels, including the famed Atlantis, The Palm.
Enjoy the city by sand and sea
Care to see Dubai from other viewpoints? On a HERO OdySea boat tour, take a safety lesson before self-driving a speedboat along the Arabian Gulf and taking in the Burj Al Arab and mega-resort Atlantis, The Palm. Meanwhile, Platinum Heritage Safaris takes 1950s Land Rovers into the Dubai Desert Conservation Reserve with stops for a showing of the Bedouin tradition of falconry; guests will also experience a traditional Bedouin camp.
Enjoy some beach time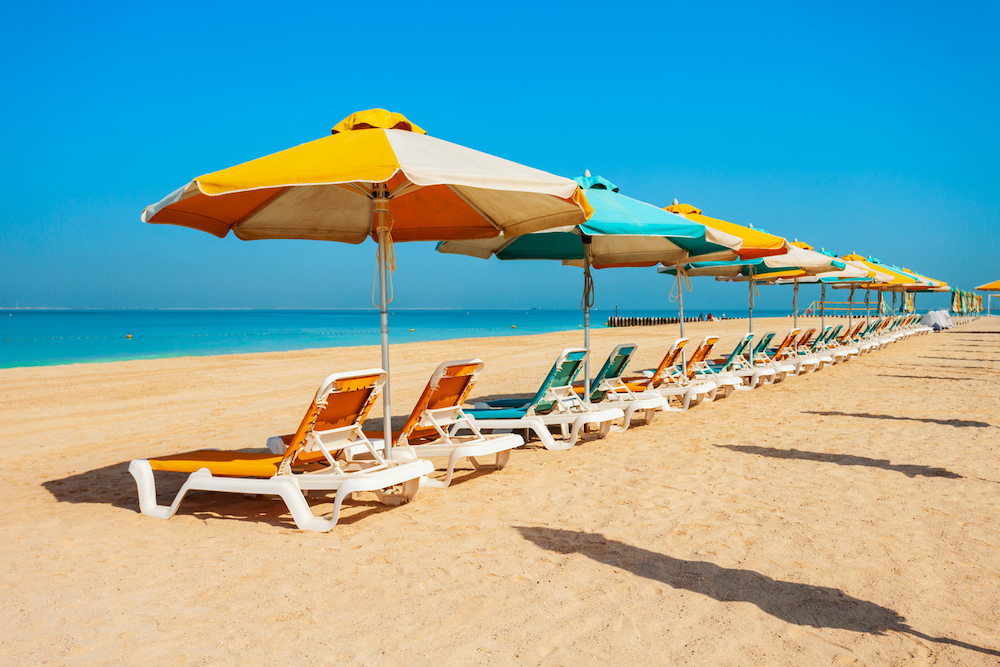 Dubai offers numerous beaches, but leave the booze and skimpy attire at home. In Jumeriah, Kite Beach attracts kite-surfers and SUP-ers, and volleyballers to its white sand. Non-sporty activities range from a jungle gym park, a children's waterpark, and food trucks and cafes. Surfers flock to Sunset Beach with its backdrop of the Burj Al Arab and Umm Suqeim Park. Jumeriah Beach Residences or JBR Beach is quite the hotspot thanks to play areas for adults and children. It also connects to Bluewaters Island, an activity hub.
Taste Emirati cuisine
Influenced by Bedouin tribes, Emirati cuisine applies dates, chickpeas, saffron, cardamom, and other ingredients to carbs, meat, and dairy-based dishes such as the meaty and wheat-centered harees or the sweet dumpling known as luqaimat. The Arabian Tea House Restaurant & Café provides traditional outdoor dining service. Sheikh Mohammed Centre for Cultural Understanding holds culinary educational events while Al Fanar Restaurant & Café reflects a merchant's courtyard setting.
Listen to opera music
In making an "Opera District" in downtown Dubai, the Dubai Opera is eye-catching in its own right. Shaped after the Arabian dhow ships, this building's layout can change from a concert hall, to a regular hall, to a flat floor. There's also a variety of performances happening here including theater, ballet, concerts, and art exhibitions.
Discover Dubai's past
Near Dubai Creek, the Al Fahidi Historical Neighbourhood reflects mid-19th century living with repurposed buildings now housing artistic and cultural venues, including The Coffee Museum. The Etihad Museum in Jumeirah recalls the UAE's formative years, while the Dubai Museum at Al Fahidi Fort in Bur Dubai explores everyday city life before the discovery of oil in the 1960s.
Hit the slopes
Yes, you can participate in this winter sport year-round in Dubai, despite summer temperatures hovering in the 100s. Just head to Ski Dubai, an indoor winter wonderland inside the Mall of the Emirates that takes winter sports to another level with bobsled runs, a sliding hill, slopes, a playground, and a ski school. The Penguin Encounter is home to waddling creatures like Gentoo and King Penguins.
Support creative spaces
Alserkal Avenue is both a storefront and a developmental hub for creative industries and non-profits in the U.A.E. Located in the Al Quoz industrial area, this complex houses galleries, community spaces, cafes, and boutiques like The Good Life, a top-tier designer sneaker store, and Mirzam Chocolate Makers which produces beautifully packaged bars at its onsite factory.
See La Perle by Dragone
Similar to a Cirque du Soleil show, La Perle by Dragone features acrobatics and aerial feats in its storyline. Based at The Atrium at Al Habtoor City, the show's tailor-made aquatic stage is the headliner, as cast members get submerged or dive in its waters.
Learn about Islam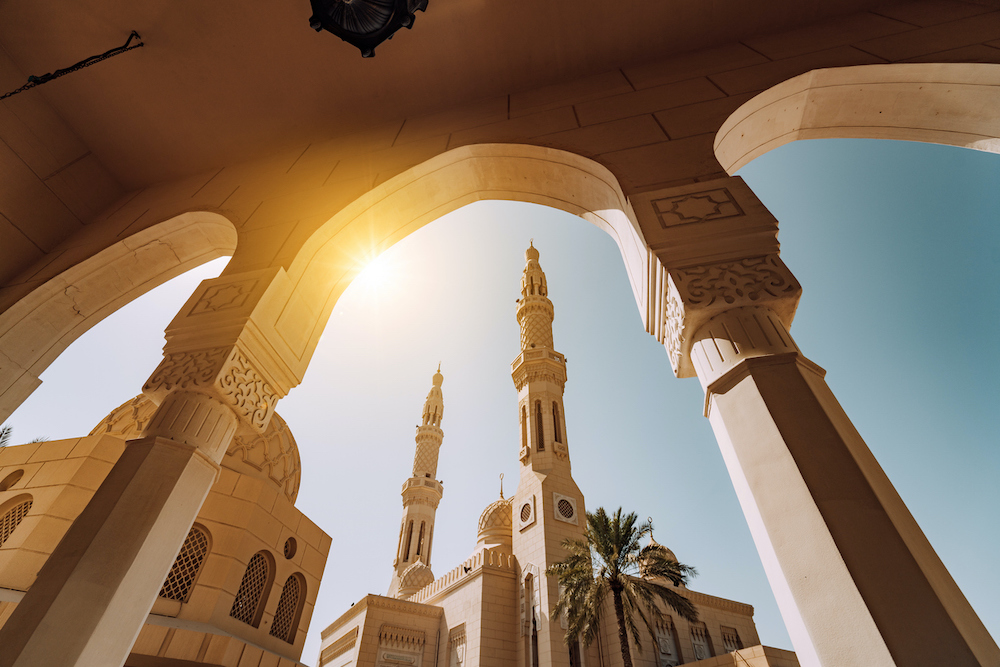 The Muslim call to prayer, known as Adhan, happens five times each day. While in Dubai, it's common to hear of this reminder. The Jumeirah Mosque, noted as only one of two mosques in the U.A.E. where non-Muslims can visit, offers the chance to learn more about Islam. Tours of the Jumeriah Mosque are scheduled through The Sheikh Mohammed Centre for Cultural Understanding and happen twice daily except for Fridays.
Take in a garden
Visit an attraction that blooms seasonally. Open from mid-November through mid-May, the Dubai Miracle Garden presents a floral fantasyland. The world's largest natural flower garden reveals a mix of themed and colored constructions of everything from gazebos to a castle, to various characters. The garden also has a butterfly park. Not bad for an oasis in the desert.
Tagged: Middle East, United Arab Emirates
Note: Orbitz compensates authors for their writings appearing on this site.