Hallandale Beach's First Container Restaurant to Open in April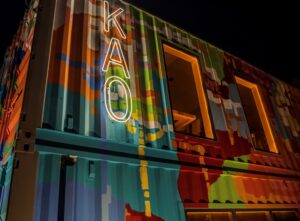 When KAO Bar & Grill in Hallandale Beach opens in April, it will be the area's first container restaurant. The two-story restaurant adds a contemporary and vibrant spin to the neighborhood with colorful hand-painted murals by artist Falopapas and flavorful Argentine grill-inspired cuisine. The innovative concept was developed by experienced restaurateur Matias Pagano and The KAO Group, which also operate KAO Sushi & Grill in Coral Gables and J&J Fresh Kitchen in Boca Raton.
Located at 11 NE First Ave., the expansive 5,000-square-foot restaurant will offer plush lounge chairs, sofas and soft ambient lighting. The patio is anchored by a 14-seat bar, offering a wide selection of beers, wines and craft cocktails.
"We're thrilled to bring our first container restaurant project to Hallandale and to share our passion for Argentine and American cuisine with the community," Co-Founder Matias Pagano says. "There's nothing more satisfying than seeing people enjoy the food and atmosphere you've created, and we're excited to do that in a community with a strong Argentine population. We've worked hard to create a welcoming space that's perfect for gathering with friends and family, enjoying great food, and making memories. We can't wait for everyone to experience it for themselves!"
Menu highlights at KAO include a selection of shareable tablitas (grilled platters), a unique selection of Argentine-style pizzas and fired-up grilled meats ranging from meat, chicken or fish dishes served with a variety of sides and KAO's signature chimichurri sauce.
KAO Bar & Grill is located at 11 NE First Ave. in Hallandale Beach. It will be open Sunday through Wednesday from 11:30 a.m. to 10 p.m. and Friday and Saturday from 11:30 a.m. to 11 p.m. Happy Hour is available Monday through Friday from 4 p.m. to 7 p.m. The second-level dining room is available for private events, corporate functions, birthday parties and more.
Photo Credit: KAO Bar & Grill