Yokoy expense management software review: a complete guide
What is Yokoy?
Yokoy (previously known as Expense Robot) is an AI-powered spend management platform based in Zurich and developed by a fintech startup in the DACH market. 
The solution consolidates and automates expense management processes (including VAT validation and reclaim), and automates expense approvals and travel expense reporting.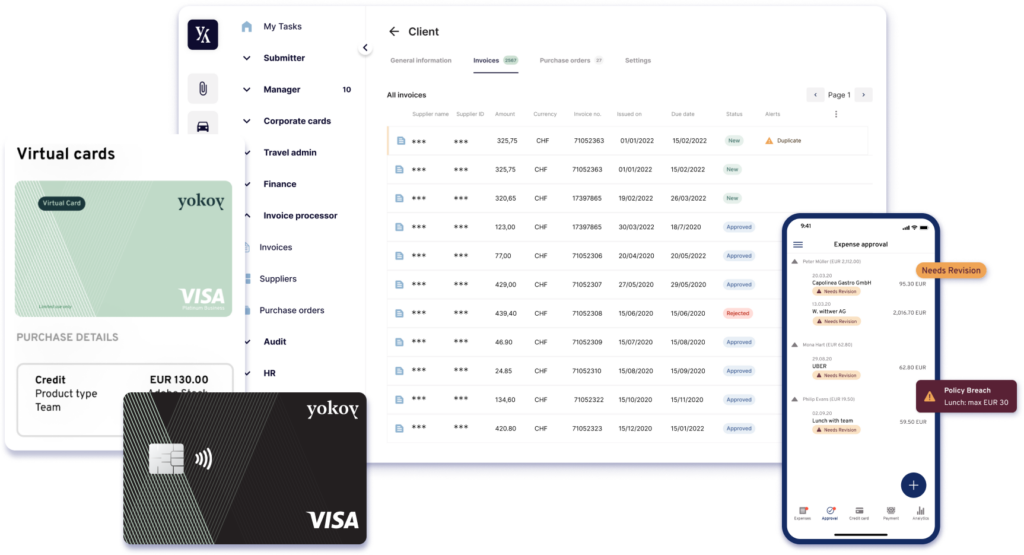 After raising $80M in Series B funding from Sequoia Capital in March 2022, Yokoy is now in the process of exercising its international expansion strategy and recently launched in Spain. Additionally, Yokoy launched its VISA credit card for business customers as well as its Smart Lodge card for fully-automated business travel payments and expense processing. 
Who should use Yokoy? 
Yokoy is designed for global multi-entity companies and is targeted at the mid-to-enterprise market. However, the system is also suitable for smaller companies. 
Yokoy also provides onboarding project managers to lead the planning, implementation, and test phases. Enterprise customers also have access to a key account manager and finance process consultations. 
Yokoy's main features
Yokoy offers three separate solutions that can be purchased individually or as a complete pack: expense management software, invoice processing, and smart corporate cards.

Yokoy automatically inputs approved expenses into businesses' financial systems.
Administrators can create custom approval flows and define spend policies to help simplify complex hierarchies. 
The platform automatically detects policy breaches across the expense process.
Users can map out the entire invoice approval flow for a high level of automation. 
Yokoy matches documents from supplier invoices, purchase orders, and goods receipts to ensure compliance and cost efficiency.
Yokoy provides physical and virtual cards and offers up to 1% cash back on card transactions.
The platform's analytics tool analyzes spending patterns and identifies trends to help businesses make optimized financial decisions.
Yokoy enables users to select which line items they want to pay for by capturing all necessary data from invoices.
Yokoy pricing model 
Yokoy does not provide pricing information publicly, instead offering custom pricing based on each business's unique requirements. 
However, the pricing model is usually based on the number of users and is charged on a per-user/month basis. The smallest package is 50 users/month, plus a one-time set-up fee and implementation costs. 
Yokoy integrations 
Yokoy integrates with over 50 software tools to enable seamless communication between a business's most important systems. The company also offers an Open API for those clients who want to build a fresh secure integration with a different tool from their ecosystem.
ERP, finance, and accounting systems 
To help companies connect their tech stacks, manage business workflows, and seamlessly connect financial processes, Yokoy integrates with the following ERP systems and finance and accounting software:
SAP R/3 or SAP S/4HANA
SAP Business One
Microsoft Dynamics 365 Business Central
Microsoft Dynamics 365 Finance & Operations
Oracle NetSuite
Sage
DATEV (Germany)
ABACUS (Switzerland)
BMD Business Software (Austria)
Proffix (Switzerland)
Topal Solutions (Switzerland)
Exact 
HR/Payroll systems 
To automate expense processes and increase productivity, Yokoy integrates with the following HR and payroll systems: 
SAP Success Factors
Workday
Rexx systems 
Travel management platforms 
Finding an expense management solution that integrates with a travel management platform is key for spending visibility and management.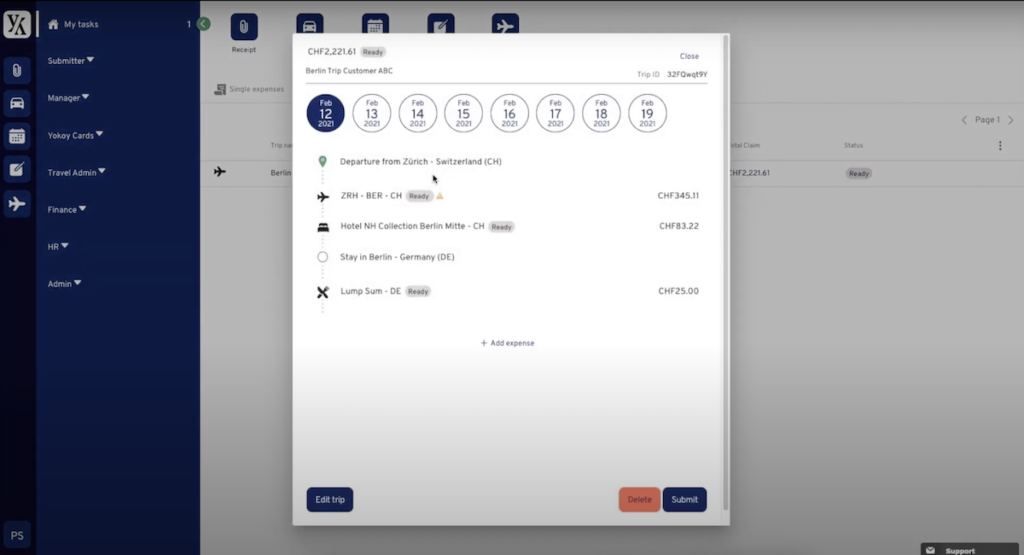 Luckily, Yokoy integrates with the business travel management platform TravelPerk to help manage travel booking invoices, enforce travel policies, and manage their business travel spend.
The integration between Yokoy and TravelPerk helps businesses reduce travel costs, save time, and eliminate many of the tedious, manual processes involved in most travel and expense processes. For example, receipts for travel bookings made via TravelPerk are automatically inputted into Yokoy, where employees can also quickly add travel expenses made during their trips. 
TravelPerk provides consolidated monthly invoicing functionality, which means no more wasted hours spent on invoice management, reimbursements, and dealing with missing receipts. The integration is normally enabled within 24 hours, however, large enterprises might require a longer integration process.
Learn more about how TravelPerk integrates with Yokoy to simplify and streamline business travel expense management here.

Countries and languages supported by Yokoy 
Yokoy's spend management solution can be used by businesses anywhere in the world. The system, powered by artificial intelligence, can read and validate over 150 languages and 140 currencies.
Yokoy's Mastercard business card is currently available for companies in Switzerland, while Yokoy's VISA Corporate Card is available across Europe.
Yokoy supports the following languages: German, English, French, Italian, and Chinese (Simplified).
Pros and cons of Yokoy's platform 
Pros of Yokoy's platform 
Expenses can be submitted quickly with digital receipt capture. Yokoy then validates the data and checks the expense against a business's expense policies.
Yokoy automates all recurring expense management tasks to save finance teams time. 
Yokoy automatically detects policy breaches to ensure full compliance.
An intuitive platform with great ease of use, and a clean, user-friendly interface for approval workflows and streamlined onboarding. 
Yokoy offers a mobile app for on-the-go expense tracking and processing. 
With the Yokoy API, you can seamlessly integrate Yokoy with your existing tech stack.
Cons of Yokoy's platform 
At the moment, Yokoy's VISA corporate cards are limited to Europe.
Yokoy does not support digital wallets like Google and Apple Pay to facilitate one-click merchant payments.
User reviews report that the platform lacks filtering options for deeper insights.
How to get started with Yokoy 
To help you make the most of the platform, Yokoy asks you to book a demo of the product via their website, which will provide you with the opportunity to ask pertinent questions.
Alternatives to Yokoy 
If you've read this Yokoy review and you still want to consider other expense management solution options, there are ample Yokoy alternatives to evaluate, including
Pleo
Rydoo 
Emburse Chrome River
Expensify
Spendesk
TravelPerk integrates with all of the expense management systems mentioned above, enabling businesses to streamline their travel spending and expense processes from beginning to end.
To find out more about Yokoy alternatives, check out the Expense management category of TravelPerk's marketplace.
What makes Yokoy stand out?
Yokoy's AI-based tool takes just three seconds to generate an expense report. 
Yokoy integrates with TravelPerk to help ensure you've got all the data you need to manage and report on business spending.
With Yokoy, you can be live within 4 weeks with only 16-20 hours required for implementation, with no IT project necessary. 
Is Yokoy right for your business? 
Yokoy is a standout expense management tool with a robust feature set that caters to both large enterprises and small businesses. If you're on the hunt for a tool that also integrates with a travel management platform to help you manage complex business travel management processes, Yokoy is an excellent option.
See how TravelPerk revolutionizes business travel expense management