Where to Stay in Bari in 2023 (Best Areas and Places)
Bari is a major city on the Adriatic Sea, in the southeastern Italian region of Puglia. If you're looking for places to stay in Bari, you're in luck. I know the city well and have put together this comprehensive guide to help you choose the right place to base yourself.
It's one of my favorite (and one of the most underrated) cities in Italy, with a unique vibe, an amazing Old Town, a beautiful old harbor, several fantastic beaches, some of the best food in Puglia, and a whole host of other interesting things to see and do.
When deciding where to stay, there are several factors that I recommend considering, and I'll discuss each in this post. Read on for more information on the best areas to stay in Bari, things to see and do in each neighborhood, and suggested accommodation options for each.
Best Areas to Stay in Bari
Quick Look: Best Areas to Stay in Bari
Bari Vecchia: Best Place To Stay in Bari for Your First Time
Bari Vecchia is Bari's famous Old Town and is where the majority of the city's historical sights are located. It's an attractive and atmospheric maze of narrow cobbled streets, beautifully carved stone arches, elegant little plazas, and ancient houses with iconic green shutters and colorful flower boxes.
This area of the city has a history that stretches back more than 2,000 years, and it's incredibly atmospheric. This is the best neighborhood in Bari to be close to the famous sights and to really get a feel for the city's unique and timeless atmosphere.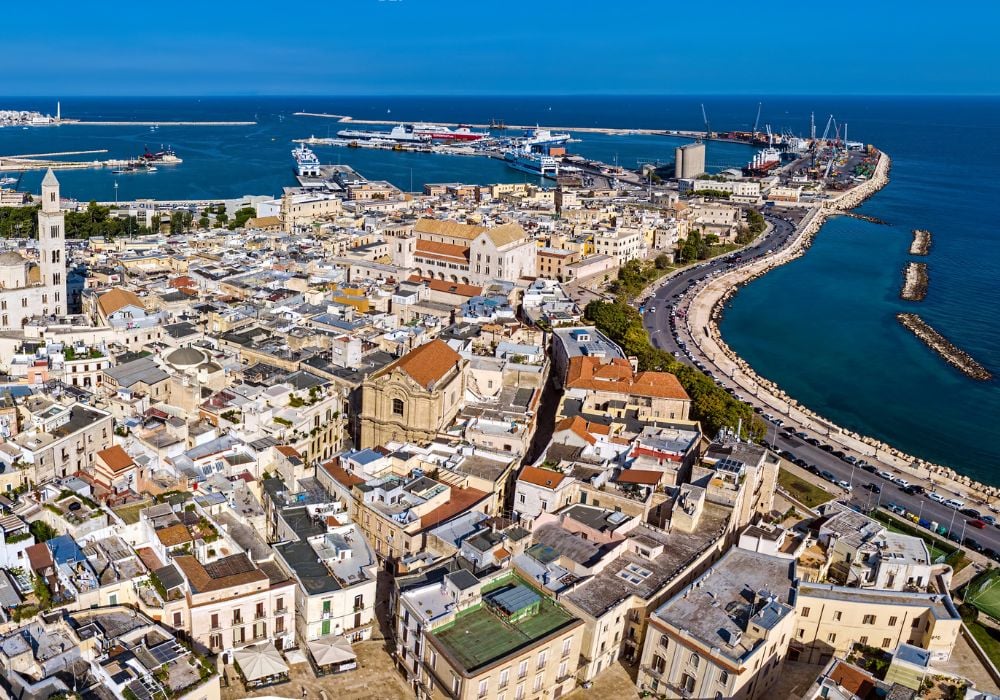 You'll see women sitting at wooden tables in the street making orecchiette pasta by hand, residents leaning out of their windows for a midmorning chat, and friends and couples sharing a coffee or a glass of wine in the picturesque little squares.
Best Places to Stay in Bari Vecchia
Here are some of the best places to stay in Bari Vecchia:
1. Arvian B&B: This excellent mid-range bed and breakfast is located in the heart of the Old Town, close to the castle. It's located on the ground floor (good for those with lots of heavy luggage!) and has a large double bed, air conditioning, a flat-screen TV, and a fridge.
2. Dimora Arco Basso: If you're looking to stay somewhere fancy, this amazing suite is one of the nicest places to stay in Bari Vecchia. It offers private parking (virtually unheard of in the Old Town!), a concierge service, a coffee machine, a minibar, and a range of other facilities.
3. Dimora dei Veneziani: There aren't many budget places to stay in Bari Vecchia, but this great one-bedroom apartment is one of the cheaper options. It's small but well-equipped and is just around the corner from the Basilica San Nicola.
Top Things To Do in Bari Vecchia
One of the reasons I love Bari Vecchia is that it's home to many of the city's most iconic sights and some of the best things to do in Bari overall. Here are five things I recommend doing there:
1. Get Lost Wandering Through the Backstreets: This is probably my favorite thing to do in Bari. Spend a few hours exploring the hidden little corners of this gorgeous part of the city. Don't use a map, getting lost is part of the fun!
2. Take a Historical Walking Tour: To learn about the rich history of Bari, I highly recommend joining a historical walking tour. Your guide will show you the most important sights and you'll learn a lot about the significance of this ancient place.
3. Watch the Women Making Orecchiette: Head to Via Arco Basso where you can watch local women making orecchiette pasta by hand in the street, just as they've done for hundreds of years. It's one of the most iconic things to see in the city. If you want to learn how to make the stuff yourself, check out this walking tour with pasta experience.
4. Join a Street Food Tour: Another thing that Bari is known for is its delicious street food, including focaccia Barese (insanely tasty, topped with ripe tomatoes, olives, and oregano) and polpette (cheesy fried dumplings). Taste some of the local specialties on this guided street food tour.
5. Visit Castello Svevo: This impressive castle defended the city and its residents for hundreds of years. The fortress you see today was built in the 12th and 13th centuries, although it lies on the site of an even older Norman castle. There's a museum inside and it's a fascinating place to explore.
Where to Eat and Drink in Bari Vecchia
There's no shortage of excellent places to eat and drink in Bari Vecchia. Here are a few of my favorite places:
1. Al Pescatore: For some of the best fresh food and seafood in the city, head to Al Pescatore. It's located next to the Castello Svevo and is famous for its excellent quality and reasonable prices. Their fritto misto (mixed fried seafood) is amazing, as is the traditional local raw fish. Click here for directions.
2. Antica Gelateria Gentile: This incredible gelateria, Antica Gelateria Gentile, serves some of the best gelato I've ever eaten, and you can sit and enjoy it outside while admiring the castle just across the street. Try their tiramisu gelato and their dark chocolate sorbet. Honestly, it's an amazing spot – you need to come here!
3. Assaporando le Delizie Pugliesi: I stumbled upon Assaporando le Delizie Pugliesi by accident when I was exploring the Old Town, and I'm so glad that I did. Their pasta is exceptional (try the orecchiette with broccoli rabe) and they offer cheap spritzes that you can enjoy sipping on in a small square right next to the cathedral. Get directions here.
Murat: Best Area in Bari for Nightlife
If you're wondering where to stay in Bari for nightlife, Murat would be an excellent choice. This neighborhood is the modern heart of the city and is one of the best places to stay in the center of Bari.
It's definitely not as picturesque as the Old Town, but Murat contains many of Bari's best shops, bars, and restaurants, and has a buzzing nightlife scene. There's a lot going on here, making this a fantastic place to stay in Bari for groups.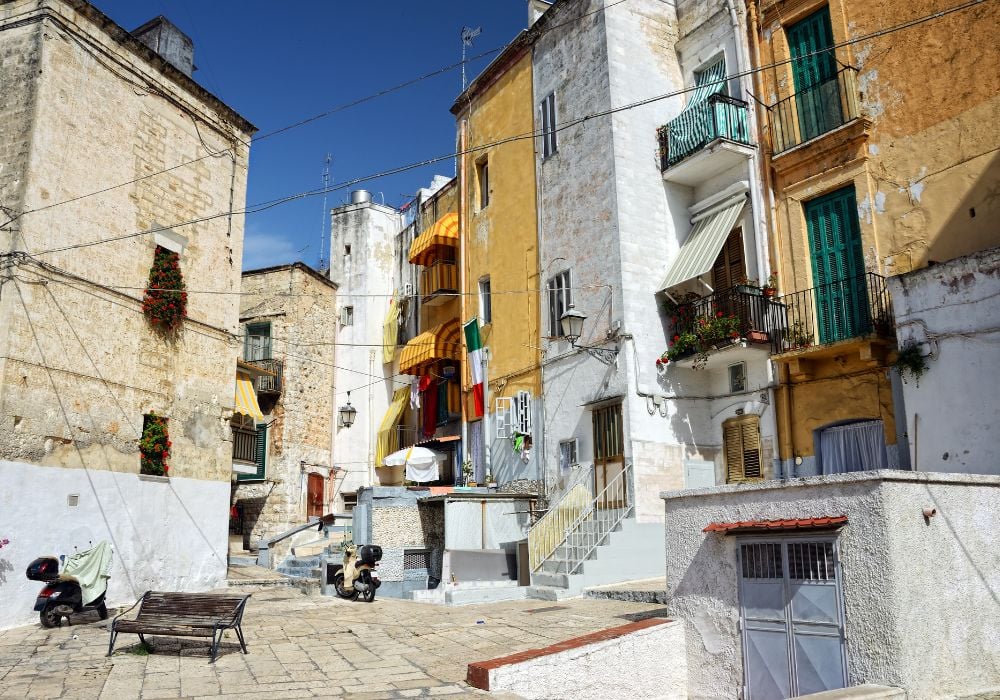 Located just south of Bari Vecchia, Murat is laid out in a simple grid configuration, with wide streets and many tall buildings. In fact, this area of the city actually resembles a North American city in many ways, which is fairly unusual in Italy.
Best Places to Stay in Murat
If you're looking for where to stay in Bari city center, check out some of these great places listed below. These Bari hotels and apartments are located near some of the city's best nightlife.
1. Travel B&B: This is a great little bed and breakfast located just across from Bari Centrale station, making it a great option for those traveling by public transport. The room is comfortable and well-equipped, and breakfast is included in the price.
2. Fourooms Bari: This midrange guesthouse has double-height windows with lots of natural light and great views (be sure to select one of the rooms advertised as having a "city view"). It's attractively decorated with floor-to-ceiling dark wood bookshelves and tasteful artwork.
3. Red Carpet Rooms: This is one of the cheaper options in Murat and would be a great place to stay if you're traveling on a budget but still want to be close to all of the action. Breakfast is included in the prices and the rooms are simple but comfortable.
Top Things To Do in Murat
Murat is lively and busy during most times of the day and well into the evening. Here are some top things to do there:
1. Go Shopping: Via Sparano is Bari's main pedestrianized shopping street and is home to a large number of stores from local boutiques to international luxury brands. Whether you're a shopaholic or not, it's an attractive place to wander and take in the immaculately dressed window displays.
2. Enjoy the Nightlife: There are many excellent bars in Murat, including Da Cannella, which is a perfect spot for a pre- (or post-) dinner drink or two.
3. Relax in the Giardini di Piazza Umberto I: This large square is an oasis of calm in the heart of the city. Here, you'll find a fountain, landscaped gardens, walkways, and benches under the shade of trees. It's a great place to rest and cool off during a busy day of sightseeing.
4. Visit the Teatro Margherita: The Teatro Margherita is a gorgeous Art Nouveau building located right next to the ancient harbor. It used to contain a theater and cinema, and today houses an art gallery and exhibition space.
5. Admire the Palazzo Mincuzzi: This is another beautiful Art Nouveau building, originally built as a palace in 1928. Today it contains luxury shops within its truly stunning exterior.
Where to Eat and Drink in Murat
Murat is one of the posher areas of Bari and also has a range of excellent places to eat and drink. I recommend trying the following spots:
1. Magda: Magda is a cafe and bakery that serves a range of focaccias, flatbreads, sweet and savory pastries, and other traditional Puglian snacks. It's a perfect spot for a cheap meal and is extremely popular with the locals. Try their freshly baked focaccia and arancini balls, they're really delicious! Click here for directions.
2. Flower Burger: It can often be hard to find good vegan food in Italy. However, for great vegan burgers, look no further than Flower Burger. The burgers are awesome, the portions are large, and they have gluten-free options available too. Find it here.
3. Luau Tiki Bar: Let me tell you, Luau Tiki Bar serves really great cocktails. The atmosphere is fun and lively, and the experienced mixologists are super friendly and happy to create delicious, personalized drinks for you based on your preferences and mood. Find this tiny bar here.
Quartiere Umbertino: Coolest Place to Stay in Bari
I really like Quartiere Umbertino. Like all good hipster neighborhoods, it looks a little scruffy around the edges – with many of its faded, grand old buildings looking a little worse for wear. But behind its doors, there are many excellent wine and cocktail bars, cafes, and restaurants to indulge in.
It's popular with locals and is one of the best neighborhoods in Bari for escaping other tourists and immersing yourself in local life.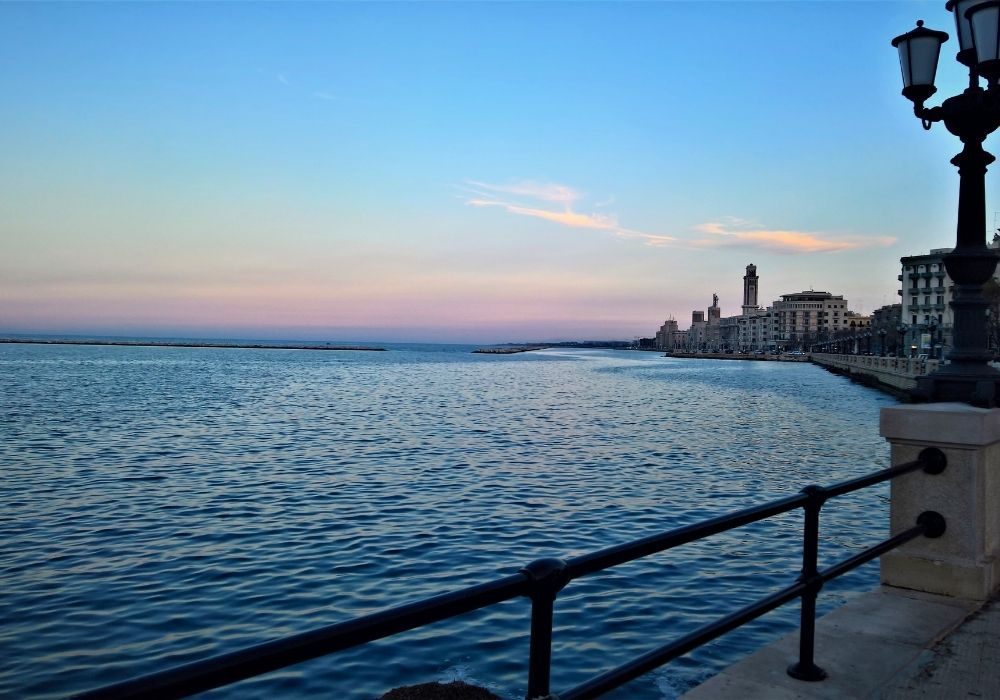 Best Places to Stay in Quartiere Umbertino
Here are some good places to stay in Quartiere Umbertino:
1. Celentano Suite: This is an excellent mid-range, self-catering apartment in Quartiere Umbertino. It has a fully equipped kitchen and laundry facilities, making it ideal for longer-term travelers, as well as air conditioning, a coffee machine, and free WiFi.
2. 70's Luxury Cavour: As its name suggests, this unique apartment has been decorated in a glamorous 1970s style. It's a large space, with two double rooms, a stylish living and dining room, a great modern kitchen, and a balcony with city views.
3. Le BB: This is another mid-range apartment in Quartiere Umbertino that's just a stone's throw away from the area's coolest bars and cafes. It has one bedroom with a large double bed, a decent kitchen, and a balcony where you can enjoy your morning coffee or an evening drink.
Top Things To Do in Quartiere Umbertino
These are the main things to do in Quartiere Umbertino:
1. Check out the Teatro Petruzzelli: This historic opera house and theater was built in 1903. It has a distinctive neo-baroque design and is lavishly decorated on the inside. Even if you don't get tickets to see a performance here, it's well worth taking a look inside the lobby.
2. Stroll along the Lungomare: The Lungomare (or waterfront parade) is a fantastic place for a stroll at any time of day or night. It's especially atmospheric at sunset when locals of all ages gather to meet friends, enjoy a beer, or simply watch the colors unfold over the Mediterranean.
3. Shop for Bargain Vintage Clothing: You know you've entered a hipster neighborhood when you start seeing vintage clothing stores everywhere. To snag some trendy vintage bargains, head to Second Chance Vintage Store on Via Gian Giuseppe Carulli.
4. Watch People Sailing and Fishing in the Old Harbor: Bari has two main harbors; a large modern commercial port just north of the Old Town, and a smaller, ancient one to the east. Head to the latter where you can watch people learning to sail, painting their boats, and fishing.
5. Browse the Vinyl Shops: Another hipster favorite, New Records has a fantastic collection of vinyl records, both old and new. The people working there are friendly, speak English, and are happy for you to browse their collection regardless of whether you intend to buy anything or not.
Where to Eat and Drink in Quartiere Umbertino
Check out some of these great places:
1. Speakeasy Bari: My number-one recommendation in Quartiere Umbertino, Speakeasy Bari is a prohibition-era-themed cocktail bar. They get everything right here – the atmosphere is cozy and intimate, the drinks are amazing (and not overpriced), and the bartenders are relaxed and friendly. Click here for directions.
2. Riva Restaurant: Riva is a really superb restaurant. The food is incredible (local specialties, excellent steak, and seafood), everything is beautifully presented, the service is faultless, and the prices are fair. They do take walk-ins, but this is a popular spot so I recommend trying to get a reservation if possible. Get directions.
3. Hagakure Noh Samba: It's fairly pricey, but if you're looking to push the boat out a little, Hagajure Noh Samba is one of the best sushi and Asian fusion restaurants that I know of in Italy. Each dish is very creative, the presentation is stunning, and the interior decoration is great.
Madonnella: Best for Families
East of Quartiere Umbertino, Madonnella stretches out along the coast until the start of Pane e Pomodoro beach. It's a largely residential area and is one of the quieter, calmer Bari neighborhoods, making it perfect for families and people looking to stay somewhere a little more relaxed.
Another big draw of this district is its close proximity to Bari's beaches. It's a great place to stay in Bari if you like spending time on the beach and going for long walks along the seafront.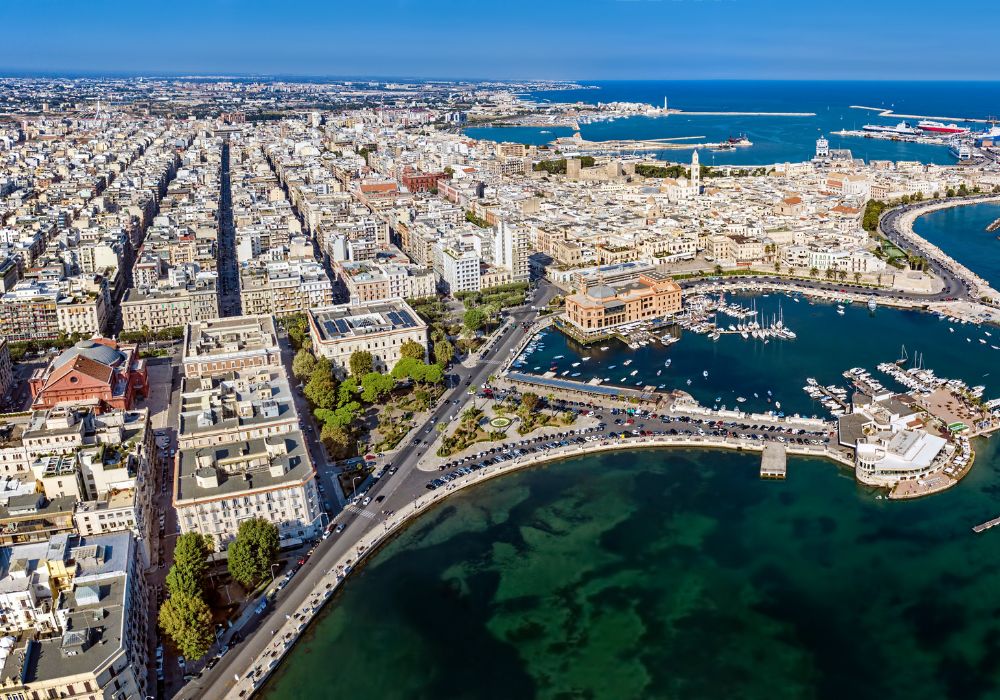 Best Places to Stay in Madonnella
Here are some good places to stay in Madonnella:
1. Carulli 69: This apartment is good value for money and features one large double bed and a sofa bed, making it a great option for a small family. You'll be within a 10-15 minute walk of most of the city's main attractions, and the apartment has a balcony with attractive views.
2. Nuovissimo Appartamento Lungomare: This is a spacious two-bedroom apartment, with two extra sofa beds in the living room, that can sleep up to eight people. It has a large kitchen and dining area, laundry facilities, access to a patio, and is only a couple of minutes' walk from the seafront.
3. Marea 51 Apartment: This modern, one-bedroom apartment can sleep up to four people, with a sofa bed in the living room. It has a small balcony with a partial sea view and is well-equipped with a kitchen, fridge, and coffee machine. Find out more here.
Top Things To Do in Madonnella
These are the main things to do in Madonnella:
1. Spend time at the Beach: Pane e Pomodoro beach is an attractive sandy beach that's only a short walk from Madonnella. Its calm, sheltered waters are perfect for swimming, there's a little beach bar and a few other bars and cafes nearby. It's popular with locals, especially on weekends.
2. Long Walks Along the Seafront: The Lungomare is a long road that runs between Bari's old harbor and Pane e Pomodoro beach. There's a wide, pedestrianized walkway between the road and the sea that's perfect for strolling along, either early in the morning or at sunset.
3. Visit the Metropolitan Museum of Art: The Pinacoteca Metropolitana di Bari is a gallery and museum housed inside a grand old building on the seafront. It has a large collection of historical paintings, sculptures, and ceramics and is an interesting place to spend an hour or two.
4. People-watch in the Giardini Baden Powell: This little public garden is attractively landscaped and is a great spot to sit and cool off after a long walk along the seafront. Watch the locals go about their daily business, or bring a book and relax in the tranquil surroundings.
Where to Eat and Drink in Madonnella
Check out some of these great places to eat and drink in Madonnella:
1. Pizzeria Angelo Botta: There are a handful of pizzerias in Madonnella, but I think Pizzeria Angelo Botta is the best. It's cheap, the atmosphere is cozy and intimate, and the pizzas and antipasti are all top-notch.
2. Ristorante DOA23: A local favorite, DOA23 is a really excellent restaurant. You'll receive a warm welcome from the owner, and the food is truly divine. Standout items on the menu include seafood pasta, fillet steak, and the flaming chocolate dessert.
3. The Stuart: This fantastic Scottish-themed pub, The Stuart, offers a great selection of beers, good music, and a friendly, relaxed atmosphere. They also have a decent selection of food (try their Scotch Egg, it's excellent).
Japigia: Best Place in Bari on a Budget
If you're looking for cheap places to stay in Bari, take a look at Japigia. It's a little way out of the city center but is still only a 30-40 minute walk from Bari Vecchia. Japigia has good public transport connections in the form of Bari Sud-Est train station and local bus services into the center, so getting around is really easy.
There are a few budget-friendly apartments and hotels in this neighborhood. Plus, you'll find several local markets and eateries within walking distance, so it's a good place to get a feel for what Bari is like outside of the main touristy areas.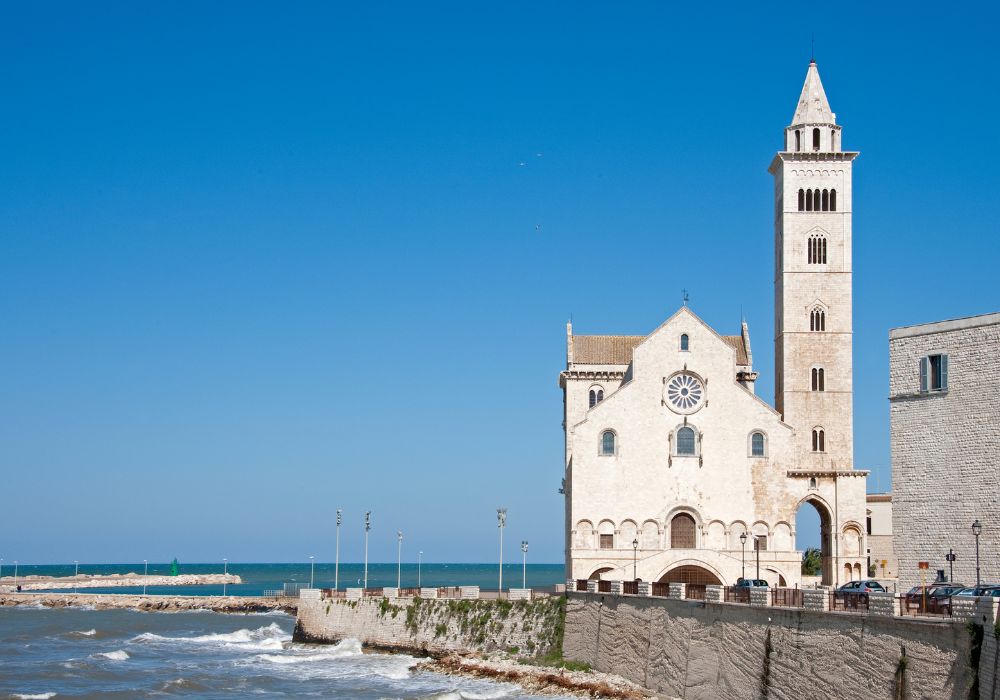 If you're looking for places to stay in Bari with parking, Japigia might also be a good option. Because it's further out from the city center, there tends to be more parking available here compared to the more central neighborhoods.
Best Places to Stay in Japigia
Here's a selection of good-quality budget places to stay in Japigia:
1. Appartamento Claudia: This is an excellent one-bedroom budget apartment that has a small kitchen, laundry facilities, a balcony, and free parking. It's an easy 15-minute walk from Bari Centrale station so would also be a good option for those traveling via public transport.
2. Centro Città Concept: Check out this comfortable room with a private bathroom located inside a simple guesthouse just south of the central station. It's one of the best budget places to stay in Bari.
3. La Clessidra B&B: If you're looking for a budget apartment where breakfast is included, La Clessidra B&B is a great bet. It's also one of the only places I'm aware of in this area that charges less if there's only one person staying, so would be particularly good value if you're a solo traveler.
Top Things To Do in Japigia
There aren't really many "sights" in Japigia as such, but these are the things that I recommend doing there:
1. Visit the Chiesa Ortodossa Russa di San Nicola: One of Bari's lesser-known churches, this Russian Orthodox church is 900 years old and contains some sacred relics. It's an interesting place to visit and has some amazing architectural features, including a Russian-style onion dome tower and surrealist windows.
2. Go Bowling: Snooker Bowling feels like a real blast from the past! It's a retro gaming arcade, snooker hall, and bowling alley. You can also eat there (although the food isn't anything special) and have a few beers while you play.
3. Spend an Evening at Duke Jazz Club: This amazing jazz club is bizarrely located on an industrial estate, right next to a tire shop and car mechanic's garage. Despite its whereabouts, it attracts some really great bands. They're only open once or twice per week, and not always on the same days. Check their Facebook page for the latest details.
Where to Eat and Drink in Japigia
These places are all excellent and are popular with the locals:
1. Beerteller: For excellent craft beer on tap, head to Beerteller. You'll likely be the only tourist there (which I love), and they have daily rotations of draught beers, meaning there's always something new to try. Their pinsas (mini handmade pizzas) are a thing of legend locally.
2. Ristorante Damé Cucina: Ristorante Damé Cucina is a family-owned restaurant that serves truly outstanding traditional Puglian food. The service is warm and friendly, they have great local wine, and the prices are very reasonable. Don't be put off by the location (it looks a little like a building site at times) – this place is amazing.
3. Le Véronique Einaudi: If you fancy a really good burger, I can highly recommend Le Véronique Einaudi. They also serve great savory and sweet crepes, a few pasta dishes, tasty arancini, and a fantastic selection of craft beers (both local and imported) and local wines.
FAQs About the Best Areas to Stay in Bari 
Here are answers to some commonly asked questions about where to stay in Bari:
What area of Bari is best for tourists?
The best area to stay in depends largely on your budget and preferences. However, Bari Vecchia is arguably the best neighborhood to stay in overall because it's where the majority of the city's tourist sights are located.
Where should I avoid staying? (Where NOT to stay in Bari)
There aren't really any no-go areas of Bari. That said, I'd recommend that you avoid staying in places that are too far out from the center as you would need to spend quite a lot of time traveling to get to the main sights.
For example, the Poggiofranco neighborhood is leafy and pleasant but is located quite a long way away from Bari Vecchia. This would be a great place to stay for longer-term visitors, but probably not for those who only have a few days in the city.
What is the safest place to stay in Bari?
Bari is, on the whole, a fairly safe city. Bari Vecchia and Murat are both very safe neighborhoods, although you're unlikely to have any issues in any of the areas mentioned in this post as long as you take the usual sensible precautions when traveling.
Where to stay in Bari for shopping?
Murat is the main commercial center of Bari and is home to a huge number of shops. The pedestrianized Via Sparano has many luxury shops with beautiful window displays, and the streets leading off it are full of local boutiques making this a perfect place for shopping.
How many days should I stay in Bari?
The longer the better! You could visit most of the key sights of Bari in one day, at a push. But, to get a real feel for the city and make your trip feel less rushed and more enjoyable, I recommend spending at least two or three days here if possible.
Is Bari a walkable city?
Yes, Bari is a very walkable city. Despite being one of the largest cities in southern Italy, most of the places that you'd want to visit (including virtually all of the places mentioned in this post) are within easy walking distance of each other.
In Conclusion
Bari is a beautiful city with a rich cultural history. Each area of the city has delicious food and a range of interesting things to see and do. Whether you're looking to be close to the historical sights, trendy hipster hangouts, or the beach, there's sure to be a neighborhood that's perfect for you.
If you're looking for places to stay near Bari, I can highly recommend the attractive seaside town of Monopoli, which is only 30 minutes away from Bari by train. Puglia is one of my favorite regions of Italy – there's something really special about it and I can't wait to return!
Like This Article? Pin it!