Pleo expense management software review
What is Pleo? 
Pleo is a cloud-based expense management solution designed to help businesses manage, track, control, and optimize business spending. 
The platform's offering includes physical and virtual payment cards (issued by Mastercard), automated expense management, digital receipt capture, a mobile app (Android and iOS), an analytics dashboard, and a wide range of third-party integrations to help businesses better manage company finances. 
Who should use Pleo? 
Pleo is suitable for businesses of all sizes that want better control over their spend management processes, from startups and small businesses to enterprises. While Pleo can be used by multi-entity organizations with operations in different locations and departments, the most perfect fit for Pleo is with startups and SMBs.
Pleo's platform can be used by companies within different industries, like healthcare, retail, transport, technology, or agencies.
If your finance department still receives paper receipts, you should consider getting Pleo. It will save time for account managers and even CFOs on administrative work and reporting.
Pleo's main features 
Virtual and physical cards with individual spending limits.
"Pocket" feature for automated expense management, including invoices, out-of-pocket expenses, mileage, and reimbursements.
Dashboard for invoice management, facilitating the accounts payable process, and scheduling payments. 
Analytics dashboard for reporting and a real-time overview of company expenses.
Integrations with accounting solutions, ERP systems, travel management platforms, bookkeeping software, taxi and transportation services, and single sign-on (SSO) solutions. 
Pleo mobile apps for iOS and Android that enable employees to take pictures of receipts on the go and receive instant notifications as they spend.
Pleo's pricing model 
Pleo offers three pricing tiers: 
Starter: Free for up to three users. Best for entrepreneurs and small companies. 
Essential: £39/month. Aimed at businesses that need an all-in-one spending solution. 
Advanced: £79/month. Best for companies with more entities and/or those that need custom configuration.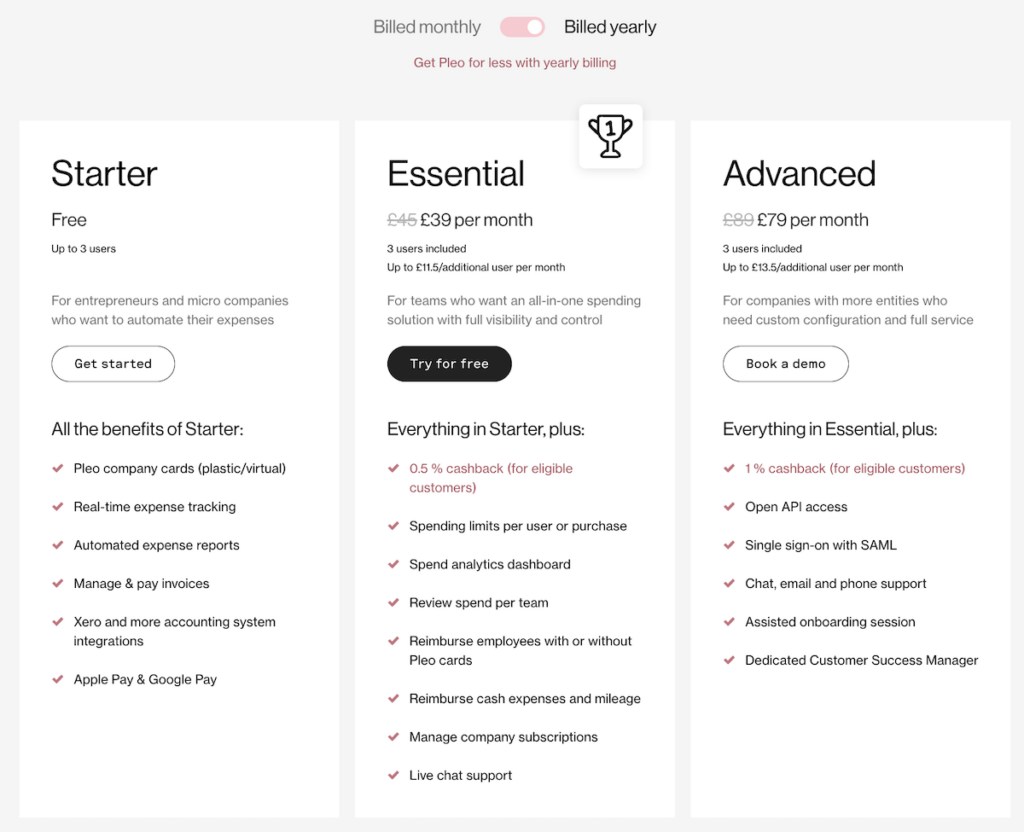 Pleo integrations 
Pleo integrates with several powerful tools to enable seamless communication between important software systems. As well as accounting systems and ERPs, Pleo also integrates with taxi and transportation services, single sign-on (SSO) solutions, and bookkeeping software. 
Accounting systems 
To help reduce the time and resources needed to transfer data manually between systems., Pleo integrates with several accounting software systems, including QuickBooks, Xero, Sage 50, and Holded. 
ERP systems 
Users can also take advantage of Pleo's 30 different integrations with ERP systems like NetSuite and Microsoft Dynamics 365 Business Central to connect their tech stack and manage business workflows. 
Business productivity solutions 
For business productivity and streamlined expense approvals, Pleo integrates with Slack to notify the right people when a new expense is created. 
Travel management platforms 
Pleo also integrates with the travel management platform TravelPerk.
For businesses whose employees regularly travel for business, a travel management solution is vital for helping them manage their business travel expenses, all while saving time and reducing travel costs.
For example, if you're familiar with the hours of hassle spent wrangling with hundreds of invoices and dealing with missing receipts at the end of every month, these platforms provide consolidated monthly invoicing functionality. This means employees no longer need to pay upfront and then request reimbursements.
The integration between Pleo and Travelperk enables employees using a Pleo card to automatically match TravelPerk receipts with Pleo expenses to facilitate a streamlined expense management process.
TravelPerk has the largest inventory of travel service providers on the market and offers an all-in-one solution to simplify how you book, manage, and report on your corporate travel. The platform provides centralized invoicing for easy budget management, 24/7 customer support from real humans, and real-time expense reports to access deep insights into your spending.
Learn more about how TravelPerk integrates with Pleo to make business expense management a breeze here.


Countries and languages supported by Pleo  
Businesses in the following countries can use Pleo: Austria, Belgium, Denmark, Estonia, Finland, France, Germany, Ireland, Luxembourg, The Netherlands, Portugal, Spain, Sweden, and The United Kingdom, with Italy and Norway to follow soon. 
Pleo supports the following languages: English, Danish, Dutch, Estonian, Finnish, French, German, Irish, Portuguese, Spanish, and Swedish.
A step-by-step guide to Pleo's platform (with screenshots)
If you're a new administrator, you need to set up your account before you can invite the team and order cards. But as soon as you are done, you can start enjoying the functionality of Pleo and access all the features available to your company according to the selected pricing plan.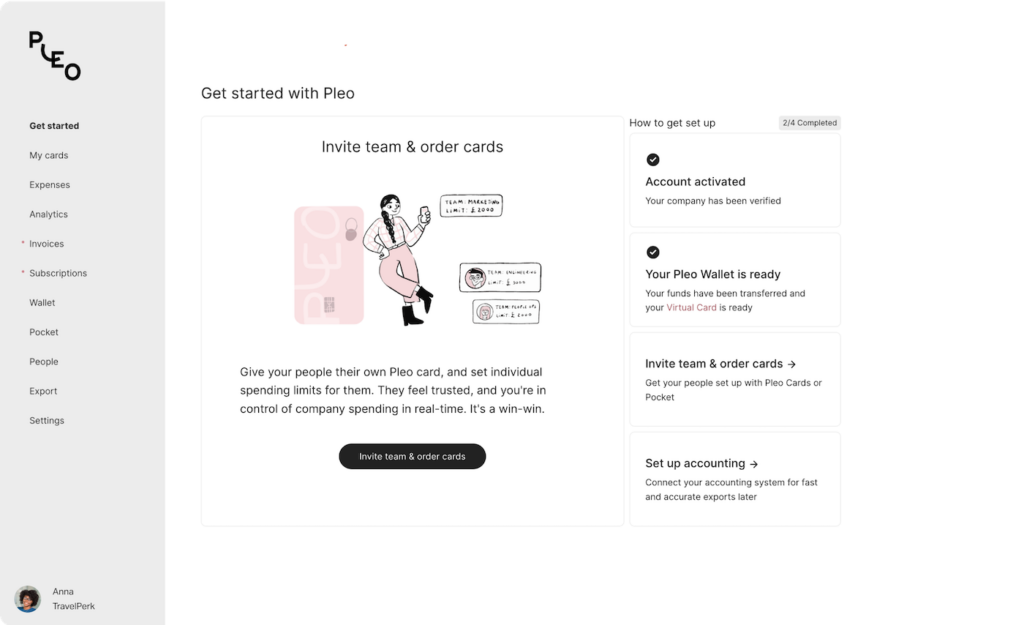 Probably the first thing you'll want to do is to order virtual or physical (or both) cards for your employees and set up their own spending limits.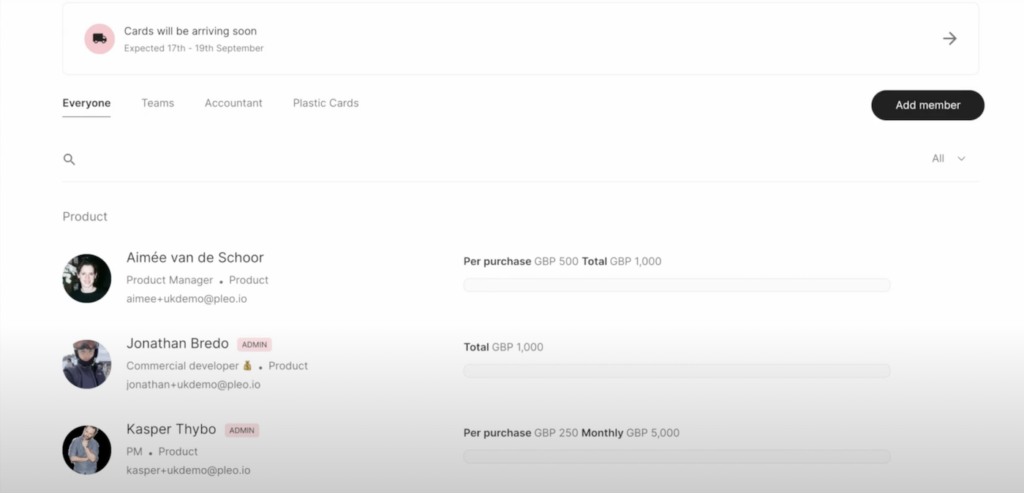 And, of course, you can also manage your personal card: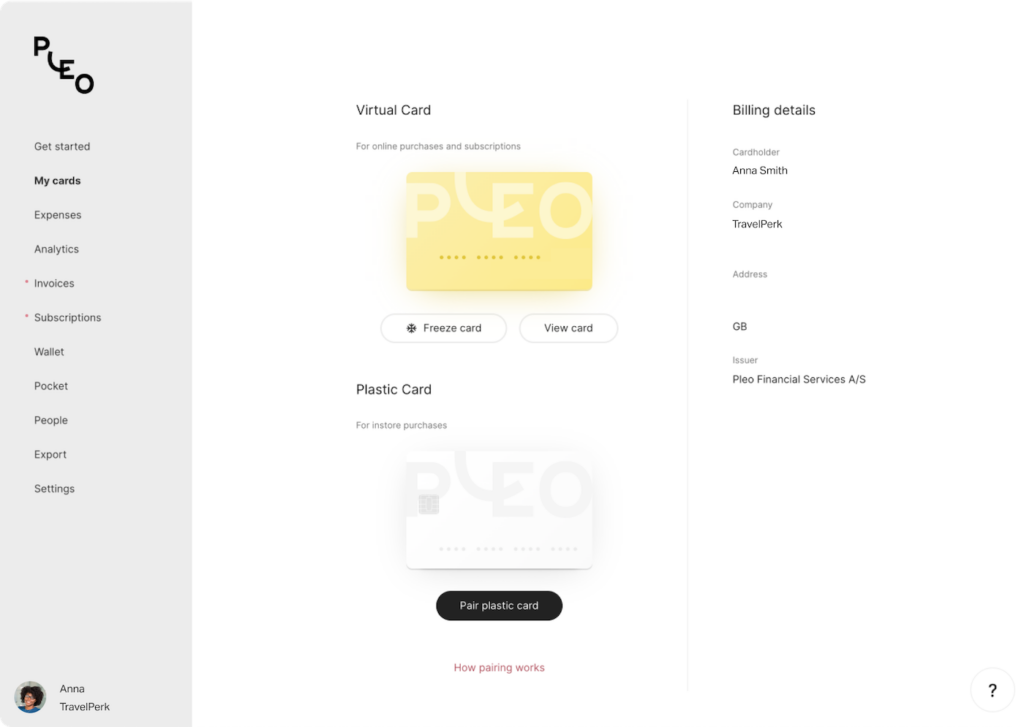 In the Expenses section, as an admin, you can see the company's available wallet balance and recent expenses.
You can also manually add an expense here by adding a receipt.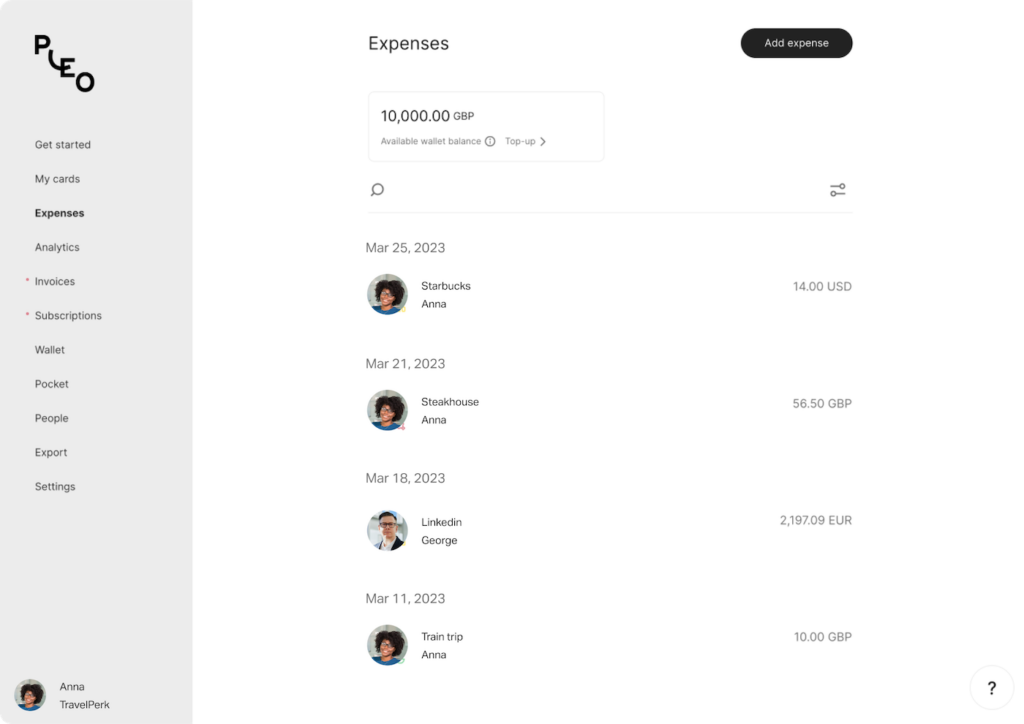 Admins can study the expenses of their employees in detail and also assign categories to expenses — for example, Subscriptions and Software (for SaaS products that you use), or Hardware (in case someone purchased a laptop, for example), or Internet & Telephone (in case your company is covering someone's Internet bill).
The Analytics section (available only to paying Pleo customers) provides reporting on your company's expenses which you can organize in any way you want. For example, you can learn how much money your company spends on marketing, or what kind of expenses a certain employee reports. You can build all sorts of different reports here, and on the screenshot you just see an example of one: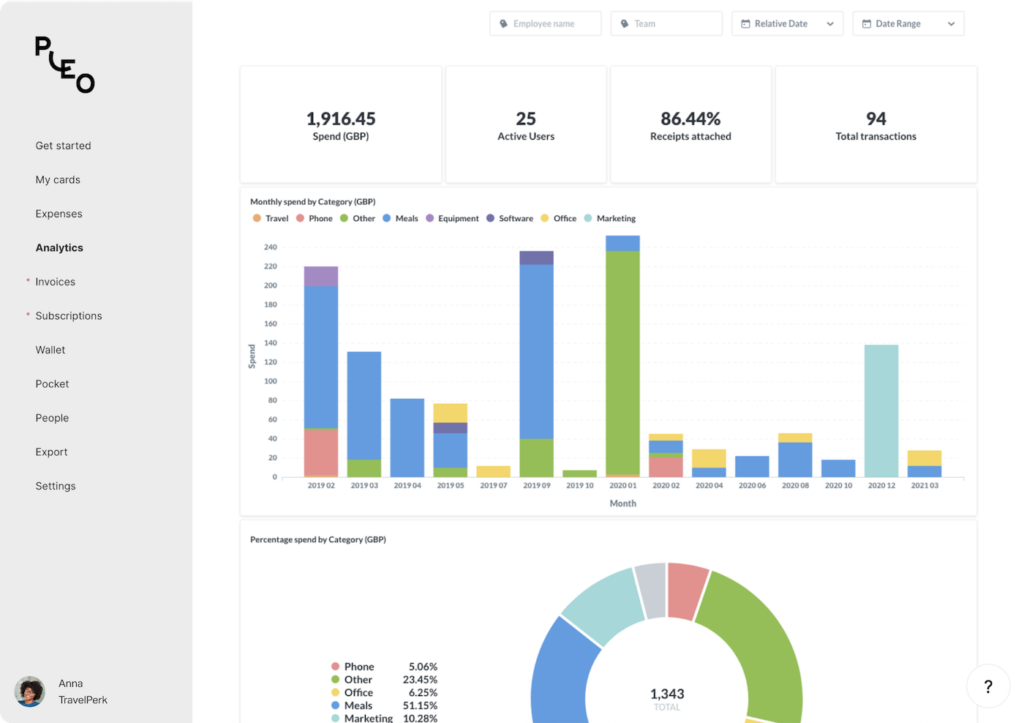 In Invoices, you can find and sort invoices that require payment or are scheduled or have already been paid. And you can approve or reject invoices that are pending approval. There are many sorting options for invoices — for example, you can sort them by status.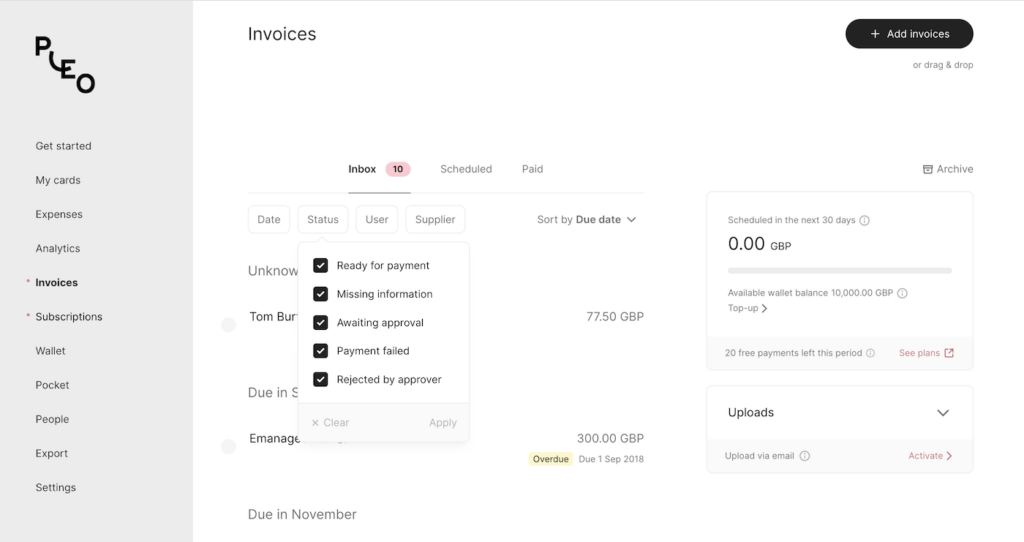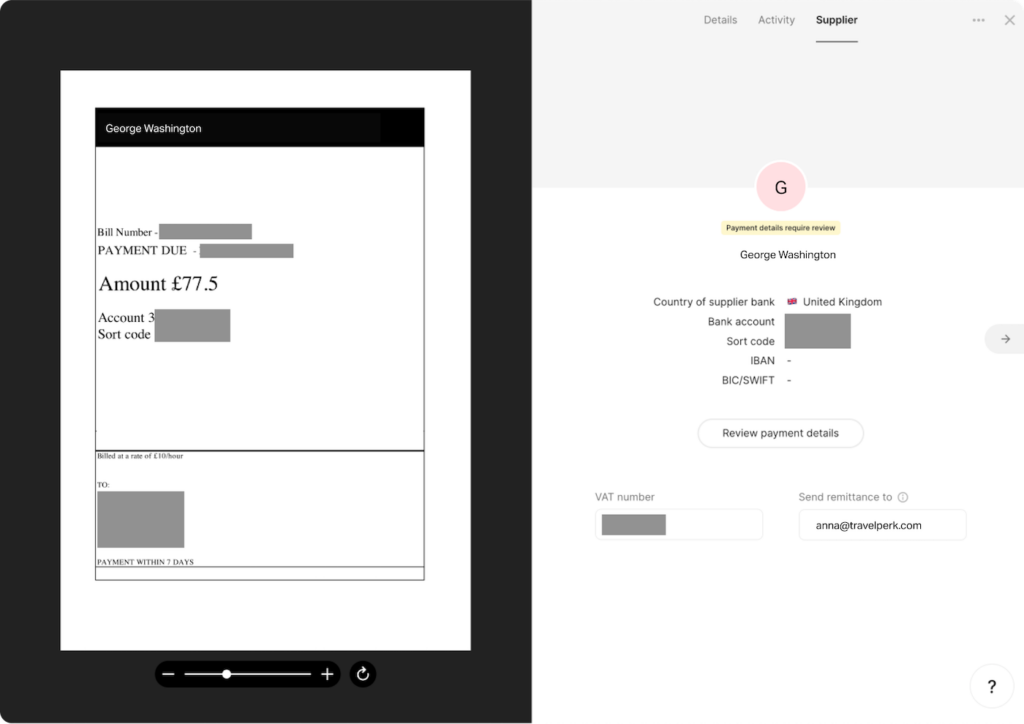 You can also manage your company's Subscriptions in a section conveniently separated in the main menu to provide you insights into what recurring payments might be happening on your accounts.
Then, there is Wallet. Admins can see transaction history and top their wallets up.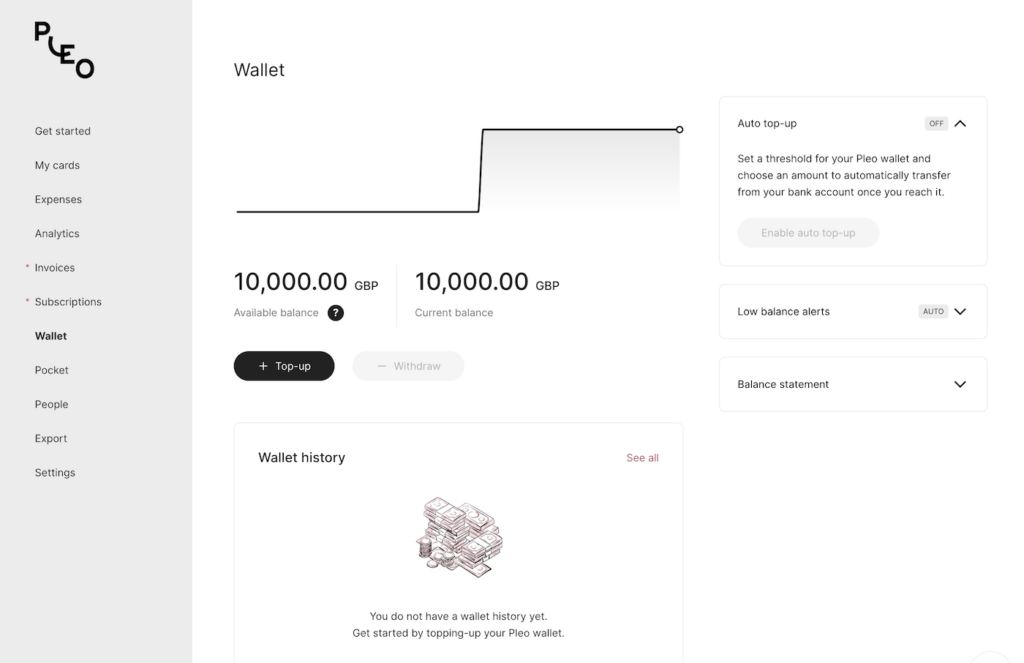 You can also find transactions by time period and download the balance statement: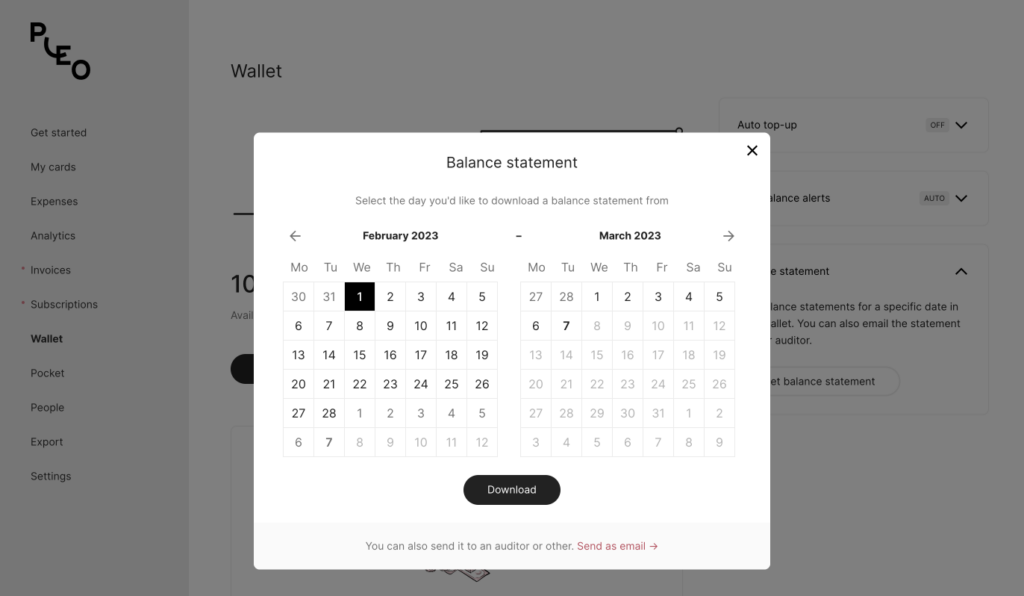 You can top the wallet up via bank transfer or direct debit. And you can set up an automated top-up if you want it to happen regularly but don't want to do it manually.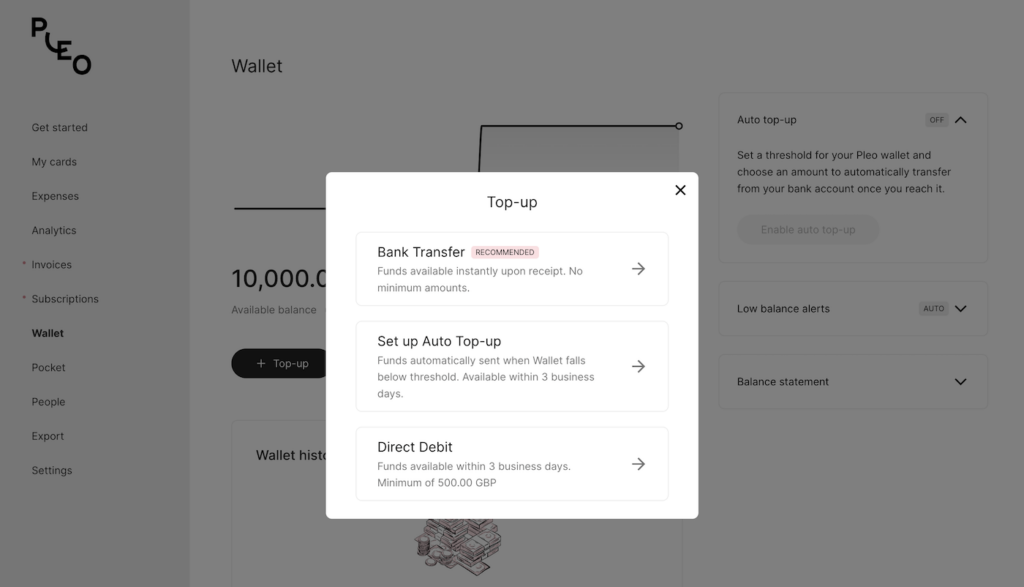 You can choose to top up from any top bank available in your country. In the UK, for example, Pleo allows top-up from 50+ banks.
There is also a Pocket feature that allows you to keep track of out-of-pocket expenses, mileage, or expenses paid for using withdrawn company cash. Employees may add expenses manually using Pleo's desktop and mobile apps.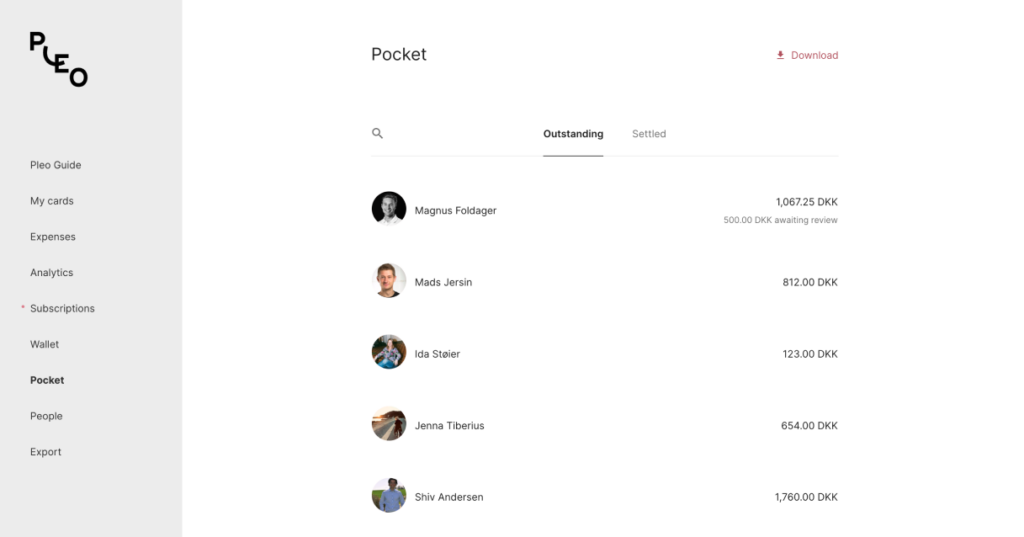 As an admin, you can manage the employee directory, add or remove users, and set up individual card spending limits. You can add people manually or in bulk by uploading a file. You can also give access to Pleo to an external bookkeeper.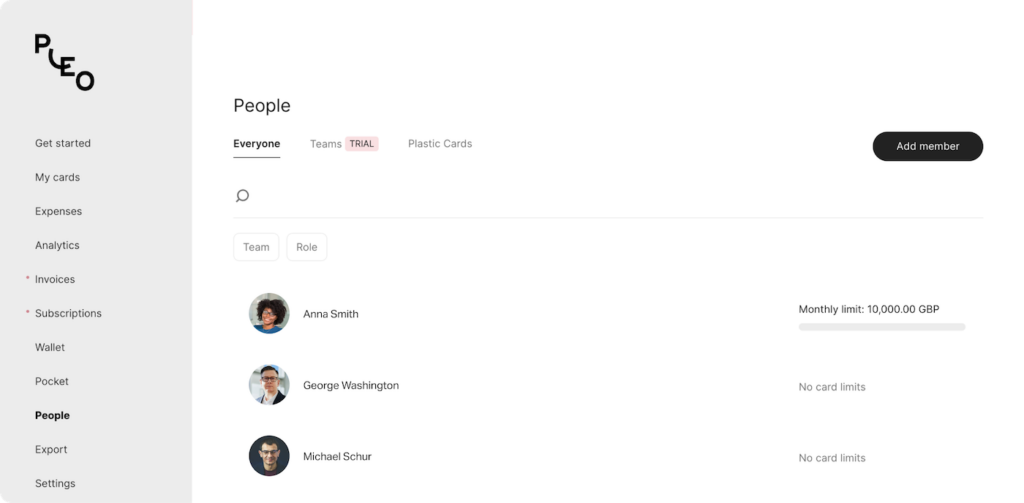 In Export, you can set up the export of receipts into your accounting system.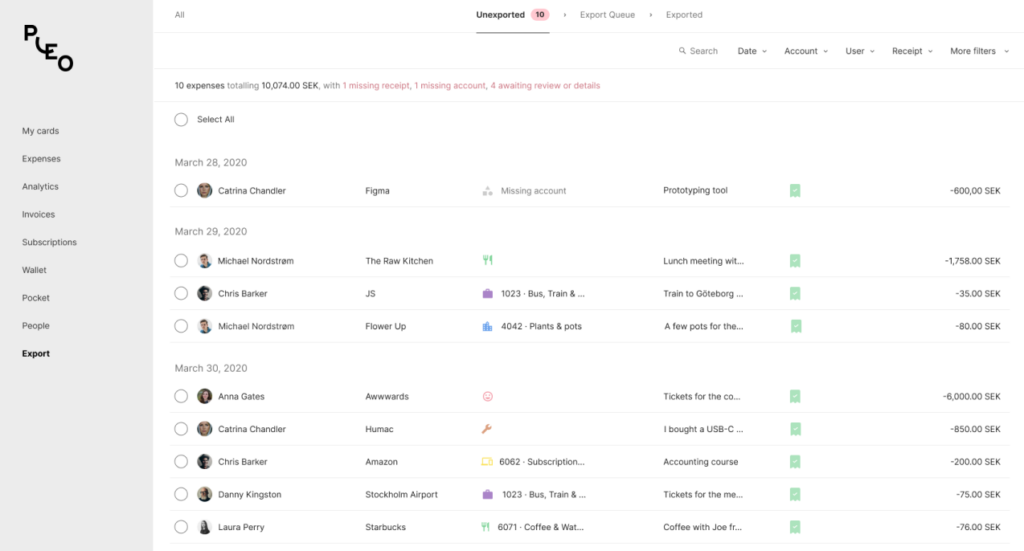 Speaking of accounting systems, Pleo integrates with 30 of those: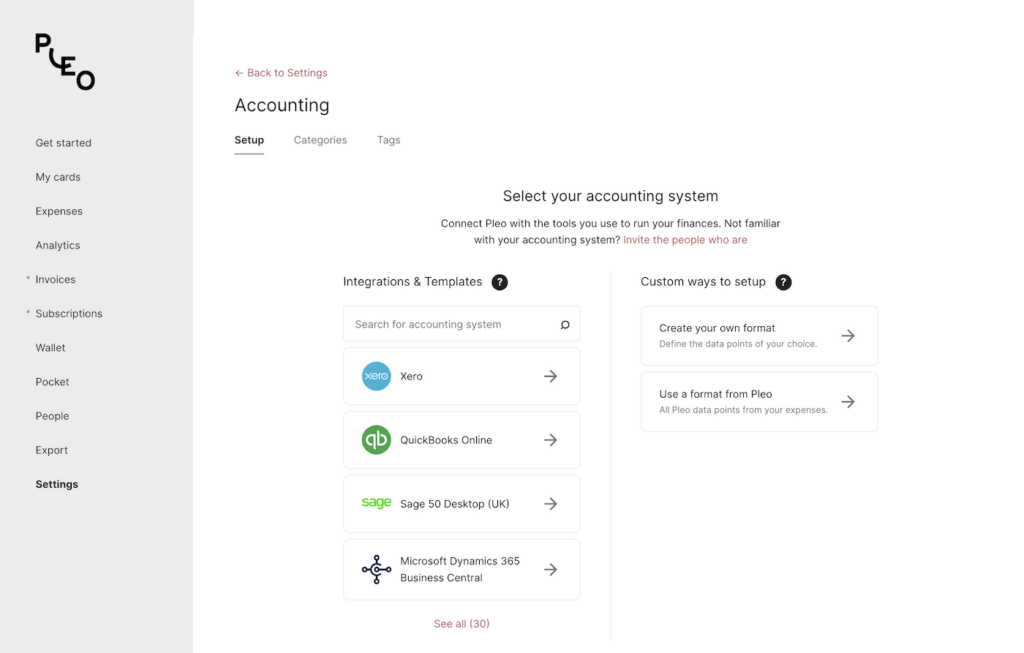 You can connect Pleo with such accounting software as Xero, QuickBooks, Sage, Microsoft Dynamics 365, Billy, Datev, Dinero, Fortnox, Inventio and many others. It is nice that Pleo is integrated with some local accounting tools that people use in certain countries.
The accounting system can be set up in Settings: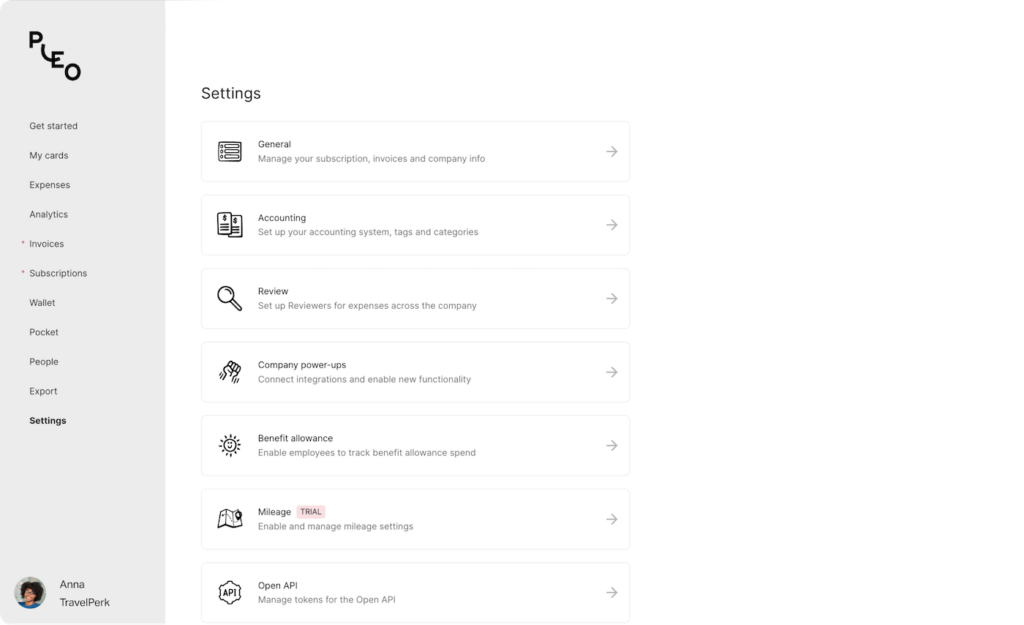 In Settings, you can have many more Pleo functions hidden but most importantly, you can manage your account's billing, invite employees and manage the company's info.
In the Review section of Settings, admins and bookkeepers can approve card and Pocket expenses company-wide. As written on Pleo's platform, Company Review can be enabled alongside Team Review for a multi-step review process. By enabling both Company Review and Team Review, all expenses and Pocket reimbursements will require two sets of approvals.
In Settings, you can also set up Benefit allowances, and make them custom for each team member.
And you have a separate section for Mileage where you can set up mileage rates, download claims and see the mileage expenses.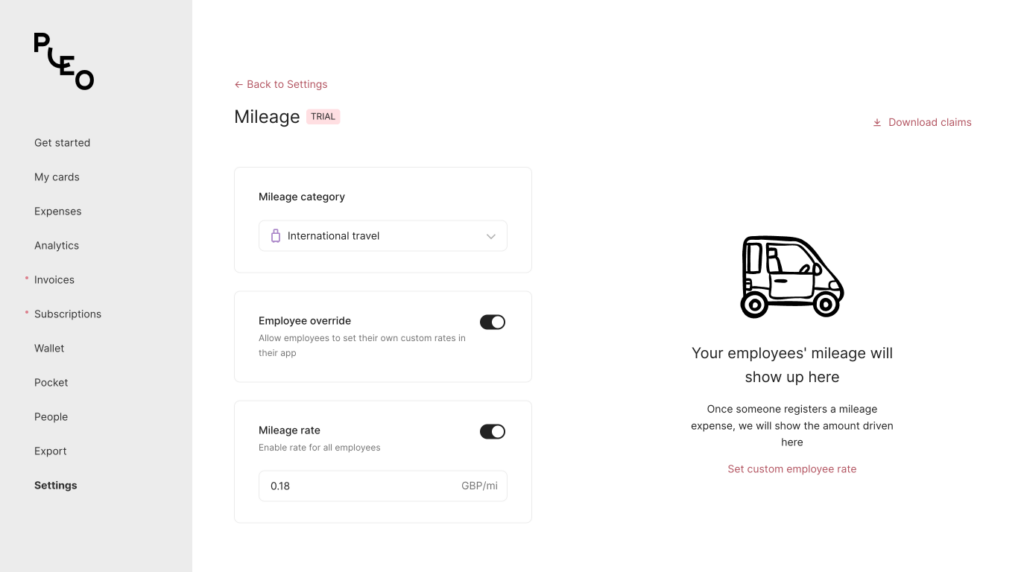 Settings also offer Power-ups where you can enable integrations with tools (besides ERPs) that Pleo is integrated with.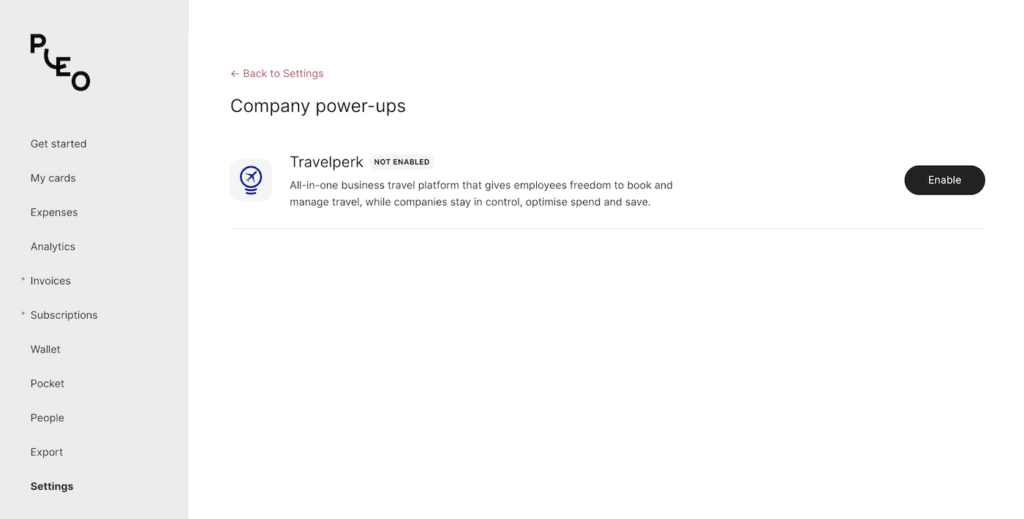 TravelPerk is proud to be one of them. Together with Pleo, TravelPerk makes up an end-to-end business travel expense management solution.
TravelPerk is a best-in-class business travel management platform that helps customers easily book and manage corporate travel. The solution integrates with other tools including many popular expense management solutions, including Pleo.
How it works:
A user makes a business trip booking on TravelPerk using a Pleo card.
Pleo fetches an invoice and adds it to the expense in Pleo.
They receive the transaction data directly from the card issuer and assign a category to the spend.
The travel expenses can be streamlined into your accounting system.
Learn more about TravelPerk & Pleo here.
Settings also give access to OpenAPI for cases when your company wants to build your custom integration with Pleo and other tools in your workflow, to reduce the amount of manual admin work.
Review of Pleo's mobile apps
Pleo provides mobile apps both for iOS and Android. Apps are extremely convenient for employees' expense claims as applications allow them to submit receipts on the go.
For example, an employee buys lunch using their corporate Pleo card (that can also be conveniently added to Apple Pay or Google Pay). Pleo's system automatically notices a new expense and sends a notification reminding your employee to properly submit the claim.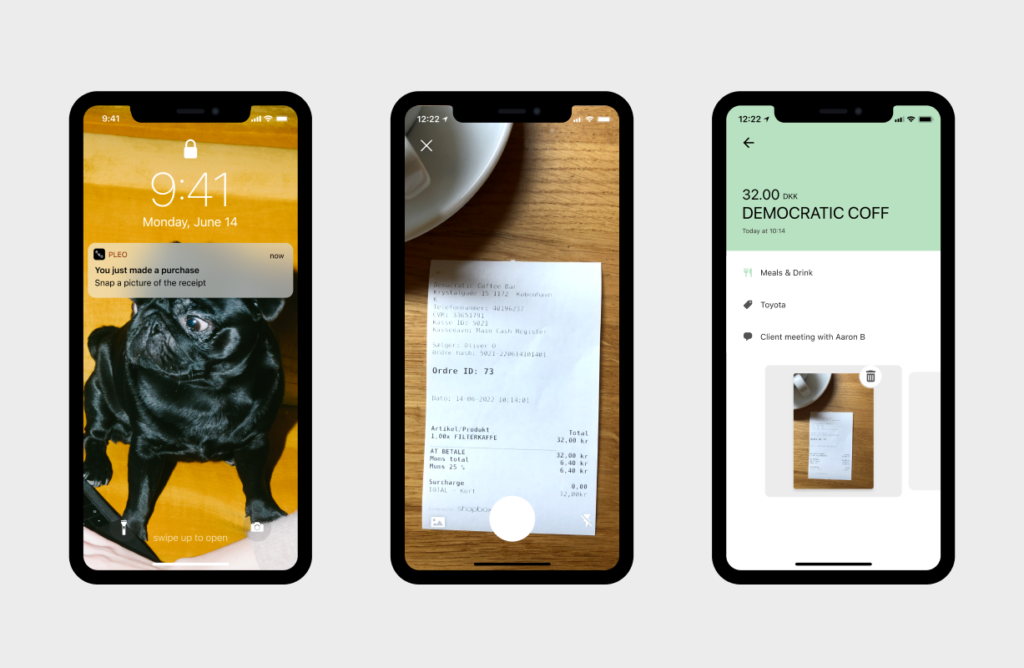 Employees can make a photo of the receipt and assign the category of the expense to it right in the app.
And they can even associate the expense with a certain client of theirs which helps accountants and finance managers as well as managers of your employees to keep an eye on overall spend and ROI.
Pros and cons of the Pleo platform
Pros of the Pleo platform
Pleo offers a three-week free trial of the platform's Essential plan to help users ascertain whether it meets their expense management needs. 
Users benefit from Pleo's automatic spending categorizations that facilitate a streamlined expense process.  
Pleo supports digital wallets like Google and Apple Pay, facilitating one-click merchant payments. 
Pleo's simplified interface provides excellent ease of use, however, if you have any questions, you can contact the Pleo team.
Cons of the Pleo platform
The platform does not currently support businesses outside Europe. 
Pleo prepaid cards have to be topped up which means less flexibility than a credit card when it comes to managing daily cash flow.
Onboarding is only offered with the more expensive plans.
How to get started with Pleo 
To get started with Pleo, you'll first need to sign up via the website with your work email address. Pleo also accepts login through Gmail-based (G-suite) business accounts.
You'll then receive a link via email that asks you to set up your login credentials and select your company from a list that's synced with your country's company registry.
As the person setting up the account, Pleo will also ask you to enter some personal verification details (date of birth, proof of address, photo ID, etc).
Once your company's Pleo account is officially verified, you can get started with topping up your wallet, inviting colleagues, and ordering Pleo company cards.
Video overview of Pleo 
To help you see Pleo in action, watch this short video that explains how Pleo's virtual and plastic cards work and how to administrate your Pleo account. 
The video walks you through how to make in-person and online purchases, upload receipts, and how administrators manage employee expenses.
Alternatives to Pleo 
Pleo offers a wide range of features to help businesses with expense automation and to streamline their overall expense management processes. However, if you are not yet sure it's suitable for your unique businesses needs, there are plenty of expense tools in the European market:
Yokoy
Payhawk
Rydoo
Circula
Soldo
Plus, all of the expense management systems above also integrate with TravelPerk to help businesses simplify travel spending and expense processes from start to finish.
To find out more, check out the expense management category on TravelPerk's marketplace.
What do customers say about Pleo?
"It was meant to be a temporary solution", Byron Cowie, Head of Reporting at Control at Luno says, "But with Pleo, it turned out to be so seamless we haven't felt the need to change anything. It's been quite a game changer for us because as soon as we had the TravelPerk platform and all approvals set up, we could just add a Pleo credit card, and that was it."
FAQ
Is Pleo safe?
Yes, Pleo is certified with the Payment Card Industry Data Security Standard (PCI DSS). The company also claims to perform regular penetration tests to find and address any security vulnerabilities.
Is Pleo a bank?
No, Pleo is a business spending solution.
How much Pleo costs? Is Pleo charging commissions?
Pleo's pricing model is transparent and you can review it on their website. To put it briefly, Pleo charges depend on the plan your company is on, and the charge is dependent on the number of users you're going to have. You can also save money if you select annual billing.
Where Pleo is incorporated?
Pleo was born in Copenhagen in 2015, co-founded by fintech entrepreneurs Jeppe Rindom and Niccolo Perra. Pleo is incorporated in Denmark, Sweden, the United Kingdom, Spain and Germany.
How do you top up Pleo cards? Is it centralized, or do you have to top up a card for each employee?
You can set up individual spending limits and corporate policies however you can make a centralized Pleo wallet top-up, and funds will be distributed from it. You can make top-ups automatically or manually, depending on what you need. Accounts can be topped up using direct debit or simply from your company's bank cards.
What companies are using Pleo?
Pleo lists Unity, HelloFresh, Lyst, Blinkist, Too Good To Go, Patch, IDC, Soho House, Luno, Essential Living, Perky Blenders, Cookson Adventures, Techspace, Cobee, Budbee, Motatos, Tidler, Ninjas in Pyjamas, Nodes, TerminusDB, Convivio, Startle, Trickle, Kinnevick, Reelworld Production, LetsBuild, Actimo, Houst and many others as their customers.
How big is Pleo?
According to LinkedIn, Pleo has more than 800 employees, with most of them being based in Denmark. However, Pleo also has a big office in the UK.
Who is an issuer of Pleo cards?
Pleo's virtual and physical cards are issued by Mastercard.
Is Pleo right for your business? 
Pleo is a robust expense management tool with a full set of features that cater to businesses across Europe. If you're looking for a tool that also integrates with a travel management platform to help you manage the overwhelming processes involved in business travel planning, Pleo is a solid choice.
See how TravelPerk revolutionizes business travel expense management