20 Bathroom Counter Organization Ideas for Clutter-Free Bliss
There are those few spots in the house that seem to always take the brunt of our I'll-put-that-away-later intentions. (Side note: who *really* puts it away later?) Those spaces include the kitchen junk drawer, any previously-clear surface, and—no shade, but shade… —if you're my partner, our living room floor. As all good home organizers, professional decorators, and Marie Kondo enthusiasts will tell you, everything in your house needs a home. This lets you revel in a sense of peace and ease knowing that every object and item is right where it needs to be. And when it comes to bathroom counter organization ideas, this truth reigns supreme.
But first you have to make space for those homes—and for that, the bathroom counter presents a challenge. It's a high-traffic area that, for many of us, doesn't offer a lot in the way of storage. Have no fear: it's nothing a little creativity can't solve. In the spirit of helping us all successfully tackle our spring cleaning to-do's, we're sharing our favorite bathroom counter organization ideas. The 20 tips below will help you embrace the season without stressing over your excess stash of cotton balls. (Just me?)
Featured image of Megan Roup's home by Michelle Nash.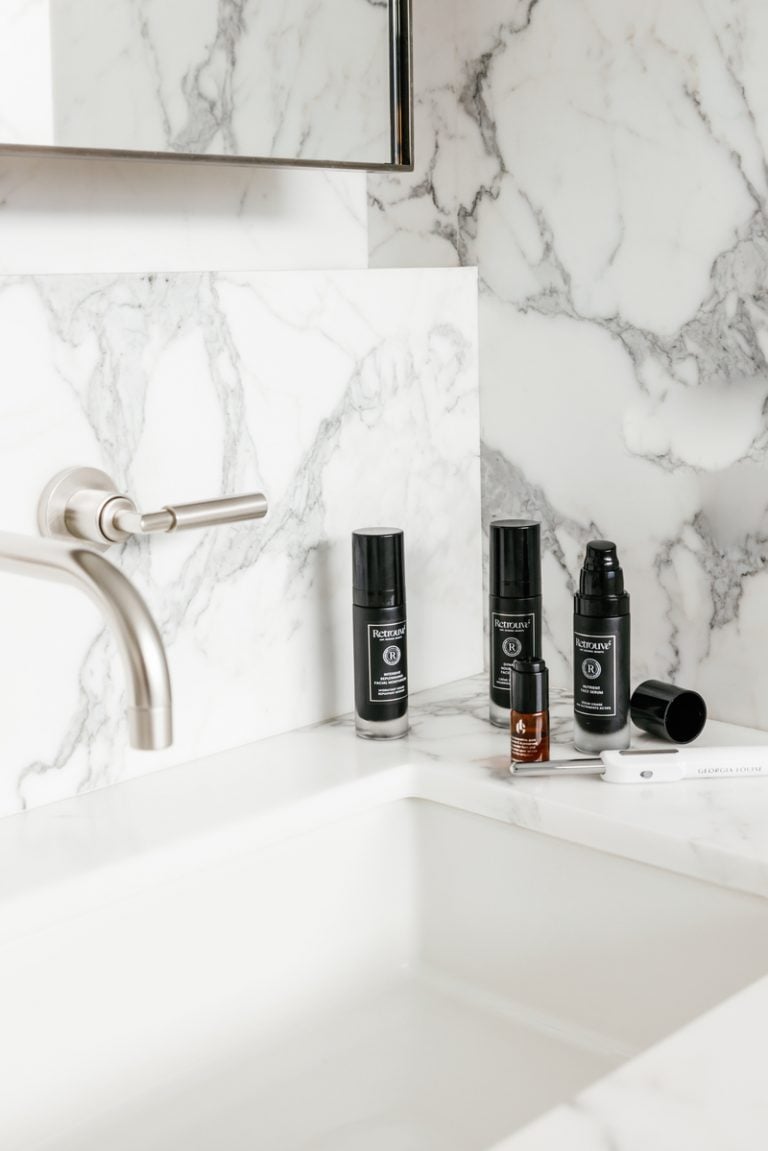 Design Peace of Mind: 20 Bathroom Counter Organization Ideas
Every product is curated with care by our editors and we'll always give an honest opinion, whether gifted or purchased ourselves. If you buy something through our links, we may earn a small commission at no cost to you.
1. Keep It Monochrome
I've found the same truth applies to my sartorial choices: when I go monochrome, everything instantly feels more streamlined. For your bathroom counter, a single color palette helps reduce the visual clutter of a million busy product labels. We recommend decanting your toiletries—soaps, lotions, etc.—into similar-hued containers for a soothing and cohesive aesthetic.
2. Stash Non-Essentials in an Under-Sink Shelf
The bathroom counter only provides so much space. If you're like me, that allows you room for a soap container, toothbrushes, and a small vase full of flowers. As a result, much of what needs to be stored in the bathroom is kept out of a sight in our under-sink cabinet. However, if you don't have the luxury of a built-in, simply install a shelf where you can house the necessities you use regularly (toothpaste, face wash, and all the skincare goodies) for easy access.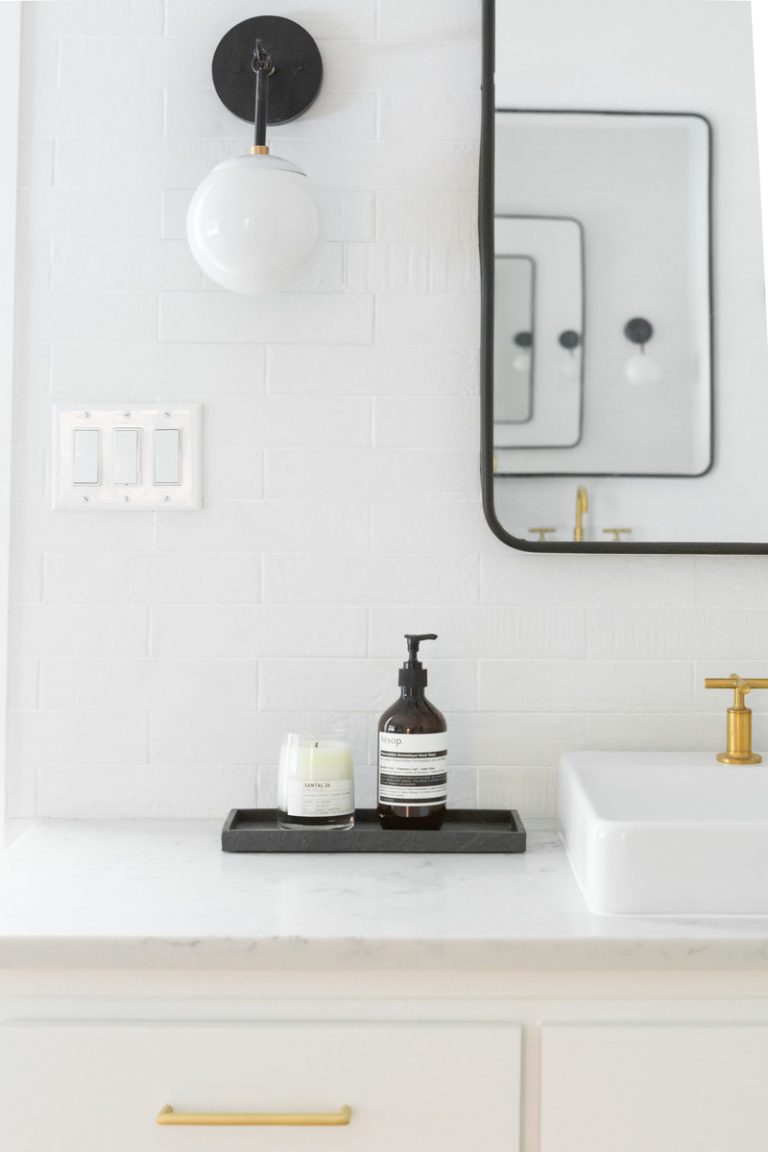 3. Use Trays To Give Everything a Home
Not only do pretty trays add dimension to a bathroom counter, but they also create boundaries to contain your toiletries, accessories, and other small items. I love that they offer not only a functional storage solution but also transform your products and necessities into an aesthetic vignette. Bonus: When it's time to wipe down the counter, just lift up the tray and you're good to go.
4. Store Loose Items in Containers
As I said, I have a lot of cotton balls that need corralling. Whether it's Q-tips, wipes, or makeup brushes—if you have a lot of something, contain them in clear glass jars or vases. This keeps your everyday essentials accessible but also organized.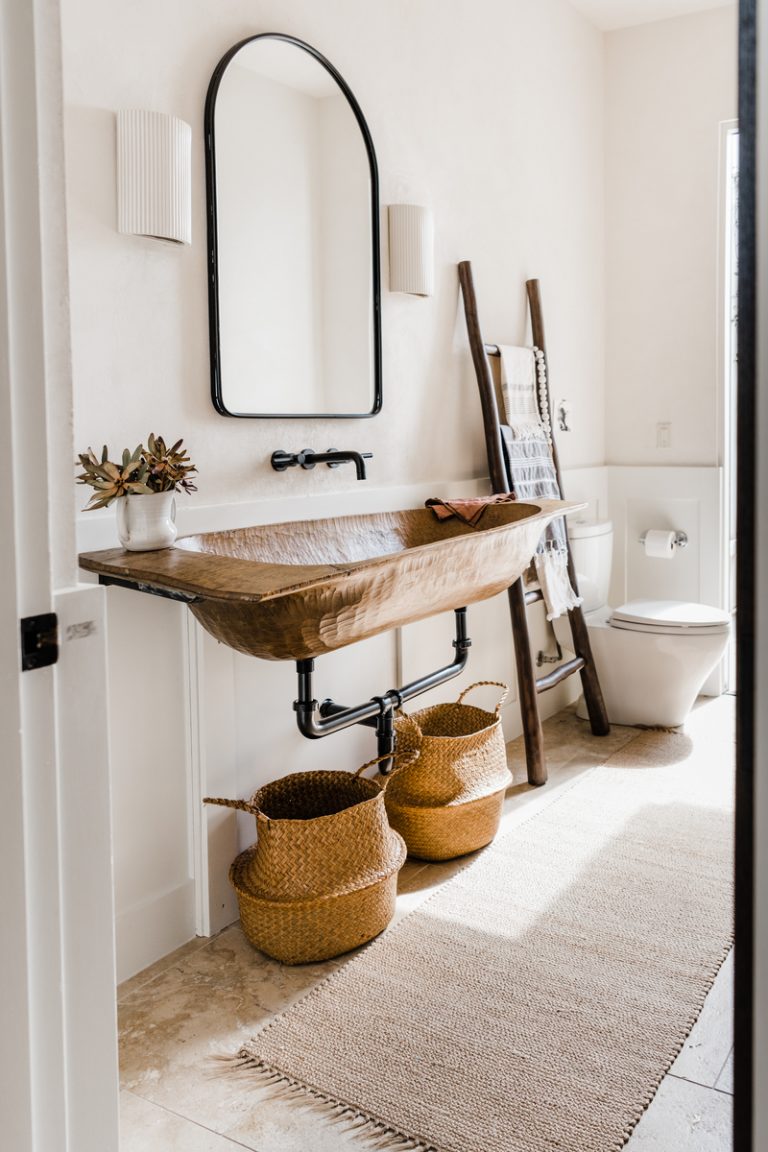 5. Add a Pretty Pick-Me-Up
If you're not displaying your favorite flowers in the bathroom, take this as a sign to start! It adds a nice natural element to your space and will brighten up what's often designed as a solely functional room. Pro tip: Hit up Trader Joe's for DIY bouquets on a budget. I just stopped by my local store yesterday and scored a $5 bouquet of the most gorgeous white tulips.
6. Install Shelving
Trust me: a little added storage makes a huge difference. Whether it's over the toilet or beside your bathroom mirror, pick a spot that gives you the biggest bang for your buck while also being mindful not to crowd your walls. This is a great opportunity to store not only your products but also display a cascading plant such as a pothos for greater visual impact.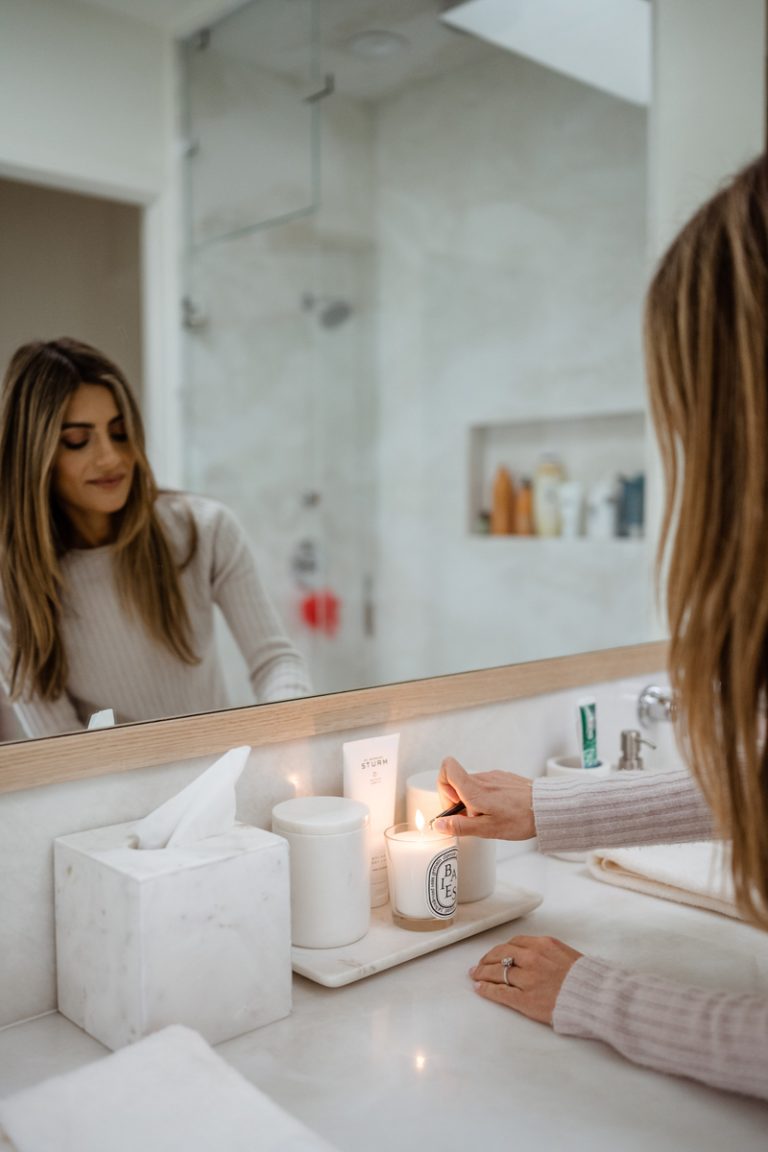 7. Set the Scent (and Vibe)
Is there anything more luxurious or soul-soothing than a candle that defines the vibe perfectly? The soft flicker provides ideal lighting and is the ideal mood lighting for a self-care evening. Scope our favorite picks here.
8. Go Acrylic
When it comes to bathroom counter organization ideas, the best emphasize both functionality and style. The best evidence of this is the ubiquity of acrylic organizers. Because you can see what's inside or stored on top, it's easy to keep track of your stock and get what you need with ease. These are great options for beauty products or any other daily essentials.
9. Utilize Height
Because the goal is to keep a clean and clear space, instead of occupying space horizontally, opt for vertical storage. Stack your acrylic containers, purchase rectangular storage, or even a small cake stand will work in a pinch!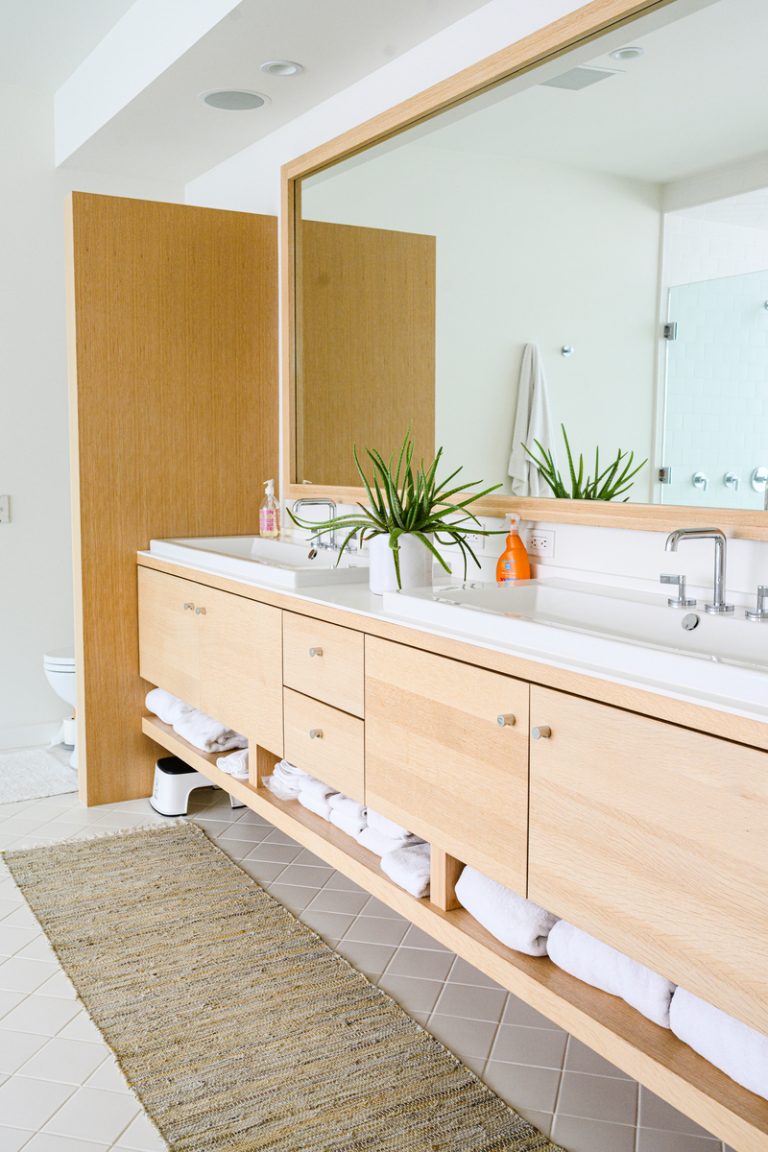 10. Bring the Outdoors In
Similar to the zen-like appeal of a vase of flowers, choose low-light plants that will add an organic touch of green to your space. Or, if your bathroom gets zero light, select a you-won't-believe-it's-fake faux plant.
11. Store Hand Towels in a Basket
Go for luxe, hotel vibes in your guest bathroom by rolling up hand towels and storing them in a woven basket. The design choice adds an instant touch of effortless elegance.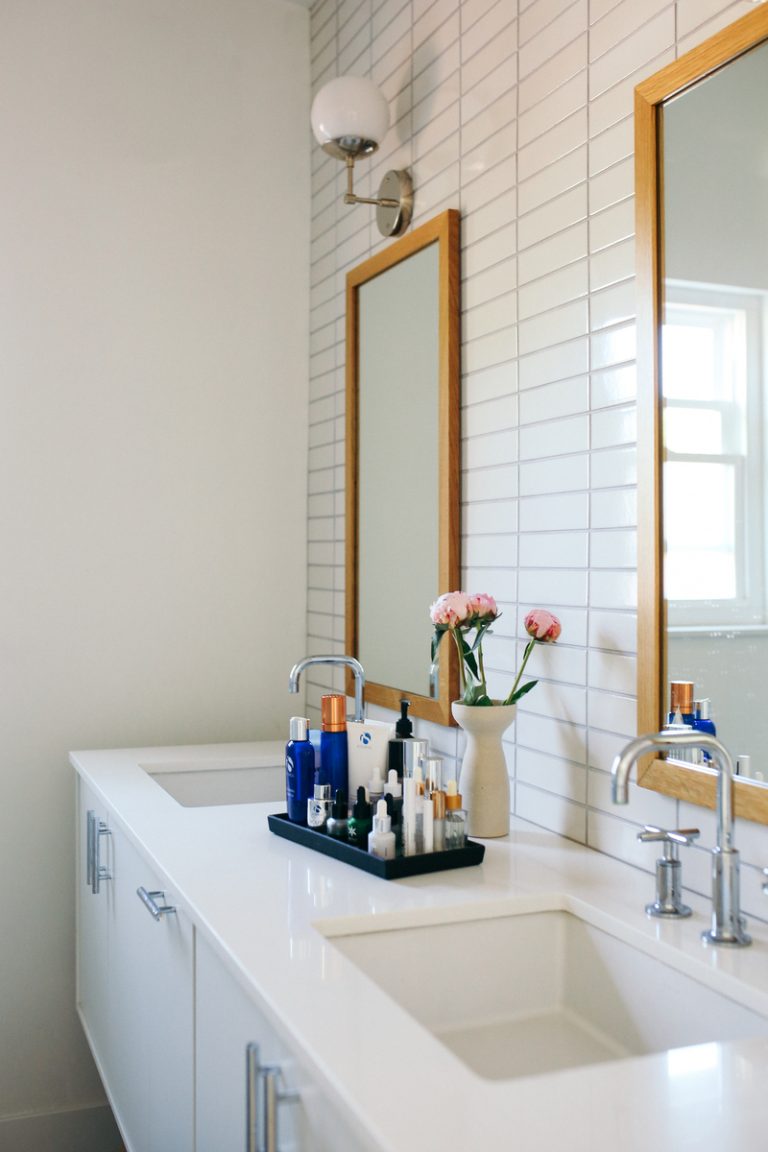 12. Utilize the Center Space
If you have a double vanity, first—consider yourself lucky. Second, be sure you're making the most of this middle stretch. While you might worry it'll crowd the space, between the sink is the perfect spot for a well-stacked tray.
13. Add an End Table
If your bathroom counter space just won't cut it, add a small end table beside the sink to keep a few necessities. Because you'll be introducing an additional furniture piece to the space, be sure to keep the surface storage minimal.
14. Keep Medications in a Chic Storage Box
They're 100% necessary but also perhaps the least aesthetically pleasing must-have in your bathroom. Easy solution: keep them hidden away in a stylish storage box that's within reach.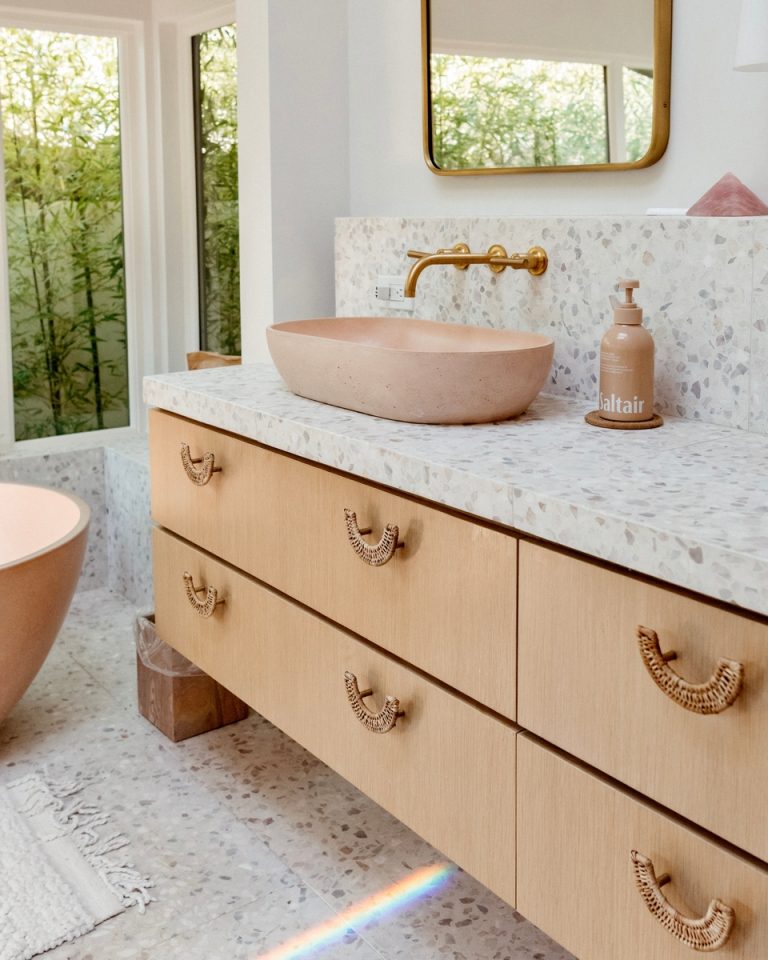 15. Pare It Back
If you take one tip from this list of bathroom counter organization ideas, make it this: when in doubt, go minimalist. While we're all for infusing personality into a space, prioritize what's necessary and add a few decorative items here and there. Particularly if you have a small bathroom. The result will be a calming space where everything has its home.
16. Be Thoughtful About Your Soap
Sure, hand soap is an obvious necessity, but you can have a little fun with it, too! Select a pretty soap container you'll love to look at or opt for a bar and a sweet dish that'll add a pop of personality to the bathroom.
17. Store Jewelry in a Small Catch-All
Similar to your medications, if you have a few go-to jewelry pieces that you wear every day, it's probably likely that you keep them in your bathroom. I love having a small catch-all to keep my necklace, earrings, and a few rings all in one place—allowing me to simply scoop them up and put them on in the morning.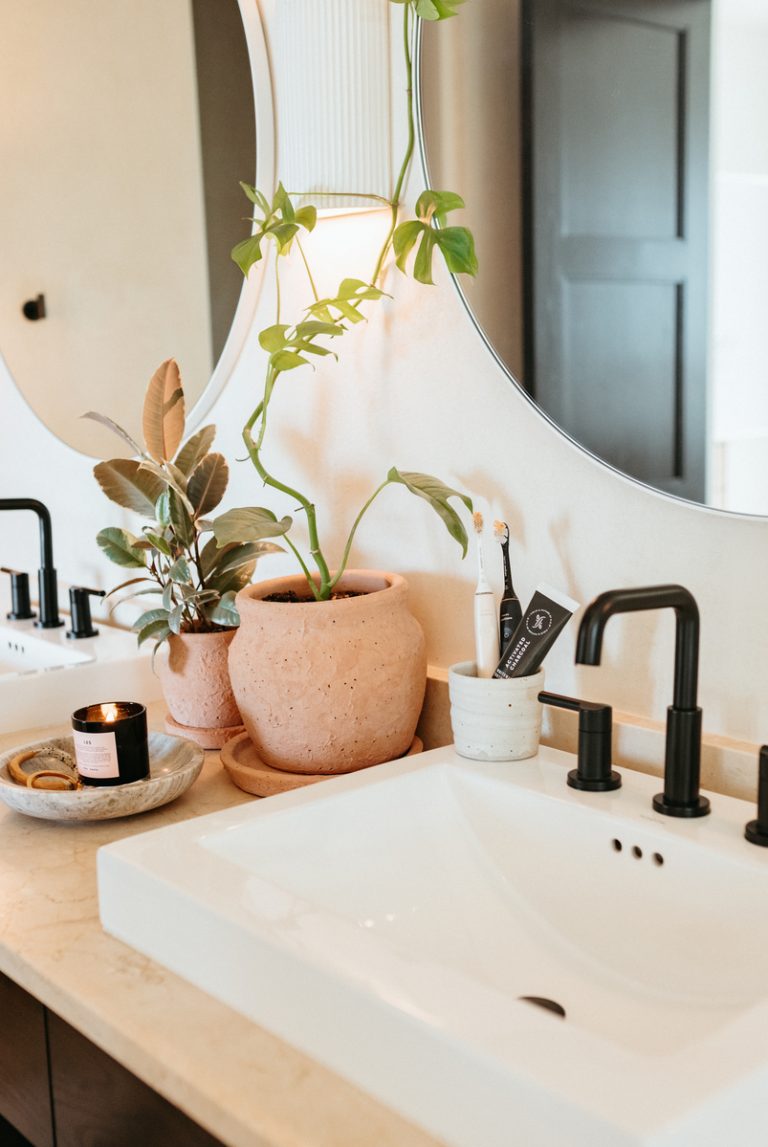 18. Don't Be Afraid to Match
A common theme when it comes to ensuring your bathroom stays organized and clutter-free: select only a few (three, tops) colors or patterns to keep the vibe calm. An easy way to make this happen is to purchase matching bottles for your soap and lotion. Trust me, it'll go a long way in grounding the space.
19. Keep Consistent Heights
If you're going the route of vertical organization, be sure you don't have too many different heights. You'll want all the pieces on your bathroom counter to flow in a single smooth line.
20. Make Use of a Mirrored Cabinet
A mirrored medicine cabinet is a common and simple way to add a little more internal storage to your space. And the good news is that it's way easier to install one than you may think. See below for our favorite storage-saving options.