Visit Lauderdale Celebrates Broward's Cultural Diversity
Did you know Broward County is home to a rich, vibrant tapestry of cultures, with people from more than 170 countries speaking 147 languages living here? This dynamic array of diversity is not only prevalent in every corridor of the county — it's proudly celebrated in the attractions, festivals, and food the destination offers. And why Visit Lauderdale has curated a list of the sights, sounds, and savory spots to experience during National Diversity Month in April to learn what makes Greater Fort Lauderdale such a magnificent melting pot.
Attractions
Ah-Tah-Thi-Ki Museum Nestled in the heart of the Everglades on the Big Cypress Seminole Indian Reservation, the Ah-Tah-Thi-Ki Museum is home to more than 200,000 unique artifacts and archival items. Step inside to learn about the Seminole people and experience their rich cultural and historical ties to the Southeast and Florida.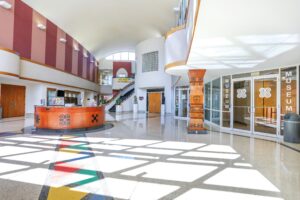 African American Research Library and Cultural Center The African American Research Library and Cultural Center is a focal point in Fort Lauderdale's historically Black Sistrunk neighborhood. The 60,000-square-foot public library opened in 2002 and is extraordinary for the quantity and rarity of books on Black history and culture and for the books written by authors of African American descent.
Black heritage tours
Whether you opt for a private guided heritage driving tour, a group experience, or a leisurely, self-guided neighborhood walk, these customized tours, which are now presented year-round, offer fascinating insights and anecdotes.
Blanche Ely House Museum
The former home of renowned educators Blanche and Joseph Ely is the Blanche Ely House Museum, which has been lovingly restored and is now a thriving venue showcasing the significant social and cultural milestones of Pompano Beach's Northwest Community. The museum also serves as an active cultural hub offering various artmaking and storytelling workshops.
Everglades Holiday Park
Ready to glide through one of the most distinct ecosystems in the world? You can with an exhilarating airboat ride at Everglades Holiday Park, where you'll get an up-close look at the unparalleled wildlife and beauty of the Everglades.
Island SPACE Caribbean Museum Located in Plantation
Island SPACE is the nation's only Caribbean heritage museum. With almost half of Greater Fort Lauderdale identifying as Caribbean American, this cultural treasure elevates the profile of Caribbean art, history and culture in every form while paying tribute to native Caribbean artists who have been displaced and now call South Florida home.
Historic Ali Cultural Center
If you're passionate about public visual art exhibits and performances reflecting the heritage of Pompano's African American community, visiting the Historic Ali Cultural Arts Center is a must. There's also something special for history buffs at the Ely Educational Museum. Located in the former home of Pompano educator and civic pioneer Blanche Ely, it contains archives of research material on education during the years of segregation.
Stonewall National Museum, Archives & Library
One of the largest gay archives and libraries in the United States is The Stonewall National Museum, Archives & Library. This cultural and educational resource collects, preserves, interprets, and shares the culture of the LGBT+ community. It also serves as an epicenter of enlightenment to build bridges of cultural understanding in the LGBTQ community and beyond.
Festivals & Special Events
April 28, 2023
After a 14-year hiatus, four-time Latin GRAMMY winner and Brazilian musical icon, Djavan, returns to the United States to perform at the newly renovated The Parker.
Saturday, April 29, 2023
The City of Margate will host the International Day Festival, a one-day festival highlighting the cultural diversity in the City of Margate. Held at the Margate Sports Complex, the free event will feature international music, dance, food, and vendors.
May 6, 2023
Brazilian Voices, a sensory-inclusive performance, comes to the Broward Center for Performing Arts' Abdo New River Room. The gentle, relaxing music invites young and adult audiences to join Brazilian Voices, an award-winning vocal group, in this interactive performance.
June 10, 2023
The Fourth Annual FLoatarama LGBT+ flotilla returns as an official event of the Stonewall Pride Festival. A flotilla of decorated private and chartered boats with ticketed passengers will depart from Esplanade Park in downtown Fort Lauderdale to cruise the New River and Intracoastal Waterway, followed by a festive Sailor's Dance and pool party.
June 17, 2023
The Stonewall Pride Parade & Street Festival is an annual LGBT+ celebration in Wilton Manors. The festival includes live music, vendors, a parade, and a street party. Stonewall Pride celebrates the historic Stonewall Riots and the start of the LGBT+ human rights movement and how it has shaped our community.
Where to Eat
Greater Fort Lauderdale is home to a smorgasbord of restaurants and eateries featuring a mouth-watering array of international cuisines like these: Experience authentic Indian cuisine at Bombay Darbar. This charming restaurant on bustling Las Olas Boulevard serves classic Indian dishes with vegetarian and vegan options and is open for lunch and dinner. With locations in Wilton Manors and now Coral Springs, Bravo Peruvian Kitchen serves Peru's most treasured dishes made with authentic and fresh ingredients with a modern twist.
Chef Rose Jamaican Cuisine in Sunrise is known for non-traditional, organic Jamaican fare and is only offered as takeout. Helmed by chef Anthony Rose, the kitchen cooks vegan, vegetarian, pescatarian, and traditional options.
Ready to be wowed? At Cleveland's Old Fashion Ice Cream in Miramar, you will be after indulging in old-fashioned ice cream scoops in more than 50 different flavors, including a handful of vegan options served in a cup, sundae, or ice cream float. The shop's founder, Cleveland Smith, has been making ice cream for nearly 40 years.
Located on Las Olas Boulevard is a modern Cuban restaurant with two-time James Beard Award-winning Chef-Partner, Guillermo Pernot, putting his spin on traditional and cuisine. At Cuba Libre, you'll feel like you've stepped into old Havana as this restaurant and rum bar celebrates and explores its Cuban heritage, flavors, music, art and traditions.
In Pembroke Pines, Islands in the Pines offers heaping servings of Jamaican goodness with fan favorites such as brown stew chicken, oxtail, cow foot and beans, and island soda favorites like Ting and D&G Soda.
Run by husband-and-wife duo Timon and Marissa Balloo, the Katherine Restaurant was crowned one of Eater's 2022 top new restaurants. Chef Timon Balloo was also named one of the 16 Black chefs changing the food in America by The New York Times and most recently was honored as a 2023 James Beard Award semifinalist in the Best Chef: South category.
A favorite restaurant among locals is Lotus Chinese Kitchen. Great for takeout or dining in, this Asian kitchen has been serving a menu of classic dishes and Mandarin specialties for decades.
Located in Lauderhill, Tataki Asian Bistro serves sushi with a modern flair. The restaurant is popular with locals for its outstanding cuisine and excellent service from the friendly staff.
Indulge in comfort cuisines without all the guilt at The Rabbit Hole in Pompano Beach. The menu, which is entirely plant-based, offers dishes like vegan meatloaf, Southern barbecue platter, loaded quesadilla, and classic comfort sides like cornbread and macaroni and cheese. Chef and owner Samuel Woods and his business partner, Emmanuel George, also pair their meatless menu with an atmosphere dedicated to showcasing Black history and artists.
Photo credit: Visit Lauderdale