15 Best Things To Do in Larnaca, Cyprus in 2023
There are so many amazing things to do in Larnaca, the lively and beautiful beach-front city on the south coast of Cyprus. Larnaca boasts golden sand beaches, interesting history, and an excellent location for exploring the rest of Cyprus.
I've spent around 4 months living in Cyprus as a digital nomad, and I loved exploring the different cities and villages this small island has to offer.
During my time in Cyprus, I was mostly based in Limassol but often ventured over to Larnaca, which I call Limassol's more laid-back neighbor.
Along with some really fun stuff to do in Larnaca, it also has a fantastic food and drink scene. So, let's take a look at the best things to do in Larnaca Cyprus.
Best Things To Do in Larnaca
Larnaca is one of my favorite cities in Cyprus, and it's full of fun things to do. It has its own international airport and it's also a great base to be located if you're looking to explore the rest of the island.
I've put together a list of the best things to do in Larnaca to help you make the best of your time here. For more details on traveling to Cyprus, don't miss my in-depth guide.
1. Spend the Day at Finikoudes Beach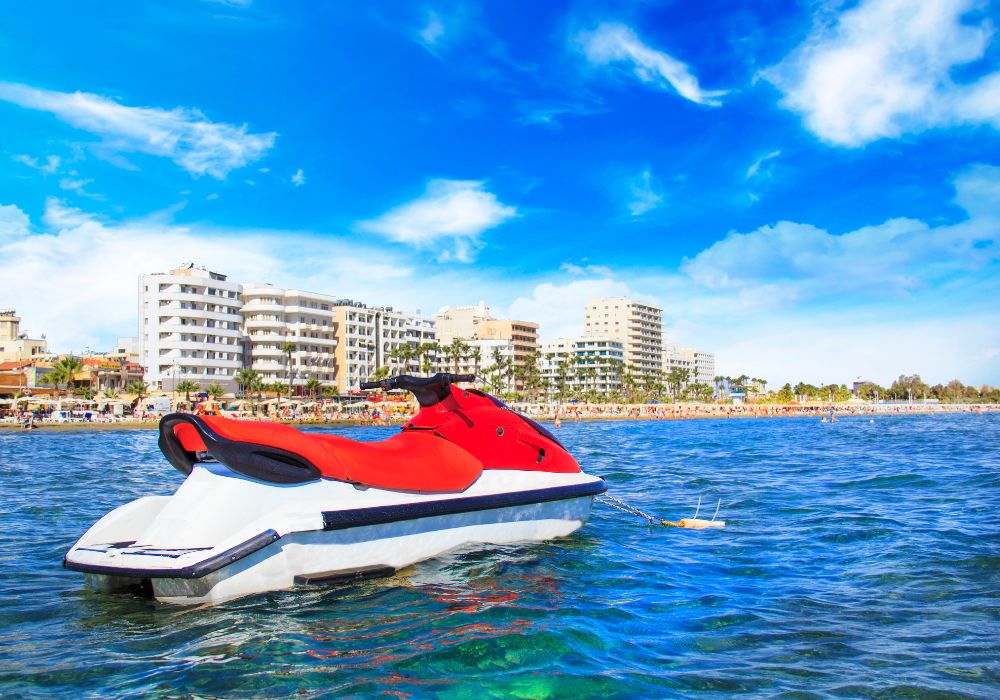 One of the best things to do in Larnaca is to head to the beach. As a coastal town, it has a long coastline and although it may come as a surprise to some, its city beaches are excellent.
Finikoudes Beach is in the heart of Larnaca. It's backed by palm trees and a promenade. The beach itself is clean, spacious, and blanketed in fine, soft sand. The sea is beautifully clear and warm most of the year.
As a city beach, it also has all the amenities you could want. From loungers and parasols to plenty of bars and restaurants. It's the heart of the city and one of the most popular places to go in Larnaca for locals and tourists alike.
2. Take a Troodos Mountain Wine Tasting Tour
One of the best ways to get to know a new place is through its wine. Cyprus is home to the oldest named wine still in production in Commanderia. It's a dessert wine, (so don't try it as a refreshing drink at the beach).
Head into the heart of the wine-making country in Cyprus with this amazing day-long tour of the Troodos Mountains. You'll get to visit the incredible, traditional town of Omodos as well as a series of wineries in this famous wine-growing region.
In all, you'll get to try 15 different wines, including Commanderia. Water, coffee, and snacks are also included in the price, and you'll be delivered back to your accommodation at the end of the day. An excellent tour and a lot of fun – a perfect day out for couples looking to delight their senses.
☞ SEE ALSO: When to Visit Cyprus (Best Weather and Costs)
3. Cycle the Larnaca Salt Lake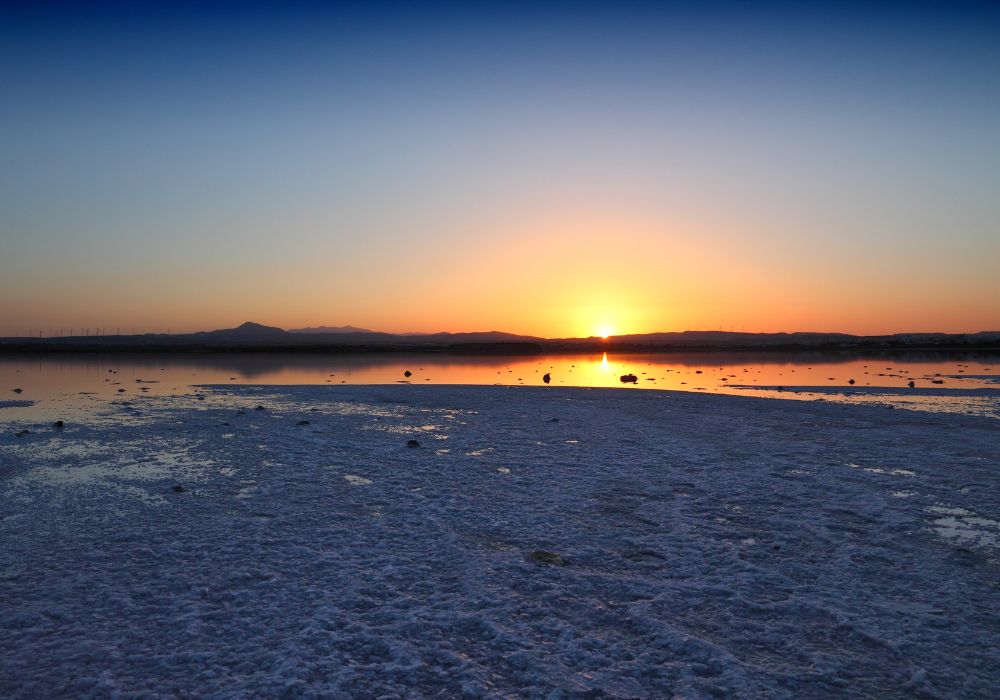 Larnaca is home to not one but four salt lakes, and together they're considered one of the most important wetlands in Cyprus. It's one of the most impressive things to see in Larnaca, particularly during the winter season (from November to March), when tens of thousands of flamingos descend on the lakes.
One of the best ways to explore the lakes is by bike. As well as the picturesque lakes, you'll stop off at the Hala Sultan Tekke Mosque and the beautiful Kamares Aqueduct.
Stop for a coffee at Mackenzie beach before heading back to the center of Larnaca. It's one of the most fun things to do in Larnaca, and it keeps you fit too!
4. Go Snorkeling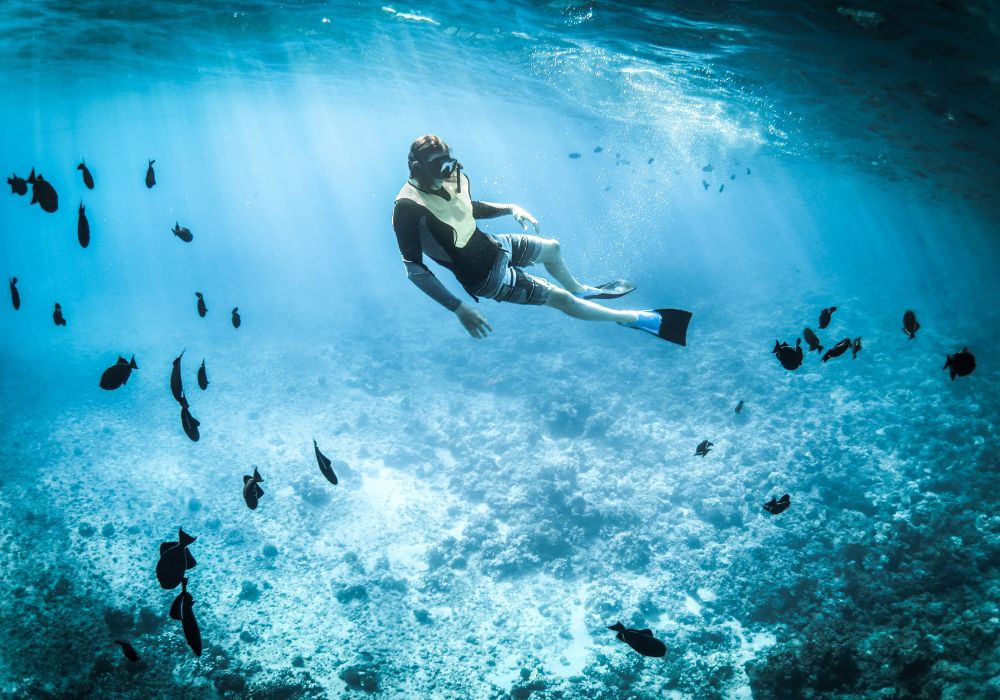 For me, exploring the incredible snorkeling spots is one of the top things to do in Larnaca. There are some incredible areas to discover along this coast of Cyprus.
First, is the new underwater museum in the Cape Greco area. Here you'll find 93 different statutes that have been creatively placed to create an underwater forest to be discovered.
Slightly further up the coast is a smaller museum with statues, which is a popular hangout for Green and Loggerhead turtles. The statutes also attract lots of tropical and brightly colored fish for you to swim amongst – it's truly magical.
☞ SEE ALSO: 10 Best Hiking Trails in Cyprus (For All Levels)
5. Discover the Church of St Lazarus
The beautiful stone church of Agios Lazaros, or the Church of Saint Lazarus, is one of the most impressive places to visit in Larnaca. It's an incredible example of Byzantine architecture and sits proudly in its own square in the center of town.
It's said that Saint Lazarus came to Cyprus after he was resurrected by Jesus, and he continued to live in Larnaca for the next 30 years. After his death, he was buried below the Church in the sanctuary.
The church is beautiful both inside and out and is definitely worth a visit – it's definitely one of the best things to do in Larnaca. There's a Byzantine museum next door to the church, which houses important religious relics and artifacts.
6. Learn to Make Halloumi Cheese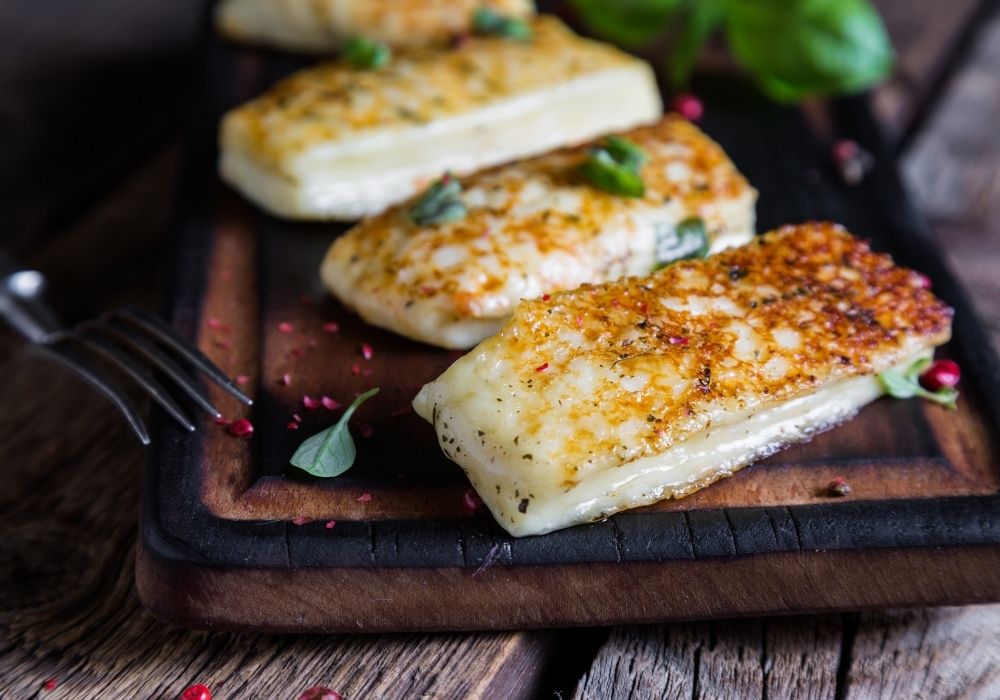 What better way to get a true understanding of traditional Cypriot life than by learning to make one of their most popular exports?
This fascinating cheese-making and food tour takes you into the incredible Troodos Mountains, one of the most beautiful places to visit near Larnaca.
You'll start your food adventure at a cheese-making workshop in a traditional local village, where you'll make halloumi and anari cheese. This is followed by brunch, where you'll combine your hand-made cheese with other local delicacies.
After brunch, you'll continue into the mountain countryside to visit a local honey producer, and you'll see some products made with donkey milk. The tour concludes in a beautiful, traditional village famous for Cypriot lace making. The tour includes all fees and door-to-door pickup. Learn more here.
7. Explore Cape Greco National Park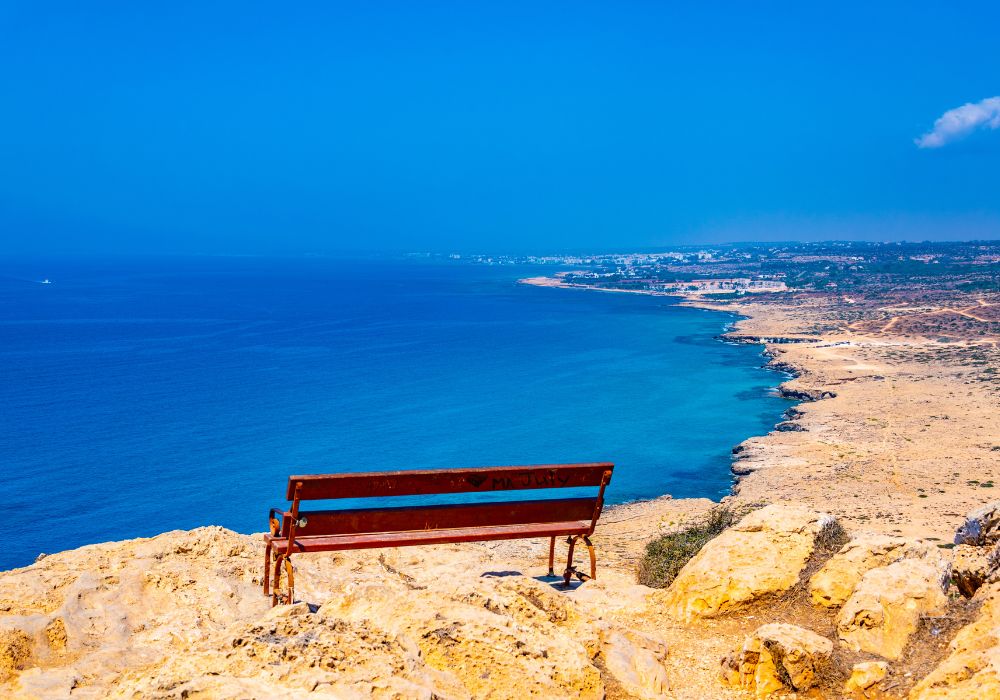 The coastline around Larnaca is some of the most spectacular on the island and exploring it is one of my favorite things to do near Larnaca. The best way to explore is with this excellent 4-hour tour of Cape Greco.
This tour will take you to some of the best-hidden treasures in Cape Greco including the incredible sea caves. The caves appear as majestic windows carved into the rocks and offer incredible views over the turquoise-blue ocean beyond.
You'll take in Love Bridge (Monachus Arch) – sharing a kiss on the bridge is said to make your wishes come true – and will have the chance to see the stunning Ayioi Anargyroi Chapel perched on the cliffs. It's a stunning part of Cyprus and this Larnaca sightseeing tour is the perfect way to explore.
8. Take a Champagne Sunset Cruise
Another great way to explore the Larnaca coastline is, of course, by boat. If you're visiting with a partner, taking a sunset tour is one of the most romantic things to do in the city.
This 2-hour sunset cruise takes you out on a comfortable yacht with an experienced skipper. The views over the ocean are as beautiful as the sunsets, and you'll enjoy both while sipping on a glass of champagne, wine, or beer. The choice is yours.
Not only will you get to enjoy the perfect views, but the boat will anchor, and you'll get the opportunity to view the sunset from the water. There's also snorkel equipment on board which you can use at your leisure. Click here to learn more about this highly-rated trip.
9. Discover the Exciting History of Paphos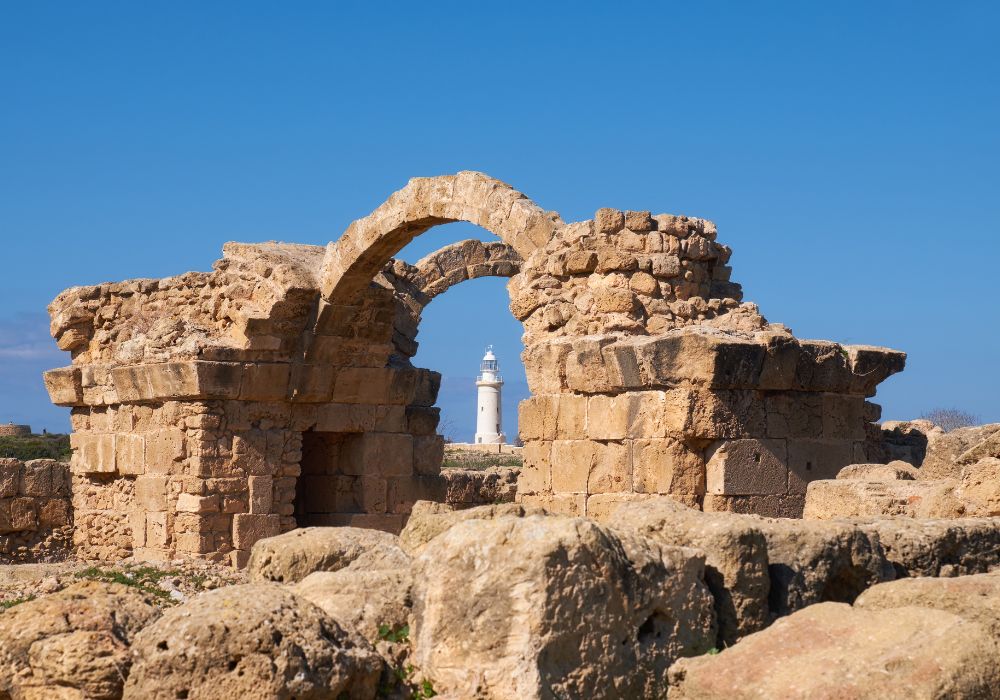 If you fancy getting out of the city, Paphos is one of the best places to visit near Larnaca. Paphos is full of ancient attractions and is a great place to visit if you're into history.
This full-day tour to Paphos will take you to many different sites in one day, so you needn't worry about finding your way around the city by yourself. You'll visit Kolossi Castle, the ancient Amphitheater, and the ancient sea stack – Aphrodite's Rock – believed to be the birthplace of the goddess of love herself.
This fantastic tour includes pick-up from your hotel in Larnaca along with a professional driver and guide to assist you with your trip. It's a great, easy way of exploring the ancient sites of Paphos.
10. Have Fun at Ayia Napa Water Park
Ayia Napa is home to the fantastic WaterWorld Water Park which is one of the best things to do in Larnaca for families.
They have rides for all ages from super speedy tubes, to fun inflatable family rides. There's also a great lazy river and small water playgrounds for smaller kids.
In the summer months, it can get really busy, so I recommend arriving just before it opens to get in before the crowds and booking a ticket online prior to your visit.
If you're coming out of season (outside of June-September) check the website for opening times. You'll likely not have to line up all day.
11. Visit the Larnaca Medieval Fort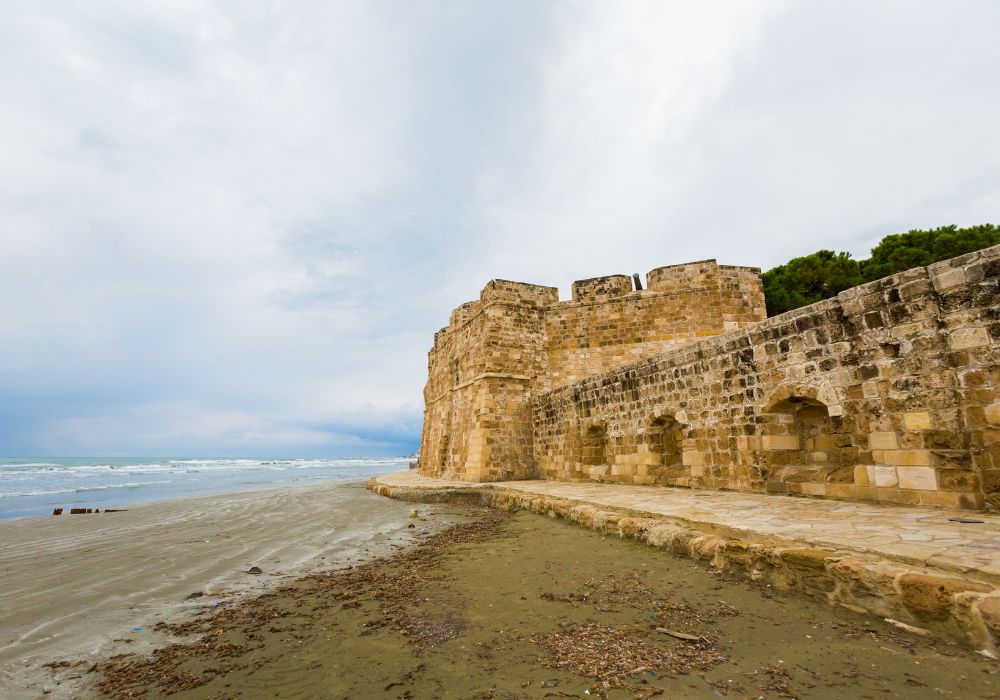 Right by Finikoudes Beach, you'll find the Medieval Fort of Larnaca which is one of the most impressive places to see in Larnaca, used throughout the Ottoman and Venetian eras.
During the British occupation, the Fort was used as a prison until the middle of the 20th century, with the first floor used to execute prisoners.
In 1948, it took up a rather less gruesome purpose and now functions as an extensive museum. The courtyard and facade are gorgeous too. The entrance costs just €2.50, so it's one of the best places to go in Larnaca on a budget to learn some history.
12. Take a Food Tour in the Mountains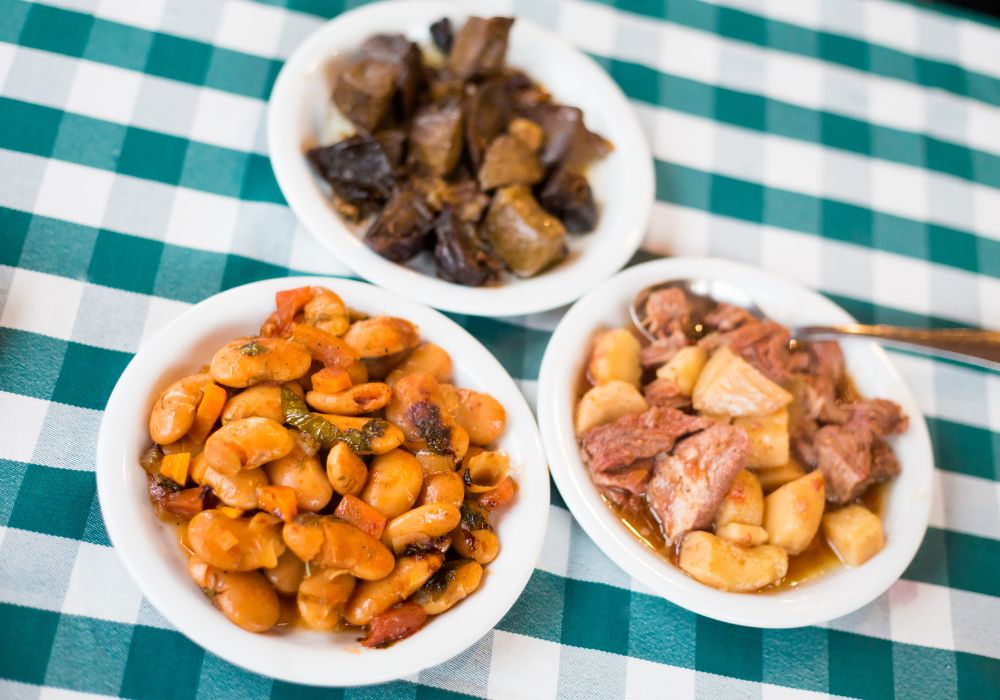 If you're a foodie, you'll love this unique tour of the Troodos Mountains. It's one of my favorite things to do in Larnaca.
You'll be picked up from your accommodation and taken to a few villages hidden within the mountains. Here you'll visit locals making traditional foods and get to taste some Cypriot delicacies.
It's a great tour, and it feels like great value because you stop off at five different locations. You'll eat specialties like halloumi cheese, olive oil, wine, and traditional sweets, (foods on offer change depending on the season).
You'll also enjoy a tasty meze lunch whilst you're on this tour – you definitely won't return to Larnaca feeling hungry. The tour includes entrance and tasting fees, transport, and lunch with drinks, so it's excellent value.
13. Dive the Zenobia Wreck
If you're a diver, you won't want to miss visiting the Zenobia Wreck. It's one of the best things to do in Larnaca and Cyprus as a whole if you love to dive.
The Zenobia is a RO-RO ferry that sank in 1980 on its maiden voyage off the coast of Limassol. It's often named one of the best wreck diving sites in the world, so if you're a keen diver, it's not one to miss.
Resting on its side, it's a great site for divers of all experience levels, with an opportunity to view the 120 vehicles which sank along with her.
It's a huge wreck to explore, and you could easily do a few dives out there and see something new every time. Check the PADI site for more details.
14. Soak up the Sun at Mackenzie Beach
Mackenzie Beach is a gorgeous stretch of fine, dark golden sand with calm and clear shallow water. It's around 1 km long, and it has every amenity you'd need for the perfect beach day. This is one of the best beaches in Cyprus, and is just a quick walk from Larnaca.
Along the stretch, you'll find sunbeds (priced at €2.50 each), showers, a changing room, umbrellas, cafes, bars, and restaurants.
You can easily spend the whole day here, soaking up the sun and if you simply pitch your towel on the sand, it's one of the best free things to do in Larnaca.
If you want to grab a bite to eat, or just enjoy a drink with a view, I recommend Ammos for their amazing sushi and salads- perfectly refreshing in the Cypriot sun.
15. Explore the Interior of Cyprus
So much of traditional Cyprus lies away from the coast and toward the center of the Island. This great day tour takes you to the small village of Lefkara, which is famous historically for lace-making and silversmithing.
If you love wine, you'll visit the small family winery in Kato Drys and taste some traditional Cypriot wine and learn all about the industry of winemaking in Cyprus.
For the history buffs, you'll learn about the history of religion at the Ayios Minas monastery and about what life was like in Cyprus, 9000 years ago at a neolithic settlement. It's a really great experience to learn more about Cypriot culture. Learn more about the day trip here.
Quick Travel Itineraries For Larnaca
Here are a few itineraries to help provide a starting point when planning what to do in Larnaca. These include some of the best things to do in Larnaca as well as some day trips exploring the rest of Cyprus.
1 Day in Larnaca Itinerary
If you've only got one day in Larnaca, and you're a keen diver, you should definitely dive the Zenobia Wreck. It's one of the best wreck diving spots in the world, so you shouldn't miss that.
If you're more of a beachgoer, head to either Finikoudes or Mackenzie Beach for a relaxing morning in the sun.
In the afternoon, take a walk along the main promenade alongside Finikoudes beach to the Medieval Fort, then have a peek at the Church of Saint Lazarus before stopping in for a drink at one of the great surrounding bars and restaurants.
2-3 Days in Larnaca Itinerary
If you have a little longer to spend in Larnaca, then you should consider booking a day trip to explore the villages outside of Larnaca, or visiting nearby Paphos.
On your first day, I suggest following the 1-day itinerary. This will help you get to know the area and find your way around.
On the second day of your trip, I recommend heading into the Troodos Mountains. If you're a foodie, this could be on the food tour, or with a guide to explore the local villages.
On the third day, I recommend exploring the coast further beyond the sandy beach. You could either visit nearby Cape Greko National Park and awe at the crystal clear water and sea caves or book a snorkeling tour to discover under the surface.
1 Week in Larnaca Itinerary
In one week, you can explore quite a bit of Larnaca and the surrounding areas in Cyprus.
In addition to the things listed in the 2-3 day itinerary, I definitely recommend a day trip to the neighboring city of Limassol. It's close by, and it has a completely different feel to Larnaca. Check out my blog post, 15 Best Things to Do in Limassol for some inspiration.
Another great thing to do near Larnaca is to go wine tasting. Larnaca is very close to the Troodos Mountains, where wine has been made for thousands of years. This tour is excellent, and the wines are delicious.
As you have a little longer, you could join a cycling tour of the Salt Lake. It's super impressive and if you're visiting between November and March, you'll likely see flamingos. It's a super fun way to explore the lake and takes in lots of other Larnaca tourist attractions too.
If you are willing to head a bit further afield, there are numerous things to do in Nicosia to warrant a full day of exploration.
Where to Stay in Larnaca
These are a few of the best neighborhoods in Larnaca for tourists.
Skala – Best for Culture and Nightlife
The Skala is the Old Turkish Quarter and connects the city center to the Mackenzie neighborhood.
Unlike the rest of Larnaca, it's distinguished by two-story houses and narrow streets and is almost like village life right in the middle of the city. The houses are peppered with nice restaurants and bars. I recommend Stefanos Fish Tavern for a tasty but affordable dinner.
One of my favorite accommodations is this lovely modern apartment which is just 5 minutes from the beach.
City Center – Best for First Time Visitors
The area close to Finikoudes Beach is downtown Larnaca, and it's where you'll find the heart of life in Larnaca. For anybody visiting Larnaca for the first time, Finikoudes or the nearby Marina is a great base.
Here, you're close to some of the main Larnaca attractions including Finikoudes Beach and the Church of Saint Lazarus, as well as the main shopping street.
My choice of apartment is this pretty suite which has a fantastic location.
Mackenzie Beach – Best for Families
Mackenzie Beach is a little further out of town, at around a 30-minute walk, or a 5-10 minute drive to the center of town, but it's great for getting away from the buzz of the city for a relaxing retreat.
While it's out of town, this doesn't mean there aren't some great restaurants and bars. In fact, you'll find some excellent places to eat in Larnaca dotted along the beach.
The beach here is super shallow and clean. 50 m offshore, the water is still only waist high, so it's a great option for those with younger children.
I love this Beach-Zen apartment which is right on the beach.
Best Restaurants in Larnaca
The food in Cyprus is fantastic, and Larnaca has some excellent restaurants. Don't miss these great places to eat in Larnaca.
Ammos Beach Bar
This is a great option for lunch on the beach, or for dinner in a lovely setting. The interior and ambiance at night is romantic and chilled, and during the day there is a lovely outdoor seating area to relax and grab a salad.
What stands out at Ammos is the fresh fish dishes. The oysters are fantastic, and the sushi is some of the best on the island.
Maqam Al-Sultan Restaurant
This great Lebanese restaurant is right opposite the beach and serves some of the best Lebanese food I've ever tried. The price is on the higher side of mid-range, but the quality is excellent. Expect to pay around €25-€30 each for food and drinks.
I recommend the platter for one or two, so you get to try a bit of everything. The food is so fresh and delicious, you won't regret it.
Souvlaki.gr
You're going to have to trust me on this one, because this little souvlaki joint doesn't look much from the outside, and its name doesn't really scream "the best restaurant in Larnaca". But, if you want tasty Greek souvlaki, this is the place to go.
The service is amazing, and the food is SO good. Not only that, but the portions are huge, and it's one of the cheapest places to eat in Larnaca. Make sure you try their special sauce with your meal.
Things To Do in Larnaca: FAQs
Here are some answers to commonly asked questions about visiting Larnaca.
What is Larnaca known for?
Larnaca is known for its lovely stretches of golden sand and clear water, and for the divers amongst us, the Zenobia Ship Wreck, which is one of the best wreck diving sites in the world.
When is the best time to visit Larnaca?
The best time to visit Larnaca is May to Mid-June or in September to avoid the crowds. While the beaches and restaurants will be busier in summer, June-August, the weather is sunny and hot and perfect for sunbathing.
Is Larnaca worth visiting?
Definitely. There are so many great things to do in Larnaca, and it's a great base for visiting nearby cities and villages. It's also a great place on the island to get a more local feel for things.
Is Larnaca better than Paphos?
Larnaca is different from Paphos. Larnaca has larger sandy beaches than Paphos, which has a mainly rocky coastline. Paphos has more hotels and attracts more tourists, whereas Larnaca has a larger population of locals, so you can get a more authentic experience.
How many days do you need in Larnaca?
You could see Larnaca in a weekend or over a few days. However, if you want to explore more of Cyprus it's a great place to base yourself for day trips, many of which are featured in this post.
Does Larnaca have nice beaches?
Yes. Finikoudes and Mackenzie beaches are lovely beaches with dark golden sand and clear waters to swim and snorkel.
Conclusion
Larnaca is not only a great place to visit in Cyprus in its own right, but also as a place to base yourself to see the rest of the island. It's home to some stunning nature and coastline, as well as some excellent nightlife and places to eat.
I hope this blog helps you plan what to do in Larnaca during your visit to Cyprus.
See more Cyprus posts here:
15 Best Restaurants in Limassol
15 Best Airbnbs in Limassol
25 Best Places to Visit in Cyprus
15 Fun Things To Do in Paphos
15 Top Things To Do in Limassol
15 Interesting Things To Do in Nicosia
Like This Article? Pin it!