Eleventh Street Pizza Opens Second Miami Location
If you're a fan of local favorites, you'll be happy to know that Eleventh Street Pizza is opening a second location in the growing Dadeland area of South Miami. The restaurant will officially open its doors on Thursday, May 18, and to celebrate, they'll be giving away free cheese pizza pies to the first 50 in-store customers in line after 4 p.m.
Since its launch in February 2021, Eleventh Street Pizza has gained a loyal following among foodies and visitors. The menu is filled with Neo-New York-style dishes and its trademark dishes are their exclusive sourdough pies and naturally-leavened Sicilian sourdough square pies.
"My goal with Eleventh Street Pizza from day one has been to enrich the Miami dining scene with a concept that combines the best of two worlds: the New York style pizzas I grew up eating, made with the highest quality ingredients that are also organic," David Foulquier says, a born-and-bred New Yorker who co-owns the restaurant together with his brother Joshua and partner Danielle Hultman under the brothers' company, We All Gotta Eat Hospitality Group. "Being able to spread our mantra of pizza and love to Downtown Dadeland, in a larger space, is an exciting progression that we hope to continue throughout South Florida."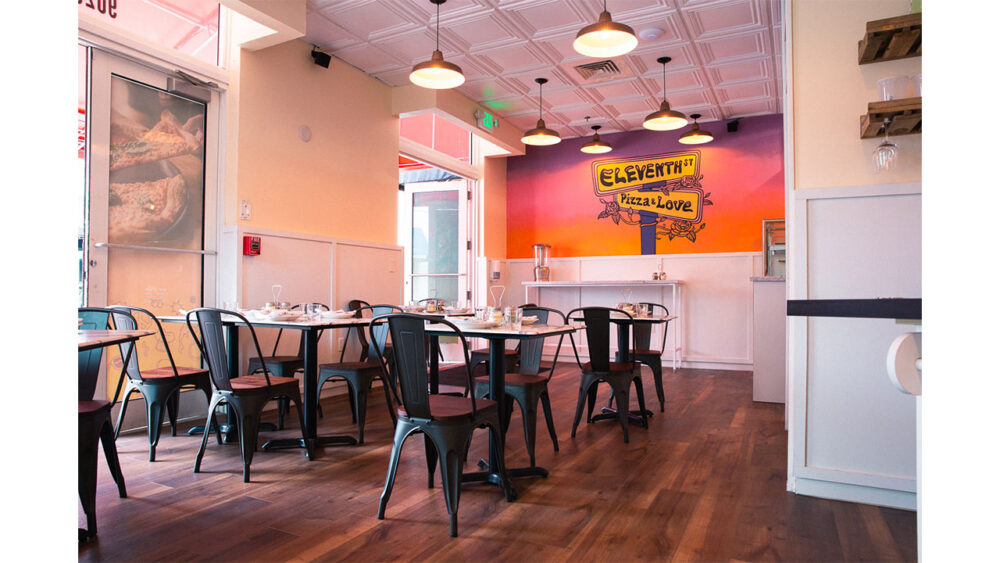 Foulquier embarked on his initial venture into the South Florida restaurant scene in 2015, establishing Fooq's, a renowned dining spot featuring cuisine inspired by his French-Persian lineage. In Downtown Miami, Fooq's occupies the original Eleventh Street Pizza station at 1035 N. Miami Ave. Foulquier and his brother are the owners and innovative forces behind Sushi Noz, an eight-seat sushi restaurant in Manhattan that opened in 2018. The restaurant was awarded three Michelin stars for its exceptional culinary offerings.
The new Dadeland location is set to almost double in size when compared to its sister location. It boasts more than 20 indoor and 20 outdoor seats, along with a menu that features a variety of signature pies that can be ordered in different styles, including rounds and Sicilian-style squares. Among the brand's popular offerings is the Freshly Baked Chocolate Chip, while the menu also includes a new addition: a Basque-style Cheesecake that is light and caramelized on top with a rich, gooey interior. To complement the food, diners can enjoy beer and wine offerings, with a happy hour planned for the near future. Additionally, the shop will sell a selection of wine bottles to accompany Eleventh Street Pizza merchandise.
Eleventh Street Pizza in Dadeland is located at 9025 SW 72nd Place, Miami, FL, 33156. The restaurant is open Wednesday through Sunday from 4 p.m. to 10 p.m.