The Best Face Oils for Gua Sha, According to a Skincare Expert
More and more, we're each embracing our own unique journeys of growth. As the conversation around aging shifts, so do the skincare treatments we seek out to help us all feel our best. At Camille Styles, it's no secret that we're obsessed with trying the latest and greatest in the world of beauty. (In the name of journalism and brighter skin, we consider ourselves enthusiastic guinea pigs.) But what we really love to see are traditional practices and tools that continue to advance and get honed in over the years. Facial massage and sculpting techniques are at the top of that list. That's why today, we're discussing the best face oils for gua sha with an expert in the field herself.
The beauty maven in question? Skincare founder and certified aromatherapist, Melissa Medvedich. Melissa helms the botanical beauty brand, Supernal. Her pared-down skincare line does the essentials to a tee, emphasizing products that exude Melissa's values of combining efficacy with intentional ingredient sourcing. Of course, when I set out to find the best face oils for gua sha, I looked to Melissa's expertise immediately.
Featured image from our interview with Megan O'Neill by Belathée Photography.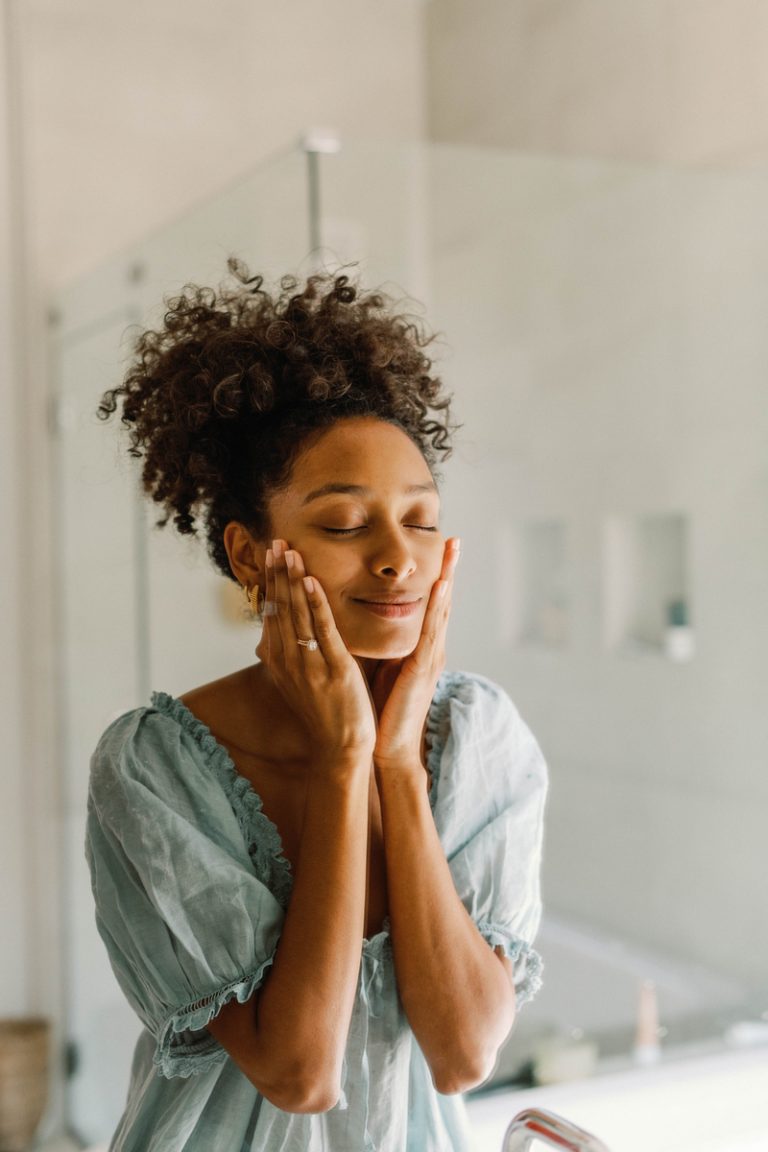 First Off: What Is Gua Sha?
Gua sha is an ancient healing technique rooted in traditional Chinese medicine. It's entered the mainstream in recent years, and while many utilize the practice for cosmetic purposes, the benefits of gua sha go beyond what's visible. From promoting lymphatic drainage and circulation to reducing brain fog, making gua sha a part of your daily routine can support both your beauty and wellness goals.
But what does it look like in practice? Camille Styles contributing beauty and wellness writer, Hannah Zahner explored the technique in-depth and shared her findings in this comprehensive guide. In the article, she explains that "gua sha involves a flat handheld tool, pulled gently across the skin while applying light pressure." For a visual, watch this beginner-friendly video.
Now that you know the basics, let's dive into the best face oils for gua sha.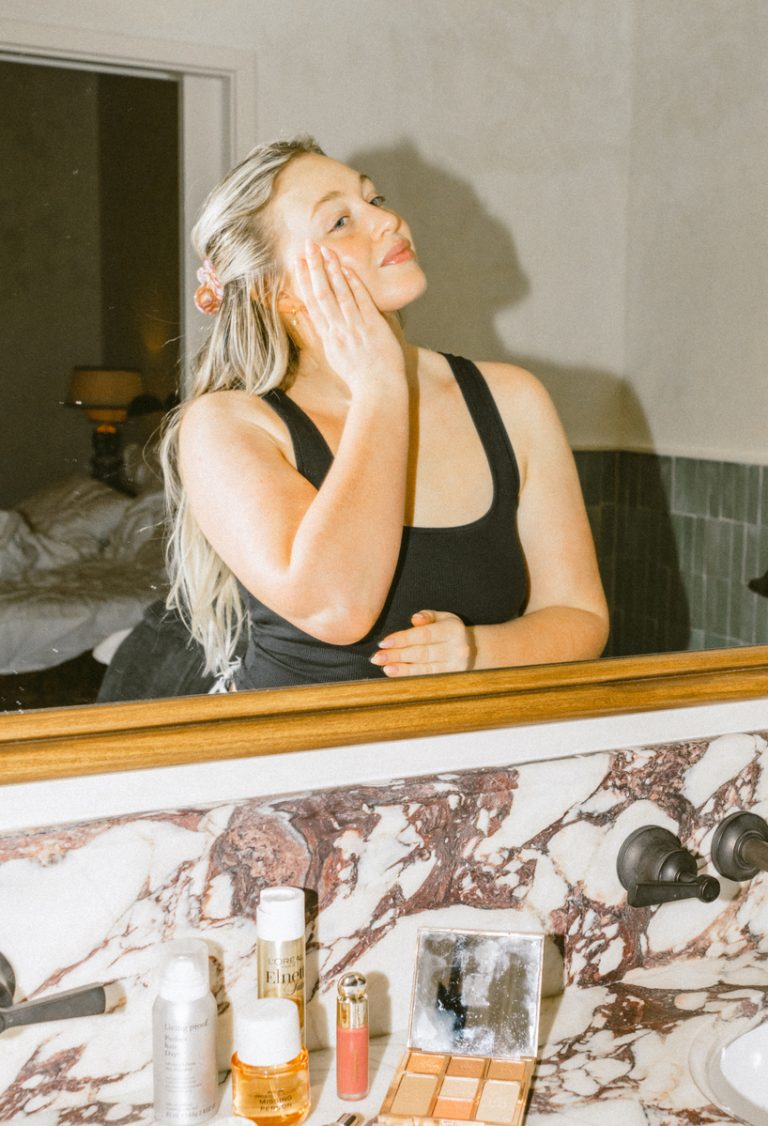 The Benefits of Gua Sha
While I've teased the benefits briefly, Melissa fills in the gaps. If you're looking for a well-being-boosting treatment that's affordable, accessible, and can be easily done at home (with countless videos online to guide your practice), gua sha is it.
Helps to lift and sculpt. Many adopters of the practice use gua sha as an alternative to injections and face-lift surgery. The key is to be consistent with your practice for the best results.
Aids in reducing puffiness. If you wake up in the morning with a puffy face (often the result of overnight fluid retention), gua sha can be an effective antidote.
Helps to relax and relieve tension. While the practice in itself is relaxing, applying repeated, gentle strokes to the face releases oxytocin, helping to relieve stress and anxiety.
Melissa adds that gua sha "can be performed after all of your evening skincare products have been applied." She notes that this is in contrast to an electronic facial tool, which requires using a conductor gel that needs to be washed off after use.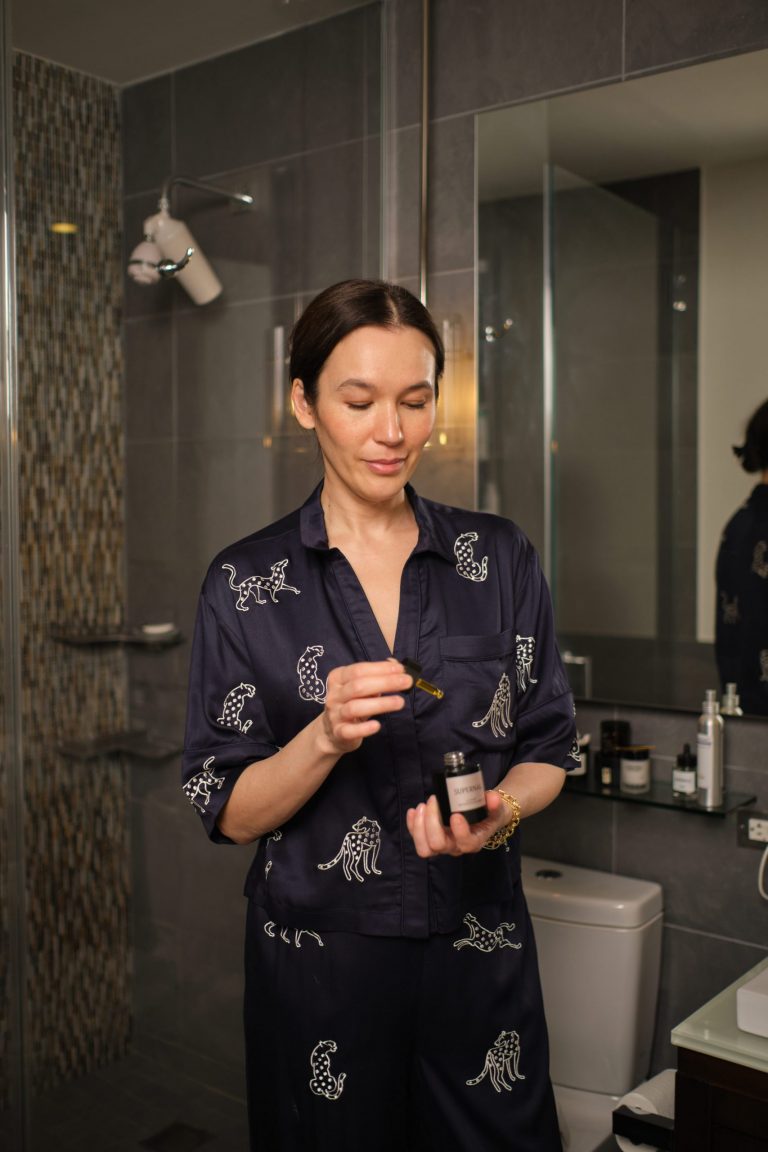 So you're ready to start your gua sha journey, but… there's a myriad of tools to choose from. And you're (understandably) overwhelmed. Gua sha tools are available in countless shapes, sizes, and forms and are often made of jade or rose quartz. So how do you know what's really going to work and what just looks pretty on your bathroom counter? Have no fear, Melissa breaks it down.
Consider edge shape and material. Every face has its own unique contours, so what might feel comfortable in hand and on the skin is so subjective. If you've ever experienced gua sha during a professional facial, you may have noticed your acupuncturist or esthetician has a variety of differently shaped and weighted tools that they use depending on the area of focus.
Opt for stone tools. I personally gravitate toward tools made out of stone. I love the smooth texture and cool feel of natural stone, as well as the esoteric element. When designing Cosmic Stone, I incorporated all of the characteristics I love with four different edge shape options for more versatility with your at-home practice.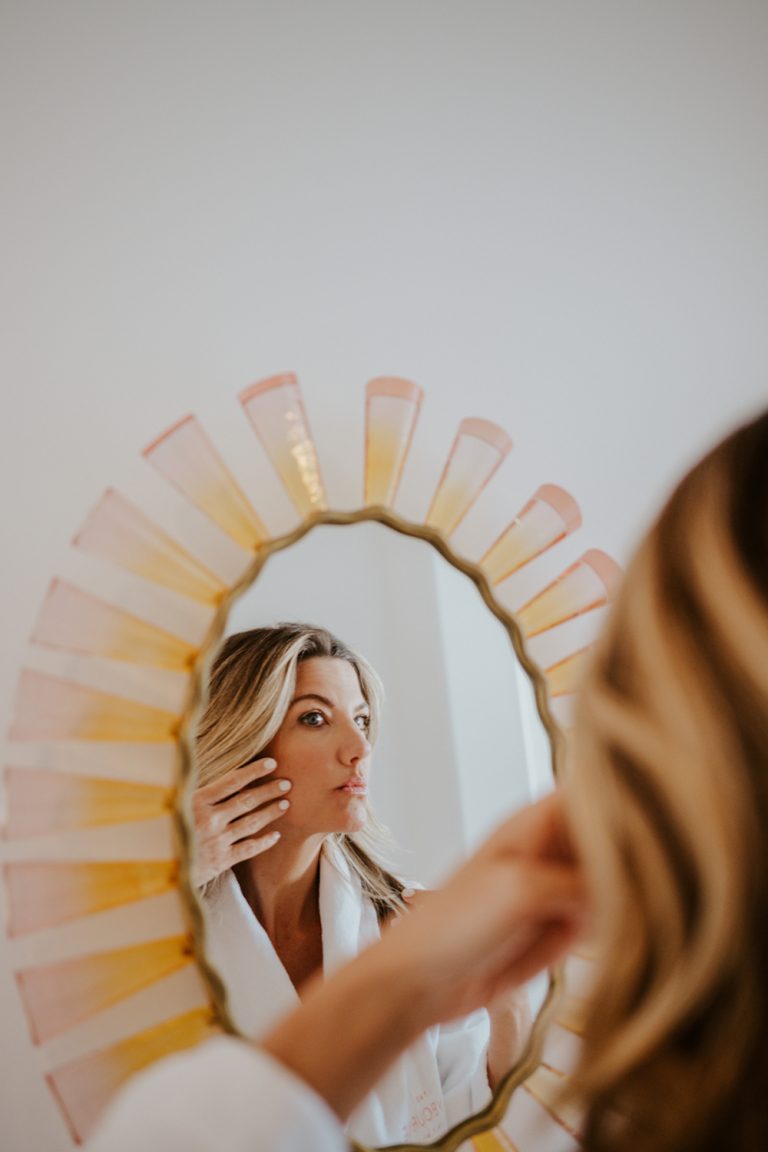 Why Face Oils Are Essential for Gua Sha
When I ask Melissa about applying face oils before performing gua sha, she underscores the importance of this step. "A face oil is going to provide the best 'slip' for your tool to effortlessly glide across your skin," she says.
And when it comes to how much to apply, follow the rule that more is more. "If at any point in your routine your skin starts to feel like it's pulling or resisting the tool, just add a few more drops and continue."
"Water-based serums and creams are great in a skincare routine, but they won't provide that same slip for gua sha," Melissa adds. "Alternatively, a great oil-based facial balm also works wonderfully for gua sha if you prefer a heavier consistency skincare product."
Melissa's Gua Sha Routine
Below, the expert shares how she's incorporated gua sha into her daily beauty and wellness rituals.
"My skincare regimen is fairly simple (face mist followed by Supernal oils after cleansing). I love to do face gua sha after I've washed up and am in bed. Most evenings I'll do this simple, quick yet thorough routine (which can be found here), but other nights I'll just do my eyes (my favorite area to de-puff).
With consistent practice, once you get the hang of the proper way to hold the tool (typically almost flat to the skin depending on the part of face or neck being treated), gua sha strokes start to become very intuitive."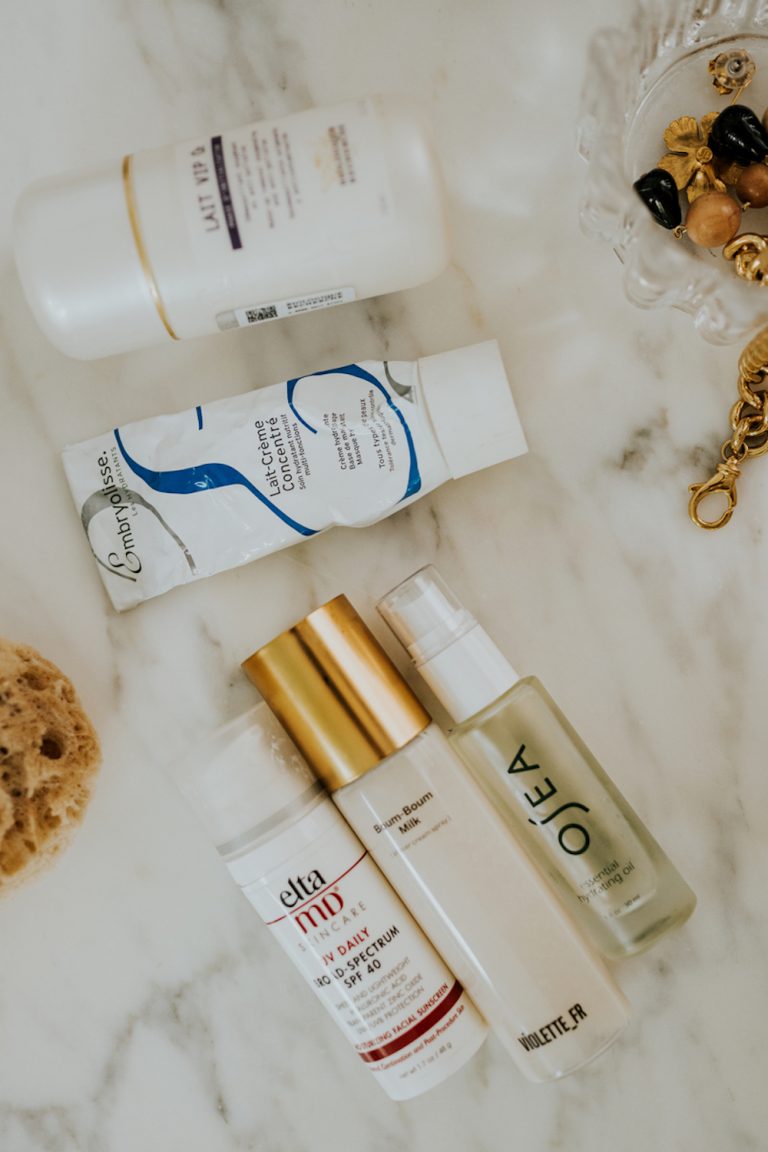 What to Consider When Buying a Face Oil
Melissa can't emphasize it enough: when it comes to getting the most bang for your gua sha buck, face oils reign supreme. She goes so far as to call your go-to face oil "a multitasking hero" that deeply hydrates the skin. But when it comes to shopping for face oils, like gua sha tools, you want to be sure you're tailoring your choice to your skin type and personal needs.
To find a face oil you love, Melissa suggests keeping three components top of mind "Ingredients and benefits aside, consistency (lightweight or heavier), finish (glossy or more matte), and scent (with aroma or fragrance-free)—all of these characteristics will factor into what you love about your face oil."
The Best Face Oils for Gua Sha
With expert insights to guide your way, it's time to shop the best face oils for gua sha. Below, we're breaking down the best buys based on everything from skin type to budget to beginner-friendly options.
Every product is curated with care by our editors and we'll always give an honest opinion, whether gifted or purchased ourselves. If you buy something through our links, we may earn a small commission at no cost to you.
For daily face oil devotees, one of the largest concerns is finding the balance between glowy and greasy skin. But the product naming is apt with this pick, because OSEA's formulation offers the perfect amount of hydration for oh-so-dewy skin. When used in conjunction with a gua sha tool, the result is a radiant complexion that appears instantly sculpted. If you're after a face oil that ensures an easy slip without the greasiness, pick this up.
Skin type: All skin types, particularly dry and sensitive skin
Key ingredients: Argan Oil, Rosemary Leaf Extract,
Size: 30 ml
If you're just beginning your gua sha journey, we like the idea of starting simple and keeping your investment budget-friendly. Cocokind's clean vitamin C serum blends azelaic acid, hyaluronic acid, and sea grape caviar in a formulation that plumps the skin, leaving it brighter and more hydrated after application. It's a great choice for daily use both as a part of your morning and evening skincare routine. With efficacy and simplicity in its roster of pros, Cocokind's serum is an easy choice for your go-to gua sha companion.
Skin type: All skin types
Key ingredients: Ascorbyl Glucoside, Sodium Hyaluronate, Azelaic Acid, Sea Grape Caviar Extract
Size: 30 ml
As someone who knows the struggle of dry skin well, DamDam's serum is my personal go-to for gua sha. While I've found other face oil options to be hydrating, this pick is surprisingly lightweight, leaving my skin feeling luminous instead of weighed down. Its hero ingredients—avocado oil, jojoba oil, and rice bran oil—are a moisturizing trifecta. Avocado floods the skin with intense moisture while rice bran's high fatty acid content visibly plumps. Jojoba seals the deal, allowing for quick absorption that leaves thirsty skin glowy and hydrated post-gua sha.
Note: I also love this face oil as a pick for combination skin. Jojoba oil and avocado oil hydrate drier areas of the skin while also balancing out excess oil production.
Skin type: Normal, dry, and combination
Key ingredients: Rice Bran Oil, Avocado Oil, Jojoba Oil
Size: 30 ml
Personally, as a Chicagoan who will do anything to keep her skin happy in the colder months, I love layering Supernal's Cosmic Glow Oil with other moisturizing products for hydrated winter-proof protection. When it comes to gua sha, I'll alternate between this and the DamDam pick above. With Cosmic Glow, you're paying a premium for the cleanest option that nourishes the skin while also being gentle enough for sensitive skin types. Trust: a little goes a long way and the bottle will last you months even with consistent use.
Melissa developed this face oil to provide a truly transformative aromatherapeutic experience thanks to essential oils like Blue Tansy, Frankincense, and Roman Chamomile. Used with your gua sha tool, incorporating Cosmic Glow into your routine rivals any professional treatment. The brand also offers a fragrance-free gentle treatment, Illumine Restorative Oil Serum. Another luxe face oil, Illumine is a good option for more matte results.
Skin type: All skin types, particularly normal, dry, oily and combination skin
Key ingredients: Marula Oil, Blue Tansy Oil, Squalane, and Amla Fruit Extract
Size: 30 ml
It's well-known that anti-inflammatory oats are an effective and soothing treatment for sensitive skin. And in this more concentrated form, these plant-based lipids strengthen the skin's moisture barrier, helping to retain elasticity. Boosted with gamma-linoleic, linoleic, and oleic acids (essential omega fatty acids), you can expect happier skin with restored radiance.
Skin type: All skin types, including dry, acne-prone, sensitive or damaged skin
Key ingredients: Oat Ceramides, Vitamin C Ester, Kin-GLO™ Complex (Gamma-Linoleic, Linoleic and Oleic Acids)
Size: 30 ml
If oily, acne-prone skin has kept you from using face oils in the past, listen up. You have nothing to fear! While you do want to avoid comedogenic oils like coconut oil, targeted formulations can help the skin lock in moisture without further irritation. Pai Skincare's entire product line was developed with sensitive skin in mind. The key, acne-prone-friendly ingredient in this face oil is rosehip, as it's non-comedogenic and anti-inflammatory. Thanks to its antioxidant properties as well (in particular, vitamin C), rosehip oil can help repair scarring, protect skin from sun damage, and reduce skin inflammation that can cause acne.
Skin type: Dry, mature, blemish-prone, combination, and especially sensitive
Key ingredients: Rosehip Seed Extract, Rosehip Fruit Extract, Tocopherol, Rosmarinus Officinalis Leaf Extract
Size: 30 ml