15 Best Things To Do in Newquay in 2023
Newquay is one of the UK's premier seaside resort towns and is a top surfing destination. If you're looking for things to do in Newquay Cornwall then this list of the best activities has you covered.
From catching waves to kayaking, coasteering, and coastal hikes, Newquay is packed with fun things to do. The town is also full of interesting shops, some excellent restaurants, and has a perhaps surprisingly thriving nightlife.
I've been visiting Cornwall almost every year since I was born and especially love this stretch of the north Cornish coastline for its great beaches and dramatic clifftop views. Newquay is one of the best places to visit in all of Cornwall, read on to find out why.
Best Things To Do in Newquay
Below you'll find a host of fun things to do in Newquay to get the best out of your trip. From activities on the water to stately homes, gardens, and a steam railway, there's something for everyone in this vibrant seaside town.
1. Surf, Coasteer, and Wild Camp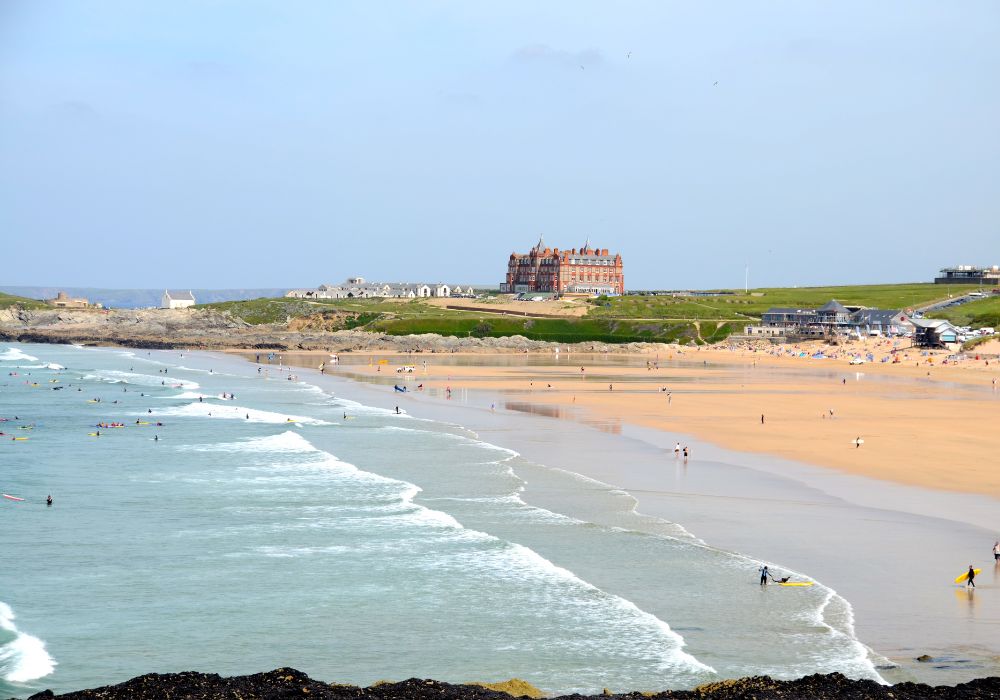 One of the best things to do in Newquay is to hit the waves and have a go at surfing – one of my favorite activities in Newquay.
This 2-day wilderness adventure will have you learning to surf on Newquay's famous Fistral Beach, diving off cliffs into the sea, and wild camping in one of the most scenic parts of the country.
For nature lovers and those with a sense of adventure, this is an excellent weekend experience that I'll certainly have a go at the next time I'm in Cornwall. Learn more about this highly-rated activity in Newquay, here.
2. Spend a Day at Fistral Beach
Fistral Beach is one of the best surfing beaches in Newquay and in Europe as a whole. It's one of the top places to visit in Cornwall.
The beach is just a 10-minute walk from the town center and is a great place to surf, swim, sunbathe, and generally just relax. There are plenty of facilities including shops, surf hire options, cafes, and toilets accessible from the beach.
Fistral is patrolled by lifeguards from April to October so hitting the beach is one of the best things to do in Newquay for families.
3. Learn to Surf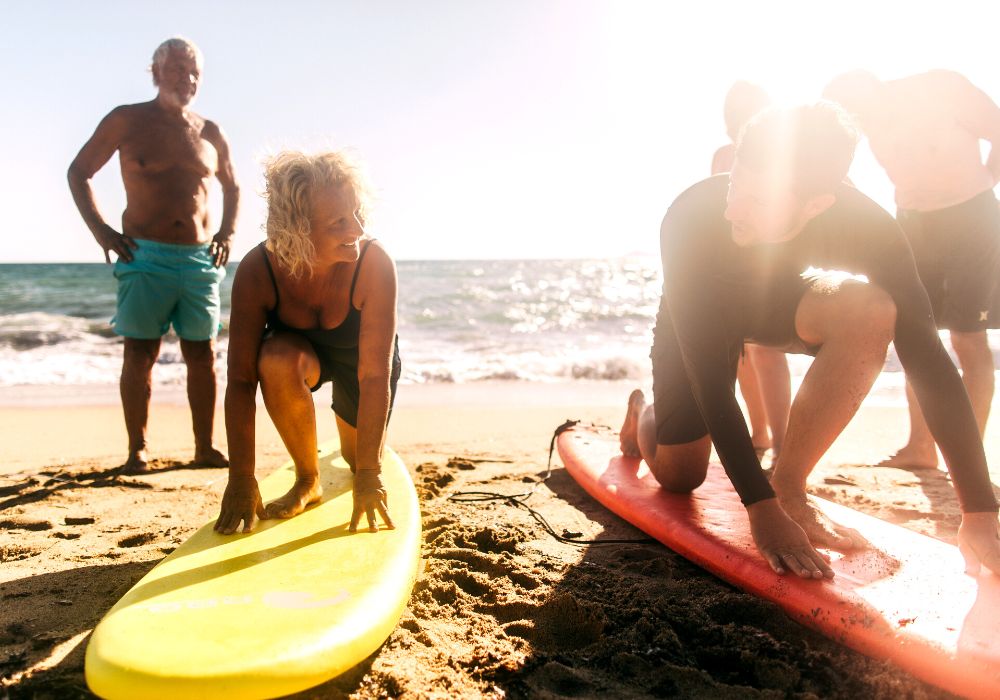 Surfing is one of the top activities in England and no trip to Cornwall is complete without trying to ride a few waves. Surfing is one of the first things I do when I return to this part of the country.
Newquay is one of the best destinations for surfing and this beginner's surf experience takes place at either Fistral or Towan beaches depending on conditions.
No experience is necessary and by the end of this 2.5-hour masterclass, you'll know all about beach safety and surfing techniques and should be able to stand up and catch a few waves.
Surfing is a great way to get the most out of your Cornwall holiday and is one of the top things to do in Newquay.
4. Go on a Coastal Hike and Picnic
The South West Coast Path runs the length of Cornwall and Devon and takes in secluded bays, towering cliffs, and open pastures along Cornwall's beautiful coastline.
Start at picturesque Hollywell Bay, and visit Crantock beach and lots of interesting wildlife. If you're lucky you may see seals resting on the beach, lots of birdlife, and maybe even a dolphin or basking shark.
I've hiked many sections of this coastal path and love the wild and windswept feeling found up on the cliffs overlooking the North Atlantic. Hiking the South West Coast Path is also one of the best things to do in Newquay with a dog.
5. Visit the Trenance Heritage Cottages and Garden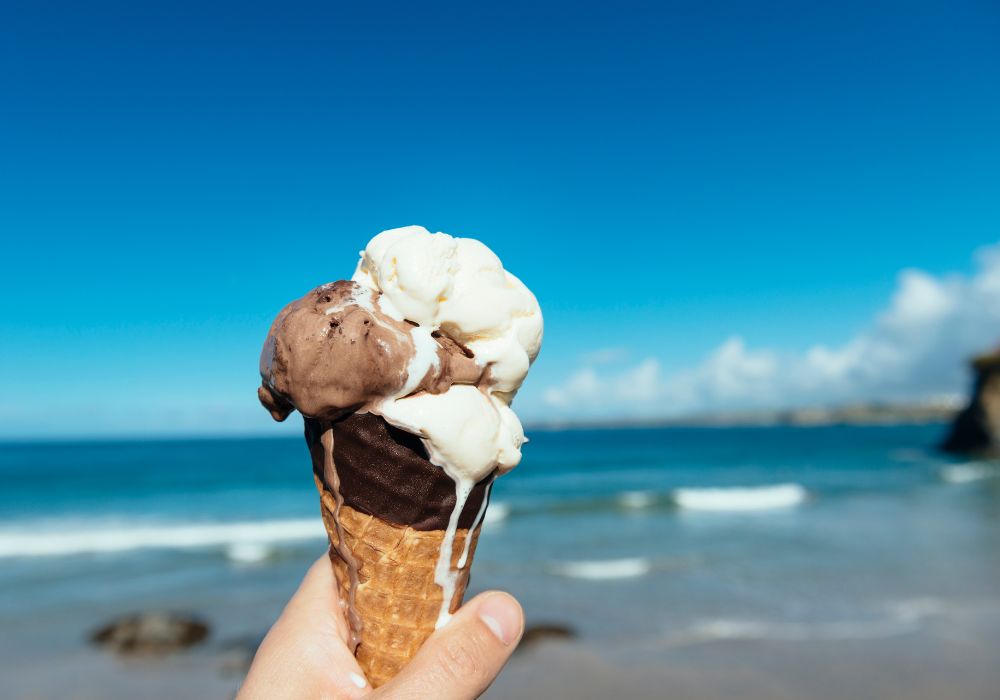 The picture-postcard Trennance Cottages form part of a Grade II listed building and gardens dating back to 1850. Inside is a heritage museum, gift shop, garden tea room, and ice cream shop – be sure to try Kelly's of Bodmin, Cornwall's best ice cream.
Taking in the beautiful cottages and gardens is one of the best free things to do in Newquay as there isn't an entrance fee to this volunteer-run project (though donations are of course welcome). The cafe is a great place to indulge in another Cornish favorite, a cream tea with scones, jam, and Cornish clotted cream.
6. Ride on the Lappa Valley Steam Railway
Located in the beautiful countryside just outside of Newquay is the Lappa Valley Steam Railway. This is a great attraction for all the family and one of the best things to do near Newquay if you want to experience the beauty of Cornwall at a slower pace.
As well as riding on a traditional steam train, Lappa Valley also has a boating lake, adventure playground, and a crazy golf course. Lappa Valley is open daily and tickets cost £14.95 for adults and £12.95 for children and seniors. Check the website to book tickets and to view the train timetables.
7. Take a Sea Safari
Taking a sea safari around the coastal waters of Newquay is a wonderful experience that will give you the chance to spot a host of marine life including dolphins, sharks, and seals. This is one of the great things to do in Newquay for couples and is one of my favorite things to do in Cornwall.
On this fun and educational trip, you'll be skippered by a trained marine biologist (so you'll be in good hands) and have the opportunity to learn all about the rich biodiversity off the coast of Cornwall.
This sea safari experience is also great for all the family and even dogs are welcome. You can book a tour-hour trip online and prices start at £35.00 for adults and £30.00 for children.
8. Visit Trerice House
Trerice House is a Tudor manor house and gardens dating back to 1572 in the Newquay parish of Newlyn. This Grade I listed building is owned by the National Trust and is open for the public to explore and enjoy the beautiful gardens.
It's home to a great tea room that serves cream teas, sandwiches, and light snacks. Trerice House is one of the best places to visit near Newquay for lovers of history and nature. Tickets cost £11.00 for adults and £5.50 for children and is open daily from 10:30 am until 4:30 pm.
9. Go Sea Kayaking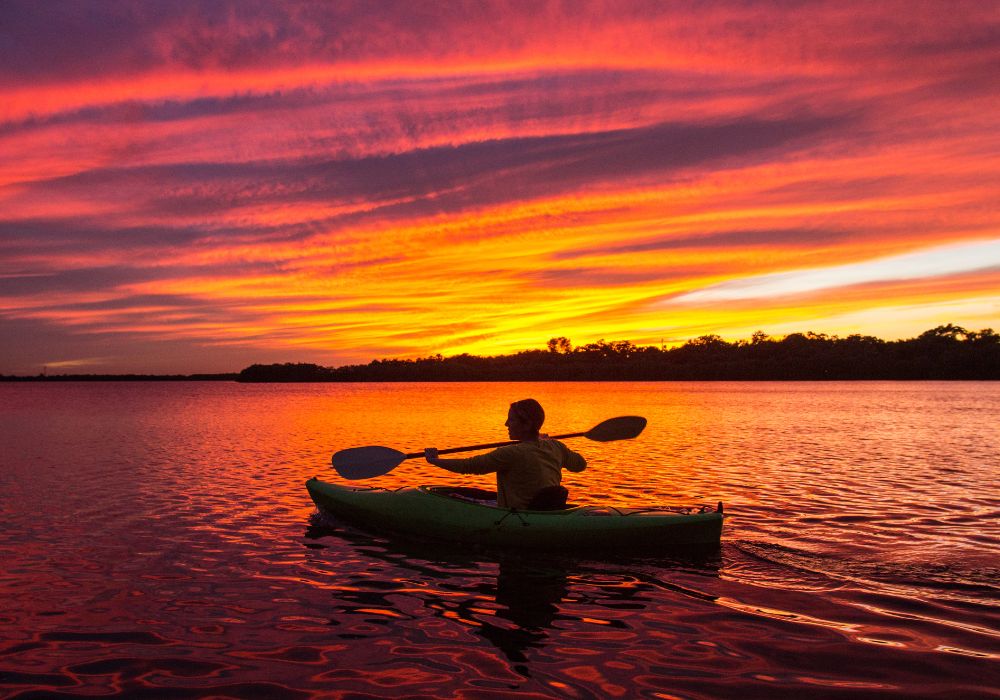 Sea kayaking is one of my favorite activities and the rugged north Cornwall coast is one of the best places in the world to do this. Explore the coves, inlets, and bays around Newquay on this fantastic sea kayaking adventure.
This experience is suitable for paddlers of all levels; from novice to advanced and includes a sit-on kayak, Rip Curl wetsuit, safety gear, and an experienced instructor. This is definitely one of the top things to do in Newquay for the adventurous.
The session lasts for two hours and you'll get to discover caves once used by smugglers and pirates, as well as see the coastline from a unique perspective.
10. Go Coasteering
Coasteering is an adrenalin-filled experience where you'll get to have a go at wild swimming, traverse rocky outcrops, and discover hidden coves and caves along the coast. This is one of the best things to do around Newquay for adrenalin junkies and those looking for a bit of adventure.
This 2.5-hour coastal adventure includes an induction with full training. Although no experience is necessary, participants should be confident swimmers and have a basic level of fitness. I've not had a go at coasteering yet, but it's something I'm dying to try when I return to Cornwall.
Don't miss these other Cornwall articles:
11. Have a Night Out at the Sailor's Arms
The Sailor's Arms is a great place to spend an evening. It's a fantastic pub where you can grab a bite to eat and enjoy views of the town and Towan beach, and also has its own club so you can dance until the small hours with Newquay's trendiest crowd.
So, whether you want a relaxing evening of cocktails with great views, or want to get down on the dancefloor, the Sailor's is one of the best places to go in Newquay for nightlife.
12. Take a Trip to "The Island"
If you're looking for unusual things to do in Newquay then head to The Island – a rocky outcrop connected to the mainland by a suspension bridge.
Just like St. Michael's Mount near Penzance, this small island is accessible by land when the tide is out and is completely cut off at high tide (but still accessible by the bridge).
The Island is one of the great places to visit in Newquay and there's even a single house on the island that can be rented. But be warned, the bridge which dates back to 1900 has a bit of a wobble when crossing, and is not for those with a fear of heights (like myself).
13. Visit Watergate Bay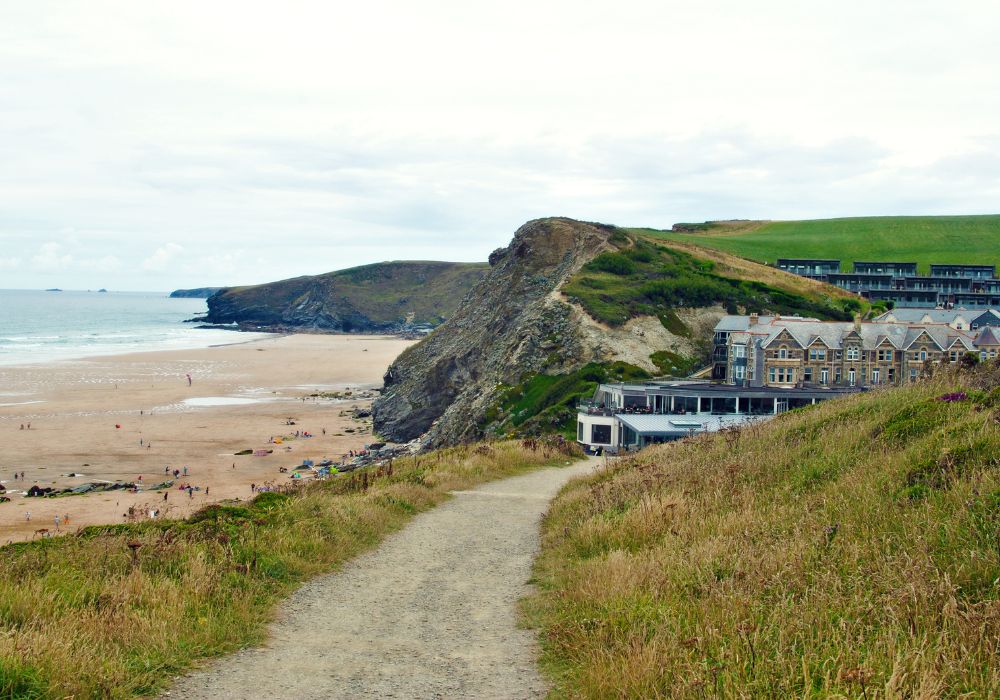 Watergate Bay is located 3 miles from Newquay and offers 2 miles of golden sand backed by dramatic cliffs. As it's a little outside of Newquay, Watergate is much quieter than the town's main beaches – it's a great option for escaping the crowds.
Watergate Bay is great for surfing, swimming, and lounging around on the soft sand. Kids will have fun exploring the rockpools and coves the views are some of the most impressive around Newquay.
The beach is easy to reach from the center of Newquay via bus 56 which goes directly to Watergate and takes just 16 minutes.
14. Visit Trevibban Mill Vineyard
Cornwall has firmly cemented itself on the map as one of Britain's best wine regions thanks to the mild weather the region enjoys. A visit to Trevibban Mill Vineyard and winery makes for a great day trip from Newquay (which can also be tied in with nearby Padstow – see below).
Learn all about winemaking in a sublime rural location close to the Cornish coastline. Taste some of the county's best wines and ciders on a guided walking tour of the vineyard which can be booked online.
15. Take a Day Trip to Padstow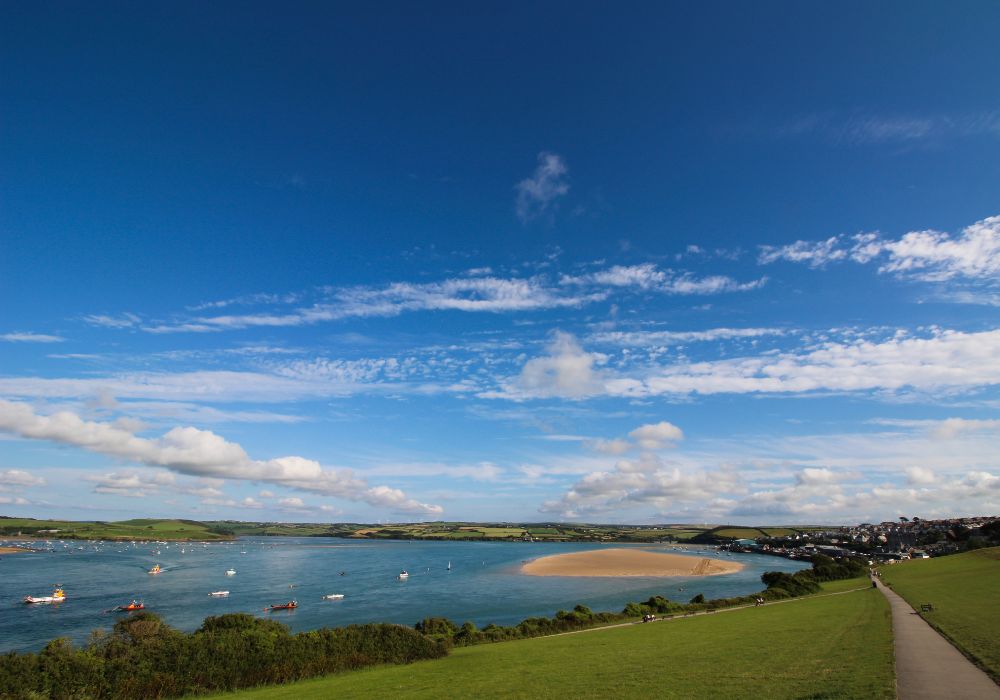 Padstow is one of my favorite fishing towns in Cornwall and is famed for its many seafood restaurants and picturesque harbor.
This quaint old town of stone houses is filled with artisan shops, stalls, and rustic pubs surrounding the harbor The Shipwrights is a great option with fantastic views of the Camel Estuary).
Padstow is just a 30-minute drive from Newquay or 70 minutes on the number 56 bus so it's easy to get to. Padstow is definitely one of the best places near Newquay for a day trip and is somewhere I've been visiting for years.
Quick Travel Itineraries For Newquay
Below you'll find a few itineraries which will help you plan your visit to Newquay and get the best out of your trip. Newquay is a small town so everything is easily reachable on foot or a short drive/bus ride to some of the nearby attractions and places of interest.
1 Day in Newquay Itinerary
Start your day in Newquay at the town's Towan Beach. Enjoy the many activities on offer from swimming and surfing to sea kayaking. Walk to The Island and cross the rope bridge to explore this tiny outcrop.
Walk into town and enjoy lunch at one of the many restaurants or pubs such as the Central Inn with its large patio garden. In the evening head to Fistral Bay to catch the amazing sunset over the Atlantic.
For night owls, hit the town and head to one of the many wine bars or clubs such as Graze Tapas and Wine Bar.
2-3 Days in Newquay Itinerary
Follow the itinerary for day one and on your second day have a go at sea kayaking, coasteering, or exploring Cornwall's marine life on a sea safari. Finish the evening at the Sailor's for a bite to eat, a cocktail, and some dancing if you feel so inclined.
If you'll be staying in Newquay for a third day then hike part of the South West Coast Path for stunning clifftop vistas and the chance to spot some interesting local marine life.
1 Week in Newquay Itinerary
In one week you'll be able to fit in all the things to see in Newquay and explore some of Cornwall's wild coast too. Follow the above itineraries and include day trips to Padstow and the Trevibban Mill Vinyard.
Spend a day at beautiful Watergate Bay to escape the crowds. Try your hand at surfing at Fistral Beach and be sure to visit one of the picturesque Trennance Cottages.
A trip to Land's End which is the westernmost point of the mainland British Isles is also a good day-trip option as it's just over a one hour's drive from Newquay.
Where to Stay in Newquay
These are a few of the best neighborhoods in Newquay for tourists.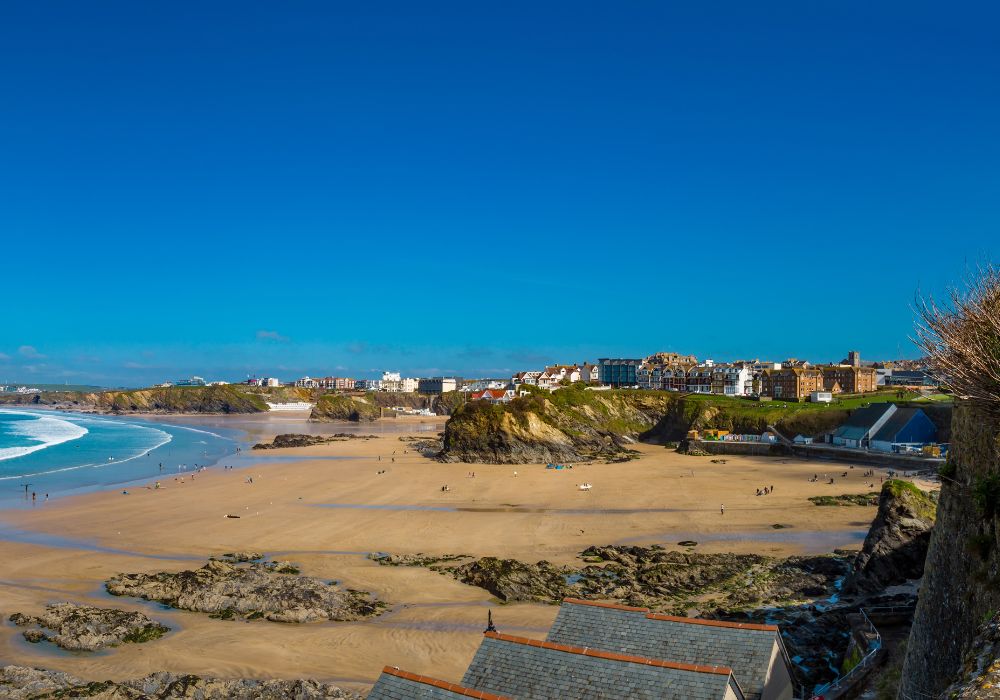 Newquay Town Centre – Best for First-Time Visitors
Newquay's bustling town center is the perfect place to stay for first-time visitors as everything, including Towan Beach, is right on the doorstep.
The Lazy Waves Boutique B&B is an excellent option. With seaview rooms, and restaurants, bars and beaches all within easy reach, this is a perfect spot for a holiday. Click here for details and to book.
Lusty Glaze – Best for Families
Lusty Glaze is an area on the outskirts of Newquay within walking distance of two wonderful beaches; Lusty Glaze and Porth beach.
This lovely three-bedroom holiday home is the perfect place for families or groups of friends looking to spend a lot of time at the beach but is also within easy reach of the town where you'll find everything you'll need for your stay.
The house sleeps eight people and there's also a sofa bed that can be used. Learn more here.
Pentire – Best for Couples
Pentire is a headland that juts out into the Atlantic a few minutes walk away from Newquay's Fistral beach. The sunsets from Pentire are amazing and the peninsula has great views across the beach and town.
The Lewinnick Lodge offers spectacular views from the luxurious king-sized rooms. It's the perfect spot for a romantic stay with that special someone. There's an onsite restaurant and stunning coastal walks right outside your door. Find out more here.
Best Restaurants in Newquay
There are some great restaurants and excellent pubs in Newquay. Don't miss these great places to eat in Newquay.
The Fish House at Fistral
The Fish House at Fistral is a great option for seafood with fresh sea bass, hake, mussels, and Cornish crab all on offer. The restaurant is just off Fistral beach so you can enjoy a taste of the sea with fantastic ocean views.
The menu is very reasonable for such a great location with mains from £20.00 per person. The fish and shellfish are locally caught and arrive straight from the boat at Newquay harbor. The Fish House is open from 12:00 pm until 9:00 pm seven days a week.
The Secret Garden
The Secret Garden is situated just off Great Western beach and has outside seating overlooking the bay. They specialize in artisan pizzas, biodynamic wine, and local beers and ciders.
Give the fisherman's friend pizza a try if you want to enjoy some of the local seafood with your pizza. The Secret Garden is open from 12:00 pm to 10:00 pm Monday to Thursday and 12:00 pm to 10:30 pm Friday to Sunday.
Andy's Cafe
If you're looking for the best of British cuisine on your trip to Newquay then you can't go wrong with Andy's Cafe, a stone's throw from Towan beach. Be sure to try their full English breakfast to set you up for a day's surfing.
Andy's is open from 8:00 am to 3:00 pm for breakfast, lunch, and afternoon snacks.
Things To Do in Newquay: FAQs
Here are some answers to commonly asked questions about visiting Newquay.
What is Newquay known for?
Newquay is known for its great surfing beaches, Fistral and Towan. It's one of the most popular holiday destinations in the UK thanks to its mild climate and miles of sandy beaches and dramatic coastline.
When is the best time to visit Newquay?
The summer months of June to August are the best times to visit Newquay to ensure the best possible weather for the beach. Avoid the wintertime when the North Atlantic is affected by rough coastal storms. The shoulder seasons can be pleasant, but you'll need a wetsuit to take a dip.
Is Newquay worth visiting?
Newquay is definitely worth visiting as there are so many great things to do and places to see. The coastline around the town is some of the most picturesque in the country.
How do I spend a day in Newquay?
The best way to spend a day in Newquay is to spend it at any of the beaches from Fistral to Towan or Watergate Bay. Surf, swim, explore rock pools, and just generally relax on the golden sands of north Cornwall.
Is Newquay good for shopping?
Newquay is a great place for shopping as the town is filled with a mixture of high street and independent shops selling everything from the latest fashion accessories to locally made beers and wines, handicrafts, and more.
Does Newquay have good nightlife?
Newquay has excellent nightlife thanks to its many bars and clubs. After a day at the beach, many people hit the town to let their hair down and sip cocktails with stunning views of the bays and ocean.
Conclusion
Now you know what to do in Newquay the question is, which of these great activities and Newquay attractions do you visit first? One thing's for sure, no trip to this seaside town is complete without getting wet and catching a few waves.
Be sure to indulge in some of Cornwall's finest treats like Cornish pasties and cream teas (and of course some scoops of Kelly's ice cream). Newquay is one of my favorite places in Cornwall as there is just so much to do both during the daytime and late into the night.
Like This Article? Pin it!