5 & Dine: Here's the Beef
Steak 954
Address: At W Fort Lauderdale; 401 N. Fort Lauderdale Beach Blvd.
The Buzz: If you're looking for a Philly-inspired cheesesteak, go for broke on the beach and experience the Champagne of submarine sandwiches—one that, appropriately enough, is paired with some bubbly. For $85, tender slices of juicy American Wagyu are packed into a 12-inch brioche roll. The freshly baked bread (made in-house) overflows with beef, caramelized onions and truffled cheese spread (don't think Whiz; this gourmet concoction is created from scratch). The sub is then topped with sprinkled flakes of black truffle. Wash it down in style with the glass of Lauren-Perrier Brut that's included.
Contact: 954.414.8333; steak954.com
JWB Prime Steak and Seafood
Address: At Margaritaville Beach Resort; 1111 N. Ocean Drive, Hollywood
The Buzz: Even JWB—James (Jimmy) William Buffet—would admit that his restaurant's signature dish, the JWB surf & turf, is far better than a cheeseburger in paradise. A savory 8-ounce center-cut prime filet mignon receives the perfect ocean-dwelling complement—a hearty broiled lobster tail with drawn butter for dipping and fingerling potatoes. The lobster tail also can be ordered as al a carte enhancement for larger steaks on the menu, like the 16-ounce New York strip or the 22-ounce bone-in ribeye.
Contact: 954.874.4444; margaritavillehollywoodbeachresort.com/dining/jwb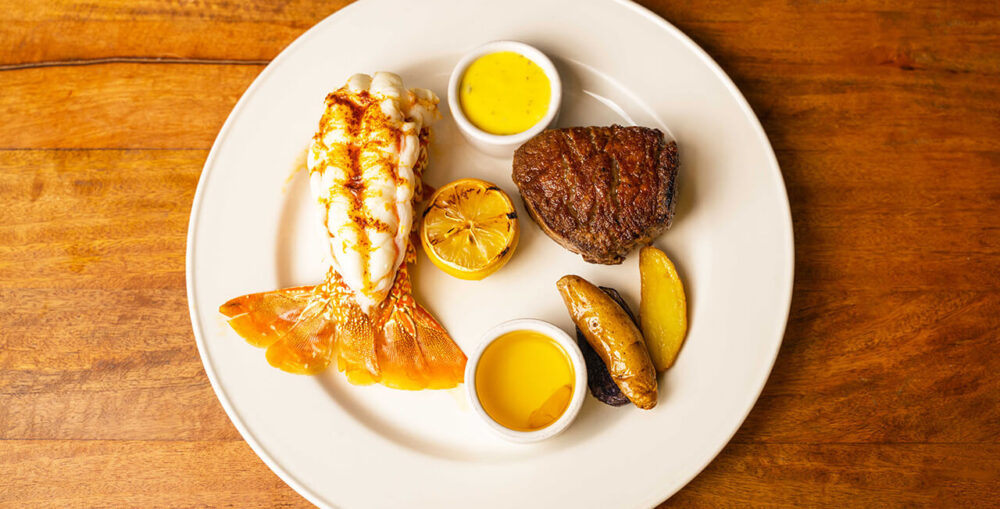 Rodizio Grill Brazilian Steakhouse
Address: 1817 Pointe Blvd., Building J, Dania Pointe, Dania Beach
The Buzz: Born in São Paulo, Ivan Utrera migrated to the United States in 1980 and founded his first Brazilian "churrasco" restaurant 15 years later in Denver. He was longing for the style of his native country's dining and the traditional recipes of his mother, Carmen, a former culinary teacher. Now, with its fourth location in Florida, the concept enters the tri-county food scene. Inspired by the churrascarias (steak houses) found throughout Brazil, servers dressed in traditional gaucho garb bring skewers of meat and carve them tableside. Popular steak picks are the picanha (top sirloin), a staple at churrascarias and the maminha, a tri-tip sirloin, which is the founder's favorite. For a true authentic experience, add coração de frango temperado (chicken hearts), to the rotisserie rotation. It's a traditional appetizer found at churrascarias in southern Brazil. For a sweeter choice, there's abacaxi, a Portuguese must—pineapple roasted on the grill to perfection.
Contact: 954.719.0970; rodiziogrill.com/ft-lauderdale/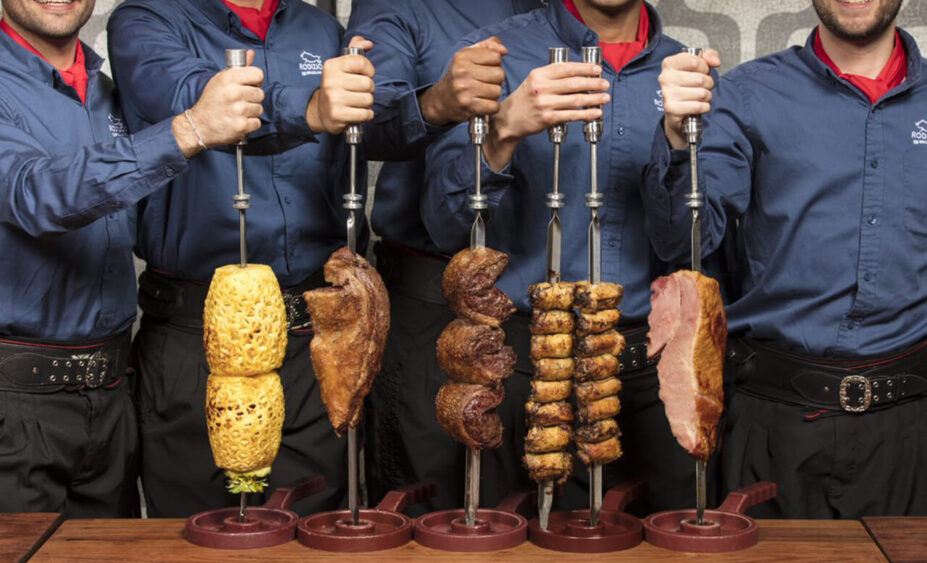 Runway 84
Address: 330 W. State Road 84, Fort Lauderdale
The Buzz: This Broward County favorite, still basking in the glow of a multimillion-dollar renovation that has introduced new audiences to its supper-club glam, delivers some serious beef amid its roster of traditional Italian classics. Look no further than one of the new dishes added to the menu after the January reopening—wagyu beef carpaccio. This modern take on the popular appetizer boasts wagyu filet sliced razor-thin and topped with fresh Parmigiano cheese, raw mushrooms, chives, pistachios and arugula leaves that add not only flavor but a touch of color. If you've never tried carpaccio before, this is the place.
Contact: 954.467.8484; runway84.com
NYY Steak
Address: At Seminole Casino Coconut Creek; 5550 NW 40th St.
The Buzz: The tomahawk ribeye steak, also known as a "cowboy" or a "long bone-in" ribeye receives the personal touch at NYY Steak. The 32-ounce long bone ribeye here isn't just made to order, it's made specifically for you. Tell Dad you've already selected his steak before you sit down—and he'll be surprised when the big daddy arrives with his initials carved into the end of the bone. By the way, before you order any of the prime choices at NYY, feel free to pick out your own cut from the butcher case at the entrance. While there are many places to get a good steak, NYY has its own in-house butcher shop and a dry-aging room where the meats are matured to perfection in a cooler lined with pink Himalayan salt.
Contact: 954.935.6699; nyysteak.com/coconut-creek