15 Best Things To Do in Diani, Kenya
The best things to do in Diani typically involve hitting the beach or exploring the area's beautiful natural environment. This beach resort town along the south coast of Kenya is an incredible destination with so many exciting things to do and see.
Diani is home to luxurious resorts, beach villas, white sands, and other attractions popular with families, backpackers, honeymooners, and solo travelers.
If you love strolling along sandy beaches, swimming with dolphins, or taking nature walks, you'll find many wonderful things to see in Diani. It's also located close to small islands and coral gardens, making it a haven for water sports lovers.
15 Best Things to Do in Diani
I'm Kenyan and work as a tour guide, so I've travelled all over my country, experiencing the best it has to offer.
I once spent almost two weeks exploring Diani and other places along the south coast. Its beaches were captivating, the town laid back and charming, and everything else was still attractive.
In this article, I'll describe some of the best things to do and places to visit in Diani. Some Diani attractions can be explored independently, while others, like diving, can be organized by experienced operators.
There are a lot more than the following 15 things to do in Diani. However, as a local Kenyan who's been to the area a few times, I've narrowed the list to my favorite places. They're based on accessibility, cost, level of fun, and adventure.
1. Explore the Magnificent Beaches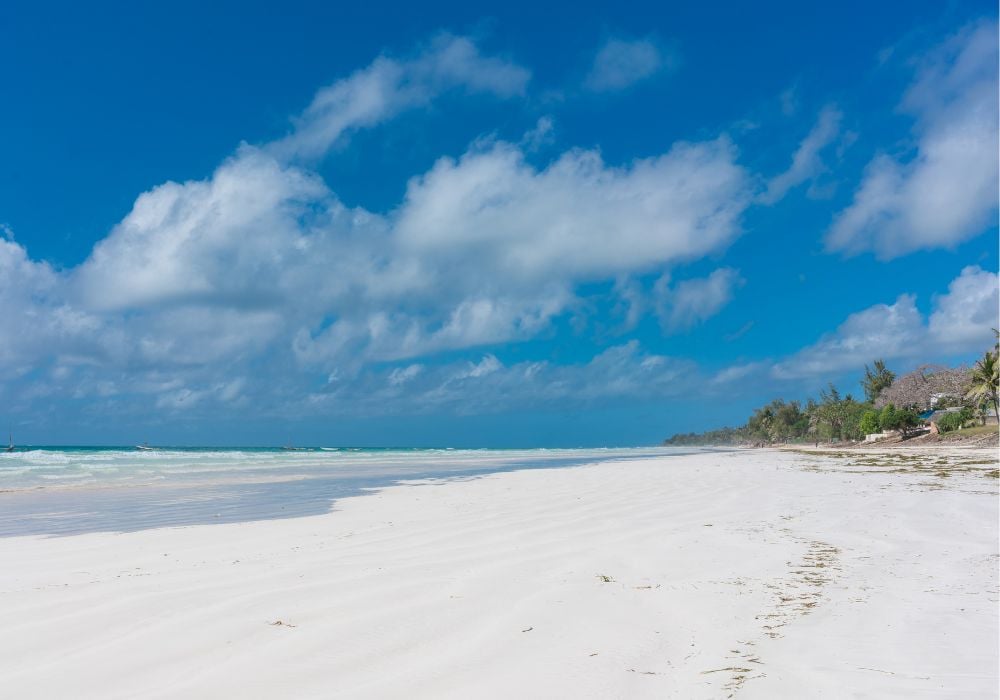 One of the best things to do in Diani is to explore the many beaches. The small coastal town is home to several beautiful beaches and hosts numerous luxurious resorts. You can stroll along the beaches, sunbathe, relax, or enjoy delicious food and cold drinks.
Galu Kinondo is the best beach in Diani for watersports and relaxation, while Tiwi is perfect for an off-beat day out. If you love white sands and blue waters, head to the magnificent Diani Beach.
To add to the beach fun, several restaurants in Diani offer a wonderful dining experience. My favorites include the Nomad Beach Bar for seafood, and the romantic Ali Barbour's Cave.
2. Discover the Local Lifestyle with a Local
Most travelers, including locals like me, get caught up in the charm of Diani Beach and forget to explore the area farther inland.
During my recent trip to Diani, I resisted the urge to confine myself to the beach and ventured inland. I wanted to see how people lived in that part of Kenya, their architecture, culture, and daily activities.
So, I walked along the streets of Ukunda, talked to local shopkeepers in Gazi, and marveled at traditional buildings in Tiwi.
If you want to experience the local life in Diani, join this exciting walking tour around Ukunda town. During the guided tour, you'll interact with locals, explore markets, and taste local dishes. It's definitely one of the most culturally enriching activities in Diani.
3. Go on a Sunset Canoe Ride on the Kongo River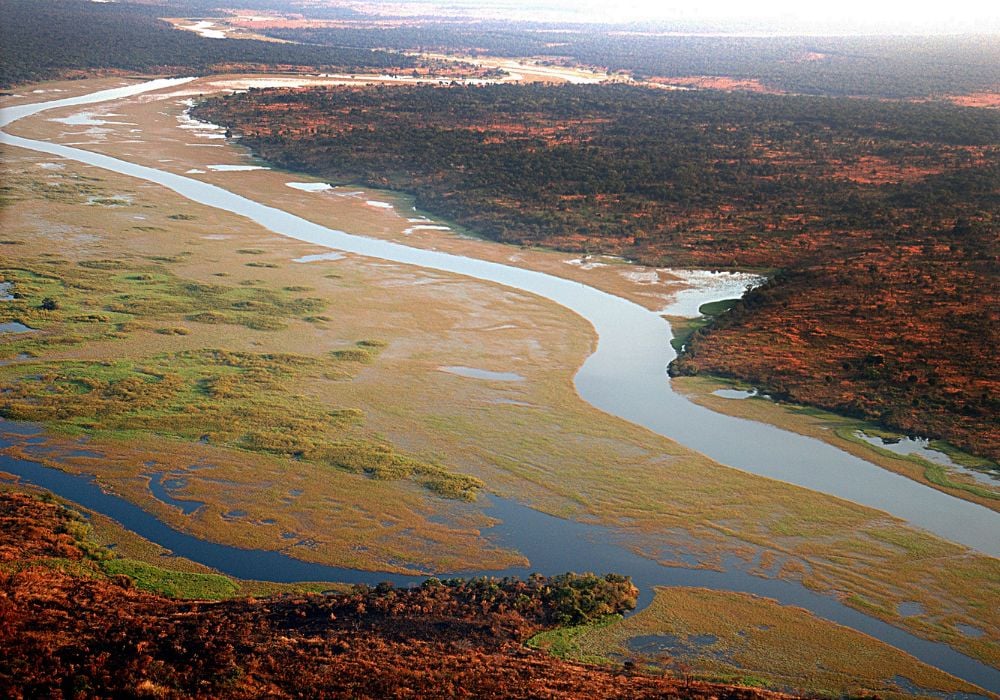 The Kongo River winds down between mangroves and drains into the Indian Ocean, separating Diani Beach and Tiwi Beach. This magical river is excellent for birders, nature lovers, and sunset chasers.
It has a wide upstream but becomes shallow towards the ocean, allowing people to access the two beaches easily.
The best way to explore the Kongo River is by joining this guided experience. The tour starts with a visit to the historic Kongo Mosque. You'll then ride in a canoe, spotting various birds, learning about the area, and watching the sunset.
After the canoe ride, you can enjoy dinner at the Estuary Beach Lounge or share stories around a beach bonfire.
There are many beach hotels near the Kongo River. However, I highly recommend staying at Jacaranda Indian Ocean Beach Resort.
4. Swim in the Africa Pool along Tiwi Beach
Tiwi Beach may not be as famous as Diani Beach, but it's just as beautiful and hosts one of the hidden gems in Diani – Africa Pool. This magical pool resembles the map of Africa and its surrounding islands. It's visible during low tide and is a nice swimming spot.
While it's possible to walk along Tiwi Beach to the Africa Pool, I highly recommend being accompanied by a local guide. During the walk, you'll see coral cliffs, caves, and seashells, and spot other pools along the way.
Be aware that some stretches of this beach have many sea urchins. Therefore, ensure you wear shoes to protect your feet from their stinging spikes.
Check out these top hotel and accommodation options if you're wondering where to stay near Tiwi Beach. You can also experience beach camping at Twiga Lodge.
5. Sail on a Traditional Dhow to Wasini Island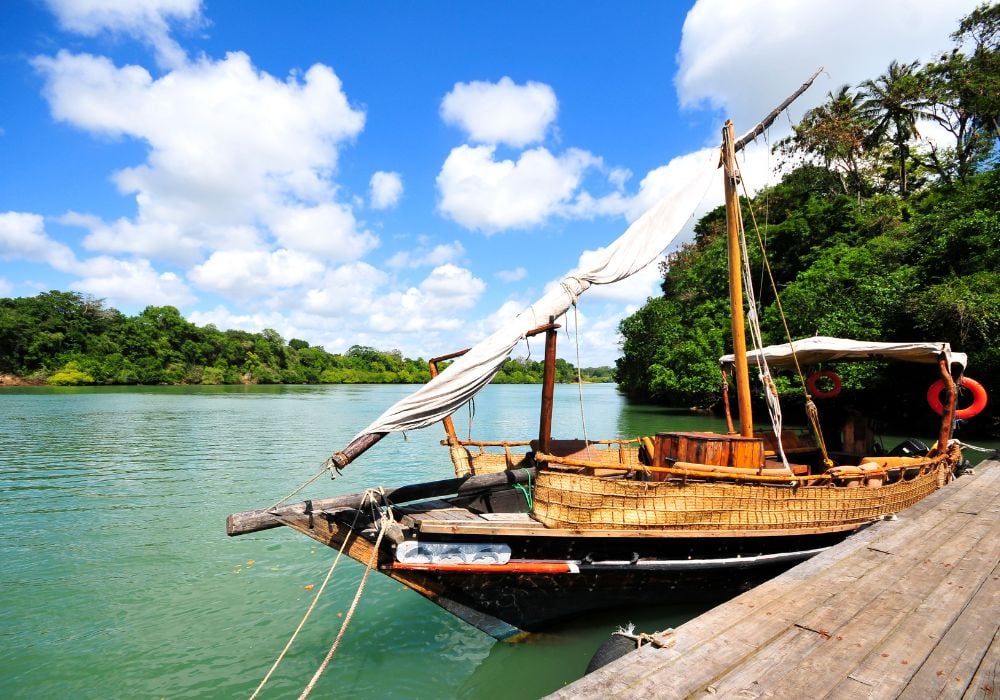 One of the top highlights of my trip to Diani was visiting Kisite Mpunguti Marine National Park, where dolphins, turtles, fish species, and beautiful coral gardens thrive.
The marine park is located off the coast and can only be accessed by boat. It has warm waters that are ideal for snorkeling and swimming.
The best way to experience this fantastic Diani attraction is by joining this guided tour. You'll leave Shimoni town by a dhow (boat) cruise to Kisite Mpunguti, where you'll go snorkeling and dolphin spotting.
Afterward, you'll go to Wasini Island village for a seafood lunch and drinks before returning to Shimoni.
While still in Shimoni, I recommend visiting Shimoni Caves. These limestone caves were once used as waiting places for captured enslaved people before they were taken to the Zanzibar slave market and beyond.
6. Go Scuba Diving (One of the Best Things to do in Diani)
If you're looking for places to go scuba diving in Kenya, visit Diani. The beach town is welcoming to all types of divers, from beginners to experts. Its climate is also favorable, allowing you to enjoy diving all year round.
Diani's beauty isn't limited to what's on the surface but also stretches into the vast world underneath. It's home to several dive sites which host groups of rare fish species and attractive corals. These sites include natural reefs such as Galu Reef and purpose-sunk ships like the Waa Wreck.
The best way to join a diving trip in Diani is by contacting a diving operator. One of the centers in the area is Diving the Crab. They're located at The Sands at Nomad Hotel and have friendly, experienced divers who know the dive sites well.
7. Visit the Magical Funzi Island
Funzi Island is a fishing village in Kwale county. It's surrounded by mangroves and has a beautiful beach along its shores. Although the island is less explored, it's one of the best places to visit near Diani.
The best way to experience Funzi Island is by joining this tour. It includes cruising between mangroves, experiencing the beach, a ride along the Ramisi River to see crocodiles, and a village tour.
Although I wouldn't recommend it because of the hustle of accessibility, it's possible to explore Funzi Island independently.
During my recent visit, I boarded a matatu (minibus) from Likoni bus station near Mombasa to Ramisi Sugar Factory, and then took a bodaboda (motorcycle taxi) to Bodo village. From there, I hopped on a waiting boat to the island.
8. Explore the Kaya Kinondo Sacred Forest
Kaya Kinondo Forest is one of the eleven forests along the Kenyan coast and is a UNESCO World Heritage Site. The forest holds the remains of fortified villages built by the Mijikenda people during the 16th century.
This forest grove is considered a sacred abode of the Mijikenda ancestors, and it's used as a place of prayer and a source of traditional medicine.
So if you're still looking for more things to do in Diani, head to Kaya Kinondo Forest. It's a nature lover's paradise, a center of rich history, and a place for a memorable cultural experience. It's undoubtably one of my favorite attractions in Diani.
Although Kaya Kinondo Sacred Forest is located off the tourist trail, the hidden gem in Diani is easily accessible. You can drive there from Diani or join a half-day nature walk tour.
9. Visit Colobus Conservation Center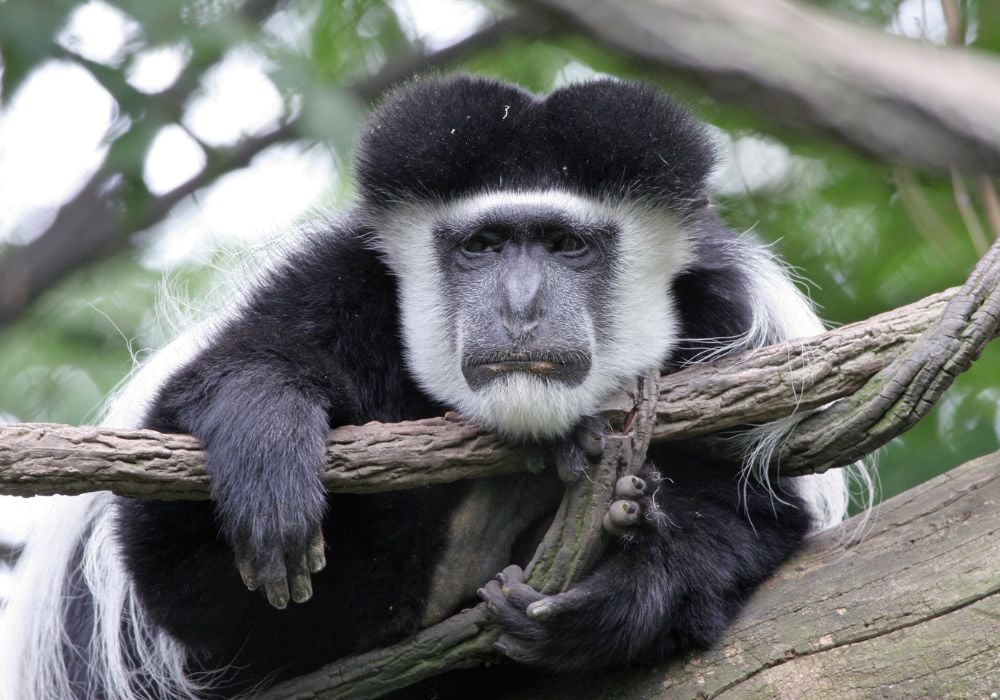 Colobus Conservation Center is one of the organizations dedicated to the preservation of primates like the Angolan colobus monkey. Located along Diani Beach Road, the center leads the way in conservation through reforestation, education programs, and animal welfare.
Diani is home to several primate species, including colobus monkeys, baboons, vervet monkeys, and Syke's monkeys. Most of these primates are endangered and require protection.
Plan a visit and learn about the centers' efforts to rescue, rehabilitate, and release primates into their habitats.
The center is open for guided primate eco-tours from Monday to Saturday between 8:30 am to 4:30 pm. Check out their website for booking.
10. Visit the Bora Bora Wildlife Park
Bora Bora Wildlife Park is one of the best places to visit in Diani for lovers of nature and wildlife. The park is in the same ecosystem as the Kaya Kinondo Forest – a sacred abode of the Mijikenda community.
If you're looking for a place to relax, take nature walks, and watch wildlife, go to Bora Bora. You'll also learn about various types of trees in the forest trail and their traditional medicinal uses.
Besides wildlife like giraffes and zebras, the park is home to Syke's monkeys, crocodiles, and various bird species. It also has a beautiful tented camp where you can stay during your trip to Diani.
11. Explore Chale Island (One of the Best Things to do Outside Diani)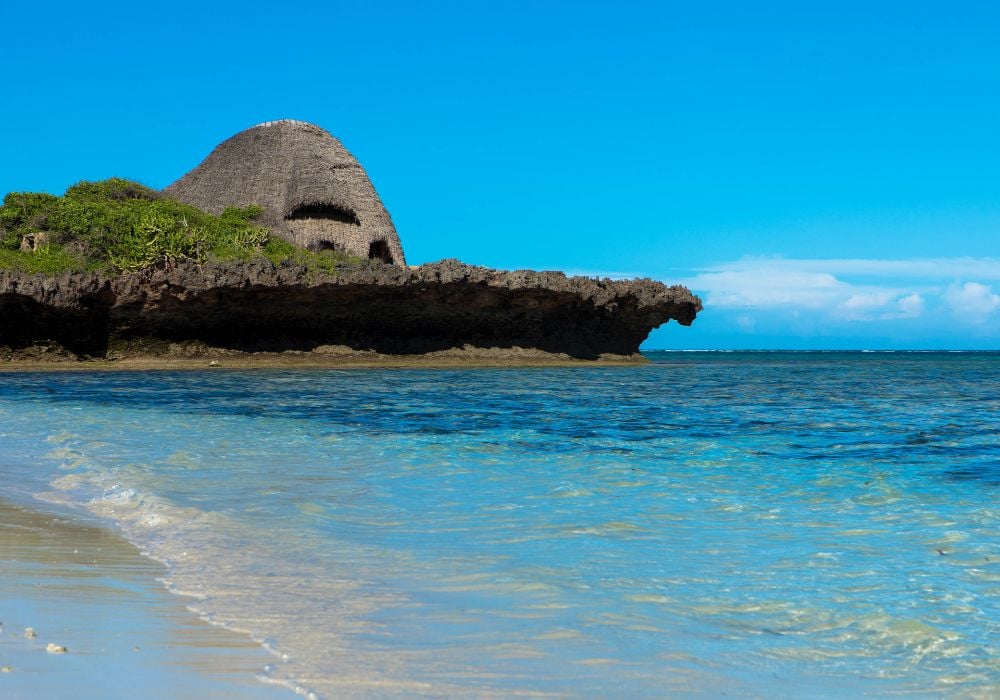 In addition to Wasini and Funzi, there's one more secluded island near Diani worth exploring – Chale Island.
Chale is a private resort island situated off the coast that's easily visible from Gazi Beach. It features a small stretch of unspoiled beach, spectacular coral reefs, and forests of mangroves.
The island also hosts the luxurious Sands at Chale Island. This beach resort is the only accommodation facility on the island. It's beautiful and features elegant rooms, a restaurant, and amenities for a romantic getaway.
To reach Chale Island, take a boat ride from the island's office at the end of Diani Beach Road or stay on the island for a few nights. You can also drive along the ocean track when the tide is low.
12. Join a Tour of Shimba Hills National Reserve
Less than an hour's drive from Ukunda town is the Shimba Hills National Reserve, one of the best things to see in Diani and also one of the best day trips from Diani Beach.
This game reserve comprises a diverse habitat, including giant trees, grasslands, forestlands, and scrub areas. It also holds one of the largest coastal forests in East Africa, only second to Arabuko Sokoke.
Shimba Hills is a great destination if you want to escape the beach for a day. It offers visitors a memorable wildlife experience with sightings of animals such as elephants, giraffes, and the rare sable antelope.
It's also home to the spectacular Sheldrick Falls and a variety of bird species.
The national reserve is easily accessible by road from Diani. You can also join this organized day trip.
13. Learn to Kitesurf at Galu Kinondo Beach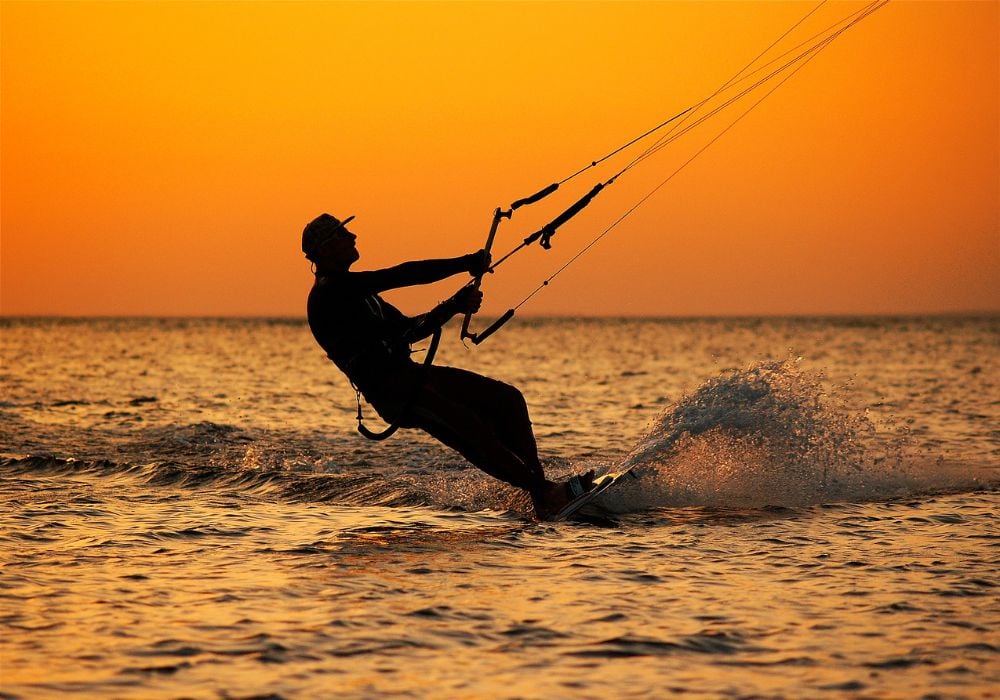 I've always wanted to learn how to kitesurf. When I visited Galu Kinondo Beach, the sight of surfers rekindled my interest, but I was short on time to join in.
Galu Kinondo is a spectacular, less crowded beach slightly south of Diani Beach. The palm-lined stretch is popular for water activities such as kitesurfing and paddleboarding, some of the most challenging and rewarding Diani activities.
If you're like me and are interested in learning how to surf, visit Kenya Kitesurf School along Galu Kinondo Beach. They offer lessons to complete beginners, and their rates are reasonable.
There are several places to stay and eat near this beach. For first-time visitors, I recommend relaxing at the Neptune Village Resort and Spa and enjoying fresh fish at Mvureni Beach Restaurant.
Furthermore, boasting two nearby coral reefs, Galu Kinondo is also one of the best places to visit in Diani for diving and snorkeling.
14. Walk Between Mangroves at Gazi Beach
If you're looking for unique things to do in Diani with a social impact, you'll love visiting the Gazi Women Mangrove Boardwalk along Gazi Beach. Here, you can take a walk between mangroves, watch birds or relax by the ocean.
Although less visited, this is one of the best places in the area for nature lovers. It's run by cheerful local women who love conservation and their cultural heritage. During the short visit, they'll show you around and educate you on the different types of mangroves and their uses.
When I last visited Gazi, I was led to a beach where fishermen sell their catch to traders. Next to this beach, there's a slave house that dates back to when Gazi was a slave trading post.
15. Take a Day Trip to Mombasa City
To end this list of the best things to do in Diani, I recommend taking a day trip to Mombasa. The island city is located about 30 kilometers from Diani and has plenty of tourist attractions.
There are various places to visit in Mombasa such as the Fort Jesus Museum and Wild Waters. You can also join an exciting food tour, experience Mombasa's vibrant nightlife, or explore the old town on foot.
The city has some beautiful beaches too. It's home to the famous Pirates Public Beach, the alluring Nyali Beach, and the less crowded Shanzu Beach. You'll also find great resorts, restaurants, and shopping centers close to these beaches and attractions.
☞ SEE ALSO: 10 Best Beaches in Mombasa
Quick Travel Itineraries For Diani
Here are a few suggested itineraries for up to 7 days in Diani. They include the best things to do and places to visit in the coastal town.
1 Day in Diani Itinerary
One day in Diani is best spent along the beach. Book yourself into a beach resort like the Diani Reef and be ready for fun in the sun.
Start your day with a long stroll along Diani Beach to Tiwi Beach. Relax and enjoy lunch at Estuary Beach Lounge before walking to the Africa Pool.
After exploring the coral caves and swimming in the pool, head back to Kongo River Beach for a sunset canoe ride. Finish your day with a dining experience at Nomad Beach Bar.
2-3 Days in Diani Itinerary
Here's how you can experience most Diani attractions in two-three days.
Day 1: Spend your first-day exploring Ukunda with a local, visiting Colobus Conservation Center, and relaxing on the beach.
Day 2: Start your second day with a morning beach walk and breakfast in a nice restaurant. From there, head to Tiwi Beach and spend your afternoon exploring coral caves and swimming in the Africa Pool. Finish your day with a sunset canoe ride on the Kongo River and dinner at this restaurant.
Day 3: Venture outside Diani Beach for a day trip to Shimba Hills National Park, Wasini Island, or Gazi Beach.
1 Week in Diani Itinerary
Here are a few ideas for 7 days in Diani. All the places can be explored from your resort, hotel, or vacation rental in Diani Beach.
Day 1: Join this walking tour of Ukunda in the morning. From there, visit the Colobus Conservation Center and then spend your evening strolling along the beach.
Day 2: I recommend spending the second day in Diani exploring Tiwi Beach and Kongo River as per the above itinerary. Make sure you visit the Kongo Mosque.
Day 3: Spend the third day in nature outside Diani with a visit to Bora Bora Wildlife Park and Kaya Kinondo Forest.
Day 4: I recommend spending your fourth day visiting Gazi Beach. You can take a nature walk along the mangrove boardwalk and visit the fishermen's beach to see the nearby slave house. An alternative is taking a boat ride to Chale Island Beach.
Day 5: Take a day trip to Kisite Mpunguti Marine Reserve to swim, snorkel, and spot dolphins. A guided tour of Kisite Mpunguti also takes you to Wasini Island for a delicious seafood lunch.
Day 6: Join a day trip to Shimba Hills National Park or travel north and explore Mombasa city. If you opt for Mombasa, make sure you try chicken biryani at Jahazi Coffee House.
Day 7: Depending on your interest, you can spend the last day scuba diving or visiting Funzi Island. Make sure you finish the day in Diani with dinner at the Nomad Beach Bar and Restaurant.
Where to Stay in Diani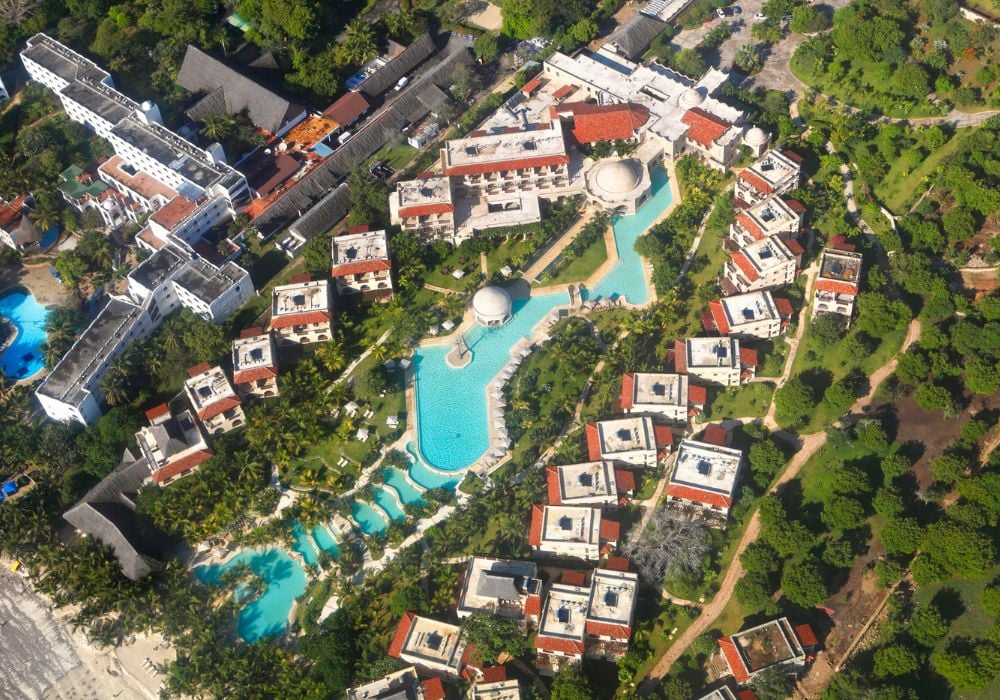 Unlike other coastal destinations like Mombasa, Diani is home to a few neighborhoods. However, the beach town is dotted with world-class beach resorts and unique vacation rentals.
Below are some of the best accommodation options in Diani for tourists.
Diani Reef Beach Resort & Spa: Best for Families and Couples
This 5-star resort is one of the most famous accommodation facilities in Diani. It's situated along Diani Beach and offers world-class hospitality to families, couples, and corporate travelers.
With multi-cuisine restaurants, bars, elegant rooms, suites, a swimming pool, and a spa, it promises nothing but a truly memorable experience.
For adventure lovers, scuba diving, snorkeling, and windsurfing activities can be arranged from the resort.
Baobab Beach Resort & Spa: Best for Families and First-time Visitors
Baobab is another great place to stay in Diani for comfort, luxury, and tranquility. It's set in an 80-acre coastal forest overlooking the beach and the blue waters of the Indian Ocean.
The resort boasts beautiful rooms with unique interior designs and modern amenities. You can swim in one of their three swimming pools, enjoy fresh food at their restaurant, and unwind with drinks at the pool bar.
Nearby Diani attractions include Kaya Kinondo Forest, Colobus Conservation Center, and Bora Bora Wildlife Park.
The Sands At Nomad: Best for Adventure Seekers and Food Lovers
Nomad is the ideal beach hotel in Diani to enjoy a relaxing beach vacation with great services. The hotel is set in a vast indigenous forest next to Diani Beach and features all the amenities for a perfect stay.
Besides the spacious accommodation facilities, an outdoor swimming pool, and a spa, the hotel has a fully equipped fitness center.
It's also home to a watersport center (Diving the Crab) and one of the best restaurants in Diani – Nomad Beach Bar.
Tequila Sunrise: Best for Families and Small Groups
The Tequila Sunrise is among the best vacation rentals along the south coast. This unique serviced beach apartment is set in a serene 4-acre natural forest that hosts different primates. It's surrounded by baobabs and offers beautiful views of the ocean.
The 2-bedroom apartment features 3 beds and 2 baths and is ideal for up to 4 guests. It costs about $140 per night.
The Villa Luxury Suites: Best for Couples and Solo Travelers
This stunning villa hotel is perfect for anyone seeking luxury, peace, and relaxation near Diani Beach. It features a king-size bed, spacious bathroom, a private pool (in the suites), a flat screen TV, and other amenities.
Kaya Kinondo Sacred Forest is only 15 minutes away by car. The nearest airport (Ukunda airport) is 2.5 km from the The Villa Luxury Suites and Moi Airport is 42 km away.
If you fancy a romantic dinner, I suggest Ali Barbour's Cave Restaurant.
Best Restaurants in Diani
Whether you're into local dishes like biryani or seafood like fresh prawns, you'll find a great restaurant to suit your fancy in Diani. So, to give you some ideas, below are my favorite places to eat along Diani Beach.
Nomad Beach Bar and Restaurant
The Nomad Beach Bar is my favorite restaurant along the stunning Diani Beach. Besides its superb ocean views, the beachfront eatery offers quality local and international dishes. It also features a stylish outside seating space where you can relax and enjoy the ocean breeze.
When it comes to indulging in fine dining, the Nomad's menu has a variety of dishes for all tastes. You can order seafood, Swahili dishes, vegetarian meals, and more.
Try out their seafood platter. It includes octopus, fish fillet, prawn skewer, calamari, and garlic butter, served with sweet potato chips.
Ali Barbour's Cave Restaurant
If you're looking for romantic things in Diani, go for dinner at Ali Barbour's. This unique restaurant is set inside a coral cave and lit with colorful candles. It also has an opening that brings natural light from the starlit sky at night.
The lovely ambiance of the restaurant is complimented by delicious meals and a wide selection of drinks. You can order seafood such as garlic prawns, pizza, steak, chicken tagine, salmon, and more.
Asha Bistro
While strolling along Diani Beach sometime back, I came across the Asha Bistro beachfront restaurant. Although small, Asha Bistro is charming and offers visitors a space to connect and enjoy the ocean view.
The restaurant has a variety of dishes and drinks at affordable rates. Make sure you try out their tasty barbeque served with garlic bread or roast potatoes.
How to Get to Diani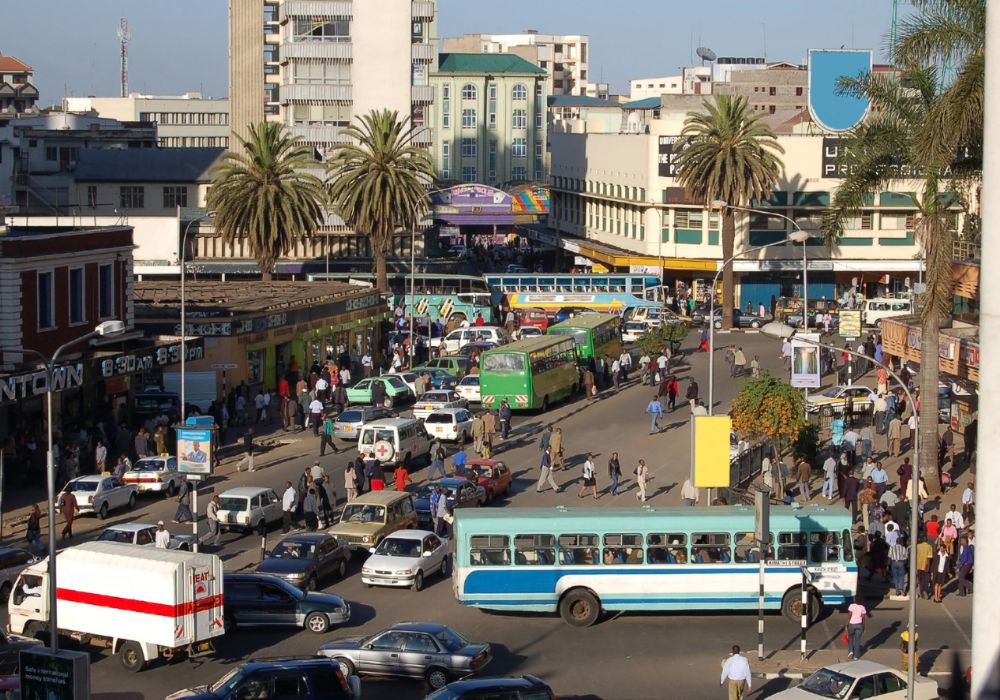 Ukunda, the gateway to Diani Beach, has a small airport served by domestic flights flying in from other airports in Kenya like JKIA, Wilson, and Lamu. Some of the best airlines from Nairobi to Diani include Jambojet, Fly540, and Fly Safarilink.
You can also travel from Nairobi to Mombasa by train and then connect to Diani by taxi or shared van. There are three daily trains from Nairobi to Mombasa.
Traveling from Mombasa to Diani is easy. You can self-drive, hail a taxi, or use a matatu (local van). These matatus are boarded at Likoni, a short ferry ride from Mombasa Island.
Things to Do in Diani: FAQs
Here are some answers to commonly asked questions about visiting Diani.
What is Diani known for?
Diani is famous for its tropical climate, sandy beaches, world-class beach resorts, and water activities.
When is the best time to visit Diani?
Due to its good climate, Diani welcomes travelers all year round. However, to avoid crowds and high rates, I recommend traveling during the low season – June to October.
Is Diani worth visiting?
Simply, yes. Diani has something for everyone, and it's worth visiting for white sands, beach relaxation, watersports, and more.
What are the best things to do in Diani Beach?
There are many things to do in Diani. Some of the best include strolling along the beach, diving, surfing, visiting Kaya Kinondo Forest, and exploring Wasini Island.
Are there hidden gems in Diani?
Some hidden gems and attractions off the tourist trail in Diani include Funzi Island, Gazi Women Mangrove Boardwalk, Tiwi Beach, and the Kongo River.
Where is Diani located?
Diani is a beach town situated around 35 kilometers from Mombasa city.
What are the best beaches in Diani?
Some of the best beaches near Diani include Galu Kinondo Beach, Tiwi Beach, and Diani Beach.
Is Diani safe?
For tourists, Diani is one of the safer destinations in Kenya. This is a popular tourist destination, but common sense still applies here. Don't bring your belongings to the beach, watch out for thieving monkeys(!), always take a taxi at night, and don't get involved in any drug-related activity and you should be fine.
In Closing
Diani is one of the top beach destinations in Kenya and it's somewhere that I'll definitely return to. While the beach is incredible, and it'll probably be hard to peel yourself away, try to go inland and experience a different side of Diani.
I hope you've enjoyed this post on the best things to do in Diani and that it helps you plan a memorable trip.
See more articles about Kenya here:
Like This Article? Pin It!