Digital Nomad Guide to Living in Yerevan, Armenia
If you're thinking about being a digital nomad in Yerevan, this digital nomad guide to Yerevan outlines all you need to know from living costs to the best areas to stay and much more. Armenia often gets overlooked in favor of its neighbor Georgia, but this destination is perfect for remote working.
I've been a digital nomad in Armenia for the last four months and will be returning to live there for the rest of the summer. The laid-back capital of Yerevan has a vibrant cafe culture, lots of places for remote working, a thriving nightlife, excellent food, and plenty to see and do in and around the city.
In your downtime, you can explore Armenia's rich history, visit vineyards and ancient temples, climb mountains, and lose yourself in some of the most spectacular nature you'll find anywhere in the world. Armenians are incredibly hospitable and you'll be sure to make plenty of friends while living there, just like I have.
About Yerevan
Yerevan has only been the capital of Armenia since 1918 but it is the cultural center of the country and its beating heart. The city is surrounded by snow-capped mountains and sits in the shadow of the mighty Mount Ararat; an extinct volcano just over the border in Turkey (in an area that was historically part of Armenia).
The downtown area is packed with cafes, shops, and restaurants. In the center, you'll find the Cascade; a series of marble steps climbing a steep hillside above the city – the views across the rooftops from here to Aratat are incredible. There are plenty of co-working spaces across the city offering good WiFi speeds.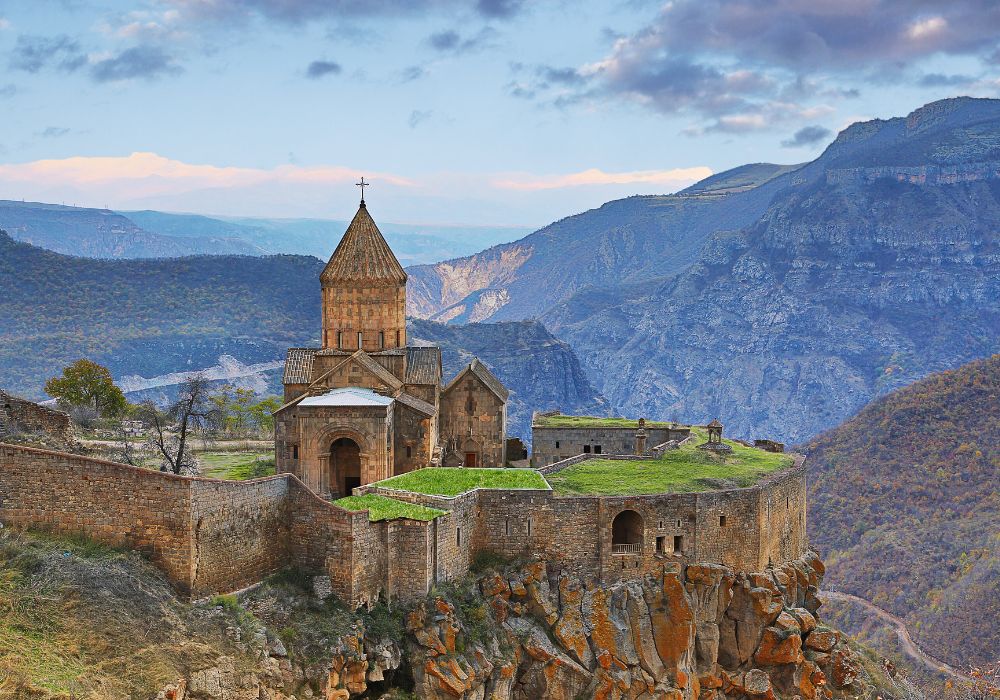 There are lots of interesting places to visit near Yerevan including the monastery at Khor Virap with incredible views of Ararat, Garni Pagan Temple which rivals the Parthenon in Athens, and the majestic Lake Sevan; a highland lake dotted with temples and monasteries that's the perfect place for hiking and swimming.
Living in Yerevan As a Digital Nomad
I've been living in Yerevan as a digital nomad and it's one of my top destinations to do so. I've spent most days sitting in pleasant cafes around the city working with fantastic views and sipping on great coffee. If it gets a bit too noisy then there are plenty of co-working spaces available for working remotely in Yerevan.
There's a large digital nomad scene in Yerevan which has grown massively in recent months as a result of the conflict in Ukraine. Many Russians fleeing conscription have headed to Georgia and Armenia as they don't require a visa. This has meant that prices have risen slightly, but things are beginning to settle.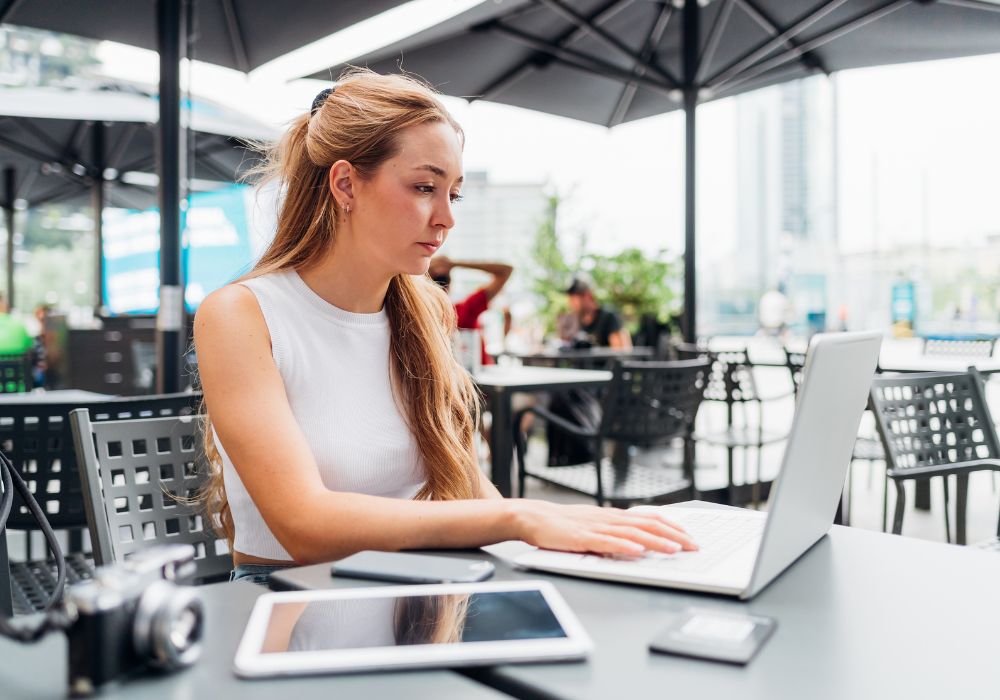 You'll also find a lot of the Armenian diaspora from the States and other places working and living in the city. With this in mind, English is widely spoken by almost all younger generations and you won't have a problem being understood. Most information signs and menus etc. are in Armenian, Russian, and English.
Is Yerevan Safe?
Yerevan is an incredibly safe city by world standards. I have never felt unsafe walking around day or night, and violent crime is almost unheard of. The city is actually ranked the 20th safest in the world out of 417 cities so that should give you an indication of how safe it is (nearby Tbilisi comes in at 43rd).
The only problems I've encountered in Yerevan relate to rip-off taxi drivers which is not unique to Armenia, (Uzbekistan takes the lead on that front), and my problem was solved instantly the day I downloaded the GG app (Armenian Uber). Just stick to ride-sharing apps if you want to get around by taxi (Yandex is another option).
One thing to be aware of is that Armenia is locked in an ongoing conflict with its neighbor Azerbaijan. This concerns the Artsakh/Nagorno Karabakh region and hostilities are ongoing. This doesn't affect the rest of the country, including Yerevan, so simply avoid traveling anywhere near sensitive border areas.
Best Areas to Live in Yerevan
During my four months living in Armenia as a digital nomad in Yerevan, I lived in many places across the city but stuck to the central areas as I wanted to be close to all the amenities, cafes, bars, and sights. Below, I'll discuss some of these areas in more detail and tell you about the best places to stay.
1. City Center (Kentron)
The city center, known as Kentron (sounds like a Transformer), is definitely the best place to be a digital nomad in Yerevan as it offers everything you need for work and play. You'll find the best cafes, co-working spaces, plenty of short-term accommodation, excellent nightlife, and a great vibe here.
I spent most of my time working at the Green Bean Cafe and Keerk & Co, both a two-minute walk from Cascade. Green Bean is best to visit early on before it gets busy, (they have an excellent menu of healthy lunches and breakfasts), and Keerk & Co is a great place to work all day with both inside and outside workspace to set yourself up.
After work, there are lots of cool bars nearby, and the best of these are Darget Brewpub, The Beatles, Irish Pub, and my friend's bar Rock'n'Rolla. You'll find that, unlike the cafes, most bars in Yerevan are underground, below street level. Smoking has recently been banned inside.
2. Barekamutyun
The suburb of Barekamutyun sits on a hill just to the west of the city center and is within walking distance of Cascade. I stayed here for a month and the views of Ararat were amazing (and the best shawarma in the city can be found at the Olimp fast food place on Marshal Baghramyan Avenue).
This is more of a residential area for students of the nearby American University of Armenia, and there aren't many cafes fit for working, but it's a thirty-minute walk or five-minute subway/bus ride into town, and Keerk & Co is located just at the bottom of Marshal Baghramyan.
I had a long-term room at the Villa Rosa Hotel, which is run by some Iranians living in Yerevan. The price wasn't bad, but there wasn't a desk in the room and the kitchen wasn't ideal, (though that didn't matter with the amazing shawarma shop nearby). Barekamutyun also has a subway stop.
3. Aygestan
Aygesturn is another popular university area (the main Yerevan State University) and somewhere I lived for a short while. It's an excellent place for digital nomads in Armenia with lots of nearby cafes and restaurants (including the Genatsvale Georgian Restaurant) and is only a ten-minute walk away from the city center.
This is one of the most buzzing parts of the city and you'll find lots of students here. There's a large park that sweeps around the inner city, a subway (Yeritasardakan), and most of Yerevan's main sights are within walking distance.
I stayed for a week at the Metro Hostel on Abovyan Street. The rooms are clean and comfortable, the WiFi is fast, and they have working spaces inside and outside. As well as the excellent Georgian restaurant, there's a KFC two minutes away, lots of bars, and plenty of places to get work done nearby. Click here to find out more.
4. Nor Kilikia
The small suburb of Nor Kilikia sits just to the west of the city center across the large ravine of the Hrazdan Gorge. This neighborhood is a little cheaper than some of the others but is still within walking distance of Central Yerevan.
Some of the nearby places of interest include the Armenian Genocide Memorial Complex, English Park, and two of the city's stadiums hosting sporting and other events. It takes around ten to fifteen minutes to walk to Republic Square, and there are also plenty of buses that go into town.
There are many cafes, restaurants, and food courts in the area plus a supermarket, cinema, and stunning views across the Gorge to the city and mountains beyond. You'll find quite a few budget hotels here such as the V.MOD Yerevan where I spent a few nights when I first arrived in the city. Click here to learn more.
5. Nor Nork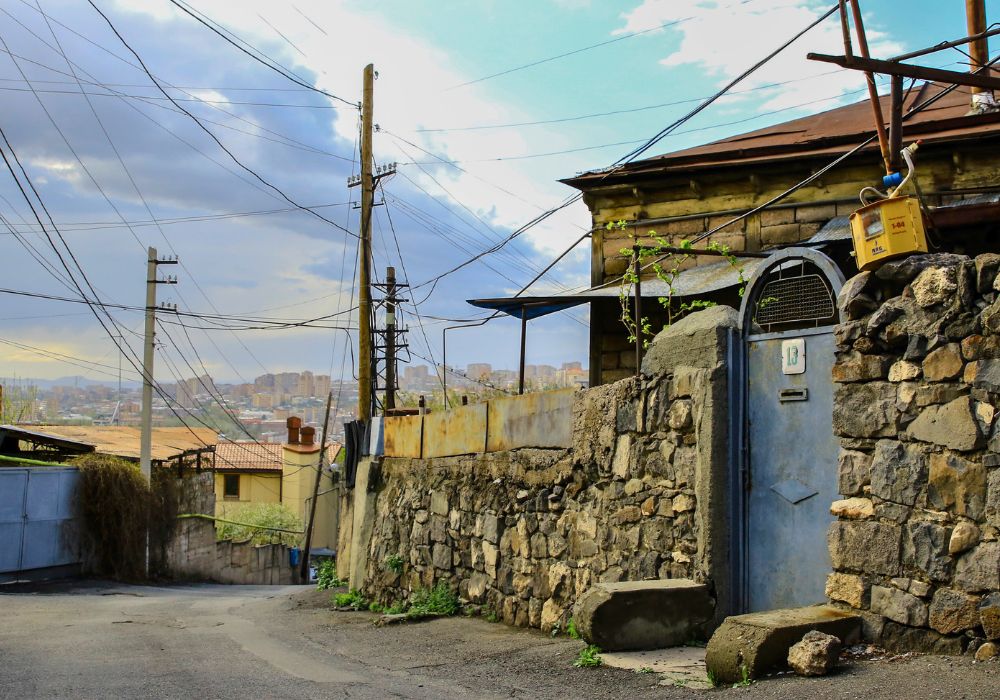 If you want to find some of the cheapest accommodation in the city then Yerevan's sprawling suburb of Nor Nork is your best choice. You won't find much apart from dreary, post-soviet apartment buildings here and it's a good six miles (11 km) from the city center, but, it's cheap.
There are some excellent restaurants serving traditional Armenian cuisine to be found in this neighborhood including Restaurant Kars and Royal Yerevan. The neighborhood is also within walking distance from the scenic Jrvezh Forest Park which offers some excellent hikes and spectacular mountain views.
Nor Nork doesn't have its own subway stop, but plentiful buses and marshrutkas make travel to the city possible. Unless you're really looking to budget hard, I'd say that Nork is probably best avoided in favor of one of the above suburbs – unless you fancy a bit of an adventure of course.
How to Find Accommodation in Yerevan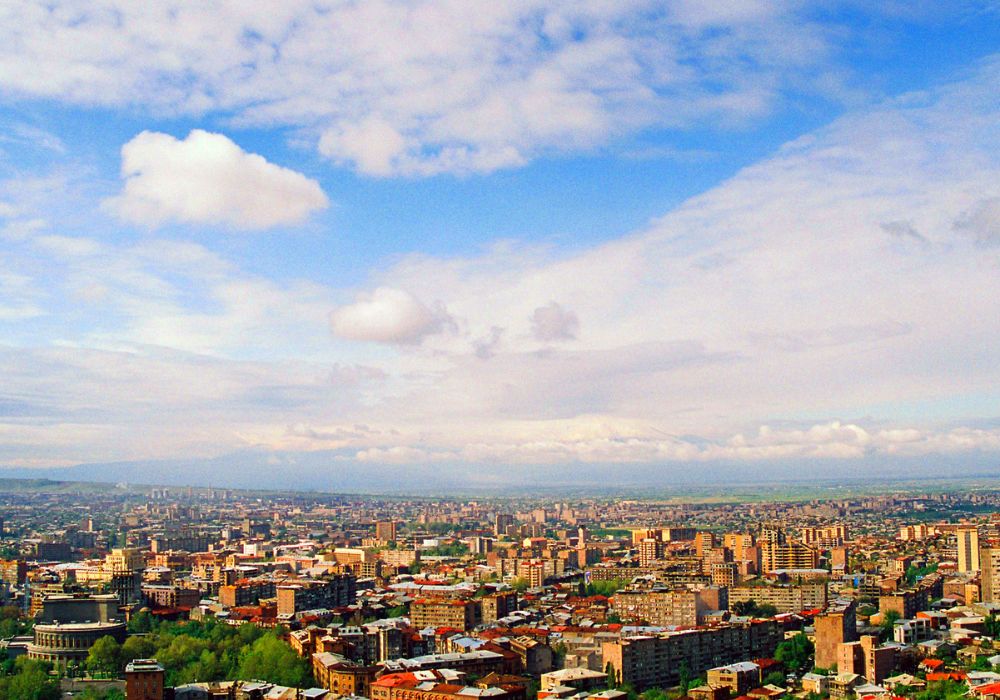 One of the things I struggled with the most was finding suitable, long-term accommodation in Yerevan with good WiFi, a desk, and a location close to all the amenities in the city. Below are some of the best ways to find a place to stay.
1. Hostelworld.com/Booking.com – There are lots of hostels in the city center and many of them have private rooms available for less than the price of a hotel room. Some of the best I stayed at include Bonvenon, Metro, and Envoy – all of which are super central.
2. Airbnb – When I arrived in January, almost all of the reasonably-priced Airbnb rooms were fully booked. Thankfully, newcomers are finding more suitable long-term accommodation; meaning that more rooms are becoming available again.
4. Word of Mouth – I made many friends while living in Armenia and one of them helped me find my room at the Villa Rosa as he had a friend staying there too. If you ask around in bars and cafes staff might know of a room going, so it's definitely worth asking around.
Cost of Living as a Digital Nomad in Yerevan
The cost of living in Yerevan was a little more expensive than I was expecting, but that probably had more to do with coming straight from the Kurdish areas of Turkey which was exceptionally cheap.
Accommodation and eating out in the city center can cost roughly the same as in Western Europe, but there are also plenty of bargains to be had and I'll tell you more about these below.
Restaurants and Groceries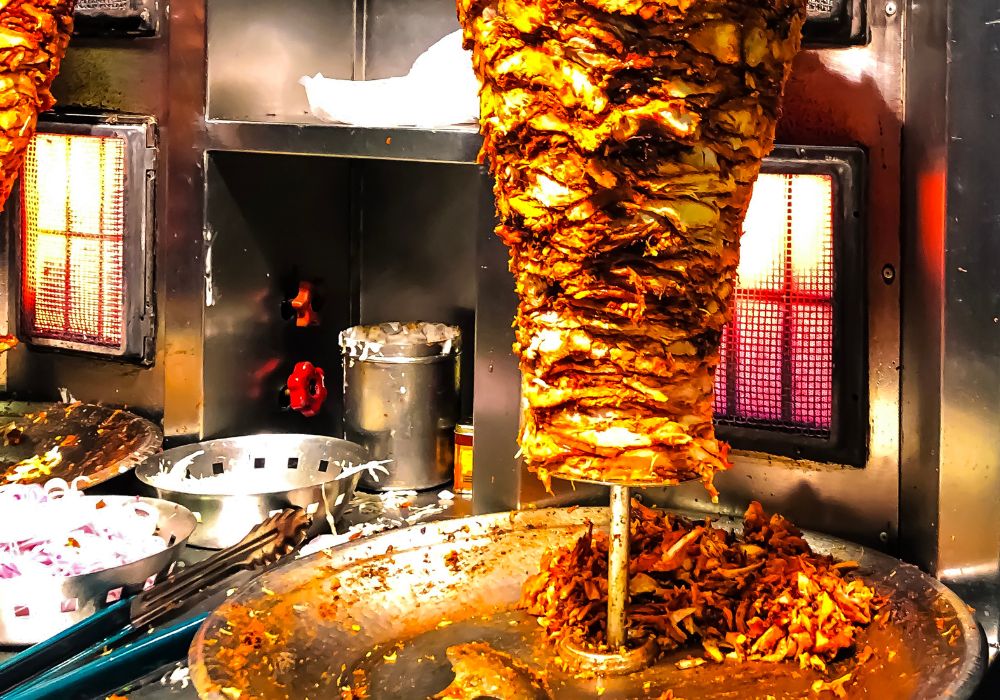 A meal in a budget restaurant like the excellent Fourchette Buffet where I ate either lunch or dinner almost daily costs around 3,000 dinars ($7.70) including a soft drink. Sharwama and gyros can be found across the city for as little as 1,200 dinars ($3.10) and this is perfect for lunch. KFC and Pizza Hut are other options for cheap eats too.
If you want to enjoy a nice meal somewhere a little more upmarket like the Dargett Taproom, (the steak is one of the best I've ever had), then expect to pay around 10,000 dinars ($25) including a beer or glass of wine.
Coffee in a cafe costs 1,000-2,000 dinars ($2.60-$5.10) which I think is a little pricey, but this is for cafes in the city center, around the Cascade, and other tourist hotspots. A pint of beer in a bar costs about 1500-2000 dinars ($3.90-$5.10) which isn't too dissimilar to back home in the UK.
You'll find supermarkets on almost every street and the major chain is SAS. These are great places to buy essentials, snacks, iced coffee, beer, and wine to enjoy at your accommodation.
Accommodation Costs
Accommodation is likely to be your biggest expense when living as a digital nomad in Yerevan. For short to mid-term stays there are plenty of cheap hostels in the city center that cost from as little as $10 per night for a dorm bed, or around $30 for a private room.
If you're looking for long-term accommodation, things can become a little trickier. Word of mouth is one of the best ways to find a bargain, so ask around in bars and cafes. The cheapest places on Airbnb start from around $600 per month.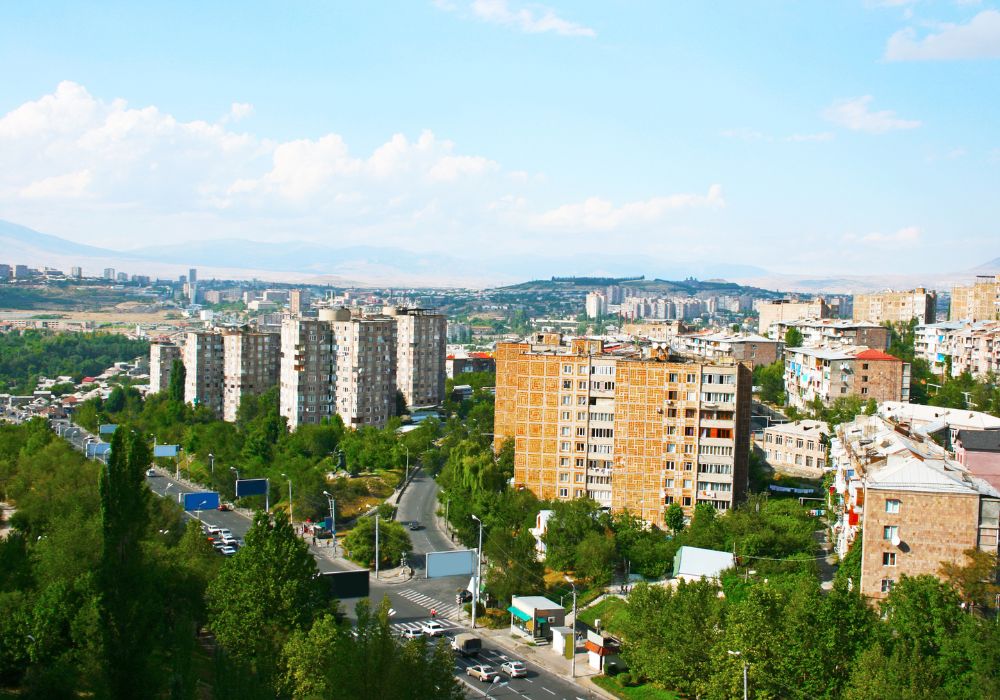 Transportation Costs in Yerevan
Transport in and around Yerevan is exceptionally cheap. The center of the city, which is home to many of the top attractions, bars, and cafes, is easy to navigate on foot. There are lots of buses and marshrutkas that cover the city and surrounding areas for just a few cents per journey.
Avoid hailing taxis in the street and instead download the GG app (in English) with short trips around the city costing around 1,000 dinars ($2.60). This is one area where the cost of living in Armenia means you can save your money for more important things like day trips (and beer).
If you want to go a little further afield or visit another city, (I recommend charming Gyumri and majestic Sevan), then trains, buses, and marshrutkas are an easy way to get travel. For such a wild and mountainous country, transport links are very good and particularly cheap. You can also join affordable day trips to Lake Sevan, wineries, and Tatev Monastery.
SIM Cards and Data
A SIM card with a data bundle starts from 1,500 dinars ($3.90) for 3GB of data and can be bought from official telecom shops across the city. The three main networks are MTS Vivacell, Team Telecom, and Ucom (I use MTS Vivacell).
Just like when I was back in China, you'll need to take your passport with you to buy a SIM in Armenia and they will take a copy. Once you have your sim, you can top up at the orange machines you'll see on every street (English language option available).
Money Saving Tips for Yerevan
Here are a few money-saving tips I personally used in Yerevan:
Use marshrutkas (fixed route minibus) to get around
Use GG ride-sharing app instead of taxis for short distances
Shawarma is a cheap, tasty, and filling meal that can be found across the city
Wine is cheap in supermarkets, so grab a bottle to share with friends at home or in nature
Stay in the city's cheap hostels instead of hotels
Coworking Spaces in Yerevan and WiFi Speed
WiFi speeds in Yerevan can be a bit hit or miss in some hostels and cafes (which I found had a lot to do with people streaming videos rather than working).
The median download speed is around 26.05 Mbps, upload is 12.24 Mbps with a latency of 19ms. Click here to check the up-to-date speeds. To get the best speeds for working, use a designated co-working space rather than cafes in the city center. Below are a few of the places I use:
Yerevan Coworking: My favorite co-working space in the city. Prices start at 1,000 dinars ($2.60) per hour or 4,000 ($10.40) for the day. The price includes complimentary tea, coffee, and water. Click here for directions.
Loft: One of the grooviest co-working spaces in Yerevan with the addition of games once you've finished. It's centrally located and costs 4,500 dinars ($11.65) per day. Click here for directions.
The Area CoWorking: Professional space with fixed desks from 1,500 ($3.90) per hour or 5,000 ($13)per day. Click here for directions.
Activities and Things To Do in Yerevan
Living in Yerevan as a digital nomad is excellent as there is so much to see and do in your downtime. From the impressive Cascade to tranquil city parks, stunning architecture, and lots of incredible nearby attractions such as the Garni Temple, you won't be bored for a second.
1. Climb the Cascade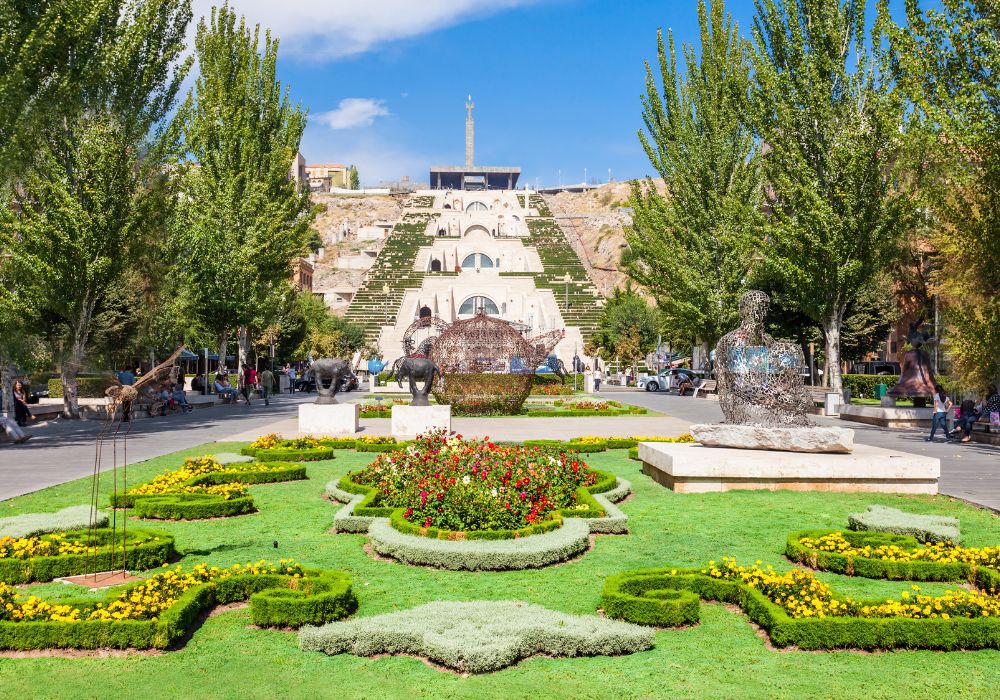 The slightly kitsch Cascade Monument is in the center of Yerevan and overlooks the city. There's a pleasant sculpture garden at the bottom lined with cool cafes, bars, and restaurants. You can either climb the steps to the top or take the escalators inside the building (which also houses some interesting modern art displays).
You'll find plenty of people chilling out on the steps day and night, as the views are some of the best found in the city. From the top of Cascade, you can continue even higher to Vicotory Park and the Mother Armenia Statue, which are also well worth a visit and feature lots of rides and amusements.
This Yerevan attraction is completely free, including the escalators, and is the place where many Armenians meet for a coffee or a bite to eat. It's perfectly situated close to some of the other top attractions in the city such as the Opera House, Northern Avenue shopping street, and Republic Square.
2. Visit Garni Temple
One of the best things about life in Yerevan is that there are so many incredible places to visit nearby, and Garni Temple is one of my absolute favorites. It's the only surviving pre-Christian temple in Armenia and is perched above a huge canyon up in the mountains above Yerevan.
I've been to Garni twice and was invited by a friend to watch a real pagan ceremony there during the Spring Equinox which is an experience I'll never forget. I first visited in January when it was covered under a layer of snow and again in April when spring was well on its way.
In addition to the temple, you can descend the canyon to the Symphony Stones which is a series of basalt columns clinging to the rock face, not dissimilar to an upside-down version of the Giant's Causeway in Ireland. There are hourly buses to Garni which take just 35 minutes and plenty of tours to consider. Click here for more info.
3. See a Show at the National Opera and Ballet Theatre
I walked past the grand National Opera and Ballet Theatre daily while living in Yerevan and this is another popular hub for people to get together in the city. Outside, is a park with ice skating in winter and other activities in summer, as well as lots of bars and cafes nearby.
It's also the place to go if you want to see an opera or ballet performance with everything from Swan Lake to Spartacus being shown there. I've been to the Bolshoi in Moscow and although not as famous, Yerevan's own offering definitely makes for a special night out in gorgeous surroundings.
Tickets start from as little as 5,000 Dinars ($13), but if you want the best seats in the house you'll need to pay substantially more. Check the website to see what's currently playing and book tickets online (there's an option for English). Click here for directions.
4. Visit the Ararat Brandy Factory and Museum
One of my favorite tipples to keep the cold away while being a Yerevan digital nomad in winter was Ararat Brandy (the five-year-old to be specific). It's one of the nicest cognacs I've ever tried and has been made in the city for more than 130 years.
One thing I learned is that Stalin gifted a bottle of Ararat to Winston Churchill at the Yalta Conference during WWII, and Churchill loved it so much he continued to order a crate every year and have it shipped to London (a tradition I may have to continue myself).
It's possible to take a tour of the impressive Ararat Factory in Yerevan and this includes a tasting. The best way is to book directly via their website. Tours last for an hour and you can choose from a variety of different packages (I recommend the Ararat Flavors Tour). Click here to find out more.
5. Visit the Tsitsernakaberd Memorial Complex
If you want to get a deeper understanding of Armenia then a visit to the Armenian Genocide Memorial Complex is an absolute must. Here, you'll find a large monument high above the city with a peaceful garden, an eternal flame, and a museum beneath the complex.
The museum contains photographs and displays of the genocide of Armenians in the Ottoman Empire (known as Western Armenia to Armenians, and now modern-day Turkey). The museum and grounds are free to enter and offer stunning views of the city and Ararat.
Taking a taxi is the easiest way to get to the memorial (use GG or Yandex), as it's not so easy to get there with public transport. There's free WiFi inside the museum, which helps when it comes to booking your return journey. You could also walk from the city center which takes around an hour or so. Click here for directions.
Weather in Yerevan
I arrived in Armenia on 1st January 2023 and it was a real winter wonderland. Armenia forms part of the Caucasus Mountains so winters can be harsh and cold, but utterly beautiful. I stayed until spring when temperatures in Yerevan reached double figures and I could finally wear a T-shirt again.
Summers are long and hot, but you can escape into the nearby mountains and to the majestic Lake Sevan to cool down. I can't wait to get back and enjoy the best weather there sipping cool beers in the many streetside cafes, hiking in the mountains, and swimming in the many lakes and rivers.
Pros and Cons of Living in Yerevan
As with anywhere in the world, there are both pros and cons of living in Yerevan and being a digital nomad in Armenia. The pros far outweigh the cons and I can't wait to get back there soon.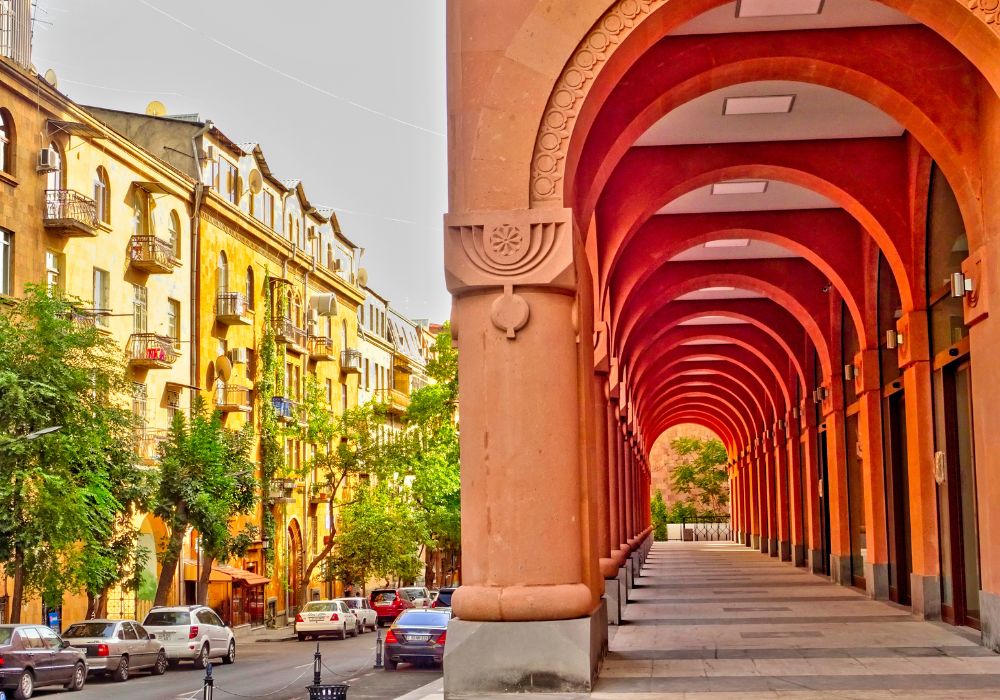 Pros of Living in Yerevan
Excellent cafe culture: If you like to sip a latte in the sunshine surrounded by beautiful architecture and smiling faces, then you'll love it here.
Vibrant nightlife: Yerevan is packed full of excellent bars, pubs, and clubs to sip cocktails or dance until sunrise.
Delicious food: Yerevan has some excellent restaurants serving regional cuisine from Armenian lavash to Georgian and Iranian. One thing's for sure, you won't go hungry here.
Day trips to the mountains: It's so easy to get out into Armenia's breathtaking mountains from the city and most journeys take under an hour by bus to reach the wilderness. Visit Garni Temple, Lake Sevan, and Mount Aragats among other places.
Cons of Living in Yerevan
Higher prices: Yerevan can be a little on the costly side so you'll need to budget accordingly.
Cold winters: If like me you don't like the cold, then avoid winter in Yerevan (I messed up there and arrived in January).
It's a little far from anywhere else: Although Georgia is only six hours away by bus, Armenia is a little out of the way making traveling to neighboring countries difficult (and impossible for Turkey and Azerbaijan).
Digital Nomad Visa for Yerevan
One of the reasons that Yerevan is a great destination for digital nomads is that many nationalities can stay visa-free for up to six months (some nationalities can stay up to a year). This can be reset by simply taking the bus or train to Georgia and then coming back in, so there is no need for a nomad visa.
American, EU and British citizens can stay in Armenia visa-free for 180 days. Unfortunately, it's not so easy for Canadians who require a visa to enter (21 or 120 days). Citizens of all countries can also register as private entrepreneurs to obtain a one-year "digital nomad visa".
In Conclusion
Now you know all there is to know about being a digital nomad in Yerevan, the charming capital of Armenia. I absolutely loved the four months I spent living and working in the city and can't wait to return in two weeks.
With a vibrant cafe culture, long, hot summers, plenty of coworking spaces, and some incredible day trips to be had, Armenia is a place that deserves at least a month to explore. So, don't delay, book that trip to beautiful Armenia today (and come say hi if you see me around town).
Like This Article? Pin It!